Summer is here at last…which means these new books are just around the corner. We've rounded up 17 books coming out in July 2020 that we cannot wait to get our hands on. Best of all, we're checking off all the boxes with this set of new releases—suspense (like The Bright Lands by John Fram), romance (à la What the Heart Wants by Audrey Carlan), and even historical fiction (The Woman Before Wallis by Bryn Turnbull, anyone?).
The Bright Lands by John Fram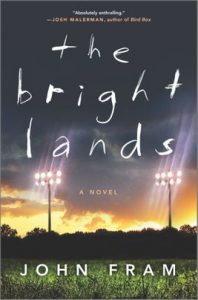 The town of Bentley holds two things dear: its football, and its secrets. But when star quarterback Dylan Whitley goes missing, an unremitting fear grips this remote corner of Texas.
Joel Whitley was shamed out of conservative Bentley ten years ago, and while he's finally made a life for himself as a gay man in New York, his younger brother's disappearance soon brings him back to a place he thought he'd escaped for good. Meanwhile, Sheriff's Deputy Starsha Clark stayed in Bentley; Joel's return brings back painful memories—not to mention questions—about her own missing brother. And in the high school hallways, Dylan's friends begin to suspect that their classmates know far more than they're telling the police. Together, these unlikely allies will stir up secrets their town has long tried to ignore, drawing the attention of dangerous men who will stop at nothing to see that their crimes stay buried.
But no one is quite prepared to face the darkness that's begun to haunt their nightmares, whispering about a place long thought to be nothing but an urban legend: an empty night, a flicker of light on the horizon—The Bright Lands.
Shocking, twisty and relentlessly suspenseful, John Fram's debut is a heart-pounding story about old secrets, modern anxieties and the price young men pay for glory.
Available July 7:
Amazon | Barnes & Noble | Google Play | Kobo | Apple Books | Indiebound | Audible | Goodreads
The Last Wife by Karen Hamilton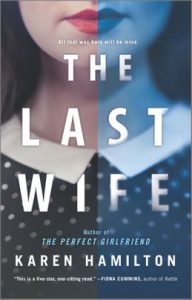 From the internationally bestselling author of The Perfect Girlfriend.

Two women. A dying wish. And a web of lies that will bring their world crashing down.
Two women. A dying wish. And a web of lies that will bring their world crashing down.
Nina and Marie were best friends—until Nina was diagnosed with a terminal illness. Before she died, Nina asked Marie to fulfill her final wishes.
But her mistake was in thinking Marie was someone she could trust.
What Nina didn't know was that Marie always wanted her beautiful life, and that Marie has an agenda of her own. She'll do anything to get what she wants.
Marie thinks she can keep her promise to her friend's family on her own terms. But what she doesn't know is that Nina was hiding explosive secrets of her own…
Available July 7:
Amazon | Barnes & Noble | Google Play | Kobo | Apple Books | Indiebound | Audible | Goodreads
Fast Girls by Elise Hooper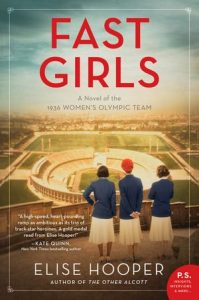 Acclaimed author Elise Hooper explores the gripping, real life history of female athletes, members of the first integrated women's Olympic team, and their journeys to the 1936 summer games in Berlin, Nazi Germany. Perfect for readers who love untold stories of amazing women, such as The Only Woman in the Room, Hidden Figures, and The Lost Girls of Paris.
In the 1928 Olympics, Chicago's Betty Robinson competes as a member of the first-ever women's delegation in track and field. Destined for further glory, she returns home feted as America's Golden Girl until a nearly-fatal airplane crash threatens to end everything.
Outside of Boston, Louise Stokes, one of the few black girls in her town, sees competing as an opportunity to overcome the limitations placed on her. Eager to prove that she has what it takes to be a champion, she risks everything to join the Olympic team.
From Missouri, Helen Stephens, awkward, tomboyish, and poor, is considered an outcast by her schoolmates, but she dreams of escaping the hardships of her farm life through athletic success. Her aspirations appear impossible until a chance encounter changes her life.
These three athletes will join with others to defy society's expectations of what women can achieve. As tensions bring the United States and Europe closer and closer to the brink of war, Betty, Louise, and Helen must fight for the chance to compete as the fastest women in the world amidst the pomp and pageantry of the Nazi-sponsored 1936 Olympics in Berlin.
Available July 7:
Amazon | Barnes & Noble | Google Play | Kobo | Apple Books | Indiebound | Audible | Goodreads
The Shadows by Alex North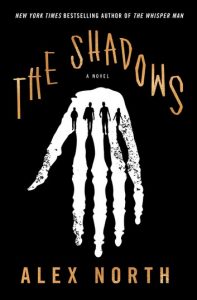 You knew a teenager like Charlie Crabtree. A dark imagination, a sinister smile—always on the outside of the group. Some part of you suspected he might be capable of doing something awful. Twenty-five years ago, Crabtree did just that, committing a murder so shocking that it's attracted that strange kind of infamy that only exists on the darkest corners of the internet—and inspired more than one copycat.
Paul Adams remembers the case all too well: Crabtree—and his victim—were Paul's friends. Paul has slowly put his life back together. But now his mother, old and senile, has taken a turn for the worse. Though every inch of him resists, it is time to come home.
It's not long before things start to go wrong. Reading the news, Paul learns another copycat has struck. His mother is distressed, insistent that there's something in the house. And someone is following him. Which reminds him of the most unsettling thing about that awful day twenty-five years ago.
It wasn't just the murder.
It was the fact that afterward, Charlie Crabtree was never seen again…
Available July 7:
Amazon | Barnes & Noble | Google Play | Kobo | Apple Books | Indiebound | Audible | Goodreads
One to Watch by Kate Stayman-London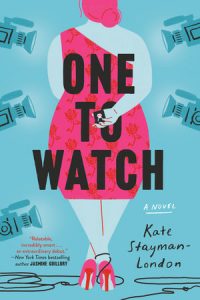 Real love . . . as seen on TV. A plus-size bachelorette brings a fresh look to a reality show in this delightful, razor-sharp debut.

Bea Schumacher is a devastatingly stylish plus-size fashion blogger who has amazing friends, a devoted family, legions of Insta followers—and a massively broken heart. Like the rest of America, Bea indulges in her weekly obsession: the hit reality show Main Squeeze. The fantasy dates! The kiss-off rejections! The surprising amount of guys named Chad! But Bea is sick and tired of the lack of body diversity on the show. Since when is being a size zero a prerequisite for getting engaged on television?

Just when Bea has sworn off dating altogether, she gets an intriguing call: Main Squeeze wants her to be its next star, surrounded by men vying for her affections. Bea agrees, on one condition—under no circumstances will she actually fall in love. She's in this to supercharge her career, subvert harmful beauty standards, inspire women across America, and get a free hot air balloon ride. That's it.

But when the cameras start rolling, Bea realizes things are more complicated than she anticipated. She's in a whirlwind of sumptuous couture, Internet culture wars, sexy suitors, and an opportunity (or two, or five) to find messy, real-life love in the midst of a made-for-TV fairy tale. In this joyful, wickedly observant debut, Bea has to decide whether it might just be worth trusting these men—and herself—for a chance to live happily ever after.
Available July 7:
Amazon | Barnes & Noble | Google Play | Kobo | Apple Books | Indiebound | Audible | Goodreads
One Year of Ugly by Caroline Mackenzie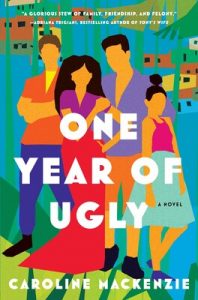 A fun, fresh, timely debut novel about the uproarious adventures that befall the Palacio family during their disastrous illegal residence in Trinidad that poignantly captures the complexities of dysfunctional families and passionate (but sometimes messy) romance.
After fleeing crumbling, volatile Venezuela, Yola Palacio wants nothing more than to settle into a peaceful new life in Trinidad with her family. And who cares if they're there illegally—aren't most of the people on the island? But life for the Palacios is far from quiet—and when Yola's Aunt Celia dies, the family once again find their lives turned upside down. For Celia had been keeping a very big secret—she owed a LOT of money to a local criminal called Ugly. And without the funds to pay him off, Ugly has the entire family do his bidding until Celia's debt is settled. What Ugly says, the Palacios do, otherwise the circumstances are too dreadful to imagine.
To say that the year that follows is tumultuous for the Palacios is an understatement. But in the midst of the turmoil appears Roman—Ugly's distractingly gorgeous right-hand man. And although she knows it's terrible and quite possibly dangerous, Yola just can't help but give in to the attraction. Where, though, do Roman's loyalties lie? And could this wildly inappropriate romance just be the antidote to a terrible year of Ugly?
Combining the spark of Junot Diaz with the irresistible wit of Maria Semple, One Year of Ugly brilliantly explores cross-cultural struggles and assimilation from a unique immigrant perspective and introduces us to an extraordinary new voice in contemporary fiction.
Available July 7:
Amazon | Barnes & Noble | Google Play | Kobo | Apple Books | Indiebound | Audible | Goodreads
A Good Family by A.H. Kim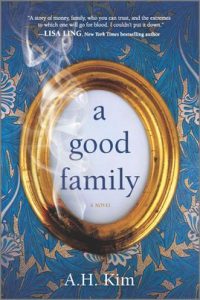 "A story of money, family, who you can trust, and the extremes to which one will go for blood. I couldn't put it down." —Lisa Ling, host of CNN's This Is Life

Keep your family close and your enemies closer.
Beth is the darling of God Halsa, a pharmaceutical giant, and she's got the outrageous salary and lifestyle to prove it. Until she lands in white-collar women's prison, thanks to a high-profile whistleblower suit.
Sam, Beth's husband, used to be the town's most eligible bachelor, and he's never had to do anything for himself. Until his wife goes to jail, and he's left to raise two daughters on his own.
Lise, the au pair, is the whistleblower. But is she? Everyone knows she's not clever enough to have done it alone.
Hannah, Sam's sister, is devoted to her family. There's nothing she wouldn't do for them.
Eva, Beth's sister, is the smart one. (Read: not the pretty one.) Her life seems perfect on the surface, but sibling rivalry runs deep.
Martin, Beth's brother, is the firstborn, the former golden boy turned inside-the Beltway businessman. But what is he hiding?
Someone knows something. Someone betrayed Beth.
This is the story of the Min-Lindstroms. This is the story of the all-American family as it implodes under the weight of secrets, lies and the unchecked desire for wealth and power.
Available July 14:
Amazon | Barnes & Noble | Google Play | Kobo | Apple Books | Indiebound | Audible | Goodreads
Sex and Vanity by Kevin Kwan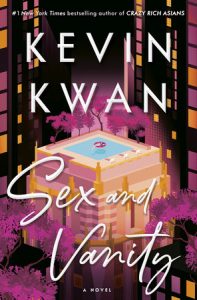 The iconic author of the bestselling phenomenon Crazy Rich Asians returns with the glittering tale of a young woman who finds herself torn between two men: the WASPY fiancé of her family's dreams and George Zao, the man she is desperately trying to avoid falling in love with.

On her very first morning on the jewel-like island of Capri, Lucie Churchill sets eyes on George Zao and she instantly can't stand him. She can't stand it when he gallantly offers to trade hotel rooms with her so that she can have a view of the Tyrrhenian Sea, she can't stand that he knows more about Casa Malaparte than she does, and she really can't stand it when he kisses her in the darkness of the ancient ruins of a Roman villa and they are caught by her snobbish, disapproving cousin Charlotte. "Your mother is Chinese so it's no surprise you'd be attracted to someone like him," Charlotte teases. The daughter of an American-born Chinese mother and a blue-blooded New York father, Lucie has always sublimated the Asian side of herself in favor of the white side, and she adamantly denies having feelings for George. But several years later, when George unexpectedly appears in East Hampton, where Lucie is weekending with her new fiancé, Lucie finds herself drawn to George again. Soon, Lucie is spinning a web of deceit that involves her family, her fiancé, the co-op board of her Fifth Avenue apartment building, and ultimately herself as she tries mightily to deny George entry into her world–and her heart. Moving between summer playgrounds of privilege, peppered with decadent food and extravagant fashion, Sex and Vanity is a truly modern love story, a daring homage to A Room with a View, and a brilliantly funny comedy of manners set between two cultures.
Available July 14:
Amazon | Barnes & Noble | Google Play | Kobo | Apple Books | Indiebound | Audible | Goodreads
Utopia Avenue by David Mitchell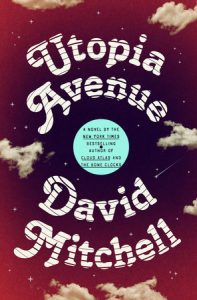 The long-awaited new novel from the bestselling, prize-winning author of Cloud Atlas and The Bone Clocks.

Utopia Avenue is the strangest British band you've never heard of. Emerging from London's psychedelic scene in 1967, and fronted by folk singer Elf Holloway, blues bassist Dean Moss and guitar virtuoso Jasper de Zoet, Utopia Avenue embarked on a meteoric journey from the seedy clubs of Soho, a TV debut on Top of the Pops, the cusp of chart success, glory in Amsterdam, prison in Rome, and a fateful American sojourn in the Chelsea Hotel, Laurel Canyon, and San Francisco during the autumn of '68.

David Mitchell's kaleidoscopic novel tells the unexpurgated story of Utopia Avenue's turbulent life and times; of fame's Faustian pact and stardom's wobbly ladder; of the families we choose and the ones we don't; of voices in the head, and the truths and lies they whisper; of music, madness, and idealism. Can we really change the world, or does the world change us?
Available July 14:
Amazon | Barnes & Noble | Google Play | Kobo | Apple Books | Indiebound | Audible | Goodreads
What You Wish For by Katherine Center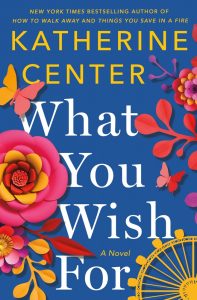 From the New York Times bestselling author of How to Walk Away comes a stunning new novel full of heart and hope.
Samantha Casey is a school librarian who loves her job, the kids, and her school family with passion and joy for living.
But she wasn't always that way.
Duncan Carpenter is the new school principal who lives by rules and regulations, guided by the knowledge that bad things can happen.
But he wasn't always that way.
And Sam knows it. Because she knew him before—at another school, in a different life. Back then, she loved him—but she was invisible. To him. To everyone. Even to herself. She escaped to a new school, a new job, a new chance at living. But when Duncan, of all people, gets hired as the new principal there, it feels like the best thing that could possibly happen to the school—and the worst thing that could possibly happen to Sam. Until the opposite turns out to be true. The lovable Duncan she'd known is now a suit-and-tie wearing, rule-enforcing tough guy so hell-bent on protecting the school that he's willing to destroy it.
As the school community spirals into chaos, and danger from all corners looms large, Sam and Duncan must find their way to who they really are, what it means to be brave, and how to take a chance on love—which is the riskiest move of all.
With Katherine Center's sparkling dialogue, unforgettable characters, heart, hope, and humanity, What You Wish For is the author at her most compelling best.
Available July 14:
Amazon | Barnes & Noble | Google Play | Kobo | Apple Books | Indiebound | Audible | Goodreads
The Woman Before Wallis by Bryn Turnbull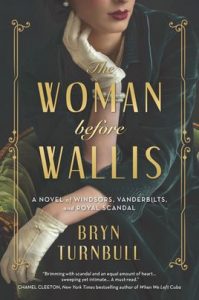 For fans of The Paris Wife and The Crown, this stunning novel tells the true story of the American divorcée who captured Prince Edward's heart before he abdicated his throne for Wallis Simpson.
In the summer of 1926, when Thelma Morgan marries Viscount Duke Furness after a whirlwind romance, she's immersed in a gilded world of extraordinary wealth and privilege. For Thelma, the daughter of an American diplomat, her new life as a member of the British aristocracy is like a fairy tale—even more so when her husband introduces her to Edward, Prince of Wales.
In a twist of fate, her marriage to Duke leads her to fall headlong into a love affair with Edward. But happiness is fleeting, and their love is threatened when Thelma's sister, Gloria Morgan Vanderbilt, becomes embroiled in a scandal with far-reaching implications. As Thelma sails to New York to support Gloria, she leaves Edward in the hands of her trusted friend Wallis, never imagining the consequences that will follow.
Bryn Turnbull takes readers from the raucous glamour of the Paris Ritz and the French Riviera to the quiet, private corners of St. James's Palace in this sweeping story of love, loyalty and betrayal.
Available July 21:
Amazon | Barnes & Noble | Google Play | Kobo | Apple Books | Indiebound | Audible | Goodreads
He Started It by Samantha Downing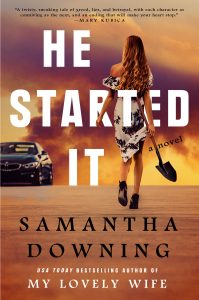 From the twisted mind behind mega hit My Lovely Wife comes the story of a family—not unlike your own—just with a few more violent tendencies thrown in….

Beth, Portia, and Eddie Morgan haven't all been together in years. And for very good reasons—we'll get to those later. But when their wealthy grandfather dies and leaves a cryptic final message in his wake, the siblings and their respective partners must come together for a cross-country road trip to fulfill his final wish and—more importantly—secure their inheritance.

But time with your family can be tough. It is for everyone.

It's even harder when you're all keeping secrets and trying to forget a memory, a missing person, an act of revenge, the man in the black truck who won't stop following your car—and especially when at least one of you is a killer and there's a body in the trunk. Just to name a few reasons.

But money is a powerful motivator. It is for everyone.
Available July 21:
Amazon | Barnes & Noble | Google Play | Kobo | Apple Books | Indiebound | Audible | Goodreads
The Book of Lost Names by Kristin Harmel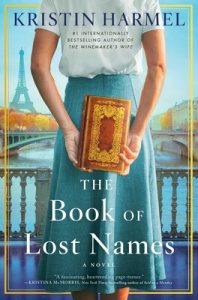 Inspired by an astonishing true story from World War II, a young woman with a talent for forgery helps hundreds of Jewish children flee the Nazis in this unforgettable historical novel from the international bestselling author of the "epic and heart-wrenching World War II tale" (Alyson Noel, #1 New York Times bestselling author) The Winemaker's Wife.
Eva Traube Abrams, a semi-retired librarian in Florida, is shelving books one morning when her eyes lock on a photograph in a magazine lying open nearby. She freezes; it's an image of a book she hasn't seen in sixty-five years—a book she recognizes as The Book of Lost Names.
The accompanying article discusses the looting of libraries by the Nazis across Europe during World War II—an experience Eva remembers well—and the search to reunite people with the texts taken from them so long ago. The book in the photograph, an eighteenth-century religious text thought to have been taken from France in the waning days of the war, is one of the most fascinating cases. Now housed in Berlin's Zentral- und Landesbibliothek library, it appears to contain some sort of code, but researchers don't know where it came from—or what the code means. Only Eva holds the answer—but will she have the strength to revisit old memories and help reunite those lost during the war?
As a graduate student in 1942, Eva was forced to flee Paris after the arrest of her father, a Polish Jew. Finding refuge in a small mountain town in the Free Zone, she begins forging identity documents for Jewish children fleeing to neutral Switzerland. But erasing people comes with a price, and along with a mysterious, handsome forger named Rémy, Eva decides she must find a way to preserve the real names of the children who are too young to remember who they really are. The records they keep in The Book of Lost Names will become even more vital when the resistance cell they work for is betrayed and Rémy disappears.
An engaging and evocative novel reminiscent of The Lost Girls of Paris and The Alice Network, The Book of Lost Names is a testament to the resilience of the human spirit and the power of bravery and love in the face of evil.
Available July 21:
Amazon | Barnes & Noble | Google Play | Kobo | Apple Books | Indiebound | Audible | Goodreads
The Kids Are Gonna Ask by Gretchen Anthony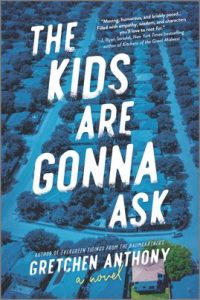 A whip-smart, entertaining novel about twin siblings who become a national phenomenon after launching a podcast to find the biological father they never knew.

The death of Thomas and Savannah McClair's mother turns their world upside down. Raised to be fiercely curious by their grandmother Maggie, the twins become determined to learn the identity of their biological father. And when their mission goes viral, an eccentric producer offers them a dream platform: a fully sponsored podcast called The Kids Are Gonna Ask. To discover the truth, Thomas and Savannah begin interviewing people from their mother's past and are shocked when the podcast ignites in popularity. As the attention mounts, they get caught in a national debate they never asked for—but nothing compares to the mayhem that ensues when they find him.
Cleverly constructed, emotionally perceptive and sharply funny, The Kids Are Gonna Ask is a rollicking coming-of-age story and a moving exploration of all the ways we can go from lost to found.
Available July 28:
Amazon | Barnes & Noble | Google Play | Kobo | Apple Books | Indiebound | Audible | Goodreads
Someone's Listening by Seraphina Nova Glass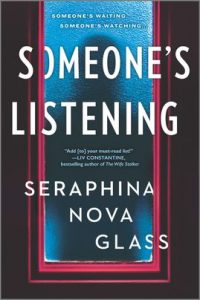 She wrote the book on escaping a predator… Now one is coming for her.
Faith Finley has it all: she's a talented psychologist with a flourishing career, a bestselling author and the host of a popular local radio program, Someone's Listening, with Dr. Faith Finley. She's married to the perfect man, Liam Finley, a respected food critic.
Until the night everything goes horribly wrong, and Faith's life is shattered forever.
Liam is missing—gone without a trace—and the police are suspicious of everything Faith says. They either think she has something to hide, or that she's lost her mind.
And then the notes begin to arrive. Notes that are ripped from Faith's own book, the one that helps victims leave their abusers. Notes like "Lock your windows. Consider investing in a steel door."
As the threats escalate, the mystery behind Liam's disappearance intensifies. And Faith's very life will depend on finding answers
Available July 28:
Amazon | Barnes & Noble | Google Play | Kobo | Apple Books | Indiebound | Audible | Goodreads
What the Heart Wants by Audrey Carlan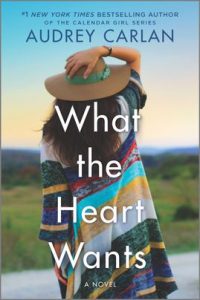 From the #1 bestselling author of the beloved Calendar Girl books comes the first in a witty, wise and emotionally compelling new series, where coming home is just the beginning…
"Fly free."
For ten years those words, written on pink parchment paper in her mother's beautiful handwriting, have been Suda Kaye Ross's guiding star. Every year on her birthday, Suda Kaye opens another of the letters her mother penned before she passed, heeding the advice inside as she fills her life with experiences. From Italy to Australia, from Rio to Russia, she's slaked her wanderlust. And then, on her twenty-eighth birthday, she opens the letter that sends her home.
Returning to Colorado means confronting everything—and everyone—she left behind, including her cherished sister, Evie, and her first love, Camden Bryant. Suda Kaye and Cam spent four years and one unforgettable night together. Given the way she ran out on him, it's no surprise that he's wary, resentful…and engaged to someone else. Evie, hardworking and überresponsible, just wants her sister to put down roots at last.
For Evie's sake, and her own, Suda Kaye is trying to build a new life, all the while wondering whether it's too late to come back home—or if the most important part of her never really left.
Available July 28:
Amazon | Barnes & Noble | Google Play | Kobo | Apple Books | Indiebound | Audible | Goodreads
Their Last Secret by Rick Mofina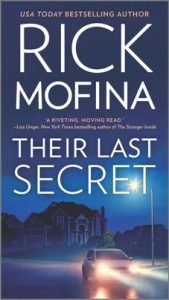 Some mistakes can never be forgotten—or forgiven.
Janie Klassyn was only fourteen years old when she made the blood pact with her friends. She could never imagine she was setting in motion the horrifying crime that would tear her peaceful prairie town apart.
Twenty years later in California, school counselor Emma Grant struggles to keep her past buried. But when she finds a note on her car threatening to reveal her secret, it becomes harder to keep up the deception. Even her teenage stepdaughter suspects that Emma is hiding something. Now, with her celebrated true-crime author husband digging into a decades-old murder case for his next book, and a suspicious accident involving someone who's been following her, the perfect life Emma's built is crumbling, forcing her to take desperate steps to save it…
Available July 28:
Amazon | Barnes & Noble | Google Play | Kobo | Apple Books | Indiebound | Audible | Goodreads
His & Hers by Alice Feeney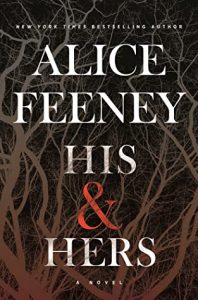 FROM THE NEW YORK TIMES BESTSELLING AUTHOR OF Sometimes I Lie
When a woman is murdered in Blackdown, a quintessentially British village, newsreader Anna Andrews is reluctant to cover the case. Detective Jack Harper is suspicious of her involvement, until he becomes a suspect in his own murder investigation.
Someone isn't telling the truth, and some secrets are worth killing to keep.
His & Hers is a twisty, smart, psychological thriller. A gripping tale of suspense, told by expertly-drawn narrators that will keep readers guessing until the very end.
Available July 28:
Amazon | Barnes & Noble | Google Play | Kobo | Apple Books | Indiebound | Audible | Goodreads
What books are you looking forward to reading in July? Let us know in the comments below!