Summer is almost coming to an end. No worries because we have the perfect reads to close it out with! From much anticipated psychological thrillers like Such A Good Wife by Seraphina Nova Glass and Where I Left Her by Amber Garza to going back in time with historical fiction like Her Heart For A Compass by Sarah Ferguson and The Bookseller's Secret by Michelle Gable, there's something for everyone!
Disasterology by Samantha Montano
Part memoir, part expert analysis, Disasterology is a passionate and personal account of a country in crisis—one unprepared to deal with the disasters of today and those looming in our future.
With temperatures rising and the risk of disasters growing, our world is increasingly vulnerable. Most people see disasters as freak, natural events that are unpredictable and unpreventable. But that simply isn't the case – disasters are avoidable, but when they do strike, there are strategic ways to manage the fallout.
In Disasterology, Dr. Montano, a disaster researcher, brings readers with her on an eye-opening journey through some of our worst disasters, helping readers make sense of what really happened from a emergency management perspective. She explains why we aren't doing enough to prevent or prepare for disasters, the critical role of media, and how our approach to recovery was not designed to serve marginalized communities. Now that climate change is contributing to the disruption of ecosystems and worsening disasters, Dr. Montano offers a preview of what will happen to our communities if we don't take aggressive, immediate action. In a section devoted to the COVID-19 pandemic, what is thus far our generation's most deadly disaster, she casts light on the many decisions made behind closed doors that failed to protect the public.
A deeply moving and timely narrative that draws on Dr. Montano's first-hand experience in emergency management, Disasterology is essential reading for anyone who wants to understand how our country handles disasters, and how we can better face them together.
Available August 3:
Amazon | Barnes & Noble | Google Play | Kobo | Apple Books | Indiebound | Indigo | Audible | Goodreads
Her Heart for a Compass by Sarah Ferguson
"A brilliant and glittering jewel of a novel. I was wholly swept away by this story."–Allison Pataki, New York Times bestselling author of The Queen's Secret
From one of the most famous former members of the British royal family, Sarah Ferguson, Duchess of York —a mesmerizing novel of a young noblewoman's coming-of-age that richly details both high society and low in Victorian England.
Queen Victoria's close friend, the Scottish Duke of Buccleuch, Lady Margaret Montagu Scott is expected to make an advantageous marriage. But Margaret is an impulsive and outspoken girl in a repressive society where women are, quite literally, caged in corsets and required to conform.
When Lady Margaret's parents arrange a society marriage for her, she tries to reconcile herself to the match. But shortly before her betrothal is announced, Margaret flees, leaving her parents to explain her sudden absence to an opulent ballroom stuffed with two hundred distinguished guests.
Banished from polite society, Margaret throws herself into charitable work and finds strength in a circle of female friends like herself—women intent on breaking the mold, including Queen Victoria's daughter Princess Louise. Margaret resolves to follow her heart—a journey of self-discovery that will take her to Ireland, America, and then back to Britain where she finds the life she was always meant to lead.
A bold and thoughtful story about a rebellious woman finding herself and her voice in an age of astounding technological change and great social unrest, Her Heart for a Compass is a delicious costume drama rich in atmosphere, history, and color.
Available August 3:
Amazon | Barnes & Noble | Google Play | Kobo | Apple Books | Indiebound | Indigo | Audible | Goodreads
Afterparties by Anthony Veasna So
A Roxane Gay's Audacious Book Club Pick!
Named a Best Book of Summer by: Wall Street Journal * Thrillist * Vogue * Lit Hub * Refinery29 * New York Observer * The Daily Beast * Time * BuzzFeed * Entertainment Weekly
A vibrant story collection about Cambodian-American life—immersive and comic, yet unsparing—that offers profound insight into the intimacy of queer and immigrant communities
Seamlessly transitioning between the absurd and the tenderhearted, balancing acerbic humor with sharp emotional depth, Afterparties offers an expansive portrait of the lives of Cambodian-Americans. As the children of refugees carve out radical new paths for themselves in California, they shoulder the inherited weight of the Khmer Rouge genocide and grapple with the complexities of race, sexuality, friendship, and family.
A high school badminton coach and failing grocery store owner tries to relive his glory days by beating a rising star teenage player. Two drunken brothers attend a wedding afterparty and hatch a plan to expose their shady uncle's snubbing of the bride and groom. A queer love affair sparks between an older tech entrepreneur trying to launch a "safe space" app and a disillusioned young teacher obsessed with Moby-Dick. And in the sweeping final story, a nine-year-old child learns that his mother survived a racist school shooter.
The stories in Afterparties, "powered by So's skill with the telling detail, are like beams of wry, affectionate light, falling from different directions on a complicated, struggling, beloved American community" (George Saunders).
Available August 3:
Amazon | Barnes & Noble | Google Play | Kobo | Apple Books | Indiebound | Indigo | Audible | Goodreads
Down Range by Taylor Moore
"A riveting thriller with a family in crisis at the core. It's my kind of book." —Brad Taylor, bestselling author of American Traitor
In this action-packed debut thriller for fans of C. J. Box and Jack Carr, DEA agent Garrett Kohl fights to protect his home on the Texas High Plains when a vicious criminal enterprise comes after his family.
As a decorated undercover DEA special agent, Garrett Kohl has traveled the world—and fought in most of it—but it's the High Plains of northwest Texas he calls home and dreams of returning to one day. Kohl is in the middle of an assignment in Afghanistan when his commander orders him back to Texas on a short mission expected to take a week at most. But Kohl is unsettled to discover that he's moving from one kind of war to another.
The once-peaceful ranching community he loves is under attack by a band of criminals who have infiltrated law enforcement and corrupted local businesses, and are now terrorizing Kohl's own family. Hoping to prevent bloodshed, Kohl tries to resolve matters peacefully. But when the group strikes first, he has no choice but to go on the attack.
Unfortunately for the crew of criminals, Garrett Kohl, besides being an elite undercover officer for the DEA, is a battle-hardened Green Beret who spent the better part of his career hunting terrorists. Although outnumbered and outgunned, Kohl knows the wild and forsaken Llano Estacado region of Texas better than anyone. And like so many trespassers before them, these murderers will find out the hard way that the only thing tougher than this land is the people who call it home.
Available August 3:
Amazon | Barnes & Noble | Google Play | Kobo | Apple Books | Indiebound | Indigo | Audible | Goodreads
The Reading List by Sara Nisha Adams
A BEST OF SUMMER READ ACCORDING TO NEWSWEEK, PARADE MAGAZINE, NBC NEWS, LITHUB, AND POPSUGAR!
An unforgettable and heartwarming debut about how a chance encounter with a list of library books helps forge an unlikely friendship between two very different people in a London suburb.
Widower Mukesh lives a quiet life in Wembley, in West London after losing his beloved wife. He shops every Wednesday, goes to Temple, and worries about his granddaughter, Priya, who hides in her room reading while he spends his evenings watching nature documentaries.
Aleisha is a bright but anxious teenager working at the local library for the summer when she discovers a crumpled-up piece of paper in the back of To Kill a Mockingbird. It's a list of novels that she's never heard of before. Intrigued, and a little bored with her slow job at the checkout desk, she impulsively decides to read every book on the list, one after the other. As each story gives up its magic, the books transport Aleisha from the painful realities she's facing at home.
When Mukesh arrives at the library, desperate to forge a connection with his bookworm granddaughter, Aleisha passes along the reading list…hoping that it will be a lifeline for him too. Slowly, the shared books create a connection between two lonely souls, as fiction helps them escape their grief and everyday troubles and find joy again.
Available August 3:
Amazon | Barnes & Noble | Google Play | Kobo | Apple Books | Indiebound | Indigo | Audible | Goodreads
Billy Summers by Stephen King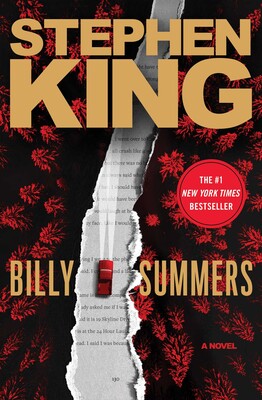 From legendary storyteller and #1 bestseller Stephen King, whose "restless imagination is a power that cannot be contained," (The New York Times Book Review) comes a thrilling new novel about a good guy in a bad job.
Billy Summers is a man in a room with a gun. He's a killer for hire and the best in the business. But he'll do the job only if the target is a truly bad guy. And now Billy wants out. But first there is one last hit. Billy is among the best snipers in the world, a decorated Iraq war vet, a Houdini when it comes to vanishing after the job is done. So what could possibly go wrong?
How about everything.
This spectacular can't-put-it-down novel is part war story, part love letter to small town America and the people who live there, and it features one of the most compelling and surprising duos in King fiction, who set out to avenge the crimes of an extraordinarily evil man. It's about love, luck, fate, and a complex hero with one last shot at redemption.
You won't put this story down, and you won't forget Billy.
Available August 3:
Amazon | Barnes & Noble | Google Play | Kobo | Apple Books | Indiebound | Indigo | Audible | Goodreads
We Are the Brennans by Tracey Lange
In the vein of Mary Beth Keane's Ask Again, Yes and Cynthia D'Aprix Sweeney's The Nest, Tracey Lange's We Are the Brennans explores the staying power of shame—and the redemptive power of love—in an Irish Catholic family torn apart by secrets.
When twenty-nine-year-old Sunday Brennan wakes up in a Los Angeles hospital, bruised and battered after a drunk driving accident she caused, she swallows her pride and goes home to her family in New York. But it's not easy. She deserted them all—and her high school sweetheart—five years before with little explanation, and they've got questions.
Sunday is determined to rebuild her life back on the east coast, even if it does mean tiptoeing around resentful brothers and an ex-fiancé. The longer she stays, however, the more she realizes they need her just as much as she needs them. When a dangerous man from her past brings her family's pub business to the brink of financial ruin, the only way to protect them is to upend all their secrets—secrets that have damaged the family for generations and will threaten everything they know about their lives. In the aftermath, the Brennan family is forced to confront painful mistakes—and ultimately find a way forward, together.
Available August 3:
Amazon | Barnes & Noble | Google Play | Kobo | Apple Books | Indiebound | Indigo | Audible | Goodreads
The People We Keep by Allison Larkin
"I loved everything about The People We Keep….Allison Larkin has given us a heroine who is raw and real, a young person capable of breaking your heart one moment and lifting it up the next." —Chris Bohjalian, New York Times bestselling author of The Flight Attendant
"True and tender-hearted….Read it! You'll be so glad you did." —Therese Anne Fowler, New York Times bestselling author of A Well-Behaved Woman
Little River, New York, 1994: April Sawicki is living in a motorless motorhome that her father won in a poker game. Failing out of school, picking up shifts at Margo's diner, she's left fending for herself in a town where she's never quite felt at home. When she "borrows" her neighbor's car to perform at an open mic night, she realizes her life could be much bigger than where she came from. After a fight with her dad, April packs her stuff and leaves for good, setting off on a journey to find a life that's all hers.
Driving without a chosen destination, she stops to rest in Ithaca. Her only plan is to survive, but as she looks for work, she finds a kindred sense of belonging at Cafe Decadence, the local coffee shop. Still, somehow, it doesn't make sense to her that life could be this easy. The more she falls in love with her friends in Ithaca, the more she can't shake the feeling that she'll hurt them the way she's been hurt.
As April moves through the world, meeting people who feel like home, she chronicles her life in the songs she writes and discovers that where she came from doesn't dictate who she has to be.
This lyrical, unflinching tale is for anyone who has ever yearned for the fierce power of found family or to grasp the profound beauty of choosing to belong.
Available August 3:
Amazon | Barnes & Noble | Google Play | Kobo | Apple Books | Indiebound | Indigo | Audible | Goodreads
The Husbands by Chandler Baker
"Chandler Baker, queen of the feminist thriller, has delivered once again! The Husbands is a poignant exploration of what it would take for women to have it all." —Sally Hepworth, New York Times bestselling author of The Good Sister
Chandler Baker, the New York Times bestselling author of Whisper Network, is back with The Husbands, a novel that asks: to what lengths will a woman go for a little more help from her husband?
Nora Spangler is a successful attorney but when it comes to domestic life, she packs the lunches, schedules the doctor appointments, knows where the extra paper towel rolls are, and designs and orders the holiday cards. Her husband works hard, too… but why does it seem like she is always working so much harder?
When the Spanglers go house hunting in Dynasty Ranch, an exclusive suburban neighborhood, Nora meets a group of high-powered women—a tech CEO, a neurosurgeon, an award-winning therapist, a bestselling author—with enviably supportive husbands. When she agrees to help with a resident's wrongful death case, she is pulled into the lives of the women there. She finds the air is different in Dynasty Ranch. The women aren't hanging on by a thread.
But as the case unravels, Nora uncovers a plot that may explain the secret to having-it-all. One that's worth killing for. Calling to mind a Stepford Wives gender-swap, The Husbands imagines a world where the burden of the "second shift" is equally shared—and what it may take to get there.
Available August 3:
Amazon | Barnes & Noble | Google Play | Kobo | Apple Books | Indiebound | Indigo | Audible | Goodreads
The Wildest Ride by Marcella Bell
Prepare for the ride of your life this summer in Marcella Bell's bold, uplifting romantic debut.
At thirty-six, undefeated rodeo champion AJ Garza is supposed to be retiring, not chasing after an all-new closed-circuit rodeo tour with a million-dollar prize. But with the Houston rodeo program that saved him as a wayward teen on the brink of bankruptcy, he'll compete. And he'll win.
Enter Lilian Sorrow Island. Raised by her grandparents on the family ranch in Muskogee, OK, Lil is more a cowboy than city boy AJ will ever be. It shows. She's not about to let him steal the prize that'll save her ranch, even if he is breathtakingly magnificent, in pretty much every way going.
The world watches on as reality TV meets rodeo in a competition like no other. In front of the cameras, Lil and AJ are each other's biggest rivals. Off-screen, it's about to get a whole lot more complicated…
Available August 10:
Amazon | Barnes & Noble | Google Play | Kobo | Apple Books | Indiebound | Indigo | Audible | Goodreads
Such a Good Wife by Seraphina Nova Glass
Betrayal was just the beginning…
Melanie Hale is a devoted mother to her two children, a diligent caregiver to her ailing mother-in-law and a trusted neighbor in their wealthy Louisiana community. Above all, she's a loving partner to her wonderful husband, Collin.
Then there are the parts of herself that Mel keeps hidden. She's exhausted, worried and unfulfilled. So much so that one night, after a writers' group meeting, Mel begins an affair with a successful local author named Luke. Suddenly she's transformed into a role she doesn't recognize—a woman who deceives with unseemly ease. A woman who might be capable of just about anything.
When Mel finds Luke's dead body in his lavish rented house, she realizes just how high the stakes have become. Not only does she have to keep her affair a secret in order to preserve her marriage, but she desperately needs to avoid being implicated in Luke's death. But who would want to kill him? Who else in her life is keeping secrets? And most terrifying of all, how far will they—and she—go to keep those secrets hidden?
Available August 10:
Amazon | Barnes & Noble | Google Play | Kobo | Apple Books | Indiebound | Indigo | Audible | Goodreads
I Left My Homework in the Hamptons by Blythe Grossberg
A captivating memoir about tutoring for Manhattan's elite, revealing how a life of extreme wealth both helps and harms the children of the one percent.
Ben orders daily room service while living in a five-star hotel. Olivia collects luxury brand sneakers worn by celebrities. Dakota jets off to Rome when she needs to avoid drama at school.
Welcome to the inner circle of New York's richest families, where academia is an obsession, wealth does nothing to soothe status anxiety and parents will try just about anything to gain a competitive edge in the college admissions rat race.
When Blythe Grossberg first started as a tutor and learning specialist, she had no idea what awaited her inside the high-end apartments of Fifth Avenue. Children are expected to be as efficient and driven as CEOs, starting their days with 5:00 a.m. squash practice and ending them with late-night tutoring sessions. Meanwhile, their powerful parents will do anything to secure one of the precious few spots at the Ivy Leagues, whatever the cost to them or their kids.
Through stories of the children she tutors that are both funny and shocking, Grossberg shows us the privileged world of America's wealthiest families and the systems in place that help them stay on top.
Available August 17:
Amazon | Barnes & Noble | Google Play | Kobo | Apple Books | Indiebound | Indigo | Audible | Goodreads
The Bookseller's Secret by Michelle Gable
"The Bookseller's Secret is a delight from start to finish, a literary feast any booklover will savor!"
—Kate Quinn, New York Times bestselling author of The Rose Code
ARISTOCRAT, AUTHOR, BOOKSELLER, WWII SPY—A THRILLING NOVEL ABOUT REAL-LIFE LITERARY ICON NANCY MITFORD
In 1942, London, Nancy Mitford is worried about more than air raids and German spies. Still recovering from a devastating loss, the once sparkling Bright Young Thing is estranged from her husband, her allowance has been cut, and she's given up her writing career. On top of this, her five beautiful but infamous sisters continue making headlines with their controversial politics.
Eager for distraction and desperate for income, Nancy jumps at the chance to manage the Heywood Hill bookshop while the owner is away at war. Between the shop's brisk business and the literary salons she hosts for her eccentric friends, Nancy's life seems on the upswing. But when a mysterious French officer insists that she has a story to tell, Nancy must decide if picking up the pen again and revealing all is worth the price she might be forced to pay.
Eighty years later, Heywood Hill is abuzz with the hunt for a lost wartime manuscript written by Nancy Mitford. For one woman desperately in need of a change, the search will reveal not only a new side to Nancy, but an even more surprising link between the past and present…
Available August 17:
Amazon | Barnes & Noble | Google Play | Kobo | Apple Books | Indiebound |Indigo | Audible | Goodreads
Velvet Was the Night by Silvia Moreno-Garcia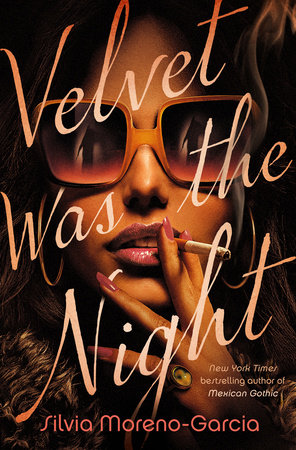 From the New York Times bestselling author of Mexican Gothic comes a "delicious, twisted treat for lovers of noir"* about a daydreaming secretary, a lonesome enforcer, and the mystery of a missing woman they're both desperate to find.

1970s, Mexico City. Maite is a secretary who lives for one thing: the latest issue of Secret Romance. While student protests and political unrest consume the city, Maite escapes into stories of passion and danger.

Her next-door neighbor, Leonora, a beautiful art student, seems to live a life of intrigue and romance that Maite envies. When Leonora disappears under suspicious circumstances, Maite finds herself searching for the missing woman—and journeying deeper into Leonora's secret life of student radicals and dissidents.

Meanwhile, someone else is also looking for Leonora at the behest of his boss, a shadowy figure who commands goon squads dedicated to squashing political activists. Elvis is an eccentric criminal who longs to escape his own life: He loathes violence and loves old movies and rock 'n' roll. But as Elvis searches for the missing woman, he watches Maite from a distance—and comes to regard her as a kindred spirit who shares his love of music and the unspoken loneliness of his heart.

Now as Maite and Elvis come closer to discovering the truth behind Leonora's disappearance, they can no longer escape the danger that threatens to consume their lives, with hitmen, government agents, and Russian spies all aiming to protect Leonora's secrets—at gunpoint.

Velvet Was the Night is an edgy, simmering historical novel for lovers of smoky noirs and anti-heroes.
Available August 17:
Amazon | Barnes & Noble | Google Play | Kobo | Apple Books | Indiebound | Indigo | Audible | Goodreads
Where I Left Her by Amber Garza
"In this high-tension domestic drama, nothing is as it seems. Don't look away, you won't want to miss a thing!" —J.T. Ellison, USA TODAY bestselling author of Her Dark Lies
From the author of When I Was You comes a spine-tingling new thriller about a mother's worst nightmare come true, when her teenage daughter goes to a sleepover and doesn't come back.
Whitney had some misgivings when she dropped her increasingly moody teenage daughter, Amelia, off at Lauren's house. She'd never met the parents, and usually she'd go in, but Amelia clearly wasn't going to let something so humiliating happen, so instead Whitney waved to her daughter before pulling away from the little house with the roses in front.
But when she goes back the next day, an elderly couple answers the door—Amelia and Lauren aren't there, and this couple swears they never were, that she's at the wrong house. As Whitney searches for Amelia, she uncovers a trail of lies her daughter has told her—from the Finsta account to rumors of a secret relationship. Does she really even know this girl she's raised? And Amelia's not the only one with secrets. Could Whitney's own demons have something to do with her daughter's disappearance, and can Whitney find her before it's too late?
Available August 24:
Amazon | Barnes & Noble | Google Play | Kobo | Apple Books | Indiebound | Indigo | Audible | Goodreads
The Madness of Crowds by Louise Penny
Chief Inspector Armand Gamache returns to Three Pines in #1 New York Times bestseller Louise Penny's latest spellbinding novel.
You're a coward.
Time and again, as the New Year approaches, that charge is leveled against Armand Gamache.
It starts innocently enough.
While the residents of the Québec village of Three Pines take advantage of the deep snow to ski and toboggan, to drink hot chocolate in the bistro and share meals together, the Chief Inspector finds his holiday with his family interrupted by a simple request.
He's asked to provide security for what promises to be a non-event. A visiting Professor of Statistics will be giving a lecture at the nearby university.
While he is perplexed as to why the head of homicide for the Sûreté du Québec would be assigned this task, it sounds easy enough. That is until Gamache starts looking into Professor Abigail Robinson and discovers an agenda so repulsive he begs the university to cancel the lecture.
They refuse, citing academic freedom, and accuse Gamache of censorship and intellectual cowardice. Before long, Professor Robinson's views start seeping into conversations. Spreading and infecting. So that truth and fact, reality and delusion are so confused it's near impossible to tell them apart.
Discussions become debates, debates become arguments, which turn into fights. As sides are declared, a madness takes hold.
Abigail Robinson promises that, if they follow her, ça va bien aller. All will be well. But not, Gamache and his team know, for everyone.
When a murder is committed it falls to Armand Gamache, his second-in-command Jean-Guy Beauvoir, and their team to investigate the crime as well as this extraordinary popular delusion.
And the madness of crowds.
Available August 24:
Amazon | Barnes & Noble | Google Play | Kobo | Apple Books | Indiebound | Indigo | Audible | Goodreads
A Slow Fire Burning by Paula Hawkins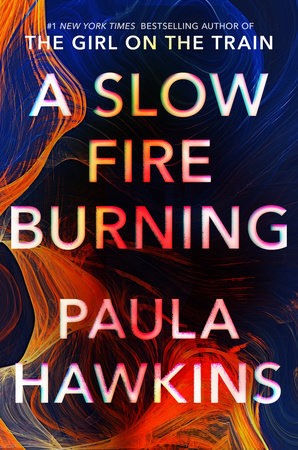 The scorching new thriller from the #1 New York Times bestselling author of The Girl on the Train.

"A Slow Fire Burning twists and turns like a great thriller should, but it's also deep, intelligent and intensely human." – Lee Child

"Only a clairvoyant could anticipate the book's ending" – New York Times

With the same propulsion that captivated millions of readers worldwide in The Girl on the Train and Into the Water, Paula Hawkins unfurls a gripping, twisting story of deceit, murder, and revenge.

When a young man is found gruesomely murdered in a London houseboat, it triggers questions about three women who knew him. Laura is the troubled one-night-stand last seen in the victim's home. Carla is his grief-stricken aunt, already mourning the recent death of yet another family member. And Miriam is the nosy neighbor clearly keeping secrets from the police. Three women with separate connections to the victim. Three women who are – for different reasons – simmering with resentment. Who are, whether they know it or not, burning to right the wrongs done to them. When it comes to revenge, even good people might be capable of terrible deeds. How far might any one of them go to find peace? How long can secrets smolder before they explode into flame?

Look what you started.
Available August 31:
Amazon | Barnes & Noble | Google Play | Kobo | Apple Books | Indiebound | Indigo | Audible | Goodreads
The Heart Principle by Helen Hoang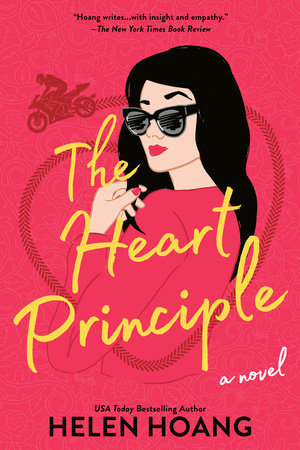 A woman struggling with burnout learns to embrace the unexpected—and the man she enlists to help her—in this heartfelt new romance by USA Today bestselling author Helen Hoang.

When violinist Anna Sun accidentally achieves career success with a viral YouTube video, she finds herself incapacitated and burned out from her attempts to replicate that moment. And when her longtime boyfriend announces he wants an open relationship before making a final commitment, a hurt and angry Anna decides that if he wants an open relationship, then she does, too. Translation: She's going to embark on a string of one-night stands. The more unacceptable the men, the better.

That's where tattooed, motorcycle-riding Quan Diep comes in. Their first attempt at a one-night stand fails, as does their second, and their third, because being with Quan is more than sex—he accepts Anna on an unconditional level that she herself has just started to understand. However, when tragedy strikes Anna's family she takes on a role that she is ill-suited for, until the burden of expectations threatens to destroy her. Anna and Quan have to fight for their chance at love, but to do that, they also have to fight for themselves.
Available August 31:
Amazon | Barnes & Noble | Google Play | Kobo | Apple Books | Indiebound | Indigo |Audible | Goodreads
The Last Chance Library by Freya Sampson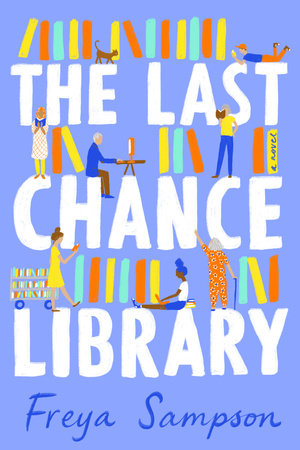 A Library Reads Pick

June Jones emerges from her shell to fight for her beloved local library, and through the efforts and support of an eclectic group of library patrons, she discovers life-changing friendships along the way.

Lonely librarian June Jones has never left the sleepy English village where she grew up. Shy and reclusive, the thirty-year-old would rather spend her time buried in books than venture out into the world. But when her library is threatened with closure, June is forced to emerge from behind the shelves to save the heart of her community and the place that holds the dearest memories of her mother.

Joining a band of eccentric yet dedicated locals in a campaign to keep the library, June opens herself up to other people for the first time since her mother died. It just so happens that her old school friend Alex Chen is back in town and willing to lend a helping hand. The kindhearted lawyer's feelings for her are obvious to everyone but June, who won't believe that anyone could ever care for her in that way.

To save the place and the books that mean so much to her, June must finally make some changes to her life. For once, she's determined not to go down without a fight. And maybe, in fighting for her cherished library, June can save herself, too.
Available August 31:
Amazon | Barnes & Noble | Google Play | Kobo | Apple Books | Indiebound | Indigo | Audible | Goodreads
What is on your TBR list? Let us know in the comments!