We're always on the hunt for a good read and June is bringing us plenty. There's contemporary women's fiction, historical fiction, thrillers, and more! Here are 20 books we can't wait to get our hands on including Broken People by Sam Lanksy, The Black Swan of Paris by Karen Robards, and Saving Ruby King by Catherine Adel West to name a few!
The Vanishing Half by Bris Bennett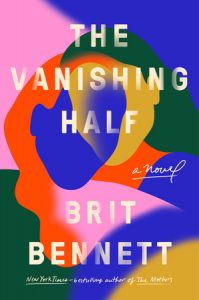 From The New York Times-bestselling author of The Mothers, a stunning new novel about twin sisters, inseparable as children, who ultimately choose to live in two very different worlds, one black and one white.
The Vignes twin sisters will always be identical. But after growing up together in a small, southern black community and running away at age sixteen, it's not just the shape of their daily lives that is different as adults, it's everything: their families, their communities, their racial identities. Many years later, one sister lives with her black daughter in the same southern town she once tried to escape. The other secretly passes for white, and her white husband knows nothing of her past. Still, even separated by so many miles and just as many lies, the fates of the twins remain intertwined. What will happen to the next generation, when their own daughters' storylines intersect?
Weaving together multiple strands and generations of this family, from the Deep South to California, from the 1950s to the 1990s, Brit Bennett produces a story that is at once a riveting, emotional family story and a brilliant exploration of the American history of passing. Looking well beyond issues of race, The Vanishing Half considers the lasting influence of the past as it shapes a person's decisions, desires, and expectations, and explores some of the multiple reasons and realms in which people sometimes feel pulled to live as something other than their origins.
Available June 2:
Amazon | Barnes & Noble | Google Play | Kobo | Apple Books | Indiebound | Audible | Goodreads
The Lies That Bind by Emily Giffin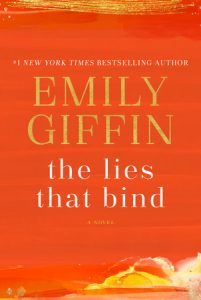 In the irresistible new novel from the #1 New York Times bestselling author of All We Ever Wanted and Something Borrowed, a young woman falls hard for an impossibly perfect man before he disappears without a trace. . . .
It's 2 A.M. on a Saturday night in the spring of 2001, and twenty-eight-year-old Cecily Gardner sits alone in a dive bar in New York's East Village, questioning her life. Feeling lonesome and homesick for the Midwest, she wonders if she'll ever make it as a reporter in the big city—and whether she made a terrible mistake in breaking up with her longtime boyfriend, Matthew.
As Cecily reaches for the phone to call him, she hears a guy on the barstool next to her say, "Don't do it—you'll regret it." Something tells her to listen, and over the next several hours—and shots of tequila—the two forge an unlikely connection. That should be it, they both decide the next morning, as Cecily reminds herself of the perils of a rebound relationship. Moreover, their timing couldn't be worse—Grant is preparing to quit his job and move overseas. Yet despite all their obstacles, they can't seem to say goodbye, and for the first time in her carefully constructed life, Cecily follows her heart instead of her head.
Then Grant disappears in the chaos of 9/11. Fearing the worst, Cecily spots his face on a missing-person poster, and realizes she is not the only one searching for him. Her investigative reporting instincts kick into action as she vows to discover the truth. But the questions pile up fast: How well did she really know Grant? Did he ever really love her? And is it possible to love a man who wasn't who he seemed to be?
Available June 2 at:
Amazon | Barnes & Noble | Google Play | Kobo | Apple Books | Indiebound | Audible | Goodreads
Broken People by Sam Lansky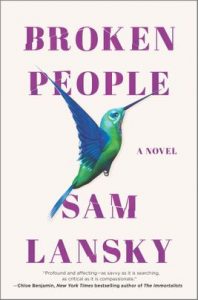 A groundbreaking, incandescent debut novel about coming to grips with the past and ourselves, for fans of Sally Rooney, Hanya Yanagihara and Garth Greenwell
"He fixes everything that's wrong with you in three days."
This is what hooks Sam when he first overhears it at a fancy dinner party in the Hollywood hills: the story of a globe-trotting shaman who claims to perform "open-soul surgery" on emotionally damaged people. For neurotic, depressed Sam, new to Los Angeles after his life in New York imploded, the possibility of total transformation is utterly tantalizing. He's desperate for something to believe in, and the shaman—who promises ancient rituals, plant medicine and encounters with the divine—seems convincing, enough for Sam to sign up for a weekend under his care.
But are the great spirits the shaman says he's summoning real at all? Or are the ghosts in Sam's memory more powerful than any magic?
At turns tender and acid, funny and wise, Broken People is a journey into the nature of truth and fiction—a story of discovering hope amid cynicism, intimacy within chaos and peace in our own skin.
Available June 9 at:
Amazon | Barnes & Noble | Google Play | Kobo | Apple Books | Indiebound | Audible | Goodreads
Stranger in the Lake by Kimberly Belle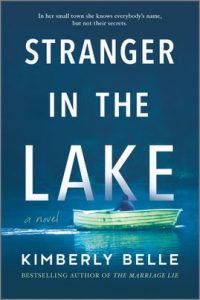 When Charlotte married the wealthy widower Paul, it caused a ripple of gossip in their small lakeside town. They have a charmed life together, despite the cruel whispers about her humble past and his first marriage. But everything starts to unravel when she discovers a young woman's body floating in the exact same spot where Paul's first wife tragically drowned.
At first, it seems like a horrific coincidence, but the stranger in the lake is no stranger. Charlotte saw Paul talking to her the day before, even though Paul tells the police he's never met the woman. His lie exposes cracks in their fragile new marriage, cracks Charlotte is determined to keep from breaking them in two.
As Charlotte uncovers dark mysteries about the man she married, she doesn't know what to trust—her heart, which knows Paul to be a good man, or her growing suspicion that there's something he's hiding in the water.
Available June 9 at:
Amazon | Barnes & Noble | Google Play | Kobo | Apple Books | Indiebound | Audible | Goodreads
Red Sky Over Hawaii by Sara Ackerman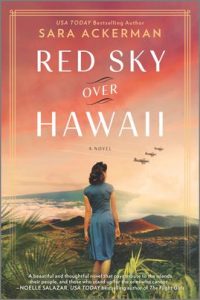 Inspired by real places and events of WWII, Red Sky Over Hawaii immerses the reader in a time of American history full of suspicion and peril in this lush and poignant tale about the indisputable power of doing the right thing against all odds.
The attack on Pearl Harbor changes everything for Lana Hitchcock. Arriving home on the Big Island too late to reconcile with her estranged father, she is left alone to untangle the clues of his legacy, which lead to a secret property tucked away in the remote rain forest of Kilauea volcano. When the government starts taking away her neighbors as suspected sympathizers, Lana shelters two young German girls, a Japanese fisherman and his son. As tensions escalate, they are forced into hiding—only to discover the hideaway house is not what they expected.
When a detainment camp is established nearby, Lana struggles to keep the secrets of those in her care. Trust could have dangerous consequences. As their lives weave together, Lana begins to understand the true meaning of family and how the bonds of love carry us through the worst times.
Available June 9 at:
Amazon | Barnes & Noble | Google Play | Kobo | Apple Books | Indiebound | Audible | Goodreads
The Bitter and Sweet of Cherry Season by Molly Fader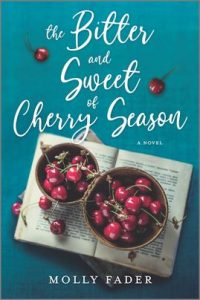 "A stunning story about family and hope that unfolds unexpectedly but beautifully, like a Michigan summer sunset over an orchard." —Viola Shipman, bestselling author of The Heirloom Garden and The Summer Cottage
In cherry season, anything is possible…
Everything Hope knows about the Orchard House is from the stories of her late mother. So when she arrives at the northern Michigan family estate late one night with a terrible secret and her ten-year-old daughter in tow, she's not sure if she'll be welcomed or turned away with a shotgun by the aunt she has never met.
Hope's aunt, Peg, has lived in the Orchard House all her life, though the property has seen better days. She agrees to take Hope in if, in exchange, Hope helps with the cherry harvest—not exactly Hope's specialty, but she's out of options. As Hope works the orchard alongside her aunt, daughter and a kind man she finds increasingly difficult to ignore, a new life begins to blossom. But the mistakes of the past are never far behind, and soon the women will find themselves fighting harder than ever for their family roots and for each other.
Available June 9 at:
Amazon | Barnes & Noble | Google Play | Kobo | Apple Books | Indiebound | Audible | Goodreads
The Marriage Game by Sara Desai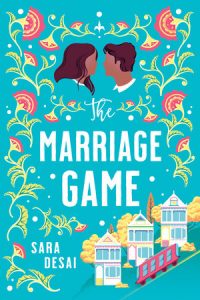 A high stakes wager pits an aspiring entrepreneur against a ruthless CEO in this sexy romantic comedy.

After her life falls apart, recruitment consultant Layla Patel returns home to her family in San Francisco. But in the eyes of her father, who runs a Michelin starred restaurant, she can do no wrong. He would do anything to see her smile again. With the best intentions in mind, he offers her the office upstairs to start her new business and creates a profile on an online dating site to find her a man. She doesn't know he's arranged a series of blind dates until the first one comes knocking on her door…
As CEO of a corporate downsizing company Sam Mehta is more used to conflict than calm. In search of a quiet new office, he finds the perfect space above a cozy Indian restaurant that smells like home. But when communication goes awry, he's forced to share his space with the owner's beautiful yet infuriating daughter Layla, her crazy family, and a parade of hopeful suitors, all of whom threaten to disrupt his carefully ordered life.
As they face off in close quarters, the sarcasm and sparks fly. But when the battle for the office becomes a battle of the heart, Sam and Layla have to decide if this is love or just a game.
Available June 9 at:
Amazon | Barnes & Noble | Google Play | Kobo | Apple Books | Indiebound | Audible | Goodreads
How to Save a Life by S.D. Robertson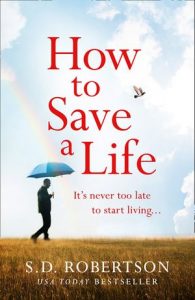 'A heartwarming and thought-provoking story of grief, redemption and reinvention in our modern world.' Imogen Clark, bestselling author of Where The Story Starts
You can't have a rainbow, without a little rain…
When a stranger saves Luke's life, he knows he's been given a second chance. He's going to make it count – and, determined to live each day to its fullest, he starts by saying yes to everything life has to offer.
Slowly but surely, Luke learns that a little bit of blue-sky thinking can go a long way, and things start to look up.
But when Luke's new resolve is tested, will he return to his old ways? Or can one fateful moment truly save a life?
A life-affirming story about a man who is given a second chance, perfect for fans of Mike Gayle and Imogen Clark.
Available June 11 at:
Amazon | Barnes & Noble | Google Play | Kobo | Apple Books | Indiebound | Goodreads
Saving Ruby King by Catherine Adel West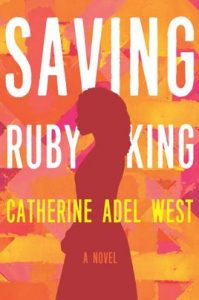 Family. Faith. Secrets. Everything in this world comes full circle.
When Ruby King's mother is found murdered in their home in Chicago's South Side, the police dismiss it as another act of violence in a black neighborhood. But for Ruby, it's a devastating loss that leaves her on her own with her violent father. While she receives many condolences, her best friend, Layla, is the only one who understands how this puts Ruby in jeopardy.
Their closeness is tested when Layla's father, the pastor of their church, demands that Layla stay away. But what is the price for turning a blind eye? In a relentless quest to save Ruby, Layla uncovers the murky loyalties and dangerous secrets that have bound their families together for generations. Only by facing this legacy of trauma head-on will Ruby be able to break free.
An unforgettable debut novel, Saving Ruby King is a powerful testament that history doesn't determine the present and the bonds of friendship can forever shape the future.
Available June 16 at:
Amazon | Barnes & Noble | Google Play | Kobo | Apple Books | Indiebound | Audible | Goodreads
28 Summers by Elin Hilderbrand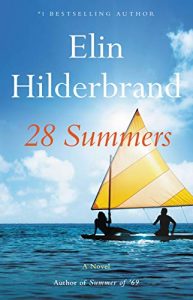 By the #1 New York Times bestselling author of Summer of '69: Their secret love affair has lasted for decades — but this could be the summer that changes everything.
When Mallory Blessing's son, Link, receives deathbed instructions from his mother to call a number on a slip of paper in her desk drawer, he's not sure what to expect. But he certainly does not expect Jake McCloud to answer. It's the late spring of 2020 and Jake's wife, Ursula DeGournsey, is the frontrunner in the upcoming Presidential election.
There must be a mistake, Link thinks. How do Mallory and Jake know each other? Flash back to the sweet summer of 1993: Mallory has just inherited a beachfront cottage on Nantucket from her aunt, and she agrees to host her brother's bachelor party. Cooper's friend from college, Jake McCloud, attends, and Jake and Mallory form a bond that will persevere — through marriage, children, and Ursula's stratospheric political rise — until Mallory learns she's dying.
Based on the classic film Same Time Next Year (which Mallory and Jake watch every summer), 28 Summers explores the agony and romance of a one-weekend-per-year affair and the dramatic ways this relationship complicates and enriches their lives, and the lives of the people they love.
Available June 16 at:
Amazon | Barnes & Noble | Google Play | Kobo | Apple Books | Indiebound | Audible | Goodreads
Summer at Lake Haven by RaeAnne Thayne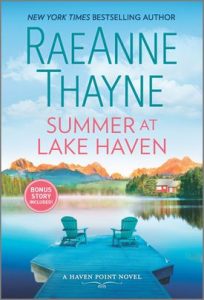 A lakeside summer, a new beginning…
Samantha Fremont has been struggling with the weight of her mother's expectations for years. But now that her mother has passed away, it's time for Sam to be bold and finally establish the fashion design business she's always dreamed of. And the perfect opportunity has fallen into her lap. Her friend's getting married and has asked Sam to create her wedding dress…if only she can avoid the bride's infuriating brother, who's temporarily the boy next door.
Ian Summerhill knows a sabbatical in Haven Point is exactly what he and his children need to recover from their mother's death. His romantic relationship with his ex-wife may have ended years ago, but caring for her throughout her illness broke his heart. All he wants is to watch his little sister walk down the aisle and to see his kids smile again. And somehow his lovely new neighbor is instrumental in both. But as their uneasy truce blossoms into a genuine friendship and more, Ian has obligations in England he can't ignore—and a secret that threatens the fragile trust he and Sam have built.
Available June 23 at:
Amazon | Barnes & Noble | Google Play | Kobo | Apple Books | Indiebound | Audible | Goodreads
That Summer in Maine by Brianna Wolfson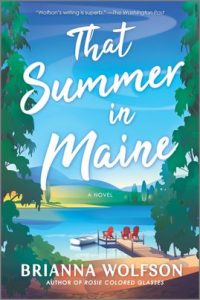 A novel about mothers and daughters, about taking chances, about exploding secrets and testing the boundaries of family
Years ago, during a certain summer in Maine, two young women, unaware of each other, met a charismatic man at a craft fair and each had a brief affair with him. For Jane it was a chance to bury her recent pain in raw passion and redirect her life. For Susie it was a fling that gave her troubled marriage a way forward.
Now, sixteen years later, the family lives these women have made are suddenly upended when their teenage girls meet as strangers on social media. They concoct a plan to spend the summer in Maine with the man who is their biological father. Their determination puts them on a collision course with their mothers, who must finally meet and acknowledge their shared past and join forces as they risk losing their only daughters to a man they barely know.
Available June 23 at:
Amazon | Barnes & Noble | Google Play | Kobo | Apple Books | Indiebound | Audible | Goodreads
The Girl from Widow Hills by Megan Miranda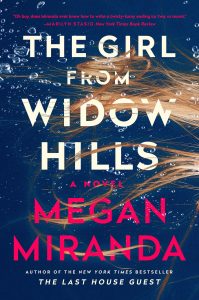 From the New York Times bestselling author of The Last House Guest—a Reese Witherspoon Book Club pick—comes a riveting new novel of psychological suspense about a young woman plagued by night terrors after a childhood trauma who wakes one evening to find a corpse at her feet.
Everyone knows the story of "the girl from Widow Hills."
Arden Maynor was just a child when she was swept away while sleepwalking during a terrifying rainstorm and went missing for days. Strangers and friends, neighbors and rescue workers, set up search parties and held vigils, praying for her safe return. Against all odds, she was found, alive, clinging to a storm drain. The girl from Widow Hills was a living miracle. Arden's mother wrote a book. Fame followed. Fans and fan letters, creeps, and stalkers. And every year, the anniversary. It all became too much. As soon as she was old enough, Arden changed her name and disappeared from the public eye.
Now a young woman living hundreds of miles away, Arden goes by Olivia. She's managed to stay off the radar for the last few years. But with the twentieth anniversary of her rescue approaching, the media will inevitably renew its interest in Arden. Where is she now? Soon Olivia feels like she's being watched and begins sleepwalking again, like she did long ago, even waking outside her home. Until late one night she jolts awake in her yard. At her feet is the corpse of a man she knows—from her previous life, as Arden Maynor.
And now, the girl from Widow Hills is about to become the center of the story, once again, in this propulsive page-turner from suspense master Megan Miranda.
Available June 23 at:
Amazon | Barnes & Noble | Google Play | Kobo | Apple Books | Indiebound | Audible | Goodreads
The Black Swan of Paris by Karen Robards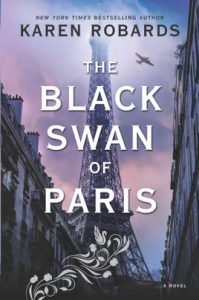 From New York Times bestselling author Karen Robards comes one of the most anticipated novels of the summer…
A world at war. A beautiful young star. A mission no one expected.
Paris, 1944
Celebrated singer Genevieve Dumont is both a star and a smokescreen. An unwilling darling of the Nazis, the chanteuse's position of privilege allows her to go undetected as an ally to the resistance.
When her estranged mother, Lillian de Rocheford, is captured by Nazis, Genevieve knows it won't be long before the Gestapo succeeds in torturing information out of Lillian that will derail the upcoming allied invasion. The resistance movement is tasked with silencing her by any means necessary—including assassination. But Genevieve refuses to let her mother become yet one more victim of the war. Reuniting with her long-lost sister, she must find a way to navigate the perilous cross-currents of Occupied France undetected—and in time to save Lillian's life.
For fans of The Nightingale, The Women in the Castle and The Lost Girls of Paris, this exquisite novel illuminates three women's strength, courage and capacity for unconditional love.
Available June 30 at:
Amazon | Barnes & Noble | Google Play | Kobo | Apple Books | Indiebound | Audible | Goodreads
No One Saw by Beverly Long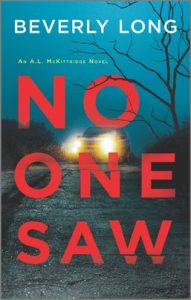 Nobody saw a thing. Or so they say…
Baywood police department detective A.L. McKittridge is no stranger to tough cases, but when five-year-old Emma Whitman disappears from her day care, there isn't a single shred of evidence to go on. Neither the grandmother who dropped her off, nor the teacher whose care she was supposed to be in, can account for the missing child. There are no witnesses. No trace of where she might have gone. There's only one thing A.L. and his partner, Rena Morgan, are sure of—somebody is lying.
With the clock ticking, A.L. and Rena are under extreme pressure as they discover their instincts are correct: all is not as it seems. The Whitmans are a family with many secrets, and A.L. and Rena will have to race to untangle a growing web of lies if they're going to find the thread that leads them to Emma…before it's too late.
Available June 30 at:
Amazon | Barnes & Noble | Google Play | Kobo | Apple Books | Indiebound | Goodreads
She's Faking It by Kristin Rockaway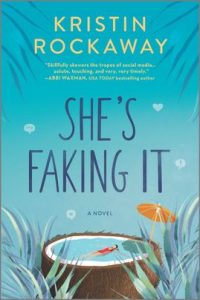 You can't put a filter on reality.
Bree Bozeman isn't exactly pursuing the life of her dreams. Then again, she isn't too sure what those dreams are. After dropping out of college, she's living a pretty chill life in the surf community of Pacific Beach, San Diego…if "chill" means delivering food as a GrubGetter, and if it means "uneventful".
But when Bree starts a new Instagram account — @breebythesea — one of her posts gets a signal boost from none other than wildly popular self-help guru Demi DiPalma, owner of a lifestyle brand empire. Suddenly, Bree just might be a rising star in the world of Instagram influencing. Is this the direction her life has been lacking? It's not a career choice she'd ever seriously considered, but maybe it's a sign from the universe. After all, Demi's the real deal… right?
Everything is lining up for Bree: life goals, career, and even a blossoming romance with the chiseled guy next door, surf star Trey Cantu. But things are about to go sideways fast, and even the perfect filter's not gonna fix it. Instagram might be free, but when your life looks flawless on camera, what's the cost?
Available June 30 at:
Amazon | Barnes & Noble | Google Play | Kobo | Apple Books | Indiebound | Audible | Goodreads
Mexican Gothic by Silvia Moreno-Garcia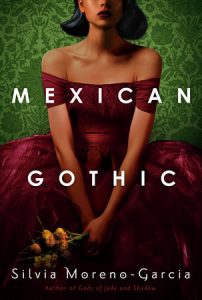 After receiving a frantic letter from her newly-wed cousin begging for someone to save her from a mysterious doom, Noemí Taboada heads to High Place, a distant house in the Mexican countryside. She's not sure what she will find—her cousin's husband, a handsome Englishman, is a stranger, and Noemí knows little about the region.
Noemí is also an unlikely rescuer: She's a glamorous debutante, and her chic gowns and perfect red lipstick are more suited for cocktail parties than amateur sleuthing. But she's also tough and smart, with an indomitable will, and she is not afraid: Not of her cousin's new husband, who is both menacing and alluring; not of his father, the ancient patriarch who seems to be fascinated by Noemí; and not even of the house itself, which begins to invade Noemi's dreams with visions of blood and doom.
Her only ally in this inhospitable abode is the family's youngest son. Shy and gentle, he seems to want to help Noemí, but might also be hiding dark knowledge of his family's past. For there are many secrets behind the walls of High Place. The family's once colossal wealth and faded mining empire kept them from prying eyes, but as Noemí digs deeper she unearths stories of violence and madness.
And Noemí, mesmerized by the terrifying yet seductive world of High Place, may soon find it impossible to ever leave this enigmatic house behind.
Available June 30 at:
Amazon | Barnes & Noble | Google Play | Kobo | Apple Books | Indiebound | Audible | Goodreads
Blue Ticket by Sophie Mackintosh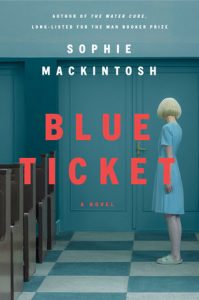 From the author of the Man Booker Prize longlisted novel The Water Cure comes another mesmerizing, refracted vision of our society: In a world where women can't have it all, don't underestimate the relief of a decision being taken away from you.
Calla knows how the lottery works. Everyone does. On the day of your first bleed, you report to the station to learn what kind of woman you will be. A white ticket grants you marriage and children. A blue ticket grants you a career and freedom. You are relieved of the terrible burden of choice. And once you've taken your ticket, there is no going back. But what if the life you're given is the wrong one?
When Calla, a blue ticket woman, begins to question her fate, she must go on the run. But her survival will be dependent on the very qualities the lottery has taught her to question in herself and on the other women the system has pitted against her. Pregnant and desperate, Calla must contend with whether or not the lottery knows her better than she knows herself and what that might mean for her child.
An urgent inquiry into free will, social expectation, and the fraught space of motherhood, Blue Ticket is electrifying in its raw evocation and desire and riveting in its undeniable familiarity.
Available June 30 at:
Amazon | Barnes & Noble | Google Play | Kobo | Apple Books | Indiebound | Audible | Goodreads
Let us know what books you're planning on reading below!