Although you might want to rest your pockets after the Black Friday madness, that doesn't mean that the shopping period is over. Cyber Monday, a decade-old occurrence, has only one goal: to get you to shop online.
It's amazing to remember that online shopping, now a normal occurrence in our everyday lives, was once an impossible dream for the future. We can shop anytime and anyplace! It's both convenient and dangerous. We are very much connected through the great wide web, and that immediate closeness is a double-edged sword indeed.
So why not give online shopping a rest today and enjoy these books that discuss the perils and joys of the internet and technology? Unless, of course, you decide to buy these online, in which case we will fully support your choices!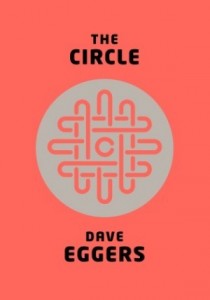 The Circle by Dave Eggers
At first Mae Holland is ecstatic to work for the Circle, the world's most powerful internet company, which spans a California campus. Their main objective is to link users' personal emails, social media, banking records and purchasing habits with the Circle's universal operating system to create a unique online identity. On the campus, Mae encounters both fulfilling work and an environment unlike any other. The facilities are immaculate and modern, the parties are never ending and the perks continue unabated. Yet little by little, Mae begins to realize that not everything is as it seems at the Circle…and that there's nowhere to hide.
From Ernest Cline, author of Ready Player One, comes another gripping tale of the online gaming world. Zack Lightman is an avid gamer who dreams of a world more exciting than his mundane everyday reality. His fantasies become a reality when he spots a flying saucer. Believing it to be a figment of his imagination as it looks exactly like the alien ship from his favorite video game, Armada, he dismisses it. Until it's apparent that it isn't a hallucination. It's real. And gamers, like him, are needed to protect the Earth from this alien invasion. Yet the coincidence is too perfect for Zack, and his intuition suspects something is amiss.
Briddey and Trent have been together for six magical years and are at place in life where they're ready to take the next step. They are both successful, working for a large mobile phone industry, and are aware of the importance of communication. Which is why Trent proposes that they undergo the EDD, a procedure that will have them mentally linked to each other before they get married. What can possible go wrong? Well, for one, Briddey ends up being linked to an entirely different person. Will she be able to break the link and regain her privacy?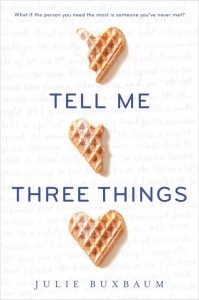 Tell Me Three Things by Julie Buxbaum
This is an unconventional story of friendship between two people—one a misfit and the other an anonymous mystery. Jessie doesn't feel like she can fit in at her ultra-intimidating prep school in Los Angeles and it's only her junior year. She wants to escape back to Chicago. Then she gets an email from "Somebody/Nobody" or SN for short. They offer to help her navigate the terrain of Wood Valley High School. Jessie begins to rely on SN more and more until finally she wants to meet. Will they be able to maintain the friendship they've worked to build? Or could the trust be shattered once SN's identity is revealed?
This book has been described by readers as an Inception love story. "Are you happy with your life?" is the question Jason Dessen hears before a masked abductor knocks him unconscious. When he awakens, he is surrounded by strangers in hazmat suits and finds himself strapped to a gurney. They welcome him back but Jason is unsure where he's been returned to. All he knows is that his life does not exist in this new world. His wife is not his wife, and his son was never born. In this world, he is not a college physics professor but a celebrated genius who has achieved an impossible, groundbreaking discovery. Was it worth losing his old life, though, even if it may have been a lie?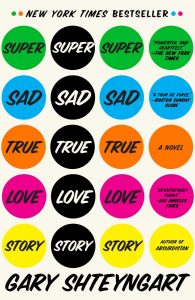 Super Sad True Love Story by Gary Shteyngart
Behind-the-times Lenny Abramov has fallen for a younger woman—Eunice Park. He is a proud diary writer and loves print books in a world that scoffs at such artifacts. She is a Korean American graduate of Elderbird College, intent on changing the world with her major in Images and minor in Assertiveness. They meet the old-fashioned way, by chance, and not by the quick, cold calculating click of a button. She shows him how to eat, dress and function in this modern world. A world that is falling apart in the midst of a credit crisis. Lenny will show her that being an authentic human being is essential, even if they are surrounded by a dying world.
Which book would you pick up for this Cyber Monday? Let us know in the comments below!