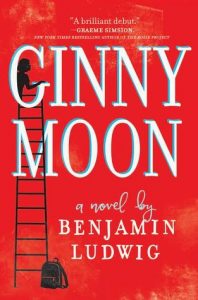 Bunting, book bags … and Michael Jackson posters? This was the pitch-perfect setting in HarperCollins Canada's boardroom when they hosted author Benjamin Ludwig in Toronto. Fifty booksellers showed up to hear about GINNY MOON, which the HarperCanada sales force made their Top Pick selection of the summer season (the one book they will champion the most).
GINNY MOON releases on May 2nd, and it has also been chosen as a Barnes & Noble Discover Pick, an Indie Next Pick, a LibraryReads Pick, and a Shopper's Drug Mart Book Lover's Pick — all excellent indicators this book will be a major hit.
So why all the fuss? GINNY MOON is narrated by a young girl with autism who tries to make sense of the world around her. Through her unique lens, the reader finds out about Ginny's past, about her new home with parents who adopted her, and about the mysterious Baby Doll she obsesses about.
Ginny, the character, is someone I'll not soon forget, and GINNY, the book, is simply a masterpiece of emotions: a dark but ultimately uplifting journey that will make you see the world differently.
Kudos to the HarperCanada team for building the buzz around GINNY. As for the Michael Jackson posters and their significance to the book? I'll let you read GINNY MOON to find out for yourself!
BOOKCLUBBISH WAS THERE at the HarperCanada reception for Benjamin Ludwig, and we were wanna be startin' somethin'.