There's nothing better than discovering a new series that you love. Suddenly, you've gotten a whole new set of books added to your TBR list. If you've been looking for a series to dig into, try one of these! They all tell you compelling stories across several books. Pick one (or a few!) up and get ready to crush your reading goal!
The Virgin River Series
Book 1: Virgin River by Robyn Carr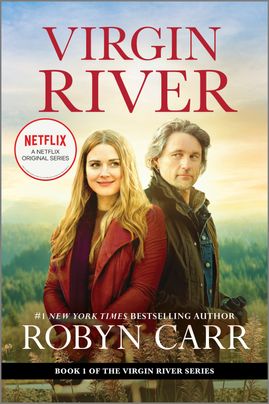 "The Virgin River books are so compelling—I connected instantly with the characters and just wanted more and more and more." —#1 New York Times bestselling author Debbie Macomber
Welcome back to Virgin River with the book that inspired the hit Netflix series…
Wanted: Midwife/nurse practitioner in Virgin River, population six hundred. Make a difference against a backdrop of towering California redwoods and crystal clear rivers. Rent-free cabin included.
When the recently widowed Melinda Monroe sees this ad, she quickly decides that the remote mountain town of Virgin River might be the perfect place to escape her heartache and to reenergize the nursing career she loves. But her high hopes are dashed within an hour of arriving—the cabin is a dump, the roads are treacherous and the local doctor wants nothing to do with her. Realizing she's made a huge mistake, Mel decides to leave town the following morning.
But a tiny baby abandoned on a front porch changes her plans…and former marine Jack Sheridan cements them into place.
Available at:
Amazon | Barnes & Noble | Google Play | Kobo | Apple Books | Indiebound | Indigo | Audible | Goodreads
The Sweet Magnolias Series
Book 1: Stealing Home by Sherryl Woods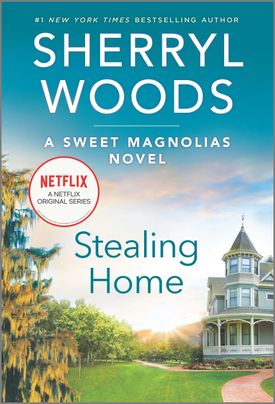 For the Sweet Magnolias, now a Netflix original series, friendship lasts a lifetime…
Maddie Townsend might live in a town called Serenity and have the best friends a woman could ask for, but her life is overturned when her husband leaves her for a younger woman. With her three children heartbroken from the change, Maddie has a lot to contend with. On top of it all, after years outside the workforce, she must dust off her business skills to take charge of her best friends' newest project—planning the town's only fitness spa for women.
When her son's developing anger issues begin to affect his passion for baseball, Maddie knows she must step in to help. She didn't expect to develop feelings for her son's coach, the handsome Cal Maddox, and to learn he has feelings for her, too. But gossip travels quickly in a small town, and Maddie and Cal's relationship may threaten both their reputations and careers.
Then again, he could be the one man in all of South Carolina who can help her find serenity after all.
Available at:
Amazon | Barnes & Noble | Google Play | Kobo | Apple Books | Indiebound | Indigo | Audible | Goodreads
The Taylor Jackson Series
Book 1: All the Pretty Girls by J.T. Ellison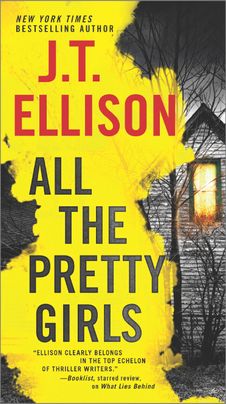 All the pretty girls vanish one by one… Return to the riveting start of the Taylor Jackson series by New York Times bestselling author J.T. Ellison with a heart-pounding case of murder, intrigue, and lies buried deep.

After a local girl turns up dead, Nashville Homicide lieutenant Taylor Jackson is determined to catch the serial rapist responsible for the crime. Called "The Southern Strangler," this sadistic killer is slaughtering young women throughout Southeast, leaving a gruesome memento at each crime scene—the prior victim's severed hand. Taylor finds herself in a joint investigation with her lover, FBI profiler Dr. John Baldwin, as they pursue the vicious murderer.
Ambitious TV reporter Whitney Connolly is certain the Southern Strangler is her ticket out of Nashville; she's got a scoop that could break the case. But she has no idea how close to this story she really is—or what it will cost her.
Battling an old injury and her own demons, Taylor is desperate to quell the rising tide of bodies. But as the killer spirals out of control, everyone involved must face a horrible truth—the purest evil is born of private lies.
Available at:
Amazon | Barnes & Noble | Google Play | Kobo | Apple Books | Indiebound | Indigo | Audible | Goodreads
The Maximum Security Series
Book 1: The Conspiracy by Kat Martin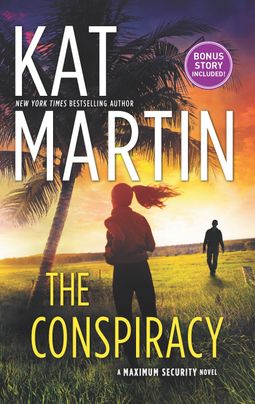 New York Times bestselling author Kat Martin raises the tension and the passion when family ambition turns deadly…
Harper Winston's brother has disappeared. Pursuing his dream of sailing the Caribbean, Michael hasn't responded to texts or emails in days. When even the Coast Guard can't find him, Harper is forced to take desperate measures. Which means going to Chase Garrett, once her brother's best friend, now the only man she can trust…or so she hopes.
As the successful owner of Maximum Security, Chase has learned to trust his gut. He knows Harper's father is mixed up in a deadly business, and suspects there's more to Michael's disappearance than meets the eye. Getting involved again with the Winstons goes against everything he stands for, yet old loyalties die hard. As the case draws him closer to Harper and deeper into the Winstons' snarled crime family, he is forced to put everything on the line to keep Harper safe…and both of them alive.
Also includes a bonus Maximum Security novella, Wait Until Dark!
Available at:
Amazon | Barnes & Noble | Google Play | Kobo | Apple Books | Indiebound | Indigo | Audible | Goodreads
The Calhoun Chronicles
Book 1: The Charm School by Susan Wiggs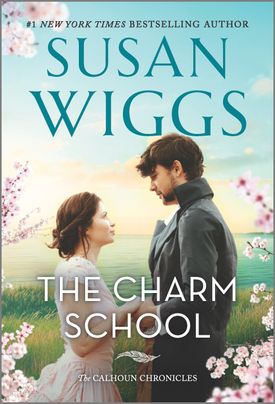 Book 1 of the Calhoun Chronicles by #1 New York Times bestselling author Susan Wiggs.
Boston and Rio de Janeiro, 1851
An awkward misfit in an accomplished Boston family, Isadora Peabody yearns to escape her social isolation and sneaks aboard the Silver Swan, bound for Rio, leaving it all behind.
Ryan Calhoun, too, had a good family name. But he'd purposely walked away from everything it afforded him. Driven by his quest to right an old wrong, the fiery, temperamental sea captain barely registers the meek young woman who comes aboard his ship.
To the Swan's motley crew, the tides of attraction clearly flow between the two. Teaching her the charms of a lady, they hope to build the confidence she needs to attract not only their lonely captain's attention, but his heart, as well. For everyone knows the greatest charms are not those of the formal lady, but rather the possibilities of a new world built on love.
A historical romance.
Available at:
Amazon | Barnes & Noble | Google Play | Kobo | Apple Books | Indiebound | Indigo | Audible | Goodreads
The Iron Fey Series
Book 1: The Iron King by Julie Kagawa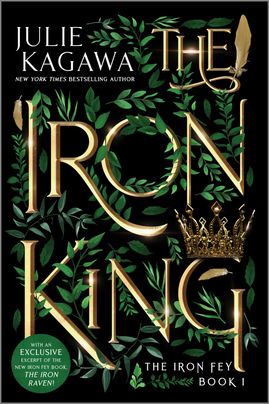 Enter a fantastical world of dangerous faeries, wicked princes and one half-human girl who discovers her entire life is a lie. This special edition of The Iron King includes the bonus novella "Winter's Passage" and an exclusive excerpt from the new Iron Fey book, The Iron Raven.
MY NAME IS MEGHAN CHASE.

In less than twenty-four hours, I'll be sixteen. Countless stories, songs and poems have been written about this wonderful age, when a girl finds true love and the stars shine for her and the handsome prince carries her off into the sunset.
I DON'T THINK IT WILL BE THAT WAY FOR ME.

Something has always felt slightly off in Meghan Chase's life, ever since her father disappeared when she was six. Ten years later, when her little brother also goes missing, Meghan learns the truth—she is the secret daughter of a mythical faery king and a pawn in a deadly war. Now Meghan will learn just how far she'll go to save someone she loves, to stop a mysterious evil no faery creature dare face…and to find love with a young prince who might rather see her dead than let her touch his icy heart.
Available at:
Amazon | Barnes & Noble | Google Play | Kobo | Apple Books | Indiebound | Indigo | Audible | Goodreads
The White Rabbit Chronicles
Book 1: Alice in Zombieland by Gena Showalter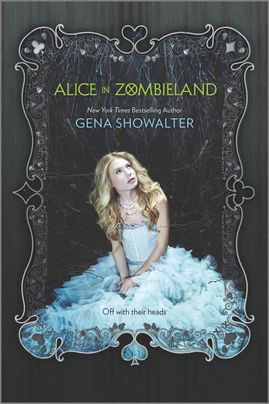 A modern-day Alice in Wonderland meets the undead…
Alice in Zombieland, the first book in The White Rabbit Chronicles, introduces readers to a world newly overrun by zombies…and the one girl who may be able to save mankind.
She won't rest until she's sent every walking corpse back to its grave.
Had anyone told Alice Bell that her entire life would change course between one heartbeat and the next, she would have laughed. But that's all it took. One heartbeat. A blink, a breath, a second, and everything she knew and loved was gone.
Her father was right. The monsters are real.
To avenge her family, Ali must learn to fight the undead. To survive, she must learn to trust the baddest of the bad boys, Cole Holland. But Cole has secrets of his own, and if Ali isn't careful, those secrets might just prove to be more dangerous than the zombies.
Available at:
Amazon | Barnes & Noble | Google Play | Kobo | Apple Books | Indiebound | Indigo | Audible | Goodreads
What's your favorite book series? Share it with us in the comments below.