Are you in a reading slump? Don't worry…we've been there and know how difficult it can be to get out of one. However, with the right sort of reads, you'll be reaching for all the books on your bookshelf in no time! Our favorite books to get us back into reading are sometimes short, sometimes sweet, sometimes suspenseful, but above all, super engaging. Here's just a few noteworthy recommendations.
The Lost Apothecary by Sarah Penner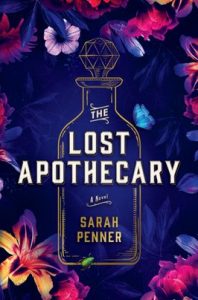 INSTANT NEW YORK TIMES BESTSELLER
"A bold, edgy, accomplished debut!" —Kate Quinn, New York Times bestselling author of The Alice Network and The Huntress
A forgotten history. A secret network of women. A legacy of poison and revenge. Welcome to The Lost Apothecary…
Hidden in the depths of eighteenth-century London, a secret apothecary shop caters to an unusual kind of clientele. Women across the city whisper of a mysterious figure named Nella who sells well-disguised poisons to use against the oppressive men in their lives. But the apothecary's fate is jeopardized when her newest patron, a precocious twelve-year-old, makes a fatal mistake, sparking a string of consequences that echo through the centuries.
Meanwhile in present-day London, aspiring historian Caroline Parcewell spends her tenth wedding anniversary alone, running from her own demons. When she stumbles upon a clue to the unsolved apothecary murders that haunted London two hundred years ago, her life collides with the apothecary's in a stunning twist of fate—and not everyone will survive.
With crackling suspense, unforgettable characters and searing insight, The Lost Apothecary is a subversive and intoxicating debut novel of secrets, vengeance and the remarkable ways women can save each other despite the barrier of time.
Available at:
Amazon | Barnes & Noble | Google Play | Kobo | Apple Books | Indiebound | Indigo | Audible | Goodreads
The Wrong Family by Tarryn Fisher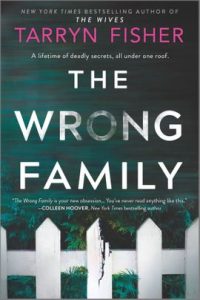 Have you ever been wrong about someone?
Juno was wrong about Winnie Crouch.
Before moving in with the Crouch family, Juno thought Winnie and her husband, Nigel, had the perfect marriage, the perfect son—the perfect life. Only now that she's living in their beautiful house, she sees the cracks in the crumbling facade are too deep to ignore.
Still, she isn't one to judge. After her grim diagnosis, the retired therapist simply wants a place to live out the rest of her days in peace. But that peace is shattered the day Juno overhears a chilling conversation between Winnie and Nigel…
She shouldn't get involved.
She really shouldn't.
But this could be her chance to make a few things right.
Because if you thought Juno didn't have a secret of her own, then you were wrong about her, too.

From the wickedly dark mind of bestselling author Tarryn Fisher, The Wrong Family is a taut new thriller that's riddled with twists in all the right places.
Available at:
Amazon | Barnes & Noble | Google Play | Kobo | Apple Books | Indiebound | Indigo | Audible | Goodreads
One Summer in Paris by Sarah Morgan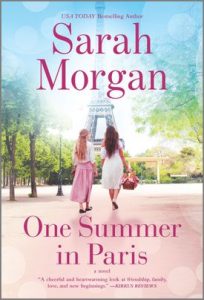 USA TODAY bestselling author Sarah Morgan returns with this heartwarming novel about the power of friendship, love and what happens when an ending is just the beginning…
To celebrate their twenty-fifth wedding anniversary, Grace has planned the surprise of a lifetime for her husband—a romantic getaway to Paris. But she never expected he'd have a surprise of his own: he wants a divorce. Reeling from the shock but refusing to be broken, a devastated Grace makes the bold decision to go to Paris alone.
Audrey, a young woman from London, has left behind a heartache of her own when she arrives in Paris. A job in a bookshop is her ticket to freedom, but with no money and no knowledge of the French language, suddenly a summer spent wandering the cobbled streets alone seems much more likely…until she meets Grace, and everything changes.
Grace can't believe how daring Audrey is. Audrey can't believe how cautious newly single Grace is. Living in neighboring apartments above the bookshop, this unlikely pair offer each other just what they've both been missing. They came to Paris to find themselves, but finding this unbreakable friendship might be the best thing that's ever happened to them…
Don't miss Sarah Morgan's next book, The Summer Seekers!
Available at:
Amazon | Barnes & Noble | Google Play | Kobo | Apple Books | Indiebound | Indigo | Audible | Goodreads
The Girl from the Channel Islands by Jenny Lecoat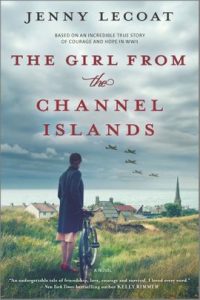 Inspired by true events, the riveting story of a young Jewish woman trapped on the occupied island of Jersey during World War II.
Summer 1940: Hedy Bercu fled Vienna two years ago. Now she watches the skies over Jersey for German planes, convinced that an invasion is imminent. When it finally comes, there is no counterattack from Allied forces—the Channel Islands are simply not worth defending. Most islanders and occupying forces settle into an uneasy coexistence, but for Hedy, the situation is perilously different. For Hedy is Jewish—a fact that could mean deportation, or worse.
With no means of escape, Hedy hides in plain sight, working as a translator for the Germans while silently working against them. She forges a tentative friendship with a sympathetic German officer who is likewise trapped by circumstance. But as the war intensifies, Hedy knows she is in greater danger each day. Soon, her survival will depend not just on her own courage but on the community she has come to cherish and a man who should be her enemy.
Vividly recreating little-known events, this is an unforgettable tale of resilience and bravery, and of the extraordinary power found in quiet acts of heroism and love.
Available at:
Amazon | Barnes & Noble | Google Play | Kobo | Apple Books | Indiebound | Indigo | Audible | Goodreads
The One by John Marrs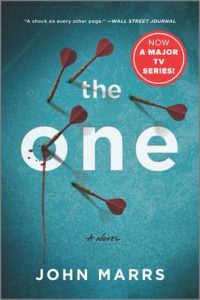 Now on Netflix!
How far would you go to find The One?
A simple DNA test is all it takes. Just a quick mouth swab and soon you'll be matched with your perfect partner—the one you're genetically made for.
That's the promise made by Match Your DNA. A decade ago, the company announced that they had found the gene that pairs each of us with our soul mate. Since then, millions of people around the world have been matched. But the discovery has its downsides: test results have led to the breakup of countless relationships and upended the traditional ideas of dating, romance and love.
Now five very different people have received the notification that they've been "Matched." They're each about to meet their one true love. But "happily ever after" isn't guaranteed for everyone. Because even soul mates have secrets. And some are more shocking than others…
A word-of-mouth hit in the United Kingdom, The One is a fascinating novel that shows how even the simplest discoveries can have complicated consequences.
Available at:
Amazon | Barnes & Noble | Google Play | Kobo | Apple Books | Indiebound | Indigo | Audible | Goodreads
The Road to Rose Bend by Naima Simone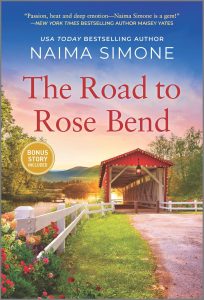 If it was only about her, she might never have come back to Rose Bend.

But it's not only about her anymore.
Sydney Collins left the small Berkshires town of Rose Bend eight years ago, grieving her sister's death—and heartbroken over her parents' rejection. But now the rebel is back—newly divorced and pregnant—ready to face her fears and make a home for her child in the caring community she once knew. The last thing she needs is trouble. But trouble just set her body on fire with one hot, hot smile.
Widower and Rose Bend mayor Coltrane Dennison hasn't smiled in ages. Until a chance run-in with Sydney Collins, who's all grown-up and making him want what he knows he can't have. Grief is his only connection to the wife and son he lost, and he won't give it up. Not for Sydney, not for her child, not for his heart. But when Sydney's ex threatens to upend everything she's rebuilt in Rose Bend, Cole and Sydney may find that a little trouble will take them where they never expected to go.
Rose Bend

Book 1: The Road to Rose Bend
Available at:
Amazon | Barnes & Noble | Google Play | Kobo | Apple Books | Indiebound | Indigo | Audible | Goodreads
The Funny Thing About Norman Foreman by Julietta Henderson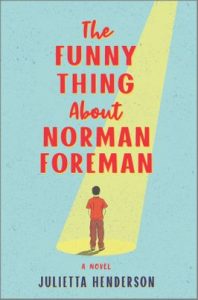 A triumphant and touching debut about the unlikeliest superstar you'll ever meet.
Twelve-year-old Norman Foreman and his best friend, Jax, are a legendary comedic duo in waiting, with a plan to take their act all the way to the Edinburgh Fringe. But when Jax dies, Norman decides the only fitting tribute is to perform at the festival himself. The problem is, Norman's not the funny one. Jax was.
There's also another, far more colossal objective on Norman's new plan that his single mom, Sadie, wasn't ready for: he wants to find the father he's never known. Determined to put a smile back on her boy's face, Sadie resolves to face up to her own messy past, get Norman to the Fringe and help track down a man whose identity is a mystery, even to her.
Julietta Henderson's delightfully funny and tender debut takes us on a road trip with a mother and son who will live in the reader's heart for a long time to come, and teaches us that—no matter the odds—we must always reach for the stars.
Available at:
Amazon | Barnes & Noble | Google Play | Kobo | Apple Books | Indiebound | Indigo | Audible | Goodreads
Share with us what book got you out of your last reading slump!