It can be fun and even essential to step out of your comfort zone sometimes, in life and in reading. Fantasy is a genre that some only ventured into during childhood, if at all, but there are so many books with strong and compelling characters, unique and vibrant fantasy worlds, and writing that pulls you into these fictional worlds. Whether they branch into magical realism or are entirely imagined, here are 8 books that will spark a new love for all things fantasy.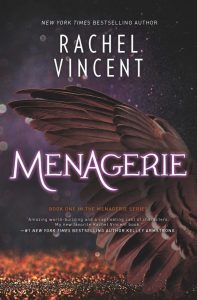 Menagerie by Rachel Vincent
Delilah Marlow appears to be human, but while visiting a famous traveling circus she discovers that she is not quite who she thought she was. The circus, Metzger's Menagerie, showcases cryptids, magical creatures who are devoid of rights. When Delilah sees a child werewolf being abused by the circus, she unexpectedly becomes a creature in order to protect him. After her arrest Delilah is forced to perform in the very circus she had once attended, with all her rights and freedoms stripped from her. Only her handler, Gallagher, still treats her with kindness. A sharp and vivid look into what makes us human and what makes us monsters, Menagerie is full of rich world building and a compelling story.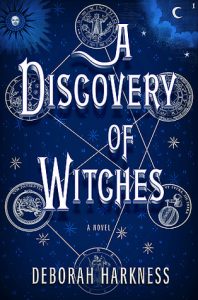 A Discovery of Witches by Deborah Harkness
History and magic converge in this debut novel about Diana Bishop, a young scholar who finds a mysterious manuscript that pulls her into the world of sorcery—a world she doesn't want to be a part of. With the help of a vampire geneticist, Diana is the only one who can break a centuries-old spell.
.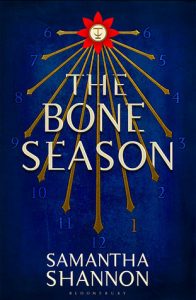 The Bone Season by Samantha Shannon
Paige Mahoney is breaking the law simply by existing. She is a dreamwalker and a clairvoyant, working in the criminal underworld of London by stealing information from people's minds. Kidnapped and taken to Oxford, a city that isn't supposed to exist, Paige encounters a powerful race and is assigned a master and trainer. This book is the first in a series of seven. Samantha Shannon has been praised as the next J. K. Rowling.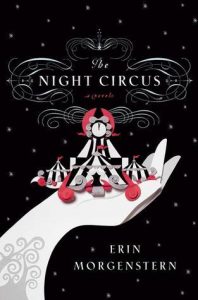 The Night Circus by Erin Morgenstern
No one knows when the circus is coming, but by the time the black-and-white tents are set up it's difficult to remember a time when it wasn't there. The circus stays for a few days and is open only at night. They call it the circus of dreams. All of the performers dress in black and white and are like nothing anyone has ever seen before. They do things that seem impossible, as if they were done by magic. Le Cirque des Rêves is the home of a contortionist, a fortune-teller and two redheaded twins who are as old as the circus itself. But more important, the circus is the playing field for a game that was set in motion before the circus even existed. Celia and Marco have been raised to compete against each other and only one person can be left standing in the end. When the two fall in love, they do not completely understand the true nature of the game and what that means for them. The fate of the entire circus is closely intertwined in a game like no other, and a farm boy from Massachusetts might be the only one who can save the circus.
.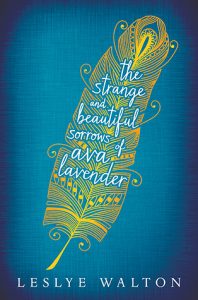 The Strange and Beautiful Sorrows of Ava Lavender by Leslye Walton
Leslye Walton's lyrical prose makes this book magical in story and writing. Ava Lavender is normal in all respects but one: she was born with the wings of a bird. At sixteen she ventures out into the world, not prepared for its true nature. The stories of three generations of women are woven together with whimsy and magic.
The Ocean at the End of the Lane by Neil Gaiman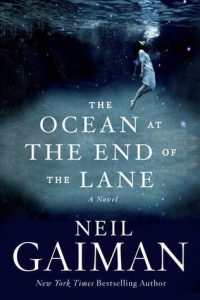 This beautifully crafted tale of childhood and magic is a perfect introduction to Neil Gaiman, or a new favorite for fans of his previous novels. Returning to his childhood village for a funeral, a middle-aged man is pulled back into his long-forgotten childhood memories of events that took place when he was seven years old—when he became friends with a magical girl named Lettie, who believed that the small pond by her farmhouse was really an ocean.
.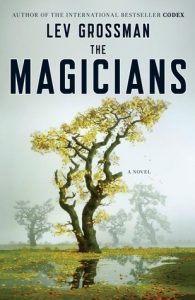 The Magicians by Lev Grossman
The Magicians, and the books that follow in the series, are perfect for adults who grew up reading The Chronicles of Narnia and Harry Potter. Quentin's mind has always been in the Fillory and Further books he loved as a child. Everyone has read about the Chatwin children and the magical world they found in their summer home. While most people outgrow the books, at seventeen Quentin still wishes he could live in them. He's always felt like his life should take place outside Brooklyn, and he is finally proved right when he is accepted into the Brakebills school of magic. There, Quentin learns how to become a magician. This world of magic should be everything Quentin ever wanted, but he's still left wanting more. When Quentin learns that Fillory could be real, he and his friends venture into the magical world of their childhood fantasy and find that it's much darker than it is in the stories.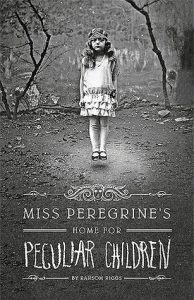 Miss Peregrine's Home for Peculiar Children by Ransom Riggs
Creepy and original, this book is illustrated by found vintage photographs of seemingly impossible images that set the tone for the story. Jacob Portman grew up hearing stories from his grandfather of his childhood at an orphanage in Wales during World War II. The orphanage was home to children who could do impossible things: levitate, turn invisible, start fire in their hands. Jacob's grandfather even had photographs of these children, but at sixteen Jacob has long ago realized the photographs were faked. After his grandfather's mysterious death, Jacob seeks closure by traveling to the island where his grandfather grew up, to explore the old and abandoned orphanage.
Do you read fantasy? What books are your favorites? Let us know in the comments below!