Whether you're going back to school or not, September always reminds us of starting school! But you don't need to be in school to continue to learn. So why not pick up these four books to enrich your day-to-day or to help you through your day-to-day? Whether you need to calm down, focus, listen to your gut, or brush up on some science, we have you covered! We also have your after school plans covered, so give this list a scroll and enjoy the reads!
During School
Listening In The Dark by Amber Tamblyn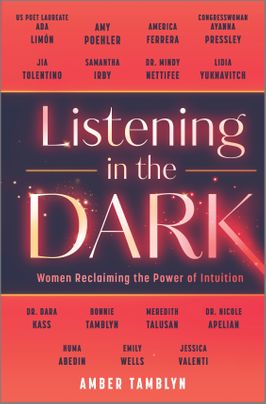 Listening in the Dark breathes new life into an ancient wisdom by taking a fresh and powerful look at our relationship to intuition and how we can harness it to change our everyday lives and the world.
This remarkable anthology includes essays from Jessica Valenti, Lidia Yuknavitch, Jia Tolentino, Samantha Irby, Meredith Talusan, Congresswoman Ayanna Pressley, Amy Poehler, America Ferrera, Ada Limón, Huma Abedin and many others, who all share how intuition has helped to shape and alter their life choices.
Have you ever had a feeling about something that you just couldn't explain, but knew was right or wrong? Something that was telling you in your gut what decision to make, which direction to go in, or what to believe? For generations, women have been taught to ignore their intuitive intelligence, whether in their personal lives or professional ones, in favor of making logical, evidence-based decisions. But what if that small voice or deeper knowing was our greatest gift, an untapped power we could use to affect positive change?
Edited by award-winning author, activist, and actress Amber Tamblyn, Listening in the Dark is a compilation of some of today's most striking women visionaries across industries—in literature, science, art, education, medicine, and politics—who share their experiences engaging with their own inner wisdom in pivotal, crossroad moments.
Filled with deeply personal and revelatory essays, Listening in the Dark will empower readers to reconnect with their own unique intuitive process, to see it as the precious resource it is, and to be unafraid to listen to all that it has to say and all that it has to offer.
Available October 18, 2022:
Amazon | Barnes & Noble | Google Play | Kobo | Apple Books | Indiebound | Indigo | Audible | Goodreads
It's Elemental by Kate Biberdorf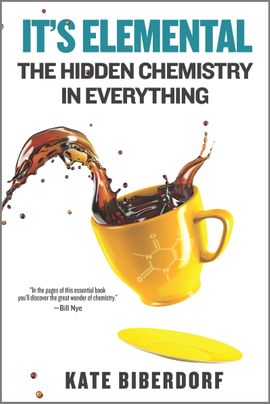 In this fresh and engaging guide to chemistry, Dr. Kate Biberdorf, aka "Kate the Chemist," reveals the fascinating science we experience every day
Have you ever wondered what makes dough rise? Or how your morning coffee gives you that energy boost? Or why your shampoo is making your hair look greasy? The answer is chemistry. From the moment we wake up until the time we go to sleep (and even while we sleep), chemistry is at work—and it doesn't take a PhD in science to understand it.
Dr. Biberdorf has appeared on TV programs from the Today show to The Late Show with Stephen Colbert, lighting the world on fire and changing the face of chemistry as we know it. In It's Elemental, she demystifies the fundamental principles of the science that may have eluded you in high school and shows how chemistry comes alive in everything we do. With wry wit and infectious enthusiasm, this entertaining guide will ignite your passion for science and change the way you experience the world.
Available at:
Amazon | Barnes & Noble | Google Play | Kobo | Apple Books | Indiebound | Indigo | Audible | Goodreads
Breathe In, Breathe Out by Stuart Sandeman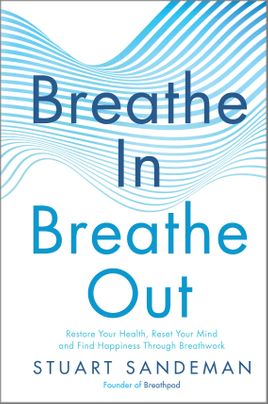 How are you breathing right now?
Belly or chest? Fast or slow? Is there any tension in your body?
These might seem like trivial questions.
But your breathing can explain how much stress you're under. It can reveal your emotional state. It can even hold the key to healing trauma.
And that's just your breathing over the last twenty seconds.
In Breathe In, Breathe Out, breath work expert Stuart Sandeman reveals the hidden power of breathing, and how by changing the way you breathe, you can transform the way you think and feel. Since tragic loss brought him to breath work, Stuart has changed the lives of thousands through his signature sessions. Now he wants the same for you.
Whether you want focus or flow, more energy or less anxiety, Stuart can tell you how to get it. Combining modern science and ancient wisdom, he sets out how to stay on top of your game, overcome a negative mindset and heal from your past. You'll learn to deepen the connection with yourself, others—and the world around you.
Breathe In, Breathe Out is a practical, illuminating guide to living a healthier, happier life through breathing. Good breathing will change your world. All you need to do is Breathe In, Breathe Out.
Available December 27, 2022:
Amazon | Barnes & Noble | Google Play | Kobo | Apple Books | Indiebound | Indigo | Audible | Goodreads
Attention Span by Gloria Mark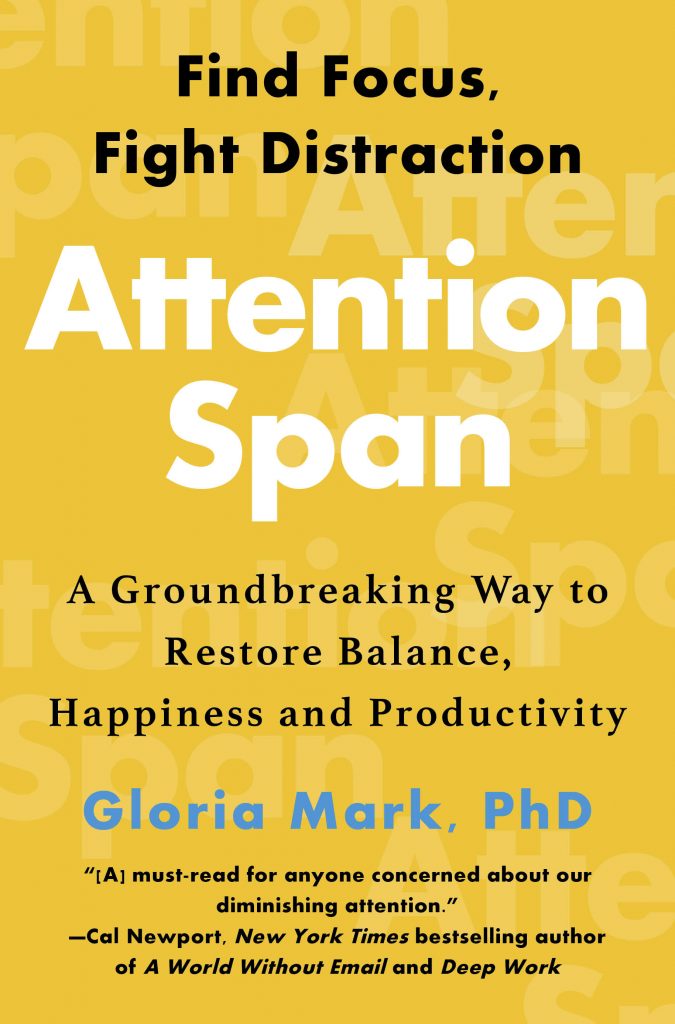 Rediscover your ability to pay attention with this groundbreaking new approach from "the definitive expert on distraction and multitasking" (Cal Newport).
We spend an average of just 47 seconds on any screen before shifting our attention. It takes 25 minutes to bring our attention back to a task after an interruption. And we interrupt ourselves more than we're interrupted by others.
In Attention Span, psychologist Gloria Mark reveals these and more surprising results from her decades of research into how technology affects our attention. She shows how much of what we think we know is wrong, including insights such as:
Why multitasking hurts rather than helps productivity
How social media and modern entertainment amplify our short attention spans
What drains our mental resources and how to refuel them
The four types of attention that we experience every day and how to recognize them
While the concept of "flow" has previously been considered the ideal state of focus, Dr. Mark offers a new framework to help explain how our brains function in the digital world: kinetic attention. This book reveals how we can take control, not only to find more success in our careers, but also to find health and wellness in our everyday lives.
Available January 10, 2023:
Amazon | Barnes & Noble | Google Play | Kobo | Apple Books | Indiebound | Indigo | Goodreads
After School
Never Saw Me Coming by Vera Kurian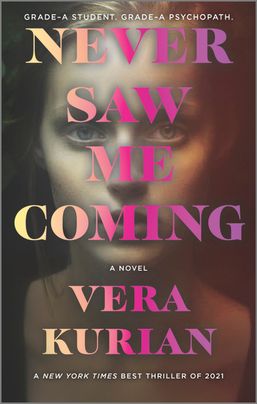 "Fresh, fast-paced and fiendishly clever! If you love watching true crime and wonder about the psychopaths among us, this is the book for you!" — Lisa Gardner, #1 New York Times bestselling author

Never Saw Me Coming is a compulsive, voice-driven thriller by an exciting new talent in fiction that will keep you pinned to the page and rooting for a would-be killer.

You should never trust a psychopath. But what if you had no choice?
It would be easy to underestimate Chloe Sevre… She's a freshman honor student, a legging-wearing hot girl next door, who also happens to be a psychopath. She spends her time on yogalates, frat parties and plotting to kill Will Bachman, a childhood friend who grievously wronged her.
Chloe is one of seven students at her DC-based college who are part of an unusual clinical study of psychopaths—students like herself who lack empathy and can't comprehend emotions like fear or guilt. The study, led by a renowned psychologist, requires them to wear smart watches that track their moods and movements.
When one of the students in the study is found murdered in the psychology building, a dangerous game of cat and mouse begins, and Chloe goes from hunter to prey. As she races to identify the killer and put her own plan for revenge into action, she'll be forced to decide if she can trust any of her fellow psychopaths—and everybody knows you should never trust a psychopath.
Available now:
Amazon | Barnes & Noble | Google Play | Kobo | Apple Books | Indiebound | Indigo | Audible | Goodreads
Honey Girl by Morgan Rogers
HONEY GIRL is an emotional, heartfelt, charming debut, and I loved every moment of it."— Jasmine Guillory, New York Times bestselling author of The Proposal
With her newly completed PhD in astronomy in hand, twenty-eight-year-old Grace Porter goes on a girls' trip to Vegas to celebrate. She's a straight A, work-through-the-summer certified high achiever. She is not the kind of person who goes to Vegas and gets drunkenly married to a woman whose name she doesn't know…until she does exactly that.
This one moment of departure from her stern ex-military father's plans for her life has Grace wondering why she doesn't feel more fulfilled from completing her degree. Staggering under the weight of her parent's expectations, a struggling job market and feelings of burnout, Grace flees her home in Portland for a summer in New York with the wife she barely knows.
In New York, she's able to ignore all the constant questions about her future plans and falls hard for her creative and beautiful wife, Yuki Yamamoto. But when reality comes crashing in, Grace must face what she's been running from all along—the fears that make us human, the family scars that need to heal and the longing for connection, especially when navigating the messiness of adulthood.
Available at:
Amazon | Barnes & Noble | Google Play | Kobo | Apple Books | Indiebound | Indigo | Audible | Goodreads
The Problem With Forever by Jennifer L. Armentrout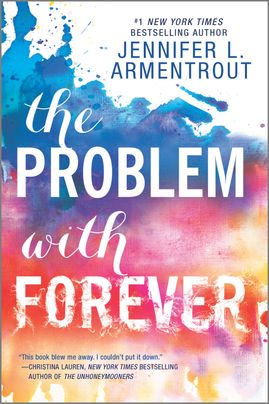 "This book blew me away, completely. Gripping from page one, I—quite literally—couldn't put it down."—Christina Lauren, New York Times bestselling author of The Unhoneymooners
Growing up, Mallory Dodge learned that the best way to survive was to say nothing. And even though it's been four years since her nightmare ended, she's beginning to worry that the fear that holds her back will last a lifetime. Now, after years of homeschooling, Mallory must face a new milestone—spending her senior year at a public high school. But she never imagined she'd run into Rider Stark, the friend and protector she hasn't seen since childhood, on her very first day.
It doesn't take long for Mallory to realize that the connection she shared with Rider never really faded. Yet soon it becomes apparent that she's not the only one grappling with lingering scars from the past. And as she watches Rider's life spiral out of control, Mallory must make a choice between staying silent and speaking out—for the people she loves, the life she wants and the truths that need to be heard.
Available at:
Amazon | Barnes & Noble | Google Play | Kobo | Apple Books | Indiebound | Indigo | Audible | Goodreads
The Wrong Kind of Woman by Sarah McCraw Crow
A powerful exploration of what a woman can be when what she should be is no longer an option
In late 1970, Oliver Desmarais drops dead in his front yard while hanging Christmas lights. In the year that follows, his widow, Virginia, struggles to find her place on the campus of the elite New Hampshire men's college where Oliver was a professor. While Virginia had always shared her husband's prejudices against the four outspoken, never-married women on the faculty—dubbed the Gang of Four by their male counterparts—she now finds herself depending on them, even joining their work to bring the women's movement to Clarendon College.
Soon, though, reports of violent protests across the country reach this sleepy New England town, stirring tensions between the fraternal establishment of Clarendon and those calling for change. As authorities attempt to tamp down "radical elements," Virginia must decide whether she's willing to put herself and her family at risk for a cause that had never felt like her own.
Told through alternating perspectives, The Wrong Kind of Woman is an engrossing story about finding the strength to forge new paths, beautifully woven against the rapid changes of the early '70s.
Available at:
Amazon | Barnes & Noble | Google Play | Kobo | Apple Books | Indiebound | Indigo | Audible | Goodreads