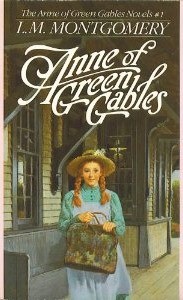 Anne of Green Gables, Canada's—and much of the world's—most beloved redhead is getting not one, but two new remakes. Here we go again, and I can't figure out why.
The first remake of Anne of Green Gables will be airing (in Canada) next month, and will be a pretty close retelling of L.M. Montgomery's 1908 novel. It will be a two-hour prime time special starring Canadian Ella Ballentine as Anne and Martin Sheen (yes, that Martin Sheen) as Matthew Cuthbert.
There was no reason for this remake. I'm sure Ms. Ballentine is as charming and precocious as can be, but we already have a television version of AoGG. It was made in 1985, starring Megan Follows as Anne, Jonathan Crombie as Gilbert Blythe, Colleen Dewhurst as Marilla Cuthbert and Richard Farnsworth as her brother, Matthew. And it was perfect. You know it was, fans know it was, and it remains one of Canada's most-watched series ever, because everybody knows it was perfect.
The second remake of Anne has just been announced, and will take the shape of an 8-part episodic series entitled Anne, and will be shown on the CBC, Canada's national broadcaster. The CBC has revealed little of the forthcoming show since the announcement, but has dropped a few hints. The first is that the series will be written by Moira Walley-Beckett, previously a writer for Breaking Bad (yes, that Breaking Bad), that it will delve into issues such as feminism, bullying, social pressures and prejudice. No confirmation as to whether or not this Anne will take place in its original (perfect) turn-of-the-century setting or if it must take place in the contemporary world, but Walley-Beckett did say that she would be "pushing the boundaries" with this remake.
Why, why, why, why?
Anne Shirley is not a student at Degrassi Junior High, and raspberry cordial is not crystal meth. The everlasting charm of Anne is that she did push boundaries, and those boundaries remain as important today as they were in 1908. Subtlety can be effective. Was Gilbert bullying Anne when he tugged at her braids and called her "Carrots"? Was Anne bullying Gilbert when she hit him over the head with the slate? This was a sweet coming of age story about a girl with a fiery temper and a boy too shy to tell a girl how he really felt, and Anne Shirley is already a feminist. We do not need to re-frame and re-negotiate this behaviour to mesh with our delicate 2016 sensibilities. If this turns into cyber-stalking and date-rape, I'm going to be looking for a slate to break, myself.
Audiences (kids) today don't need a modern Anne. If the CBC or Nickelodeon or anybody else is looking to spend a ton of cash to televise a YA heroine story, there are plenty of contemporary options to choose from. It's time to leave Anne alone and look elsewhere for inspiration because Anne, to quote another feisty heroine who suffered from an abundance of sequels, is perfect, just as she is.
How do you feel about these reboot announcements? Are you excited or outraged? Let us know in the comments!