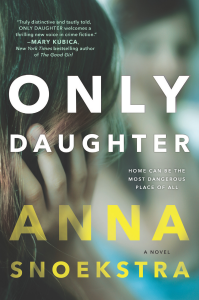 The main character of Only Daughter, Bec Winter, is a redheaded sixteen-year-old living in the suburbs of Canberra, Australia. I have red hair and lived in Canberra until I was eighteen, so when people ask me if there is any of myself in Rebecca, it's fairly safe to say that there is.
Relating to the protagonist is essential when you read a book. In order to write a genuine, realistic portrayal of a person you have to include a little bit of yourself. However, it isn't just the protagonist that needs to be a three-dimensional, complex character. The antagonist is just as important. In my book, a twenty-five-year-old fugitive impersonates Rebecca. She is a cunning, manipulative liar. No one asks me if there is any of myself in her. Perhaps they are scared to know the answer.
As uncomfortable as it can feel, it is necessary when writing a compelling villain to find a way to understand their actions, no matter how despicable they may be. The imposter (she is never named in the book) is constantly playing different roles for the different people she encounters: for the security guard who catches her shoplifting at the beginning of the novel, she attempts a mysterious seductress; for Rebecca's mother she plays the dutiful daughter; for the detective pursuing the case she plays the perfect victim. This is something I think everyone can relate to, though not to this extreme. Personally, I know I am more meticulous when at work and more careless at home; and I am sweeter around my mom but more outspoken with my friends.
Of course, the manipulation skills that the imposter needed to possess in order to pull off this deceit were outside my abilities (which is probably a good thing). As it turned out, manipulation is a bit of a scary thing to research. Online, I went down a black hole into the world of pick-up artists. I spent a difficult, and at times nauseating, few days reading manuals on how to convince women to do what you want. I don't think I was their target audience, but it was a really interesting investigation on how to use peoples wants and needs to your advantage.
When you write a novel, you have to play all the parts. In my writing, every character takes an aspect from my own personality and experience. Putting myself in their shoes allows me, and hopefully the reader, to find empathy rather than judgment of their bad decisions. That's one of my favorite parts of writing: finding the truth, the humanity, of deeply flawed characters. Plus, the bad guy usually has more fun.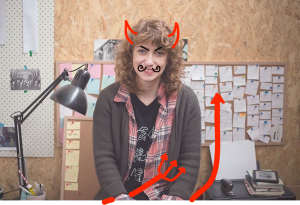 Which literary villain do you relate to? Is it Amy Dunne from Gone Girl with her insatiable need for revenge? Perhaps the fixation on good manners like Hannibal Lector in Silence of the Lambs? Or do you share the feeling that an obsession is getting a little out of control, like Golem in The Lord of the Rings? Whoever it is, I think the best villains are the ones who sit uncomfortably close to our own flaws or secret desires.