The cover art for the hard cover of GINNY MOON features big bold title type with spot illustrations of Ginny, a ladder and her backpack. Right from the initial brief, the idea of the ladder floated up on top of all my brainstorming sketches. It was a great icon for Ginny's undeniable desire for escape – it seemed central to the mystery throughout, and the ladder could be used as a great design element throughout the jacket cover and other marketing materials. I worked with illustrator and lettering designer Laci Ann on the hard cover design. Together we explored many design options featuring the ladder and Ginny in different formats and scales. The title changed several times throughout our design development so that also had an impact on the design. In the end, with the title shortened to just GINNNY MOON it helped to achieve a very prominent title design, so it pops off the shelf, as well as online when the book cover becomes a small thumbnail.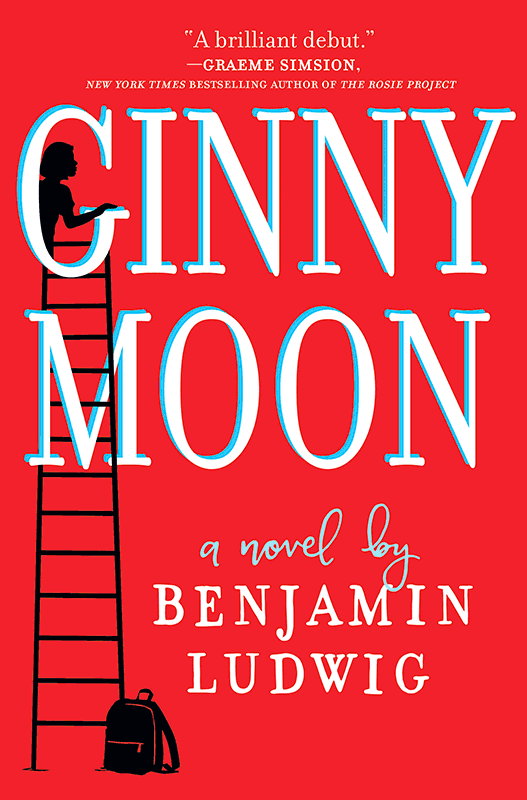 With the trade paperback version of GINNY MOON the following year, the team wanted to focus more on Ginny Moon herself and also the mystery behind the suitcase. The objective was to have her presence more prominent on the cover and overall a more emotional connection to the reader. We decided to work with a photographically treated image to achieve that emotional connection.
Our in-house designer Mary Luna worked with a stock image during concept stage and created an eye-catching design, integrating the existing hard cover title type with the female figure. After approvals within the team, the author and agent and sales team, I hired retoucher Allan Davey to rework the stock image to more accurately reflect her character description. He shot his own female figure to get the right leg positioning we wanted and he worked his magic to get the final intriguing image we have now.
Which do you prefer, the hard cover's graphic illustrated look or the photographically treated trade cover?