People who love books really love books. We read everything we can get our hands on, join book clubs, become obsessed with our favorite authors and even go into careers in the book world. There are so many amazing books to read, but there's nothing like reading about characters that love books as much as you do. Whether they join book clubs, work at bookstores or just read to escape, book lovers in books come in all different forms. Here are 10 amazing books featuring big readers and the books they love.
.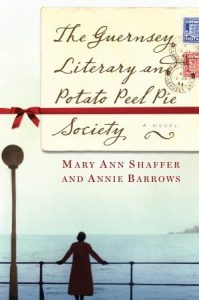 The Guernsey Literary and Potato Peel Pie Society by Mary Ann Shaffer and Annie Barrows
In 1946 the war is over but the shadow it cast still looms over London. As she tries to adjust to the world after the war, everything changes for writer Juliet Ashton when she begins corresponding with Dawsy, a man who lives in Guernsey and found her name in a used copy of a Charles Lamb book. Through Dawsy, Juliet is drawn into the world of the Guernsey Literary and Potato Peel Pie Society, a group that started as a quick alibi for being out after curfew on the German occupied island of Guernsey. Eventually, the meetings became an escape from the realities of the war and occupation. Juliet begins writing to the members of the society, and eventually leaves for Guernsey to meet the members of the Guernsey Literary and Potato Peel Pie Society in person. None of them will ever be the same.
.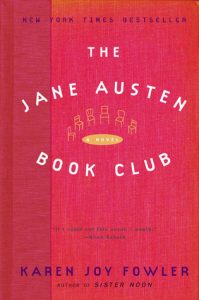 The Jane Austen Book Club by Karen Joy Fowler
Meeting once a month to read and discuss each of Jane Austen's six novels, the Jane Austen book club consists of five women and one man: Jocelyn, Sylvia, Allegra, Bernadette, Prudie and Grigg. As they fall in love, make mistakes and read Jane, each of Jane Austen's novels plays a role in their lives.
.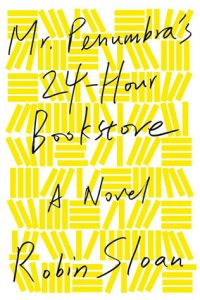 Mr. Penumbra's 24-Hour Book Store by Robin Sloan
.
Clay's been hit hard by the recession and takes a job at Mr. Penumbra's 24-Hour Bookstore, working the night shift to help make ends meet. The bookshop hardly sells any books despite their massive selection, and its main clientele are members who borrow strange books that Clay was told never to look at. He is also told to keep detailed records of who comes into the shop and what books they buy, or more likely borrow. Clay can't help giving in to his curiosity and looking into the shop. Who are the members and what are they doing? Who is Mr. Penumbra really and what has he gotten himself involved in? And how on earth can the bookstore afford to exist when they hardly sell anything? As Clay tries to find the answers to these questions, he finds himself mixed up in an old search for answers about life, which can only be found in books.
.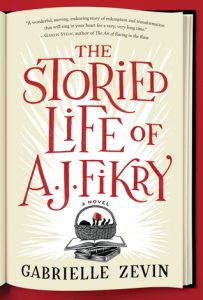 The Storied Life of A. J. Fikry by Gabrielle Zevin
Things have not been going well for A. J. Fikry. He is recently widowed, his bookstore on Alice Island has the lowest sales in its history and his rare collection of Edgar Allan Poe poems has been stolen. But everything changes when he finds a small child left in the book stacks.
.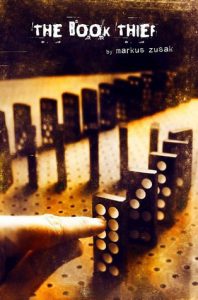 The Book Thief by Markus Zusak
.
Liesel Meminger stole her first book, The Grave Digger's Handbook, in January 1939 on the day of her younger brother's funeral. Taking place in Germany during the Third Reich and the Second World War, The Book Thief is narrated by death, who looms over the characters as they live their lives surrounded by war. Liesel grows up with the Hubermanns: her accordion-playing foster father and big-hearted but foul-mouthed foster mother. Her foster father teaches her to read at night in the family's basement, and she becomes best friends with Rudy Steiner. When Liesel steals her second book from a Nazi book burning, her collection begins. Things take a dangerous turn in November of 1940, when a Jewish man named Max Vandenburg arrives at the Hubermanns' door with a copy of Mein Kampf.
.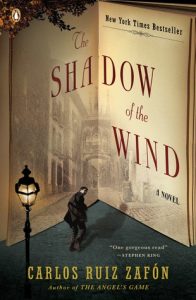 The Shadow of the Wind by Carlos Ruiz Zafón
Set in Barcelona after the Spanish Civil War, The Shadow of the Wind is about another book, within the book itself, called The Shadow of the Wind. When Daniel is a child, his father takes him to the Cemetery of Forgotten Books where, per tradition, he can take one book that he will protect for life. Daniel is captivated by the story he chose, but is unable to find any trace of the author, Julián Carax, or his other books. Instead, Daniel learns of a man who calls himself Laín Coubert, named for the devil in the book, who has sought out the book for decades only to burn and destroy each copy. Daniel begins a journey to discover the truth about the author.
.
.
Matilda is the ultimate bookworm: at just five and a half she has devoured Dickens and couldn't be more excited to start school. While her teacher Miss Honey is kind and caring, the school's headmistress, Miss Trunchbull, is even worse than Matilda's parents, who love the telly and hate reading. "The Trunchbull" has been known to throw children out of third story windows and punish them by shutting them in the horrible chokey. Someone needs to teach the Trunchbull a lesson, and Matilda might just be the girl for the job.
.
The first book in a series by German fantasy author Cornelia Funke, Inkheart follows Meggie and her father, Mo, a book binder. Mo is able to read characters out of books, pulling them into the real world, but this comes with a price: something from their world will enter the book in exchange. Years ago, Mo accidentally freed three characters from a book called Inkheart, with his wife and two cats entering the book in their stead. Now the evil Capricorn from the world of the book has taken Mo hostage to use his power. A power that Meggie learns that she shares with her father.
.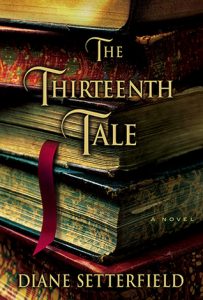 The Thirteenth Tale by Diane Setterfield
.
Margaret Lea is an amateur biographer who lives above her father's antiquarian bookshop. When she receives a letter from famous author Vida Winter asking Margaret to write her biography, her first thought is to politely decline. Vida Winter is an author who has told story after story about her early life, never revealing the truth. Now, with her health fading, she is looking for someone to record the truth. Margaret is intrigued when she reads her first work by Winter, a collection of stories called Thirteen Tales of Change and Desperation, which is strangely missing its thirteen tale. Once she meets Winter, Margaret becomes drawn into the author's story, which begins "Once upon a time, there were two little girls…"
.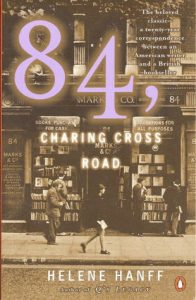 84, Charing Cross Road by Helene Hanff
For twenty years, Helene Hanff corresponded with Frank Doel, chief buyer of Marks & Co antiquarian booksellers, located at 84 Charing Cross Road. The two never meet, Hanff living in New York and Doel in London, but they shared a long-distance friendship that began with Hanff looking for obscure British literature that she couldn't find in New York. Discussing literature, the coronation of Elizabeth II, recipes and daily life, Hanff and Doel's mutual passion for books fills their correspondence.
.
Did we miss any great books about book lovers? Let us know in the comments below!