If you're looking to take a journey back in time, these books are the perfect way to experience a world different from your own. No matter what time period interests you, we promise there is a read below you need to add to your bookshelf.
Tales from World War II
The Orphan's Tale by Pam Jenoff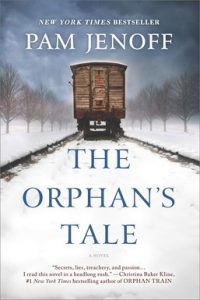 Sixteen-year-old Noa has been cast out in disgrace after becoming pregnant by a Nazi soldier and being forced to give up her baby. She lives above a small rail station, which she cleans in order to earn her keep… When Noa discovers a boxcar containing dozens of Jewish infants bound for a concentration camp, she is reminded of the child that was taken from her. And in a moment that will change the course of her life, she snatches one of the babies and flees into the snowy night.
Noa finds refuge with a German circus, but she must learn the flying trapeze act so she can blend in undetected, spurning the resentment of the lead aerialist, Astrid. At first rivals, Noa and Astrid soon forge a powerful bond. But as the facade that protects them proves increasingly tenuous, Noa and Astrid must decide whether their friendship is enough to save one another—or if the secrets that burn between them will destroy everything.
Amazon | Barnes & Noble | Google Play | Kobo | iBooks | Indiebound | Goodreads
The Soul of A Thief by Steven Hartov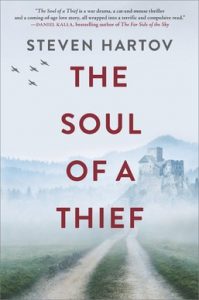 Shtefan Brandt, adjutant to a colonel of the Waffen SS, has made it through the war so far in spite of his commander's habit of bringing his staff into combat, and a pair of secrets that are far more dangerous than the battlefield. Shtefan is a Mischling and one of the thousands of German citizens of Jewish descent who have avoided the death camps by concealing themselves in the ranks of the German army. And he is in love with Gabrielle Belmont, the colonel's French mistress. Either of those facts could soon mean his end, were Colonel Erich Himmel to notice.
Colonel Himmel has other concerns, however. He can see the war's end on the horizon and recognizes that he is not on the winning side, no matter what the reports from Hitler's generals may say. So he has taken matters into his own hands, hatching a plot to escape Europe. To fund his new life, he plans to steal a fortune from the encroaching Allies. A fortune that Shtefan, in turn, plans to steal from him…
Atmospheric and intense, The Soul of a Thief captures the turbulent emotional rush of those caught behind the lines of occupied France, where one false step could spell death, and every day brings a new struggle to survive.
Amazon | Barnes & Noble | Google Play | Kobo | iBooks | Indiebound | Goodreads
Island of Sweet Pies and Soldier by Sara Ackerman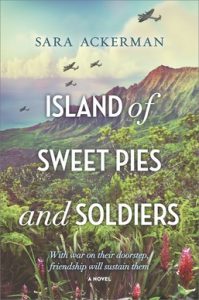 Violet Iverson and her young daughter, Ella, are piecing their lives together one year after the disappearance of her husband. As rumors swirl and questions about his loyalties surface, Violet believes Ella knows something. But Ella is stubbornly silent. Something—or someone—has scared her. And with the island overrun by troops training for a secret mission, tension and suspicion between neighbors is rising.
Violet bands together with her close friends to get through the difficult days. To support themselves, they open a pie stand near the military base, offering the soldiers a little homemade comfort. Try as she might, Violet can't ignore her attraction to the brash marine who comes to her aid when the women are accused of spying. Desperate to discover the truth behind what happened to her husband, while keeping her friends and daughter safe, Violet is torn by guilt, fear and longing as she faces losing everything. Again.
Amazon | Barnes & Noble | Google Play | Kobo | iBooks | Indiebound | Goodreads
Timeless Classics
Tomorrow by Damian Dibben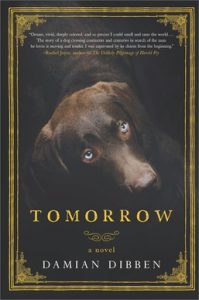 Tomorrow tells the story of a 217-year-old dog and his search for his lost master. His adventures take him through the London Frost Fair, the strange court of King Charles I, the wars of the Spanish succession, Versailles, the golden age of Amsterdam and to nineteenth-century Venice. As he journeys through Europe, he befriends both animals and humans, falls in love (only once), marvels at the human ability to make music, despairs at their capacity for war and gains insight into both the strength and frailties of the human spirit.
With the rich historical vision of Jonathan Strange & Mr Norrell and the captivating canine perspective of A Dog's Purpose, Tomorrow draws us into a unique century-spanning tale of the unbreakable connection between dog and human.
Amazon | Barnes & Noble | Google Play | Kobo | iBooks | Indiebound | Goodreads
The Silent Fountain by Victoria Fox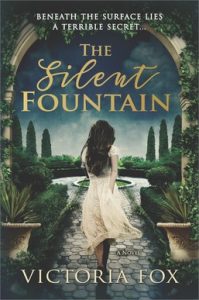 Hollywood, 1978
Tragedy sends troubled film star Vivien Lockhart into the arms of Giovanni Moretti—and it seems her fortunes have finally changed. Until she meets his sister and learns that her new husband's past holds dark secrets…
Tuscany, Present day
Lucy Whittaker needs to disappear. But her new home, the crumbling Castillo Barbarossa, is far from the secluded paradise it seemed. Strange sounds come from the attic. The owner of the house will never meet her in person.
The fountain in the courtyard is silent—but has never run dry.
Amazon | Barnes & Noble | Google Play | Kobo | iBooks | Indiebound | Goodreads
An Almond for a Parrot by Wray Delaney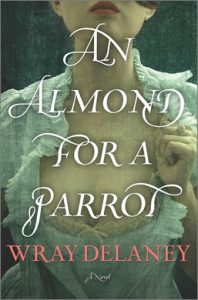 In prison, accused of murder, Tully Truegood begins to write her life story. A story that takes her from a young girl in the backstreets of 18th century London to her stepmother Queenie's Fairy House—a place where decadent excess is a must…
Trained by Queenie to become a courtesan, and by Mr. Crease—a magician who sees that Tully holds similar special powers to his own—Tully soon becomes the talk of the town.
But as Tully goes on a journey of sexual awakening, she falls in love with one of her clients and the pleasure soon turns to pain. Especially when the estranged husband she was forced to marry by her father suddenly seeks her out. Now Tully is awaiting her trial for murder, for which she expects to hang…and her only chance of survival is to get her story to the one person who might be able to help her.
Delaney's incredible tale of a young woman's journey out of the depths of despair is shocking, haunting and evocative. Part historical fiction and part magical realism, this juicy, jaw-dropping story will linger long after the last page is turned.
Amazon | Barnes & Noble | Google Play | Kobo | iBooks | Indiebound | Goodreads
Historical Mysteries
Arrowood by Mick Finlay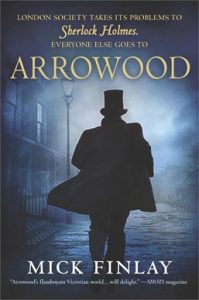 1895
London is scared. A killer haunts the city's streets; the poor are hungry; crime bosses are taking control; the police force is stretched to the breaking point.
The rich turn to Sherlock Holmes, but the celebrated private detective rarely visits the densely populated streets of South London, where the crimes are sleazier and the people are poorer.
In the dark corner of Southwark, victims turn to a man who despises Holmes, his wealthy clientele and his showy forensic approach to crime: Arrowood—self-taught psychologist, occasional drunkard and private investigator.
When a man mysteriously disappears and Arrowood's best lead is viciously stabbed before his eyes, he and his sidekick Barnett face their toughest quest yet: to capture the head of the most notorious gang in London…
Amazon | Barnes & Noble | Google Play | Kobo | iBooks | Indiebound | Goodreads
The Bourbon Thief by Tiffany Reisz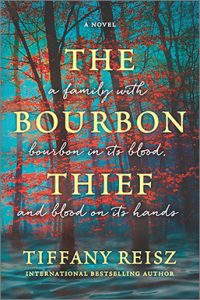 When Cooper McQueen wakes up from a night with a beautiful stranger, it's to discover he's been robbed. The only item stolen—a million-dollar bottle of bourbon. The thief, a mysterious woman named Paris, claims the bottle is rightfully hers. After all, the label itself says it's property of the Maddox family who owned and operated the Red Thread Bourbon distillery since the last days of the Civil War, until the company went out of business for reasons no one knows… No one except Paris.
In the small hours of a Louisville morning, Paris unspools the lurid tale of Tamara Maddox, heiress to the distillery that became an empire. Theirs is a legacy of wealth and power, but also of lies, secrets and sins of omission. Why Paris wants the bottle of Red Thread remains a secret until the truth of her identity is at last revealed, and the century-old vengeance Tamara vowed against her family can finally be completed.
Amazon | Barnes & Noble | Google Play | Kobo | iBooks | Indiebound | Goodreads
City of Jasmine by Deanna Raybourn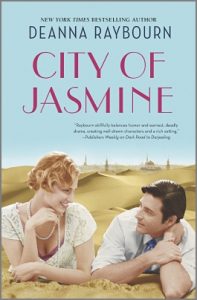 Famed aviatrix Evangeline Starke never expected to see her husband, adventurer Gabriel Starke, ever again. They had been a golden couple, enjoying a whirlwind courtship amid the backdrop of a glittering social set in prewar London until his sudden death with the sinking of the Lusitania. Five years later, beginning to embrace life again, Evie embarks upon a flight around the world, collecting fame and admirers along the way. In the midst of her triumphant tour, she is shocked to receive a mysterious—and recent—photograph of Gabriel, which brings her ambitious stunt to a screeching halt.
With her eccentric aunt Dove in tow, Evie tracks the source of the photo to the ancient City of Jasmine, Damascus. There she discovers that nothing is as it seems. Danger lurks at every turn, and at stake is a priceless relic, an artifact once lost to time and so valuable that criminals will stop at nothing to acquire it—even murder. Leaving the jewelled city behind, Evie sets off across the punishing sands of the desert to unearth the truth of Gabriel's disappearance and retrieve a relic straight from the pages of history.
Along the way, Evie must come to terms with the deception that parted her from Gabriel and the passion that will change her destiny forever…
Amazon | Barnes & Noble | Google Play | Kobo | iBooks | Indiebound | Goodreads
Which time period is your favorite? Head on down to the comments section below to share your book recommendations with fellow historical fiction fans!