Feeling festive? It's never too early to start the holiday celebrations. We've got five amazing Christmas reads that bring you the cozy atmosphere of Christmas – complete with friends, family, love, and wonder – but with the warmer weather of summer. It's the best of both holidays!
The Christmas Sisters by Sarah Morgan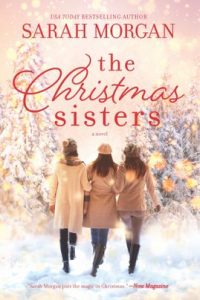 From award-winning USA TODAY bestselling author Sarah Morgan comes this heartwarming, emotionally rich new novel, brimming with her trademark Christmas sparkle!
In the snowy Highlands of Scotland, Suzanne McBride is dreaming of the perfect cozy Christmas. Her three adopted daughters are coming home for the holidays and she can't wait to see them. But tensions are running high…
Workaholic Hannah knows she can't avoid spending the holidays with her family two years in a row. But it's not the weight of their expectations that's panicking her—it's the life-changing secret she's hiding. Stay-at-home mom Beth is having a personal crisis. All she wants for Christmas is time to decide if she's ready to return to work—seeing everyone was supposed to help her stress levels, not increase them! Posy isn't sure she's living her best life, but with her parents depending on her, making a change seems risky. But not as risky as falling for gorgeous new neighbor Luke…
As Suzanne's dreams of the perfect McBride Christmas unravel, she must rely on the magic of the season to bring her daughters together. But will this new togetherness teach the sisters that their close-knit bond is strong enough to withstand anything—including a family Christmas?
Available at:
Amazon | Barnes & Noble | Google Play | Kobo | Apple Books | Indiebound | Audible | Goodreads
A Virgin River Christmas by Robyn Carr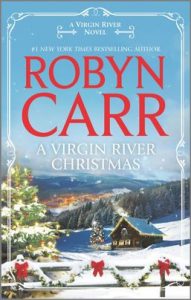 Welcome back to Virgin River with the books that started it all…
Last Christmas Marcie Sullivan said a final goodbye to her husband, Bobby. This Christmas she wants to find the man who saved his life and gave her three more years to love him.
Fellow marine Ian Buchanan dragged Bobby's shattered body onto a medical transport four years ago, then disappeared once their unit arrived stateside. Since then, Marcie's letters to Ian have gone unanswered.
Marcie tracks Ian to the tiny mountain town of Virgin River and finds a man as wounded emotionally as Bobby was physically. As Marcie pushes her way into his reclusive life, she discovers a sweet soul beneath a rough exterior.
Ian doesn't know what to make of the determined young widow who forces him to look into his painful past and the uncertain future. But it is a season of miracles and maybe, just maybe, it's time to banish the ghosts and open his heart.
Available at:
Amazon | Barnes & Noble | Google Play | Kobo | Apple Books | Indiebound| Goodreads
Marry Me at Christmas by Susan Mallery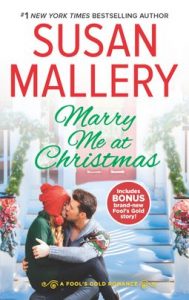 Wish upon a Christmas star in this sparkling Fool's Gold romance! 
To bridal boutique owner Madeline Krug, organizing a Christmas wedding sounds like a joy—until she finds out she'll be working closely with the gorgeous brother of the bride, movie star Jonny Blaze. How will a small-town girl like her keep from falling for the world's sexiest guy? Especially with mistletoe lurking around every corner! 
Jonny came to Fool's Gold looking for normal, not for love. Happily-ever-after only happens in the movies. Still, nothing about this quirky town is quite what he expected, and "ordinary" Madeline is the most extraordinary woman he's ever met. Refreshingly honest, disarmingly sweet. Achingly beautiful. 
Planning the perfect wedding leads to candlelit dinners and strolls through snow-covered streets. And Madeline finds Jonny in real life even more captivating than her celebrity crush. But will the action star be brave enough to risk his heart and step into the role of a lifetime?
Available at:
Amazon | Barnes & Noble | Google Play | Kobo | Apple Books | Indiebound| Goodreads
Season of Wonder by RaeAnne Thayne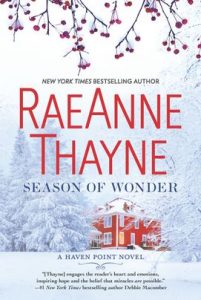 It's a long way from New York to Idaho…but could they have found a home at last?
Dani Capelli has never truly belonged anywhere. And from her earliest days as a foster child in Queens, she would have been lost if it weren't for her love of animals. Until high school, when she fell hard for the wrong boy, and found herself pregnant—and married—by graduation. Two daughters later, Dani realized her mistake and filed for divorce, and with the help of scholarships and loans—and a lot of macaroni and cheese dinners—she enrolled in vet school. Things were finally looking up…until her ex-husband became her late husband, in the most notorious way possible.
Now Dani and her daughters need an out-of-town pass more than ever. So when the retiring Haven Point veterinarian offers her a chance to settle in the small Idaho town and take over his practice, she jumps at it. But adjusting to the charming mountain community isn't easy; thirteen-year-old Silver begins acting out while six-year-old Mia is growing too attached to Haven Point and everything in it, especially their next-door-neighbor, Deputy Sheriff Ruben Morales. And Dani can't blame her. Ruben is everything she's secretly wanted—and everything she can't bear to risk loving…and losing.
As the holidays draw near, their shared concern for Dani's daughters brings them closer together, giving Ruben the chance to show this big-city woman just how magical Christmas in Haven Point can be…and that the promise of a home at last is very real in the most wondrous season of the year…
Available at:
Amazon | Barnes & Noble | Google Play | Kobo | Apple Books | Indiebound | Audible | Goodreads
Christmas in Icicle Falls by Sheila Roberts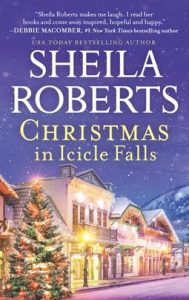 Join USA TODAY bestselling author Sheila Roberts this Christmas as she returns for the final installment in her treasured Icicle Falls series
When Muriel Sterling released her new book, A Guide to Happy Holidays, she felt like the queen of Christmas. She's thrilled when the new tree she ordered online arrives and is eager to show it off—until she gets it out of the box and realizes it's a mangy dud. But rather than give up on the ugly tree, Muriel decides to make a project out of it. As she pretties up her tree, she realizes there's a lesson to be learned: everything and everyone has potential. Maybe even her old friend Arnie, who's loved her for years. Except, she's not the only one seeing Arnie's potential…
Meanwhile, Muriel's ugly-tree project has also inspired her friends. Sienna Moreno is trying to bring out the best in the grouchy man next door, who hates noise, hates kids and hates his new neighbors. And while Olivia Claussen would love to send her obnoxious new daughter-in-law packing, she's adjusting her attitude and trying to discover what her son sees in the girl. If these women can learn to see the beauty in the "ugly trees" in their lives, perhaps this might turn out to be the happiest holiday yet.
Available at:
Amazon | Barnes & Noble | Google Play | Kobo | Apple Books | Indiebound | Audible | Goodreads
Are you a fan of Christmas in July? Let us know what holiday books you're reading this summer!