There is so much more to a library than just books. From information gathering to social gathering, libraries have held a storied place (sorry) in society throughout history. We know the first library was established in Alexandria, Egypt and that Library of Congress holds the most volumes, but did you know that there is a 3500-volume collection of Gourmet magazine cookbooks at an NYU library? Or that there is an entire library dedicated to books about books in Manhattan? Here are 10 other fun facts for budding bibliophiles that are sure to make you fish out your library card and head straight to the stacks.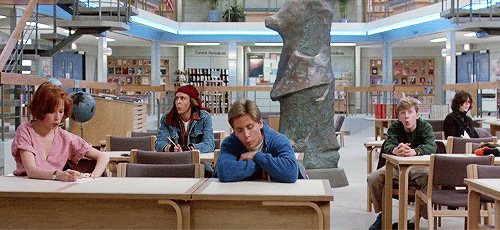 via Giphy
1. The Guinness Book of World Records holds the record as the most frequently stolen library book.
2. As of 2014, 95% of American libraries offered ebook usage. – source
3. Public libraries feature prominently in famous scenes from many well-known movies, including Ghostbusters, The Day After Tomorrow, Philadelphia, Breakfast at Tiffany's and Citizen Kane.
4. The lions that lounge outside the beautiful New York Public Library's main building at Fifth Ave. and 42nd Street are named Patience and Fortitude.
5. America's first lending library was established in 1731, Philadelphia, by Benjamin Franklin. It was a paid subscription-based service, but paved the way for the library systems we use in North America today.
6. Toronto has less than 3 million people, but its public library system is the busiest in North America by circulation, with 32 million books being lent out in 2010. Compare that to New York City's circulation of 24 million volumes, supported by a population of 8.2 million. – source
7. Some famous librarians throughout history include Jacob Grimm, Mao Zedong, Golda Meir, Laura Bush, Marcel Proust, Melvil Dewey, and Lewis Carroll.
8. Public libraries act as the number one providers of Internet usage for families without Internet access at home, work or school. – source
9. There are more than 30,000 registered Little Free Libraries around the world!
10. The Future Library project in Oslo is growing the trees that will be needed to publish 100 books 100 years from now. Each year, one author will submit a manuscript for eventual publication. The first author to submit material was Margaret Atwood. Please let me live 61 more years. – source