Author Keziah Frost imagines what the cards might have in store for Holden Caufield, Elizabeth Bennet, and Hamlet, if they were to visit the Good Fortune Café for a card reading from Norbert Z…
Holden Caufield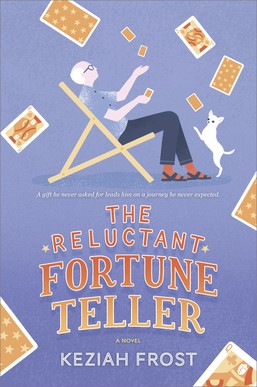 Holden Caulfield stopped by the Good Fortune Café in the charming tourist town of Gibbons Corner, New York, to have the local psychic, Norbert Z, read his cards.
Standing by the purple-and-gold sandwich board announcing that "The Fortune-Teller Is In," Holden commented, "I kinda know fortune-telling is phony and all, but the trouble is, it kills me when I see a corny old guy in a café, waiting to chew the fat with somebody. I mean, I feel lousy for him."
The café was buzzing with the cheerful, caffeinated din of chatting pairs of friends and the squall of the latte machine. The elderly fortune-teller sat in a booth at the back. As Holden approached, the old man looked up at him with eyes that were deep and kind.
"Please shuffle and hand me one card off the top," instructed Norbert. "Continue shuffling and handing me the top card until we get seven cards.
Norbert absently ran one hand around the remaining half-ring of white hair at the back of his head as he relaxed into his card-reading calm. He studied Holden, taking in the youth's prematurely gray hair, thin body and nicotine-stained fingers.
When he began, Norbert's voice was gentle and hypnotic.
"Here we have the Ten of Clubs, indicating that you need a period of healing—I sense that it is emotional healing that you need now. Give yourself time to recharge. Maybe spend a little time in nature. You could just go to a park and watch the ducks in the pond."
Holden narrowed his eyes. "Hey, how did you—?"
But Norbert was going on.
"Now this card, the Jack of Clubs, at the top of the horseshoe, is you—a young man at the crossroads of life. You're questioning which road in life to take."
Holden leaned forward and studied the Jack. "So, which road should I take?"
Here young Holden and the fortune-teller held a hushed consultation, the older man speaking quietly and the young man looking down at the cards with a knitted brow and nodding.
Exiting the café, Holden muttered to himself, "Norbert's not a phony. It kills me, the way the old guy looks into your eyes like he's seeing into your brain and all."
Elizabeth Bennet
In the meantime, Norbert had begun reading for a young beauty garbed in a pastel blue Regency-style dress with puffed sleeves and a squared neckline.
"Miss Bennet, may I ask you a question?"
"You may ask me questions which I shall not chuse to answer." Her expressive eyes sparkled playfully.
"Are you by any chance thinking of matrimony?"
"Can any young woman without a fortune of her own think of anything else?" she countered.
Norbert waved his gnarled hand over the cards she had drawn. "You see, the Seven of Clubs says that someone would like to know you better, while the Seven of Diamonds says that you are very close to being united with your soul mate. The Eight of Hearts says there will be a wedding soon."
"And can you not tell me, Mr. Zelenka," asked Miss Bennet, "the name of the fine young man who is to be my husband?"
"I can tell you that he is shown here in the King of Hearts—a kind and generous man. One who will help you in any way he can. Now here, you have the Ten of Spades—the tearing down of illusions to make space for a new beginning based on truth. I feel that you are misguided in your judgment of some person or situation."
"Mr. Zelenka, I chuse to believe myself an excellent judge of character." Rising to take her leave, Miss Bennet extended her hand to the fortune-teller and told him, "I am excessively diverted."
Hamlet
Norbert's next customer was a mysterious and truly Renaissance man who seemed to bring with him his own weather in a blast of cold air as he strode with melancholy purpose to Norbert's booth.
Towering with a lugubrious air over the slender man and his worn deck of playing cards, the stranger announced in quavering tones, "It is now struck twelve," as if to verify the time of his appointment.
Norbert greeted him with a gesture of welcome. The "querent," as Norbert referred to every one of his customers, was about thirty years old, and perhaps the most distraught person he had ever seen in his professional capacity as town psychic. As the young man settled into the booth, Norbert asked gently, "Do you have a question for me?"
The young man thundered, "To be, or not to be: that is the question." He looked with angst into the old man's gentle eyes, as if challenging him to answer that one, if he could.
Norbert shifted uncertainly. "Well—" he began.
"Whether," took up the stranger, loudly, causing heads to whip in his direction, "'tis nobler to suffer the slings and arrows of outrageous fortune…" The young man turned to gaze miserably at the winter scene outside the steamy café window and trailed off.
Many first-time querents who consulted him were anxious, and Norbert was quick to reassure. "Oh, now, your fortune won't be outrageous, I'm sure it won't."
The young man lapsed into a depressed silence until all the cards had been arranged on the table. He noticed the kind smile that seldom left Norbert's face. Nastily, the querent remarked, as if to himself, "One may smile, and smile, and be a villain."
Norbert sensed that this fellow was full of suspicion that was contributing to his negative view of life. The café owner bustled by to ask if the querent would like to order something.
"I'll have a Danish," he said sadly.
"What we have here," began Norbert, "is a preponderance of Spades. Now, some people are afraid when they see a lot of Spades, thinking it means death. But it could mean the death of one set of beliefs or way of life, to make room for another. It's not necessarily anything bad."
The Danish had already materialized before the querent, and he shrugged as he poked at his pastry. "There is nothing either good or bad, but thinking makes it so."
"Oh!" said Norbert, pleased. "Now, that's very good! It's like I always tell people: 'What are you making this mean?' You have the power to attribute your own meaning to life's events. That's how you create your own happiness or unhappiness. As you say, it's all in the way you choose to look at things. Isn't that empowering?"
The Renaissance man had devoured his sugary treat and was licking his fingers one by one.
"First, let's look at the powerful combination cards. You have the Three of Spades and the Jack of Clubs together here. So for you to grow into who you truly are, you need to get far, far away from your early influences. Have you ever thought of leaving home?"
The young man considered. "There is something rotten in Denmark," he admitted.
Norbert added, "Something tells me that getting away from your surroundings would solve everything for you.
"Well, moving on, you have another powerful combination here. The Ace of Spades and the Nine of Spades. This is the most dangerous situation we ever see in the cards, I'm sorry to say. Take care to avoid a disaster that's been building. Next to that, the Four of Spades—the past must be released.
"The Two of Spades here says that we're all carrying our own sorrow. Be kind to everyone. Perform a random act of kindness."
The young man stood and said mournfully, "I must be cruel only to be kind."
Norbert wrinkled his white brows, but the bedeviled querent was already striding toward the door, and into the cold and wet beyond.
Norbert was left to reflect that in many respects people really do choose their own destinies.
Want to read more about Norbert? Click here for more information about The Reluctant Fortune-Teller.