"After a good dinner one can forgive anybody, even one's own relations."

– Oscar Wilde, A Woman of No Importance
I see food and literature in the same way: as necessities and not indulgences. They also mesh perfectly at the dinner table, from conversation about books to recipes inspired by literature, so it makes sense for the two to come together at Thanksgiving, for I cannot think of two things I am more thankful to share with my friends and family.
This year I've decided to incorporate my family's love of books into our holidays in a more literal way, with serving pieces and décor ideas inspired by our second-favorite kind of sustenance.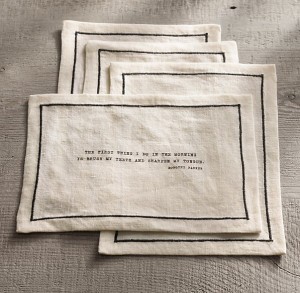 Begin your Thanksgiving meal with a savory appetizer served alongside these cocktail napkins featuring Dorothy Parker quotes and set the tone for a page-turner of an evening.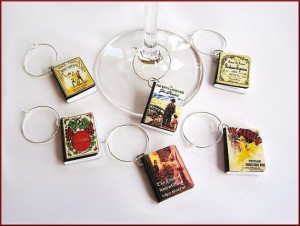 Pour the wine early and often, and help your guests keep track of their glass with these miniature book wine glass charms.
Classic Little Golden Book bunting in an autumnal theme will add a little bookish whimsy to your Thanksgiving decor.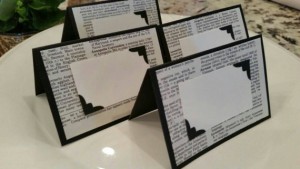 Help guests find their places with seating cards made from recycled book pages.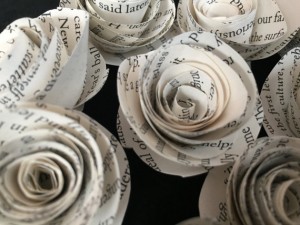 Make the table pretty by adding these book page paper roses to your centerpiece. The best part is they'll never wilt!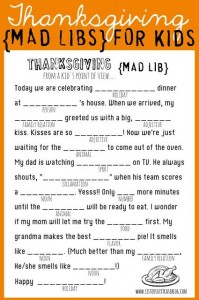 Don't forget about the kids! Leave one of these free printable Thanksgiving Mad Libs at every child's place and let them enjoy this classic word game in between mouthfuls of turkey.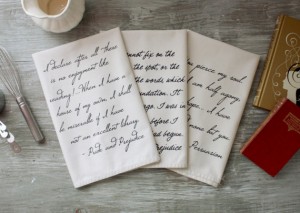 Let Jane Austen help you with the clean up with these tea towels featuring quotes from Pride and Prejudice and Persuasion.