Alert! We've been obsessed with Netflix's The Circle – have you? If you've been living under a rock this month, The Circle is a reality TV show that pits strangers against each other with their own weapon being their ability to use social media. It's a weird concept but it works extremely well. Now that the season's all wrapped, why not fill the void with a book? These six recommendations are perfect if you're a fan of social media, reality TV, or both!
Followers by Megan Angelo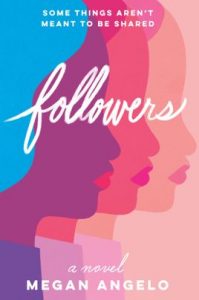 FOUR STARRED REVIEWS!
"If anyone is going to explore a future version of our high-tech, internet-obsessed culture, please let it be Megan Angelo. Followers is pure gold." —Abbi Jacobson, bestselling author and cocreator of Broad City
An electrifying story of two ambitious friends, the dark choices they make and the stunning moment that changes the world as we know it forever
Orla Cadden is a budding novelist stuck in a dead-end job, writing clickbait about movie-star hookups and influencer yoga moves. Then Orla meets Floss—a striving, wannabe A-lister—who comes up with a plan for launching them both into the high-profile lives they dream about. So what if Orla and Floss's methods are a little shady—and sometimes people get hurt? Their legions of followers can't be wrong.
Thirty-five years later, in a closed California village where government-appointed celebrities live every moment of the day on camera, a woman named Marlow discovers a shattering secret about her past. Despite her massive popularity—twelve million loyal followers—Marlow dreams of fleeing the corporate sponsors who would do anything to keep her on-screen. When she learns that her whole family history is based on a lie, Marlow finally summons the courage to run in search of the truth, no matter the risks.
Followers traces the paths of Orla, Floss and Marlow as they wind through time toward each other, and toward a cataclysmic event that sends America into lasting upheaval. At turns wry and tender, bleak and hopeful, this darkly funny story reminds us that even if we obsess over famous people we'll never meet, what we really crave is genuine human connection.
Available at:
Amazon | Barnes & Noble | Google Play | Kobo | Apple Books | Indiebound | Goodreads
Don't Read the Comments by Eric Smith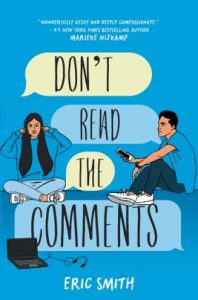 Divya Sharma is a queen. Or she is when she's playing Reclaim the Sun, the year's hottest online game. Divya—better known as popular streaming gamer D1V—regularly leads her #AngstArmada on quests through the game's vast and gorgeous virtual universe. But for Divya, this is more than just a game. Out in the real world, she's trading her rising-star status for sponsorships to help her struggling single mom pay the rent.
Gaming is basically Aaron Jericho's entire life. Much to his mother's frustration, Aaron has zero interest in becoming a doctor like her, and spends his free time writing games for a local developer. At least he can escape into Reclaim the Sun—and with a trillion worlds to explore, disappearing should be easy. But to his surprise, he somehow ends up on the same remote planet as celebrity gamer D1V.
At home, Divya and Aaron grapple with their problems alone, but in the game, they have each other to face infinite new worlds…and the growing legion of trolls populating them. Soon the virtual harassment seeps into reality when a group called the Vox Populi begin launching real-world doxxing campaigns, threatening Aaron's dreams and Divya's actual life. The online trolls think they can drive her out of the game, but everything and everyone Divya cares about is on the line…
And she isn't going down without a fight.
Available for preorder at:
Amazon | Barnes & Noble | Google Play | Kobo | Apple Books | Indiebound | Goodreads
How to Hack a Heartbreak by Kristin Rockaway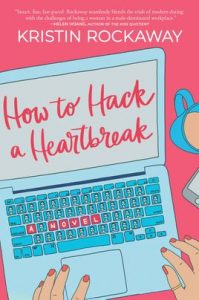 Swipe right for love. Swipe left for disaster. By day, Mel Strickland is an underemployed helpdesk tech at a startup incubator, Hatch, where she helps entitled brogrammers—"Hatchlings"—who can't even fix their own laptops, but are apparently the next wave of startup geniuses. And by night, she goes on bad dates with misbehaving dudes she's matched with on the ubiquitous dating app, Fluttr.
But after one dick pic too many, Mel has had it. Using her brilliant coding skills, she designs an app of her own, one that allows users to log harassers and abusers in online dating space. It's called JerkAlert, and it goes viral overnight.Mel is suddenly in way over her head. Worse still, her almost-boyfriend, the dreamy Alex Hernandez—the only non-douchey guy at Hatch—has no idea she's the brains behind the app. Soon, Mel is faced with a terrible choice: one that could destroy her career, love life, and friendships, or change her life forever.
Available at:
Amazon | Barnes & Noble | Google Play | Kobo | Apple Books | Indiebound | Goodreads
All Rights Reserved BY Gregory Scott Katsoulis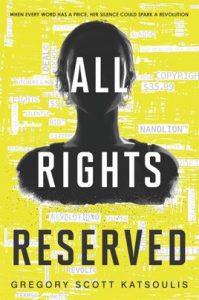 In a world where every word and gesture is copyrighted, patented or trademarked, one girl elects to remain silent
Speth Jime is anxious to deliver her Last Day speech and celebrate her transition into adulthood. The moment she turns fifteen, Speth must pay for every word she speaks, for every nod, for every scream and even every gesture of affection. She's been raised to know the consequences of falling into debt, and can't begin to imagine the pain of having her eyes shocked for speaking words that she's unable to afford.
But when Speth's friend Beecher commits suicide rather than work off his family's crippling debt, she can't express her shock and dismay without breaking her Last Day contract and sending her family into Collection. Rather than read her speech—rather than say anything at all—she closes her mouth and vows never to speak again, sparking a movement that threatens to destroy her, her family and the entire city around them.
Available at:
Amazon | Barnes & Noble | Google Play | Kobo | Apple Books | Indiebound | Goodreads
The Speed of Falling Objects by Nancy Richardson Fischer
From the author of When Elephants Fly comes an exceptional new novel about falling down, risking everything and embracing what makes us unique. Don't miss this compulsively readable novel about the most unlikely of heroes.
Danger "Danny" Danielle Warren is no stranger to falling. After losing an eye in a childhood accident, she had to relearn her perception of movement and space. Now Danny keeps her head down, studies hard, and works to fulfill everyone else's needs. She's certain that her mom's bitterness and her TV star father's absence are her fault. If only she were more—more athletic, charismatic, attractive—life would be perfect.
When her dad calls with an offer to join him to film the next episode of his popular survivalist show, Danny jumps at the chance to prove she's not the disappointment he left behind. Being on set with the hottest teen movie idol of the moment, Gus Price, should be the cherry on top. But when their small plane crashes in the Amazon, and a terrible secret is revealed, Danny must face the truth about the parent she worships and falling for Gus, and find her own inner strength and worth to light the way home.
Available at:
Amazon | Barnes & Noble | Google Play | Kobo | Apple Books | Indiebound | Goodreads
The Stranger Game by Peter Gadol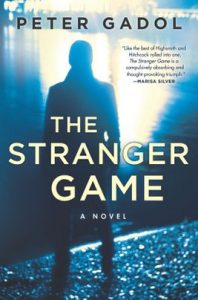 Optioned by FX for Television
"A fun, moody, twisty thriller, with a sun-touched, West Coast vibe… as much Joan Didion as Patricia Highsmith." —Scott Smith, author of A Simple Plan
"Like the best of Highsmith and Hitchcock rolled into one." —Marisa Silver, author of Little Nothing
A literary suspense novel in which an eerie social game goes viral and spins perilously—and criminally—out of control.
Rebecca's on-again, off-again boyfriend, Ezra, has gone missing, but when she notifies the police, they seem surprisingly unconcerned. They suspect he has been playing the "stranger game," a viral hit in which players start following others in real life, as they might otherwise do on social media. As the game spreads, however, the rules begin to change, play grows more intense and disappearances are reported across the country.
Curious about this popular new obsession, and hoping that she might be able to track down Ezra, Rebecca tries the game for herself. She also meets Carey, who is willing to take the game further than she imagined possible. As her relationship with Carey and involvement in the game deepen, she begins to uncover an unsettling subculture that has infiltrated the world around her. In playing the stranger game, what may lead her closer to finding Ezra may take her further and further from the life she once lived.
A thought-provoking, haunting novel, The Stranger Game unearths the connections, both imagined and real, that we build with the people around us in the physical and digital world, and where the boundaries blur between them.
Available at:
Amazon | Barnes & Noble | Google Play | Kobo | Apple Books | Indiebound | Goodreads
Let us know in the comments below which books you're going to add to your TBR list now that The Circle is over.