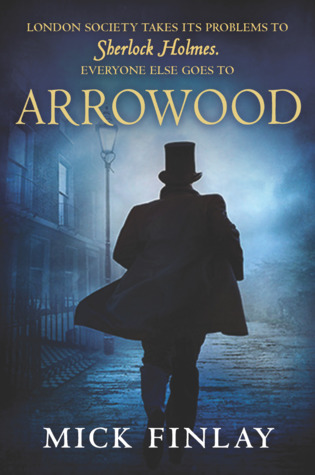 I had the idea for writing Arrowood when I was rereading Sherlock Holmes several years ago. I love Conan Doyle's stories, but I wondered which other private detectives would have been working in London at the time, and whether they would have resented Holmes's genius and fame. I thought I probably would have.
William Arrowood was just such a detective, living in cheap rooms in South London, only just surviving on the low fees he charged working the poorer parts of London, a man with a huge heart and a concern for the injustices of Victorian society.
I knew if Arrowood was to capture the imagination, he had to be a strong character. And if he was to resent the success of Sherlock Holmes, he had to have a different approach to solving crime. This was the key to who he was. While Holmes focuses on physical clues and logic, Arrowood is obsessed with people, with their emotions, their motives, and their inconsistencies. Instead of studying shipping timetables and the qualities of cigar ash, Arrowood studies Victorian ideas of the mind and emotion. He carries out small experiments in the course of his work, prodding and poking his clients, his informants, his suspects. And instead of the cool reserve of Holmes, Arrowood is affable, given over to tenderness and fury in equal measure, loving yet greedy, generous to strangers yet careful with his pennies.
Arrowood's sidekick, Barnett, comes from the slums of Bermondsey. There he learnt to use his fists, to pick locks, and to work hard. He protects his guvnor, rescues him from his binges, and tries to tame his outbursts of emotion. He's far from the jovial fool that Watson is. And he has a secret.
In the first Arrowood book, the detectives find themselves investigating Stanley Cream, one of the most dangerous crime bosses in South London. When a woman is murdered for talking to them, Arrowood vows to bring her killer to justice. But they soon find they're in the middle of a Fenian conspiracy to steal weapons from the British army.
Arrowood's fascination with the mind comes from my own work teaching and doing research in Psychology Departments over the last twenty years. Before this, I worked in many jobs around London, on the markets and in social services and the NHS. I've read widely on the Fenian bombing plots, the early psychologists, poverty and crime in the nineteenth century, and everyday life in Victorian London. I was surprised to find such vibrant characters and so much humour in that far-away world, but also so many similar concerns to those we have today. My aim was to bring this all to life for a present day audience, and I really hope you like it. Waterstones is such an important institution in our cultural life, and I'd love to see Arrowood take a seat there among the detectives that have meant so much to me over the years.
Click below to listen to an audio sample of Arrowood!