Summer is in full swing, and what better way to celebrate the nice weather than with an unforgettable read! Campaign Widows combines the drama and hilarity of family, friendship and politics into one witty book you won't be able to put down.
A Note From The Author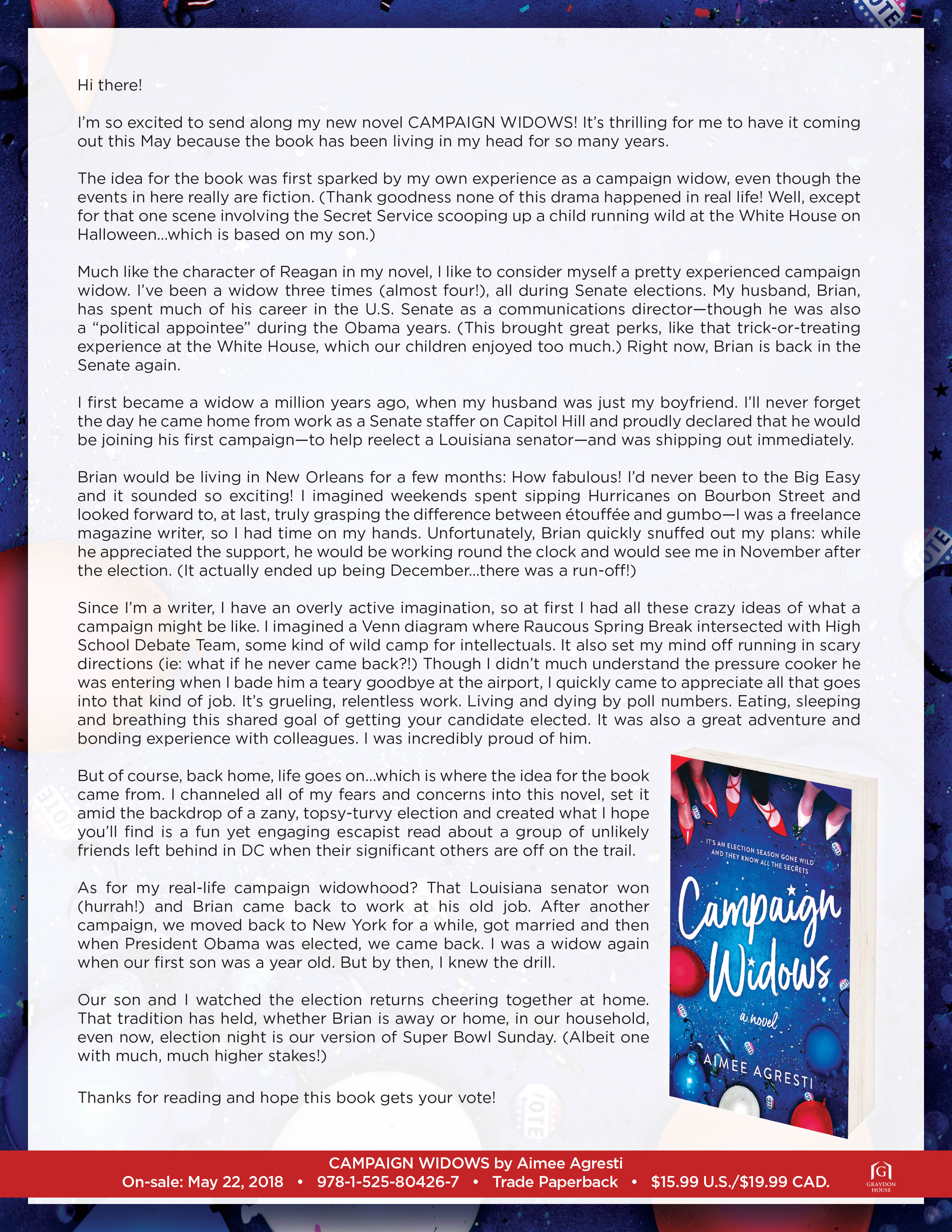 About Campaign Widows
Cady Davenport is living the American dream…
At least she's supposed to be. She's in a new city, with a new job and even a new fiancé. But when her husband-to-be hits the road for the upcoming presidential election, Cady realizes she's on her own—and that her dream life might not be all she'd imagined.
Until she finds herself thrust straight into the heart of the most influential inner circle in Washington, DC: the campaign widows. As friends, they're an unlikely group—a fabulous Georgetown doyenne; a speechwriter turned mommy blogger; an artsy website editor; and a First Lady Hopeful who's not convinced she wants the job. But they share one undeniable bond: their spouses are all out on the trail during a hotly contested election season.
Cady is unsure of her place in their illustrious group, but with the pressures of the unprecedented election mounting, the widows' worlds keep turning—faster than ever—as they hold down the fort while running companies, raising babies, racking up page views and even reinventing themselves. And their friendship might be just what Cady needs to find the strength to pursue her own happiness.
Amazon | Barnes & Noble | Google Play | Kobo | iBooks | Indiebound | Goodreads
Praise for Campaign Widows
"Agresti's first novel for adults hits the right balance of Washington insiderness and women's fiction…. Combining domestic and romantic foibles with an enticing cast (they may be "widowed," but they are not staying home waiting for their men), Agresti's smart beach read will ease readers into the 2018 election season."
-Booklist (Starred Review)
"Aimee Agresti knows Washington D.C. Especially in a presidential election year, where primary parties are hotter than Oscar parties, the journalists are ruthless, the candidates unpredictable and a trail of campaign widows are left home while their significant others are hot on the chase. But as she shows us through a compelling cast of characters, the most delicious drama happens right in the District."
-Karin Tanabe, author of The List and The Diplomat's Daughter
"With a keen eye and razor-sharp wit, Aimee Agresti depicts the presidential campaign trail from a new and refreshing angle: the spouses left holding down the home fort in Washington, DC. Fun and fast-paced, populated with a lovable cast of characters-and peppered with undeniably dishy details-Campaign Widows will keep you turning the pages."
-Ann Mah, author of Mastering the Art of French Eating and The Lost Vintage
Recommended Reads
Looking for a book to dive into after Campaign Widows? Check out these two amazing books!
Sex and the City by Candace Bushnell
Enter a world where the sometimes shocking and often hilarious mating habits of the privileged are exposed by a true insider. In essays drawn from her witty and sometimes brutally candid column in the New York Observer, Candace Bushnell introduces us to the young and beautiful who travel in packs from parties to bars to clubs. Meet "Carrie," the quintessential young writer looking for love in all the wrong places…"Mr. Big," the business tycoon who drifts from one relationship to another…"Samantha Jones," the fortyish, successful, "testosterone woman" who uses sex like a man…not to mention "Psycho Moms," "Bicycle Boys," "International Crazy Girls," and the rest of the New Yorkers who have inspired one of the most watched TV series of our time.
Amazon | Barnes & Noble | Google Play | Kobo | iBooks | Indiebound | Goodreads
How To Be Famous by Caitlin Moran
Johanna Morrigan (AKA Dolly Wilde) writes for the coolest music magazine in Britain. But Johanna is miserable. Her best friend and man of her dreams John Kite has just made it big in 1994's hot new BritPop scene. Suddenly John exists on another plane of reality: that of the Famouses. Never one to sit on the sidelines, Johanna hatches a plan: she will write a monthly column, by way of a manual to the famous, analyzing fame, its power, its dangers, and its amusing aspects. But as Johanna's own star rises, an unpleasant one-night stand she had with a stand-up comedian, Jerry Sharp, comes back to haunt in her in a series of unfortunate consequences. How can a girl deal with public sexual shaming? Especially when her new friend, the up-and-coming feminist rock icon Suzanne Banks, is Jimmy Cricketing her?
Amazon | Barnes & Noble | Google Play | Kobo | iBooks | Indiebound | Goodreads