I've had many lucky charms over the years, from a plastic music-box ballerina, to a cork from a champagne bottle, and several random pebbles. It's funny how we can discover and imbibe objects (often found ones) with almost magical powers – to bring us luck, to make us feel better, even to help get that elusive job!
My friend Lynn once told me about a motivational book she'd read (sorry, I can't remember the title) which told you to make a wish on the universe, and the universe would respond with a 'sign.' I don't know what she wished for but, soon afterwards, she was delighted to find a white feather on her doorstep. She put it in a pendant and wore it around her neck. Thinking that this all sounded highly improbable, I made a half-hearted effort to wish for a 'lucky sign,' and to humour Lynn. The next day, I found a tiny scarlet-haired plastic mermaid on the pavement. Whether it was the universe or a cheap toy dropped by a schoolgirl, who gave me that mermaid, I'll never know.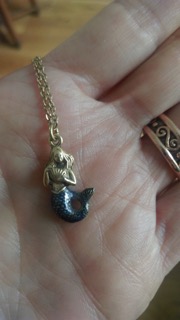 I carried the mermaid with me in my purse for more than a year. She was with me as I wrote and got a publishing deal for my debut novel, The Curious Charms of Arthur Pepper, and when I took the plunge to leave my job after working in communications for twelve years. Just as in The Curious Charms of Arthur Pepper, we hope that the gold charms on Arthur's wife's bracelet might bring him luck, after his wife's bereavement, I used the little toy with the emerald-green tail and big smile, to help me to feel more positive too. And then, one day, I lost her. I looked through all my coats, bags, pockets and drawers, but she was gone. For months I thought about her. Even though she was just a small moulded piece of plastic, I missed her.
I began to wonder why we use, or feel we need, such 'charms' to give us a confidence boost, or permission to do something. What is it about an old penny, or a photograph, or a sock, or a piece of smooth sea-glass, that makes us hope it will bring us good fortune? Surely it's our own efforts, and pluck, and drive that really makes things happen. Even so, I felt bereft and couldn't settle until I found a new lucky charm.
I thought about my plastic mermaid and hoped that someone else had found her, to use as their own good luck charm. Or maybe she's now just a plaything for a little girl, just as she's supposed to be. And then, one windy day in Cambridge, on my pre-publication tour of the US, I went into a jewellery shop and there she was.  A new tiny metal mermaid on a chain. She had a teal-blue tail and held a clam shell. I bought her, named her 'Boston,' and I wear her often.
Especially when I feel the need for a bit of extra good luck!