We hope you've loved reading Followers with us during March! For April, we're going to be diving into suspense and reading The Other Mrs. by Mary Kubica. So pick up a copy and get reading!
Feel free to share all month long with us on social media by tagging @bookclubbish and #ReadWithBookClubbish. And don't forget — we'll be taking the discussion live on Instagram Live on April 28! Follow us on social media so you don't miss a beat.
April's Book Club Pick: The Other Mrs. by Mary Kubica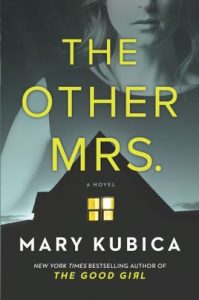 NEW YORK TIMES BESTSELLER
Coming to Netflix!
"Altogether unpredictable." —Karin Slaughter, New York Times bestselling author
Propulsive and addictive, and perfect for fans of "You," The Other Mrs.is the twisty new psychological thriller from Mary Kubica, the New York Times bestselling author of The Good Girl
Sadie and Will Foust have only just moved their family from bustling Chicago to small-town Maine when their neighbor Morgan Baines is found dead in her home. The murder rocks their tiny coastal island, but no one is more shaken than Sadie.
But it's not just Morgan's death that has Sadie on edge. And as the eyes of suspicion turn toward the new family in town, Sadie is drawn deeper into the mystery of what really happened that dark and deadly night. But Sadie must be careful, for the more she discovers about Mrs. Baines, the more she begins to realize just how much she has to lose if the truth ever comes to light.
Get your copy at:
Amazon | Barnes & Noble | Google Play | Kobo | Apple Books | Indiebound | Audible | Goodreads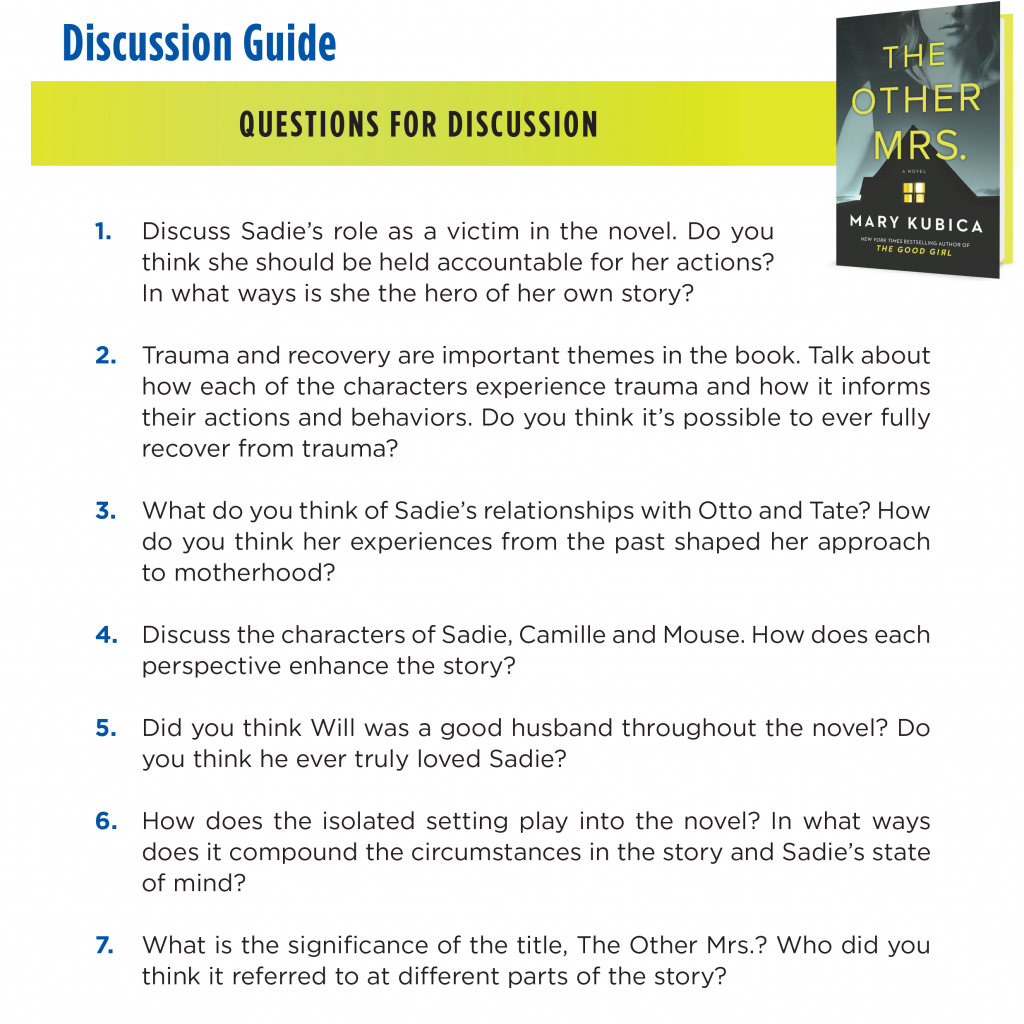 For Your Book Club Meeting: Chewy Ginger Molasses Cookies
Is there anything better than sipping on (and spilling!) some tea with ginger cookies? These cookies are delicious and make the perfect interrogation, uh, we mean book club, treat.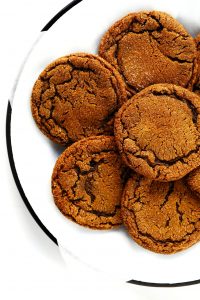 Ingredients
1 1/2 cups unsalted butter, softened to room temperature
1 cup granulated sugar
1 cup packed brown sugar
1/2 cup unsulphured molasses
2 eggs
4 1/2 cups all-purpose flour
4 tsp baking soda
1 tbsp ground ginger
2 tsp ground cinnamon
1 tsp ground cloves
1 tsp salt
Directions
In a medium bowl, whisk together flour, baking soda, cinnamon, cloves, ginger and salt. Set aside.
Using a separate mixing bowl, either with a stand mixer or hand mixer, cream together the softened butter and sugars on medium-high speed until the mixture is light and fluffy and a pale yellow color, about 2 minutes, scraping down the sides occasionally as needed. Mix in the eggs (one at a time) and molasses, and beat on medium-low speed until each is combined. Gradually add in the dry ingredient mixture and beat until it is evenly incorporated.
Transfer the dough to an airtight container and refrigerate for at least 2 hours, or until the dough is completely chilled.
Preheat oven to 350°F. Line a sheet pan with parchment paper; set aside.
Roll the dough into small balls, about 1-inch in diameter. Fill a separate small bowl with sugar and roll each ball in the sugar until it is completely coated. Place dough balls on the prepared baking sheet.
Bake for about 8-10 minutes until the cookies begin to slightly crack on top. (They will crack more while cooling.) Remove from the oven and let cool for 4-5 minutes. Then transfer the cookies to wire racks to cool completely.
Serve warm and enjoy, or store in a sealed container for up to 4 days. Or freeze for up to 3 months.
Makes around 4 dozen cookies. Recipe courtesy of Gimme Some Oven.
Join the Conversation!
Let us know what you think of The Other Mrs. by posting with these templates on Instagram. Remember to tag @bookclubbish and #ReadWithBookClubbish for your chance to be featured on our feed.