Creating the perfect wedding can definitely reveal a lot about you, and not just when it comes to your flower choices for the bouquet! Plan your perfect wedding below, and we'll give you a book that you absolutely have to check out.
Be prepared for any wedding (no matter how awkward) with these great reads!
Family and Other Catastrophes by Alexandra Borowitz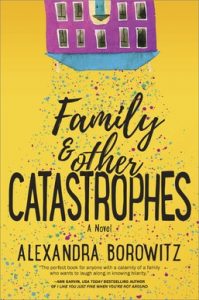 Emily Glass knows she's neurotic. But she's got it under control. Sort of. She dons compression socks when she flies (because, you know, deep vein thrombosis) and responds to people routinely overestimating her age with more Lifespin classes and less gluten. Thankfully, she also has David, the wonderful man she'll soon call husband—assuming they can survive wedding week with her wildly dysfunctional family.
Emily's therapist mother, Marla, who's been diagnosing her children since they were in diapers, sees their homecoming as the perfect opportunity for long-overdue family therapy sessions. Less enthused are Emily and her two siblings: ardently feminist older sister Lauren, who doesn't think the wedding party should have defined gender roles, and recently divorced brother Jason, whose overzealous return to singlehood is only tempered by his puzzling friendship with David's Renaissance Faire—enthusiast brother.
As the week comes to a tumultuous head, Emily wants nothing more than to get married and get as far away from her crazy relatives as possible. But that's easier said than done when Marla's meddling breathes new life into old secrets. After all, the ties that bind family together may bend, but they aren't so easily broken.
The People We Hate at the Wedding by Grant Ginder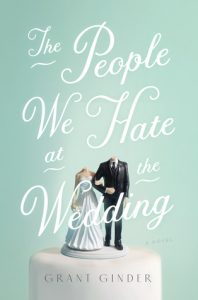 Paul and Alice's half-sister Eloise is getting married! In London! There will be fancy hotels, dinners at "it" restaurants and a reception at a country estate complete with tea lights and embroidered cloth napkins.
They couldn't hate it more.
The People We Hate at the Wedding is the story of a less than perfect family. Donna, the clan's mother, is now a widow living in the Chicago suburbs with a penchant for the occasional joint and more than one glass of wine with her best friend while watching House Hunters International. Alice is in her thirties, single, smart, beautiful, stuck in a dead-end job where she is mired in a rather predictable, though enjoyable, affair with her married boss. Her brother Paul lives in Philadelphia with his older, handsomer, tenured track professor boyfriend who's recently been saying things like "monogamy is an oppressive heteronormative construct," while eyeing undergrads. And then there's Eloise. Perfect, gorgeous, cultured Eloise. The product of Donna's first marriage to a dashing Frenchman, Eloise has spent her school years at the best private boarding schools, her winter holidays in St. John and a post-college life cushioned by a fat, endless trust fund. To top it off, she's infuriatingly kind and decent.
As this estranged clan gathers together, and Eloise's walk down the aisle approaches, Grant Ginder brings to vivid, hilarious life the power of family, and the complicated ways we hate the ones we love the most in the most bitingly funny, slyly witty and surprisingly tender novel you'll read this year.
Why Not Me? by Mindy Kaling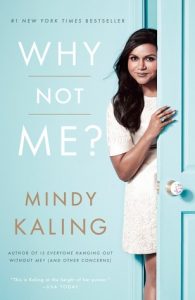 In Why Not Me?, Kaling shares her ongoing journey to find contentment and excitement in her adult life, whether it's falling in love at work, seeking new friendships in lonely places, attempting to be the first person in history to lose weight without any behavior modification whatsoever, or most important, believing that you have a place in Hollywood when you're constantly reminded that no one looks like you. 
In "How to Look Spectacular: A Starlet's Confessions", Kaling gives her tongue-in-cheek secrets for surefire on-camera beauty, ("Your natural hair color may be appropriate for your skin tone, but this isn't the land of appropriate-this is Hollywood, baby. Out here, a dark-skinned woman's traditional hair color is honey blonde.") "Player" tells the story of Kaling being seduced and dumped by a female friend in L.A. ("I had been replaced by a younger model. And now they had matching bangs.") In "Unlikely Leading Lady", she muses on America's fixation with the weight of actresses, ("Most women we see onscreen are either so thin that they're walking clavicles or so huge that their only scenes involve them breaking furniture.") And in "Soup Snakes", Kaling spills some secrets on her relationship with her ex-boyfriend and close friend, B.J. Novak ("I will freely admit: my relationship with B.J. Novak is weird as hell.") 
Mindy turns the anxieties, the glamour, and the celebrations of her second coming-of-age into a laugh-out-loud funny collection of essays that anyone who's ever been at a turning point in their life or career can relate to. And those who've never been at a turning point can skip to the parts where she talks about meeting Bradley Cooper.
Crazy Rich Asians by Kevin Kwan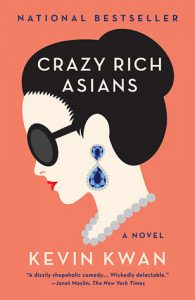 When New Yorker Rachel Chu agrees to spend the summer in Singapore with her boyfriend, Nicholas Young, she envisions a humble family home and quality time with the man she hopes to marry. But Nick has failed to give his girlfriend a few key details. One, that his childhood home looks like a palace; two, that he grew up riding in more private planes than cars; and three, that he just happens to be the country's most eligible bachelor.
On Nick's arm, Rachel may as well have a target on her back the second she steps off the plane, and soon, her relaxed vacation turns into an obstacle course of old money, new money, nosy relatives, and scheming social climbers.
Daughters of the Bride by Susan Mallery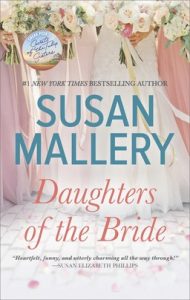 With Joy, Love and a Little Trepidation, Courtney, Sienna and Rachel Invite You to the Most Emotional Wedding of the Year… Their Mother's
Courtney
~ The Misfit ~ 
As the awkward one, Courtney Watson may not be as together as her sisters, but she excels at one thing—keeping secrets, including her white-hot affair with a sexy music producer. Planning Mom's wedding exposes her startling hidden life, changing her family's view of her—and how she views herself—forever.
Sienna
~ The Free Spirit ~ 
When Sienna's boyfriend proposes—in front of her mom and sisters, for crying out loud—he takes her by surprise. She already has two broken engagements under her belt. Should she say "I do" even if she's not sure she does?
Rachel
~ The Cynic ~ 
Rachel thought love would last forever…right up until her divorce. As Mom's wedding day draws near and her ex begs for a second chance, she's forced to acknowledge some uncomfortable truths about why her marriage failed, and decide if she'll let pride stand in the way of her own happily-ever-after.
What book did you get? Share your results in the comments below!