The Soul of a Thief is the latest book by author Steven Hartov, set during World War II…but it is so much more than a war story. Keep reading to discover more about this fantastic book and to win a copy of your very own.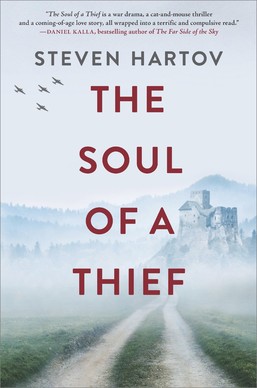 What is your new novel, The Soul of a Thief, about?
The Soul of a Thief is an adventure, a war story, a romance and a coming-of-age novel, all set during the year of the Allied invasion of Europe during World War II. The story centers around a 19-year old Austrian boy of partial Jewish heritage, Shtefan Brandt, who finds himself as the adjutant to a colonel in the Waffen SS, Erich Himmel, and must not only protect his potentially mortal secret but survive the horrors of combat. To add to his conundrum, our young hero also falls in love with Colonel Himmel's young French mistress, Gabrielle Belmont, who is also of "questionable" heritage. When Shtefan discovers that Himmel intends to escape from Germany's inevitable defeat and enrich himself by robbing an Allied paymaster train, the boy plots to betray the colonel by stealing both his mistress and his fortune.
Where did the inspiration for the novel's story come from?
SH: Much of the inspiration for the story came from my own background, as my mother and her family were all Austrians, some of whom, although Jewish or partially Jewish, served in the Austrian or German armies. However, the driving force behind the novel came from a recurring dream that I used to have as a child; it is a scene that figures prominently in the book.
Who were the Mischlinge? Why has their story rarely been told?
SH: The Mischlinge were Germans or Austrians of "mixed" heritage, meaning that somewhere in their ancestral backgrounds persons of Jewish faith had married into the family. During the Nazi era, German and Austrian citizens had to prove their "racial purity," and Mischlinge were considered to be Jews and persecuted as such. However, exceptions were made in accordance with the requirements of the Nazi war machine, and many such persons were allowed to serve. For those who survived, such service was regarded as shameful, which is why very few of them have spoken out about their wartime experiences.
Are any of the characters in the novel, in particular Shtefan or Colonel Himmel, based on real-life people or did you create them from whole cloth for the novel?
SH: Shtefan is based, in part, on my great uncle, Alexander, who served in the German Luftwaffe until he was discovered to be a Mischling and sent to a concentration camp. Colonel Himmel is based on a figure who used to appear in a childhood recurring dream; I do not know his origin. Many of the other characters are compilations of soldiers I have known personally, of various nationalities (soldiers are very much the same, everywhere). Gabrielle is based on a long lost love.
You say in your historical notes at the end that some of the Mischlinge ended up in the Israeli army after the war. You have worked with Israeli Intelligence. Did you ever meet any of these men who shared their stories with you?
SH: I did in fact meet a number of men who had served for a time in the German army, then escaped or fled and made their way to Allied lines and wound up in Israel prior to its post-war independence. Most of these men were already aging and no longer serving in the Israeli army, though some had been commandos and intelligence agents during their youths.
­­
What sort of historical research did you need to do before you wrote the novel?
SH: Having grown up around men and women who lived through these times, as well my own family's history and heritage, in truth I did not need to do much research. Once I completed the manuscript, I carefully fact-checked to make sure I'd gotten things right, but for the most part the details were already accurate.
You have a strong military background, and there are aspects of The Soul of a Thief that tap into your knowledge. Would you classify the story as a war story first and foremost?
SH: I would not classify the novel so much as a war story, but rather as a story that takes place during a war. I view it more as a coming-of-age adventure with a powerful romantic essence.
You have written other novels. Is this the first set during World War II?
SH: Yes, this is my first novel set during World War II, although it will not be my last.
Want to win a copy of The Soul of a Thief? Share in the comments what your favorite book about World War II is for your chance to win!
Giveaway: Answer the above question for your chance to win! Open to residents of the US and Canada, excluding Quebec. Contest closes March 27, at 11:59 p.m. ET. One (1) winners will be selected from all on March 28. For full official rules, click here.
Update this contest is now closed.