We took you on a thrill ride last month with our August Read With BookClubbish pick, Local Woman Missing. Well, pack your (metaphorical) bags and get ready to travel to the Jaipur Palace in 1969 with this month's pick, The Secret Keeper of Jaipur by Alka Joshi!
Now, if you're familiar Reese's Book Club, you may remember that Alka's first book, The Henna Artist, was a pick last year. This story takes place several years after The Henna Artist ends and focuses on Laskhmi's protégé, Malik. If you love historical fiction, beautiful atmospheres and lavish storytelling, then this book's for you.
Pick up your copy, RSVP to our Facebook event happening on Tuesday, September 21 at 1:00 p.m. EST, and dig in! Don't forget to join in on all the fun by following @BookClubbish and using the hashtag #ReadWithBookClubbish on social media.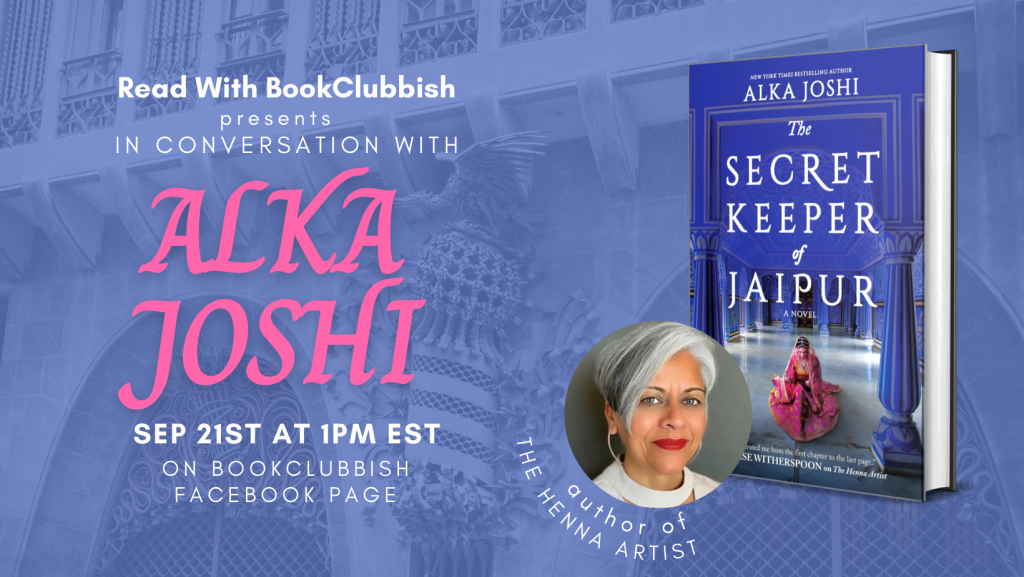 The Secret Keeper of Jaipur by Alka Joshi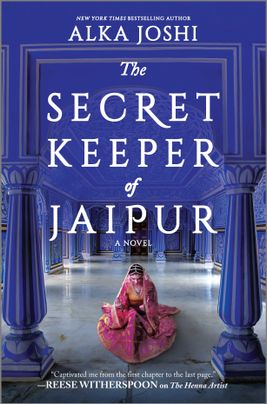 A NEW NOVEL BY THE AUTHOR OF THE HENNA ARTIST, A REESE'S BOOK CLUB PICK
"Captivated me from the first chapter to the last page." —Reese Witherspoon on The Henna Artist
In New York Times bestselling author Alka Joshi's intriguing new novel, henna artist Lakshmi arranges for her protégé, Malik, to intern at the Jaipur Palace in this tale rich in character, atmosphere, and lavish storytelling.
It's the spring of 1969, and Lakshmi, now married to Dr. Jay Kumar, directs the Healing Garden in Shimla. Malik has finished his private school education. At twenty, he has just met a young woman named Nimmi when he leaves to apprentice at the Facilities Office of the Jaipur Royal Palace. Their latest project: a state-of-the-art cinema.
Malik soon finds that not much has changed as he navigates the Pink City of his childhood. Power and money still move seamlessly among the wealthy class, and favors flow from Jaipur's Royal Palace, but only if certain secrets remain buried. When the cinema's balcony tragically collapses on opening night, blame is placed where it is convenient. But Malik suspects something far darker and sets out to uncover the truth. As a former street child, he always knew to keep his own counsel; it's a lesson that will serve him as he untangles a web of lies.
Pick up your copy at:
Amazon | Barnes & Noble | Google Play | Kobo | Apple Books | Indiebound | Indigo | Audible | Goodreads
Discussion Questions for The Secret Keeper of Jaipur
Do you think Lakshmi does the right thing by asking Malik to go to Jaipur and learn the construction trade? Could she have found another way to keep Malik out of trouble?
What makes Malik such a likeable character? What three things do you think a great book character needs to make readers fall in love with him/her?
Could Nimmi have done something to keep Malik from leaving Shimla? Ultimately, do you think it was good for them to be apart? Does Nimmi learn anything about herself as a part of their separation?
In what ways has Malik transformed from the grubby street urchin he used to be? Has he changed from the outside or the inside, or both?
How are Nimmi and Lakshmi different? How are they similar?
What do you think Malik learns about himself and his place in the world of the Singhs? What are the class differences between him and the Singhs? How do those differences manifest themselves?
What secrets is Malik privy to? What makes him keep those secrets to himself?
How does Lakshmi use her influence with the Maharanis to help Manu? Do you feel she's manipulating a volatile situation or strategically deflecting it?
What kind of power do the Maharanis wield? What are the limitations to their power?
Is Sheela making a play for Malik or is she merely flirting? What is her motive for either? Does she betray him on purpose or inadvertently?
Lakshmi and Jay trade proverbs playfully. Do they resonate with you or remind you of sayings from your own upbringing?
What do you learn about the significance of gold in Indian culture, especially as it relates to married women? In your family, what do gold or other precious metals signify?
The book is set in the late 1960s. What does it showcase about life at that time in India's history? Does it reinforce or change any of your assumptions about India?
In the end, Ravi is not penalized for his part in a criminal endeavor. What did that signal to you as a reader? Do the wealthy ever pay for their transgressions?
Why does Radha refuse to learn anything about Niki's life? Do you think there will ever be a time when she's ready to know more?
Books You May Also Like…
Do you have a question for Alka Joshi? Post them in the comments and we'll do our best to answer them live on Facebook!