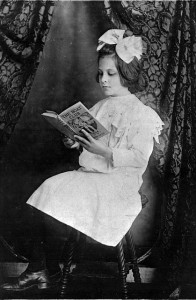 In the wonderful story Ramona Quimby, Age 8, author Beverly Cleary introduces us to the notion of D.E.A.R., a classroom initiative that encourages young readers to Drop Everything And Read. It's an organized, aspirational and thoroughly enjoyable prompt to engage children in literacy and a love of reading. But it's not just for kids.
There have been many instances where we have implemented a similar, slightly less organized, perhaps more hedonistic version that we call S.E.A.R.: Stop Everything And Read. This is how it goes: when wheels are spinning, thoughts are jumbled, children are bored or multi-tasking is resulting simply in multiple piles of nothing being accomplished, it's time for S.E.A.R. It's a boredom buster, a cure for mindless consumption—of television, snacks, petty woes or any number of other minor domestic ailments—and a way to channel energy, brainpower and time into something more focused.
Making time for reading is always a priority, but one that can't always get top billing. But when S.E.A.R. is implemented, and reading is subbed in for less productive uses of time, reading becomes even more curative than it already is.
A few easy ways to include S.E.A.R. in your regular day-to-day:
Schedule it. Figure out what the "witching hour" is in your house and declare that S.E.A.R. time. If there are kids in the household, this is often in the moments between school or dinner, or dinner and bed. If it's just you, you know when your witching hour is ('fess up; we all have one). Mine is between 9pm and 10pm, when I am tired of TV, not ready to go to bed and prone to both snacking and griping.
Add it to an activity jar or list of family activities. When a family movie night is switched to a family reading night, even for half an hour, kids are taught the value of books and in reading for pleasure.
Shout it out spontaneously. But don't only use it when boredom or tempers flare, or kids will see reading as a punishment. Use S.E.A.R. as a reward as well, interrupting less-crucial, more cumbersome chores or activities with 15 minutes of well-earned reading time.
Combine it with other activities. S.E.A.R. can mean listening to an audiobook while you fold laundry, mow the lawn or drive; or when deciding that a wait in a doctor's office, or during a commute or during a respite in a coffee shop is the perfect time and place to crack a book. I guess in this case we'd have to call it Stop (almost) Everything And Read.
photo: flickr