The sun is out, the birds are chirping, the flowers are blooming…and we want to be lost in the grip of a thrilling, suspenseful read that will have us on the edge of our seats! Who says the brightest time of the year can't also be the most chilling? Here are the suspense books you simply won't be able to put down this summer.
Don't forget to check back next month to see what's new in the world of suspense!
Out This Month
The beginnings of summer are starting to creep in, and with that comes these suspenseful tales of lies, betrayal, and riveting stories that will keep your eyes glued to the page.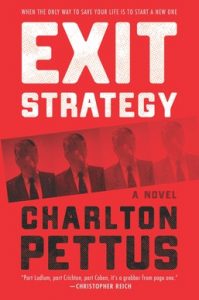 On sale May 1
For crooked politicians, military brass from third-world nations, and white-collar criminals looking to avoid either prison or a deadlier form of payback, there's Exit Strategy. With just one call, Exit Strategy can fake your death, give you a new name and face, and launder whatever ill-gotten funds you need to establish a new life on the other side of the world. When Jordan Parrish, the brilliant founder of a medical technology start-up, made the call, he thought he had no other way out. But after his exit, he began to wonder about the circumstances that led him to make that momentous decision: was someone, in fact, working against him? To find out, Jordan will have to break the cardinal rule of Exit Strategy: you can never, ever go back.
Amazon | Barnes & Noble | Google Play | Kobo | iBooks | Indiebound | Goodreads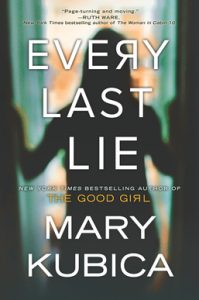 On sale May 29
Now available in trade paperback!
Clara Solberg's world shatters when her husband and their four-year-old daughter are in a car crash, killing Nick while Maisie is remarkably unharmed. The crash is ruled an accident…until the coming days, when Maisie starts having night terrors that make Clara question what really happened on that fateful afternoon. Who would have wanted Nick dead? And why? Clara will stop at nothing to find out—and the truth is only the beginning of this twisted tale of secrets and deceit.
Amazon | Barnes & Noble | Google Play | Kobo | iBooks | Indiebound | Goodreads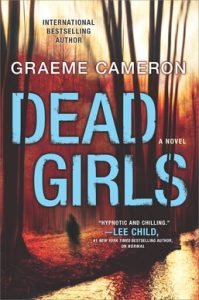 On sale May 29
It's been two months since a serial killer brutally attacked police detective Alisha Green and left her for dead. The nameless killer thinks he knows her, thinks she's just another dead girl among many. Ali Green plans to show him he's dead wrong about that. Ali has two enemies now: the dangerous man she's hunting and her own failing memory. As explosive new evidence comes to light and conflicting accounts from a witness and a surviving victim threaten both her investigation and her credibility, she begins to question what is and isn't real.
Amazon | Barnes & Noble | Google Play | Kobo | iBooks | Indiebound | Goodreads
Coming Soon…
It's time to plan your summer reading list! If you're a suspense fan, you'll definitely want to keep an eye out for these upcoming books.
June 5
The Shimmer by Carsten Stroud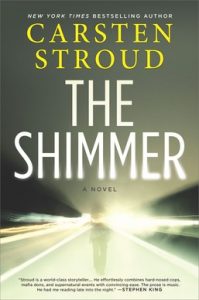 A police pursuit kicks Sergeant Jack Redding of the Florida Highway Patrol and his trainee, Julie Karras, into a shoot-out that ends with one girl dead and another in cuffs, and the driver of the SUV fleeing into the Intracoastal Waterway. Redding stays on the hunt, driven by the trace memory that he knows that running woman—and he does, because his grandfather, a cop in Jacksonville, was hunting the same woman in 1957.
Redding and his partner, Pandora Jansson, chase a seductive serial killer who can ride The Shimmer across decades. The pursuit cuts from modern-day Jacksonville to Mafia-ruled St. Augustine in 1957, then to the French Quarter of New Orleans in 1914. The stakes turn brutal when Jack, whose wife and child died in a crash the previous Christmas Eve, faces a terrible choice: help his grandfather catch the killer, or change time itself and try to save his wife and child.
Preorder today!
Amazon | Barnes & Noble | Google Play | Kobo | iBooks | Indiebound | Goodreads
June 12
The Moscow Deception by Karen Robards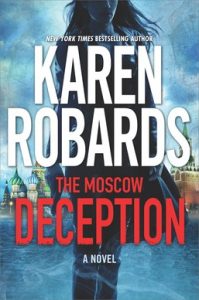 Bianca St. Ives was recently put through the wringer, but she came out the same way she always does—the way her father trained her to—hungry for a fight. Still navigating the fallout from a shocking revelation that's left a network of assassins' crosshairs trained on her, Bianca's ready to take fate into her own hands. It's kill or be killed, and she's got her finger flush against the trigger.
But as Bianca races to outmaneuver her tireless pursuers, her father loops her in on a job that might just do the trick: recover King Priam's Treasure, a collection of heavily guarded, priceless artifacts stolen by the Russians during World War II, and return it to Germany. Impossible? Maybe for some, but a high-risk heist is all in a day's work for Bianca St. Ives, especially when there's intel on the line—intel that could finally bring down the shadowy forces seeking to bury Bianca for good. Faced with threats that circle closer with every move she makes, she knows the stakes have never been higher, but when you're already living on borrowed time, you have to hustle if you want to live to see tomorrow.
Preorder today!
Amazon | Barnes & Noble | Google Play | Kobo | iBooks | Indiebound | Goodreads
Hangman by Jack Heath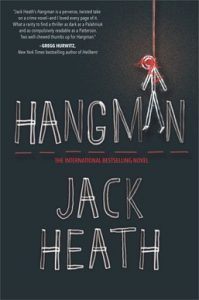 A boy vanishes on his way home from school. His frantic mother receives a ransom call: pay or else. It's only hours before the deadline, and the police have no leads. Enter Timothy Blake, an FBI consultant with a knack for solving impossible cases but whose expertise comes at a price. Every time he saves a life, he takes one, trying to satisfy an urge he fears he can only control for so long.
And this time Blake may have met his match. The kidnapper is more cunning and ruthless than any he's faced before. And he's been assigned a new partner within the Bureau: a woman linked to the past he's so desperate to forget. Because he has a secret, one so dark he will do anything to keep it hidden.
Preorder today!
Amazon | Barnes & Noble | Google Play | Kobo | iBooks | Indiebound | Goodreads
June 19
Slowly We Die by Emelie Schepp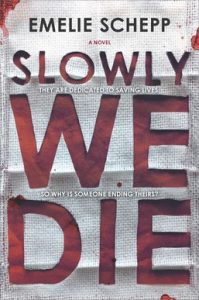 A tragic incident on the operating table leaves a patient damaged for life and leads a young surgeon to abandon his profession as a physician… Now, years later, a series of senseless, gruesome murders are rocking the same medical community.
The weapon? A surgical scalpel.
But who exactly is preying on these victims? And why? What does this grisly pattern reveal? And who will be the one to stop it?
Special prosecutor Jana Berzelius, who has her own dark secrets to hide, is in charge of the investigation. What she can't know, until she is finally closing in on the murderer, is just how her own mother's recent death is intimately connected.
This intricately plotted and relentlessly suspenseful medical thriller keeps everyone guessing until the bitter end.
Preorder today!
Amazon | Barnes & Noble | Google Play | Kobo | iBooks | Indiebound | Goodreads
June 26
Three Days Missing by Kimberly Belle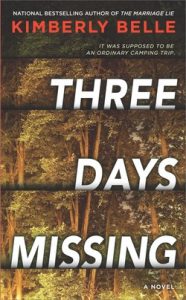 It's every parent's worst nightmare: the call that comes in the middle of the night. When Kat Jenkins awakens to the police on her doorstep, her greatest fear is realized. Her nine-year-old son, Ethan, is missing—vanished from the cabin where he'd been on an overnight class trip. Shocked and distraught, Kat rushes to the campground, but she's too late; the authorities have returned from their search empty-handed after losing Ethan's trail in the mountain forest.
Another mother from the school, Stef Huntington, seems like she has it all: money, prominence in the community, a popular son and a loving husband. She hardly knows Kat, except for the vicious gossip that swirls around Kat's traumatic past. But as the police investigation unfolds, Ethan's disappearance has earth-shattering consequences for Stef, as her path crosses with Kat. As the two mothers race against the clock, their desperate search for answers reveals how the greatest dangers lie behind the everyday smiles of those they trust the most.
Preorder today!
Amazon | Barnes & Noble | Google Play | Kobo | iBooks | Indiebound | Goodreads
July 31
Thief's Mark by Carla Neggers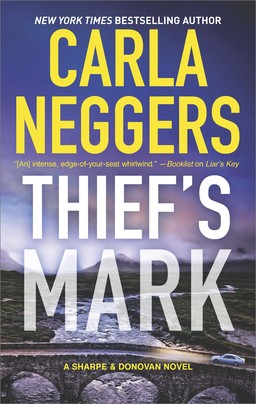 Now in paperback!
As a young boy, Oliver York witnessed the murder of his parents in their London apartment. The killers kidnapped him and held him in an isolated Scottish ruin, but he escaped, thwarting their plans for ransom. After thirty years on the run, one of his tormentors may have surfaced.
Emma Sharpe and Colin Donovan are on their Irish honeymoon when a break-in at the home of Emma's grandfather, private art detective Wendell Sharpe, points to Oliver. The Sharpes have a complicated relationship with the likable, reclusive Englishman. Emma and Colin postpone meetings in London with their elite FBI team and head straight to Oliver. But when they arrive at York's country home, a man is dead and Oliver has vanished.
As the danger mounts, questions arise about Oliver's account of his boyhood trauma. Do Emma and Colin dare trust him? With the trail leading beyond Oliver's village to Ireland, Scotland and their own turf in the US, the stakes are high, and Emma and Colin must unravel the decades-old tangle of secrets and lies before a killer strikes again.
Preoder today!
Amazon | Barnes & Noble | Google Play | Kobo | iBooks | Indiebound | Goodreads
More Suspenseful Reads
Can't wait to add more spine-chilling suspense to your bookshelf? These unforgettable reads are already on sale, full of twists and turns just waiting to be discovered!