The sun is out, the birds are chirping, the flowers are blooming…and we want to be lost in the grip of a thrilling, suspenseful read that will have us on the edge of our seats! Who says the brightest time of the year can't also be the most chilling? Here are the suspense books you simply won't be able to put down this summer.
Coming Soon
Get your TBR list ready…the latest from New York Times bestselling author Carla Neggers will soon be out in paperback, and you definitely won't want to miss it!
As a young boy, Oliver York witnessed the murder of his parents in their London apartment. The killers kidnapped him and held him in an isolated Scottish ruin, but he escaped, thwarting their plans for ransom. After thirty years on the run, one of his tormentors may have surfaced.
Emma Sharpe and Colin Donovan are on their Irish honeymoon when a break-in at the home of Emma's grandfather, private art detective Wendell Sharpe, points to Oliver. The Sharpes have a complicated relationship with the likable, reclusive Englishman. Emma and Colin postpone meetings in London with their elite FBI team and head straight to Oliver. But when they arrive at York's country home, a man is dead and Oliver has vanished.
As the danger mounts, questions arise about Oliver's account of his boyhood trauma. Do Emma and Colin dare trust him? With the trail leading beyond Oliver's village to Ireland, Scotland and their own turf in the US, the stakes are high, and Emma and Colin must unravel the decades-old tangle of secrets and lies before a killer strikes again.
Preoder today!
Amazon | Barnes & Noble | Google Play | Kobo | iBooks | Indiebound | Goodreads
Out Now
These highly anticipated suspenseful reads have finally hit stores! Which thrilling tale will you take on first?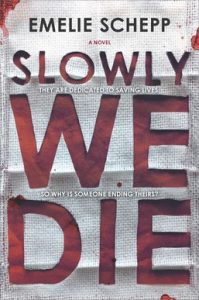 A tragic incident on the operating table leaves a patient damaged for life and leads a young surgeon to abandon his profession as a physician… Now, years later, a series of senseless, gruesome murders are rocking the same medical community.
The weapon? A surgical scalpel.
But who exactly is preying on these victims? And why? What does this grisly pattern reveal? And who will be the one to stop it?
Special prosecutor Jana Berzelius, who has her own dark secrets to hide, is in charge of the investigation. What she can't know, until she is finally closing in on the murderer, is just how her own mother's recent death is intimately connected.
This intricately plotted and relentlessly suspenseful medical thriller keeps everyone guessing until the bitter end.
Amazon | Barnes & Noble | Google Play | Kobo | iBooks | Indiebound | Goodreads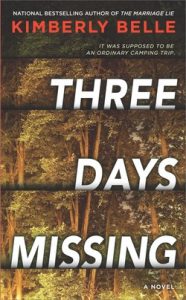 It's every parent's worst nightmare: the call that comes in the middle of the night. When Kat Jenkins awakens to the police on her doorstep, her greatest fear is realized. Her nine-year-old son, Ethan, is missing—vanished from the cabin where he'd been on an overnight class trip. Shocked and distraught, Kat rushes to the campground, but she's too late; the authorities have returned from their search empty-handed after losing Ethan's trail in the mountain forest.
Another mother from the school, Stef Huntington, seems like she has it all: money, prominence in the community, a popular son and a loving husband. She hardly knows Kat, except for the vicious gossip that swirls around Kat's traumatic past. But as the police investigation unfolds, Ethan's disappearance has earth-shattering consequences for Stef, as her path crosses with Kat. As the two mothers race against the clock, their desperate search for answers reveals how the greatest dangers lie behind the everyday smiles of those they trust the most.
Amazon | Barnes & Noble | Google Play | Kobo | iBooks | Indiebound | Goodreads
Relationship Troubles
We all know our friends and family…right? These reads are all about questioning those closest to you, whether it be your best friend or even your spouse. After all, who knows what our loved ones are really thinking!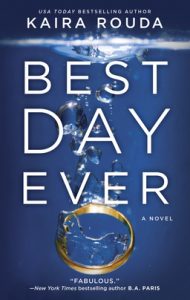 In the bestselling, page-turning vein of The Couple Next Door and The Dinner, Kaira Rouda weaves a gripping, tautly suspenseful tale of deception and betrayal dark enough to destroy a marriage…or a life.
"I glance at my wife as she climbs into the passenger seat, and I am bursting with confidence. Today will be everything I've promised her…and more…"
Paul Strom has the perfect life: a glittering career as an advertising executive, a beautiful wife, two healthy boys and a big house in a wealthy suburb. And he's the perfect husband: breadwinner, protector, provider. That's why he's planned a romantic weekend for his wife, Mia, at their lake house, just the two of them. And he's promised today will be the best day ever.
But as Paul and Mia drive out of the city and toward the countryside, a spike of tension begins to wedge itself between them and doubts start to arise. How much do they trust each other? And how perfect is their marriage, or any marriage, really?
Amazon | Barnes & Noble | Google Play | Kobo | iBooks | Indiebound | Goodreads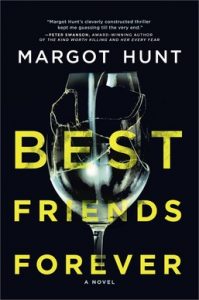 How well do you really know your best friend?
Kat Grant and Alice Campbell have a friendship forged in shared confidences and long lunches lubricated by expensive wine. Though they're very different women—the artsy socialite and the struggling suburbanite—they're each other's rocks. But even rocks crumble under pressure. Like when Kat's financier husband, Howard, plunges to his death from the second-floor balcony of their South Florida mansion.
Howard was a jerk, a drunk, a bully and, police say, a murder victim. The questions begin piling up. Like why Kat has suddenly gone dark: no calls, no texts and no chance her wealthy family will let Alice see her. Why investigators are looking so hard in Alice's direction. Who stands to get hurt next. And who is the cool liar—the masterful manipulator behind it all.
Amazon | Barnes & Noble | Google Play | Kobo | iBooks | Indiebound | Goodreads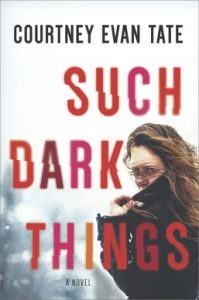 A HORRIFIC RECURRING NIGHTMARE IS THREATENING TO STEAL HER SANITY…
Dr. Corinne Cabot is living the American dream. She's a successful ER physician in Chicago who's married to a handsome husband. Together they live in a charming house in the suburbs. But appearances can be deceiving—and what no one can see is Corinne's dark past. Troubling gaps in her memory mean she recalls little about a haunting event in her life years ago that changed everything.
She remembers only being in the house the night two people were found murdered. Her father was there, too. Now her father is in prison; she hasn't been in contact in years. Repressing that terrifying memory has caused Corinne moments of paranoia and panic. Sometimes she thinks she sees things that aren't there, hears words that haven't been spoken. Or have they? She fears she may be losing her mind, unable to determine what's real and what's not.
So when she senses her husband's growing distance, she thinks she's imagining things. She writes her suspicions off to fatigue, overwork, anything to explain what she can't accept—that her life really isn't what it seems.
Amazon | Barnes & Noble | Google Play | Kobo | iBooks | Indiebound | Goodreads
Who Can You Trust?
Think you can recognize a friendly face? The cashier at the store, the dog walker on the sidewalk…can you really trust anyone? Enjoy these books about every day people with something unexpected under the surface.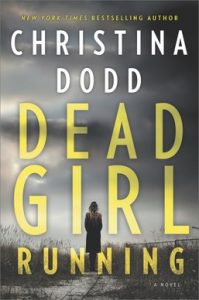 I have three confessions to make:
1. I've got the scar of a gunshot on my forehead.
2. I don't remember an entire year of my life.
3. My name is Kellen Adams…and that's half a lie.
Girl running…from a year she can't remember, from a husband she prays is dead, from homelessness and fear. Tough, capable Kellen Adams takes a job as assistant manager of a remote vacation resort on the North Pacific Coast. There, amid the towering storms and the lashing waves, she hopes to find sanctuary. But when she discovers a woman's dead and mutilated body, she's soon trying to keep her own secrets while investigating first one murder…then another.
Now every guest and employee is a suspect. Every friendly face a mask. Every kind word a lie. Kellen's driven to defend her job, her friends and the place she's come to call home. Yet she wonders—with the scar of a gunshot on her forehead and amnesia that leaves her unsure of her own past, could the killer be staring her in the face?
Amazon | Barnes & Noble | Google Play | Kobo | iBooks | Indiebound | Goodreads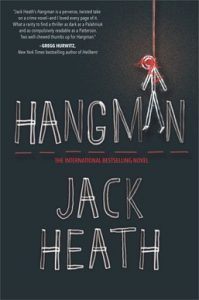 A boy vanishes on his way home from school. His frantic mother receives a ransom call: pay or else. It's only hours before the deadline, and the police have no leads. Enter Timothy Blake, an FBI consultant with a knack for solving impossible cases but whose expertise comes at a price. Every time he saves a life, he takes one, trying to satisfy an urge he fears he can only control for so long.
And this time Blake may have met his match. The kidnapper is more cunning and ruthless than any he's faced before. And he's been assigned a new partner within the Bureau: a woman linked to the past he's so desperate to forget. Because he has a secret, one so dark he will do anything to keep it hidden.
Amazon | Barnes & Noble | Google Play | Kobo | iBooks | Indiebound | Goodreads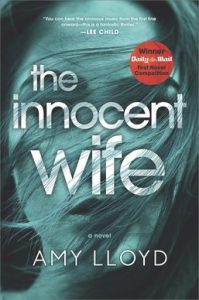 THE INTERNATIONAL BESTSELLER
You Love Him. You Trust Him. So Why Are You So Scared?
Twenty years ago, Dennis Danson was arrested and imprisoned for the brutal murder of a young girl. Now he's the subject of a true-crime documentary that's whipping up a frenzy online to uncover the truth and free a man who has been wrongly convicted.
A thousand miles away in England, Samantha is obsessed with Dennis's case. She exchanges letters with him, and is quickly won over by his apparent charm and kindness to her. Soon she has left her old life behind to marry him and campaign for his release.
When the campaign is successful and Dennis is freed, however, Sam begins to discover new details that suggest he may not be quite so innocent after all.
But how do you confront your husband when you don't want to know the truth?
The winner of the Daily Mail First Novel Competition, Amy Lloyd's The Innocent Wife is gripping psychological suspense from a brilliant new voice in crime fiction.
Amazon | Barnes & Noble | Google Play | Kobo | iBooks | Indiebound | Goodreads
Experts on the Case
Some people are all about danger and suspense, making it their mission to get to the bottom of things. Whether or not they succeed…well, you'll just have to turn the page to find out!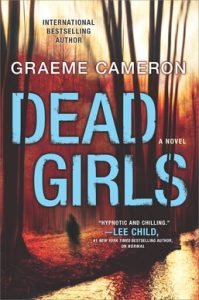 It's been two months since a serial killer brutally attacked police detective Alisha Green and left her for dead. The nameless killer thinks he knows her, thinks she's just another dead girl among many. Ali Green plans to show him he's dead wrong about that. Ali has two enemies now: the dangerous man she's hunting and her own failing memory. As explosive new evidence comes to light and conflicting accounts from a witness and a surviving victim threaten both her investigation and her credibility, she begins to question what is and isn't real.
Amazon | Barnes & Noble | Google Play | Kobo | iBooks | Indiebound | Goodreads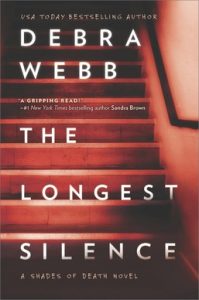 A killer stole her voice. Now she's ready to take it back. Don't miss the chilling Shades of Death series from USA TODAY bestselling author Debra Webb. 
Joanna Guthrie was free. She had been for eighteen years—or so she needed everyone to believe. What really happened during the longest fourteen days of her life, when she and two other women were held captive by a dangerous serial killer, wasn't something she could talk about. Not with him watching. Not unless she wanted to end up like the ones who didn't make it out.
But when more women go missing in an eerily similar manner, Jo knows her prolonged silence will only seal their fates. She's finally ready to talk; she just needs someone to listen. FBI special agent Tony LeDoux can't deny he finds Jo compelling—he's just not sure he believes her story. But with the clock ticking, Jo will do anything to convince him, even if it means unearthing long-buried secrets that will land them squarely in the crosshairs of the killer…
Amazon | Barnes & Noble | Google Play | Kobo | iBooks | Indiebound | Goodreads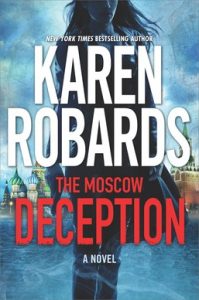 Bianca St. Ives was recently put through the wringer, but she came out the same way she always does—the way her father trained her to—hungry for a fight. Still navigating the fallout from a shocking revelation that's left a network of assassins' crosshairs trained on her, Bianca's ready to take fate into her own hands. It's kill or be killed, and she's got her finger flush against the trigger.
But as Bianca races to outmaneuver her tireless pursuers, her father loops her in on a job that might just do the trick: recover King Priam's Treasure, a collection of heavily guarded, priceless artifacts stolen by the Russians during World War II, and return it to Germany. Impossible? Maybe for some, but a high-risk heist is all in a day's work for Bianca St. Ives, especially when there's intel on the line—intel that could finally bring down the shadowy forces seeking to bury Bianca for good. Faced with threats that circle closer with every move she makes, she knows the stakes have never been higher, but when you're already living on borrowed time, you have to hustle if you want to live to see tomorrow.
Amazon | Barnes & Noble | Google Play | Kobo | iBooks | Indiebound | Goodreads
Nail-Biters
If you're looking for serious twists and turns, these reads are for you. Just make sure you get comfy before you start one of these reads, because you won't be able to put the book down!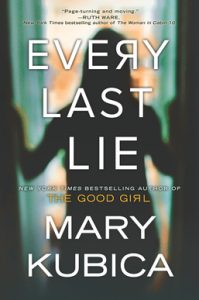 Now available in trade paperback!
Clara Solberg's world shatters when her husband and their four-year-old daughter are in a car crash, killing Nick while Maisie is remarkably unharmed. The crash is ruled an accident…until the coming days, when Maisie starts having night terrors that make Clara question what really happened on that fateful afternoon. Who would have wanted Nick dead? And why? Clara will stop at nothing to find out—and the truth is only the beginning of this twisted tale of secrets and deceit.
Amazon | Barnes & Noble | Google Play | Kobo | iBooks | Indiebound | Goodreads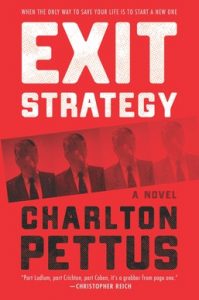 For crooked politicians, military brass from third-world nations, and white-collar criminals looking to avoid either prison or a deadlier form of payback, there's Exit Strategy. With just one call, Exit Strategy can fake your death, give you a new name and face, and launder whatever ill-gotten funds you need to establish a new life on the other side of the world. When Jordan Parrish, the brilliant founder of a medical technology start-up, made the call, he thought he had no other way out. But after his exit, he began to wonder about the circumstances that led him to make that momentous decision: was someone, in fact, working against him? To find out, Jordan will have to break the cardinal rule of Exit Strategy: you can never, ever go back.
Amazon | Barnes & Noble | Google Play | Kobo | iBooks | Indiebound | Goodreads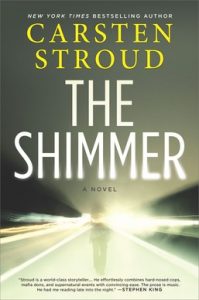 A police pursuit kicks Sergeant Jack Redding of the Florida Highway Patrol and his trainee, Julie Karras, into a shoot-out that ends with one girl dead and another in cuffs, and the driver of the SUV fleeing into the Intracoastal Waterway. Redding stays on the hunt, driven by the trace memory that he knows that running woman—and he does, because his grandfather, a cop in Jacksonville, was hunting the same woman in 1957.
Redding and his partner, Pandora Jansson, chase a seductive serial killer who can ride The Shimmer across decades. The pursuit cuts from modern-day Jacksonville to Mafia-ruled St. Augustine in 1957, then to the French Quarter of New Orleans in 1914. The stakes turn brutal when Jack, whose wife and child died in a crash the previous Christmas Eve, faces a terrible choice: help his grandfather catch the killer, or change time itself and try to save his wife and child.
Amazon | Barnes & Noble | Google Play | Kobo | iBooks | Indiebound | Goodreads
Are you reading any suspense books this summer? Head on down to the comments and share your recommendations with fellow suspense fans!