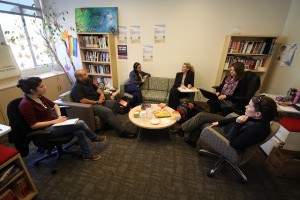 We all know that a book club is a wonderful thing. Book lovers gather to discuss books with other book lovers, and there is usually wine. What could be better? Most of the time, book clubs, in whatever form they take, are pleasant, cooperative, stimulating entities. But there is definitely an etiquette to uphold, and a few simple things that all members should keep in mind in order to continue having fantastic book club meetings.
But sometimes, even with the most solid book club, situations can get sticky. Any group is apt to have members disagree and disengage every once in a while. The trick is to be aware of potential situations, try to avoid them, and if you can't, well, at least try to handle them graciously. Take it from this veteran book club member – even the most cohesive group can run into some unexpected issues. But there are ways to make sure that the friction doesn't overshadow the fiction.
Economic Policy Keep your meetings low-cost and inclusive.
Don't hold meetings at costly restaurants, or expect a spread that would push a weekly grocery budget over the edge.
Do read a range of books, some older, some newer, all available at used bookstores or libraries. A hardcover book every month gets very expensive.
Defense and Security Loose lips sink more than just ships.
Don't use book club as an opportunity to gossip, and never talk about members who are not immediately present.
Do elect a mediator or host for every meeting to ensure banter stays friendly an on-track.
Charitable Aid: Use your collective forces for good.
Don't take advantage of your fellow members and exploit their good graces by hitting them up for every school, sports team, or work fundraising endeavor that crosses your desk.
Do suggest a charity you might raise money for throughout the year. A dollar donation per person per meeting, or taking part in a charitable event as a group is a lovely use of collective energy.
Party Membership: Membership has its privileges.
Don't invite new members without a thorough vetting or application process. The group needs to gel in order to function.
Do bring in fresh blood every now and then, even just a guest member or speaker. New energy can be especially helpful if the group isn't functioning at its peak.
Photo: flickr