Gothic. The word conjures visions of looming castles, old Hammer horror films, bad behavior between siblings, and women in white nightgowns running from something. But what do we mean by Gothic when we speak of Gothic novels? The simplest definition of "gothic" is good but lacking—gothic is romance plus horror. But Margaret Atwood, a gothic author herself, said it much better: "I'm interested in the Gothic novel because it's very much a woman's form. Why is there such a wide readership for books that essentially say, 'Your husband is trying to kill you'?"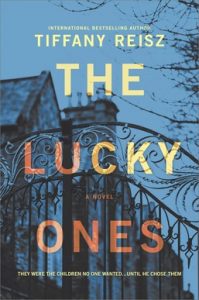 Or father. Or brother. Or grandmother. Think Rebecca by Daphne Du Maurier. Think Flowers in the Attic. Think Jane Eyre and the woman (wife) kept prisoner in the attic. All books with romances in them. All novels filled with the violence wrought by a love that turns to hate, or worse, obsession.
My husband is not trying to kill me (right, Andrew?), but I write Gothic novels anyway. My latest, The Lucky Ones, is a Gothic suspense novel from Mira Books. It has all the aesthetic trapping of Gothic—a strange old house (a grand old Victorian on the windswept Oregon Coast); a naughty monk (so many naughty monks in the original Gothic romances by Ann Radcliffe and Matthew Gregory Lewis); bad behavior—sorta–between siblings (adult foster siblings so I don't judge); and a young woman in white pajamas (not a nightgown though, shorts and camisole – it is set in 2015 after all). But what makes it true Gothic is the theme—the people we love are keeping secrets and those secrets might kill us someday.
In The Lucky Ones, my heroine Allison, 25, returns to her former foster home that she left when she was 12 after she was pushed down the stairs and nearly died. Someone in that house knows what happened. But who did it? Her funny adorable foster brother Deacon, now a world-renowned glass artist? Her foster sister Thora who seems so protective of Allison even after 13 years apart? Her eldest and favorite former foster brother Roland who she's always been a little in love with? Another foster sibling who committed suicide under mysterious circumstances? Her foster father? A former foster sister who's cut all ties with the family? The cat? Someone who loved her did it. But who?
I'm drawn to the gothic novel because of the aesthetics, sure. Who wouldn't love to live in a spooky castle and wear pretty white nightgowns? But the real draw is the theme—in modern romance, love is good and healing and happy. Gothic shows the dark side of love—sometimes love is bad, violent, and depraved, which Allison discovers when she learns what really happened to her the night she was pushed down the stairs. It's fitting that in my other life as a writer, I pen novels of sado-masochism. The theme of BDSM novels and Gothic novels are the same—love hurts.
Now excuse me…I need to see what my husband is doing in the other room…