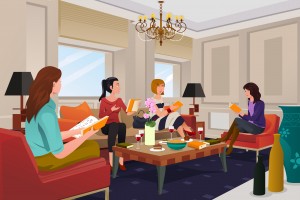 Thinking of joining a book club or starting one of your own? For a reader, there are few things more gratifying than discussing books with other book lovers, but in order to be successful, a book club needs to be just a bit more regimented than a casual discussion over coffee. So follow these 10 tips to have an engaging, worry-free book club that practically runs itself, and where the biggest problem you'll have to face is whether your book goes better with white or red.
1. Decide on the parameters for your meetings early on. Have you agreed to stick to a certain style, length or genre of book? Will you meet once a month, or four times a year? Where will you meet? Determining these guidelines early on will add to the structure of your book club and help ensure its success.
2. Keep it consistent. Try to maintain a regular and reliable schedule for your meetings; if you know that you have book club on the second Tuesday of every month, it makes it much easier to plan to attend. Book lovers have busy lives!
3. Limit your numbers. Resist the temptation to open your book club to too many people, or your discussion (and your living room) will become overcrowded and chaotic. Eight to 10 members is an ideal goal, as you'll still have a nice turnout if a few people cancel, but your meeting won't be overwhelmed by bodies and voices if everybody can make it out.
4. Keep it casual. Regular rules of etiquette notwithstanding, a book club meeting should feel relaxed and friendly. The last thing you want is for a member to feel too intimidated to share their thoughts.
5. Take notes. Post-its, flags, a good old-fashioned notebook – mark down interesting passages, dialogue, and themes as you read your book, in anticipation of sharing your thoughts at your next meeting. If reading on an e-book, use the highlighter or note function to record your thoughts to share later.
6. Be a good listener. Some of the best book club discussions happen when the group is divided in their opinion of the selection, but a truly great meeting requires the open-mindedness to understand somebody else's dissenting point of view. A debate can be invigorating, but only if everybody gets an equal chance to speak – and when it's not your turn, keep your ears open, and your mouth closed.
7. Have a list of talking points at the ready. The host of the book club has the responsibility to keep the discussion on point and moving along. To help facilitate this, the host should have a list of general talking points and questions to refer to if necessary.
8. Don't eat too much. While there should definitely be some refreshments (and wine) served at a book club meeting, try not to let the gathering turn into an all-you-can-eat buffet. Too much food can be a distraction, and can set an unrealistic precedent for future meetings. Keep the offerings light and simple.
9. Go on a field trip. Take your meeting on the road, or supplement it with an outing related to the book you are reading or the interests of your club members. Author talks, book launches, museum and art gallery exhibits, and even restaurants can be fantastic destinations that help nurture your relationship with the books and with each other.
10. Read the book. As often as possible, try to read the entire book read. And if you don't manage to finish the book, don't try to fake it. Attend the meeting, offer whatever relative perspective you can, and actively engage tip number six. And next month, start the book earlier.