"Better never means better for everyone… It always means worse, for some."
This week I've been watching the dark and fearless adaptation of Margaret Atwood's The Handmaid's Tale. The show is a compelling look at not only the world Atwood wrote it in 30 years ago, but also of our present day society. In The Handmaid's Tale, the Republic of Gilead is a patriarchal and totalitarian society that is disturbing but believable. Offred is a handmaid, a woman who lives with an upper-class military man and his wife and is valued solely for her ability to bear children. She is not allowed to read and can only leave the house once a day to buy food. But Offred once had another name as well as a job, a husband and a daughter. But this new society took all that, and her freedom, away from her.
Gripping and terrifying, the show and the book leave you with a lot to think about. Here are 6 books to read if you still want more.
Oryx and Crake is the first book in Atwood's MaddAdam series and is a different take on a dystopian society. In a postapocalyptic world, Snowman is the last human left, as far as he knows. He lives near a group of bioengineered human-like creatures called the Crakers. Before he was Snowman, he was Jimmy, best friend to their creator, Crake. Embarking on a journey through the wasteland left after a plague, Snowman and the Crakers search for answers.
This is another dark and disturbing dystopian novel where the stakes are higher for women. A fever has drastically decreased the earth's population, with women and children affected most strongly and childbirth almost impossible afterward. Having survived the plague, an unnamed nurse awakes to a frightening new world where she has to disguise herself as a man to survive.
Set in a contemporary Nazi England, this novel is a coming-of-age story following Jessika, who is everything a girl growing up in the Greater German Reich should be. Her best friend, Clementine, is rebellious in a world where rebellion is dangerous, even deadly. In this alternate reality, Jessika will have to choose where her loyalties lie—with her friend or her country.
In this retelling of The Scarlet Letter, Hannah Payne is a religious woman devoted to the church. In a world where criminals aren't imprisoned but chromed, their skin genetically altered to match the class of their crime, Hannah's crime is the murder of her unborn child. And now she must try to function in a pious society where she can't hide her transgression.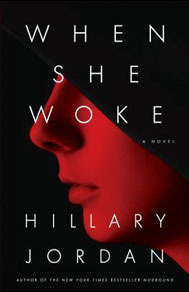 Are you going to read or watch The Handmaid's Tale? Do you have any recommendations for fans of the story? Let us know in the comments below!