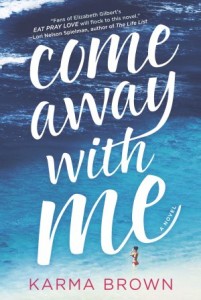 Where would your bucket list take you? What is the one thing you never want to remove from your "To-Do" list until it is actually done? What would you do with a little bit of time, money, and imagination?
That's the question we put to readers ahead of the August 25 book release of Karma Brown's Come Away With Me, a gorgeous, emotional story of two people who try to heal from heartbreak by embarking on an adventure inspired by a "Jar of Spontaneity." Tegan and Gabe's adventures take them elephant painting in Thailand, to a cooking class in Italy, and surfing in Hawaii – not such a shabby list. So where would our readers' bucket lists take them? Mountain climbing in Tibet? Whale watching in British Columbia?
And what if one of those items could actually come true? I thought that would make things spin out of control (space tourism!), but what it actually seemed to do was make people (myself included) stop, take stock of what is truly a dream versus a fantasy, and look at the meaningful impact the completion a bucket list item could have on their life.
For my own part, the number one item on my bucket list right now (that someone else could help me out with) is seeing a Mets game with my sisters and brother in New York. The Mets were my dad's team (once the Dodgers went to LA) and, eight years after his death, this would be a wonderful way to honor his spirit and reconnect with my siblings. Sure, $5,000 would get me a pretty sweet shopping spree at my favorite store, and an experience like that would be fun, but in the end I would prefer to be left with memories I made with my family, not just a cute outfit.
What would you do with a bucket list and $5,000? Here's what some of our friends have said:
Chantal of Send Me To Paris would like to finish writing her book, live in Paris and go on a safari.
Vera at Three For the Road would like to sleep in an underwater hotel, take a class at Second City and pay off her student loans.
Sara of Sara's Organized Chaos dreams of a cross-country road trip, riding in a swamp boat and taking a haunted cemetery tour in Savannah, Georgia.
Brandy at My Unwritten Life includes learning another language, climbing the Eiffel Tower and graduating from university on her bucket list.
Tiffany of Egotistical Momma counts a visit to Appalachia, the opening of a restaurant and a return to school as some of her must-do items.
Tell us the top ten items on your bucket list for a chance to win one of them!