Need something to look forward to? Indulge in holiday magic this season with these heartwarming books and find joy in Christmas reading!
One Charmed Christmas by Sheila Roberts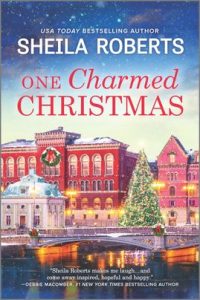 An enchanting new Christmas novel from USA TODAY bestselling author Sheila Roberts, brimming with hope, love and humor.
Catherine Pine is hoping her Christmas is a bit more jolly than last year's. That one was her first without her husband, and with her kids and their families absent this year, she's worried. But things change when her good friend invites her on a Christmas cruise to lift her spirits. Suddenly every day is an adventure and she's making a bunch of new friends, including the lovable Sophie Miles.
It's like a gift from Santa when Sophie and Catherine meet the charming Dr. Rudy Nichols, a perfect match for hypochondriac Sophie. But he comes with a two-legged lump of coal, his guard-dog daughter. And then there's chocolatier Trevor March, who's also interested in the scrumptious Sophie. Can he convince her that chocolate is the perfect cure for what ails her? Who knows what Santa has in store for these holiday travelers? Anything could happen this charmed Christmas!
Available at:
Amazon | Barnes & Noble | Google Play | Kobo | Apple Books | Indiebound | Audible | Goodreads
Happily This Christmas by Susan Mallery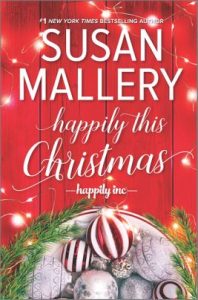 Susan Mallery, the #1 New York Times bestselling author of the Fool's Gold romances, proves there's no place like Happily Inc for the holidays…
There's no place like Happily Inc for the holidays…

Wynn Beauchene has a thriving business, a great kid and a mildly embarrassing crush on the guy next door—local cop Garrick McCabe. She's a strong, independent woman who can't help dreaming what-if about a man she barely knows. Until he needs her help…
Garrick's pregnant daughter will be home for Christmas, and his house needs a woman's touch. Garrick and his little girl were tight once and he's hoping a small-town Christmas will bring her back to him. But thawing his daughter's frosty attitude will take more than a few twinkle lights. Maybe sharing the holiday with Wynn and her son will remind her of the joy of family.
As the season works its magic on these wounded souls, Wynn realizes it's time to stop punishing herself for a painful secret, while Garrick remains haunted by the ghosts of past mistakes. Will he allow Wynn to open the only gift she truly wants—his heart?
Available at:
Amazon | Barnes & Noble | Google Play | Kobo | Apple Books | Indiebound | Audible | Goodreads
One More for Christmas by Sarah Morgan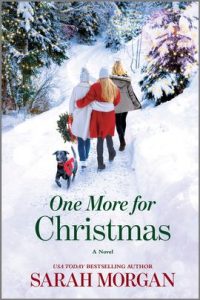 "Morgan expertly avoids cliché and easy fixes, resulting in a deeply believable portrait of a family relearning how to love each other. Readers will be delighted."
—Publishers Weekly on One More For Christmas, starred review
From the USA TODAY bestselling author of The Christmas Sisters comes this sparkling tale of Christmas redemption…
For sisters Samantha and Ella Mitchell, Christmas is their most precious time of the year. But this year, they'll be buying presents for the most unexpected guest of all—their mother. It's been five years since they last saw each other. But when their mom calls out of the blue, Samantha and Ella cautiously agree to spend Christmas all together in the beautiful Scottish Highlands…
Gayle Mitchell is at the top of her career, but her success has come at a price—her relationship with her daughters. Her tough-love approach to parenting was designed to make them stronger, but instead managed to push them away…until a brush with her own mortality forces Gayle to make amends.
As the snowflakes fall on their first family celebration in years, the Mitchell women must learn that sometimes facing up to the past is all you need to heal your heart…
Available at:
Amazon | Barnes & Noble | Google Play | Kobo | Apple Books | Indiebound | Audible | Goodreads
Christmas at Holiday House by RaeAnne Thayne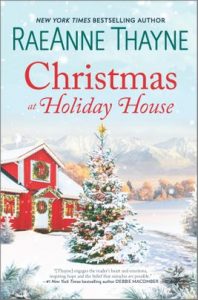 In the town of Silver Bells, there's always a feeling of Christmas in the air… Let love—and RaeAnne Thayne—melt your heart this holiday season!

This New Year will bring widowed nurse Abigail Powell a fresh start in a different city. Excited about the chance to create an unforgettable Christmas for her young son in picturesque Silver Bells, Colorado, Abby has been hired to take care of her dear friend's recuperating grandmother. But sprightly senior Winnie insists she doesn't need looking after. What she does need is help decorating her historic mansion, Holiday House, for a seasonal town fundraiser. Abby warms to the festive task, but she'll have to contend with her own personal Grinch: Winnie's prickly grandson, Ethan Lancaster.
Ethan Lancaster is good at a lot of things. Relationships surely aren't one of them. His ex-fiancée convinced Ethan he was incapable of love, and he believes her…up until the moment he impulsively kisses Abby. What is it about this vibrant woman and her sweet son that knocks his world off-kilter? He knows they're leaving town after Christmas. He just didn't expect they'd be taking a little of his heart with them. But as he and Abby work together on the magical Holiday House through the record cold weather, visions of a different future dance in his head…one filled with warmth, love and a new beginning for them both.
Available at:
Amazon | Barnes & Noble | Google Play | Kobo | Apple Books | Indiebound | Audible | Goodreads
A California Christmas by Brenda Novak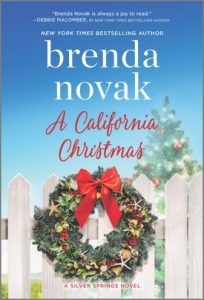 Spend the holidays in Silver Springs, where the greatest gift of all is the love you never expected.
Up-and-coming TV anchor Emery Bliss can't imagine anything more humiliating than the sex tape her ex revenge-posted online. That is, until it causes her to lose her job on top of her self-esteem. Seeking solace—and anonymity—in Silver Springs, Emery isn't looking to get involved with another man any time soon. But when she's thrown back into contact with Dallas Turner, she sees something that his many detractors have missed.
Being home for the holidays and his adoptive mother's wedding isn't where mountain climber Dallas feels most comfortable. Thanks to his troubled childhood, he'd rather be on a rock face alone than trying to connect with people. Emery, however, makes him want to overcome his past…somehow.
Both Emery and Dallas had been planning on a quiet, solitary Christmas, but the sparks between them are lighting a fire strong enough to last—possibly forever.
Available at:
Amazon | Barnes & Noble | Google Play | Kobo | Apple Books | Indiebound | Audible | Goodreads
The Little Bookshop on the Seine by Rebecca Raisin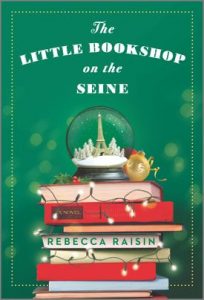 A great big love letter to Paris, charming old bookstores and happily-ever-afters!

When bookshop owner Sarah Smith is offered the opportunity for a job exchange with her Parisian friend Sophie, saying yes is a no-brainer—after all, what kind of romantic would turn down six months in Paris? Sarah is sure she's in for the experience of a lifetime—days spent surrounded by literature in a gorgeous bookshop, and the chance to watch snow fall over the Eiffel Tower. Plus, now she can meet up with her journalist boyfriend, Ridge, when his job takes him around the globe.
But her expectations cool faster than her café au lait soon after she lands in the City of Light—she's a fish out of water in Paris. The customers are rude, her new coworkers are suspicious and her relationship with Ridge has been reduced to a long-distance game of phone tag, leaving Sarah to wonder if he'll ever put her first over his busy career. As the holidays draw near, Sarah's determined to get the shop—and her life—back in order and make her dreams of a fairy-tale Christmas in the city of love a reality…no matter what.
Available at:
Amazon | Barnes & Noble | Google Play | Kobo | Apple Books | Indiebound | Audible | Goodreads
Starlit Winter Nights by Nora Roberts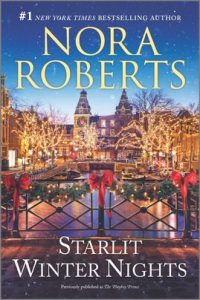 The holidays in Cordina are always laced with romance and mystery…

The Royal Rake. The Playboy Prince. Ever the ladies' man, Prince Bennett of Cordina has always happily lived up to his public reputation with an element of recklessness. When a distant relative, Lady Hannah Rothchild, arrives in Cordina as a hired companion to his sister, Bennett couldn't be less interested in his modest, academic cousin. Still, he sees something of a challenge in this lovely stranger.
With Christmas approaching, Bennett and Hannah are drawn together and, try as they might, the two cannot ignore the attraction growing between them. But Hannah has a secret, and the Cordina palace is not as safe as it once was. She must retain her privacy to protect herself…and Bennett. Even if Bennett is finally willing to risk his heart, their love couldn't be anything more than a fleeting Christmas romance…could it?
Previously published.
Available at:
Amazon | Barnes & Noble | Indiebound | Goodreads
A MacGregor Christmas by Nora Roberts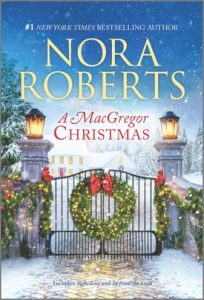 Return to the past in these two classic winter romances!

RebellionScotland, winter 1745: Serena MacGregor, the fiery daughter of the powerful MacGregor clan laird, despises Englishmen and all they stand for. So when her brother returns home with his gallant English friend Brigham Langston, Serena knows the man can't be trusted. All it takes is one look at his friend's ravishing red-haired sister, and Brigham is captivated. But the hot-tempered beauty spurns his advances with a rapier-sharp tongue. However, as the snow rages, Serena's passionate anger soon melts into desire…
In from the ColdAmerica, Christmas 1776: Injured minuteman Ian MacGregor is forced to take refuge from a winter storm in the home of young widow Alanna Flynn. As she carefully nurses him back to health, he can't help but fall for her. But battling the British has hardly helped prepare Ian for the fight he has on his hands to win the love of this Irish spitfire. Christmas is coming fast, and Alanna is determined to make it a joyful one—even if it means letting this stranger into her home…and her heart.
"America's favorite writer."—The New Yorker
Available at:
Amazon | Barnes & Noble | Indiebound | Goodreads
What books are you putting on your list this year?