It's that time of year! Spooky Season meets Cozy Season! So grab your PSL, reading socks, and your black cat because we have 20 new releases this November that you will want to add to your TBR piles! And while you're at it, why not get two? One for you and one for your spooky cozy buddy! Believe me, these titles are worth the scroll.
You Can Go Your Own Way by Eric Smith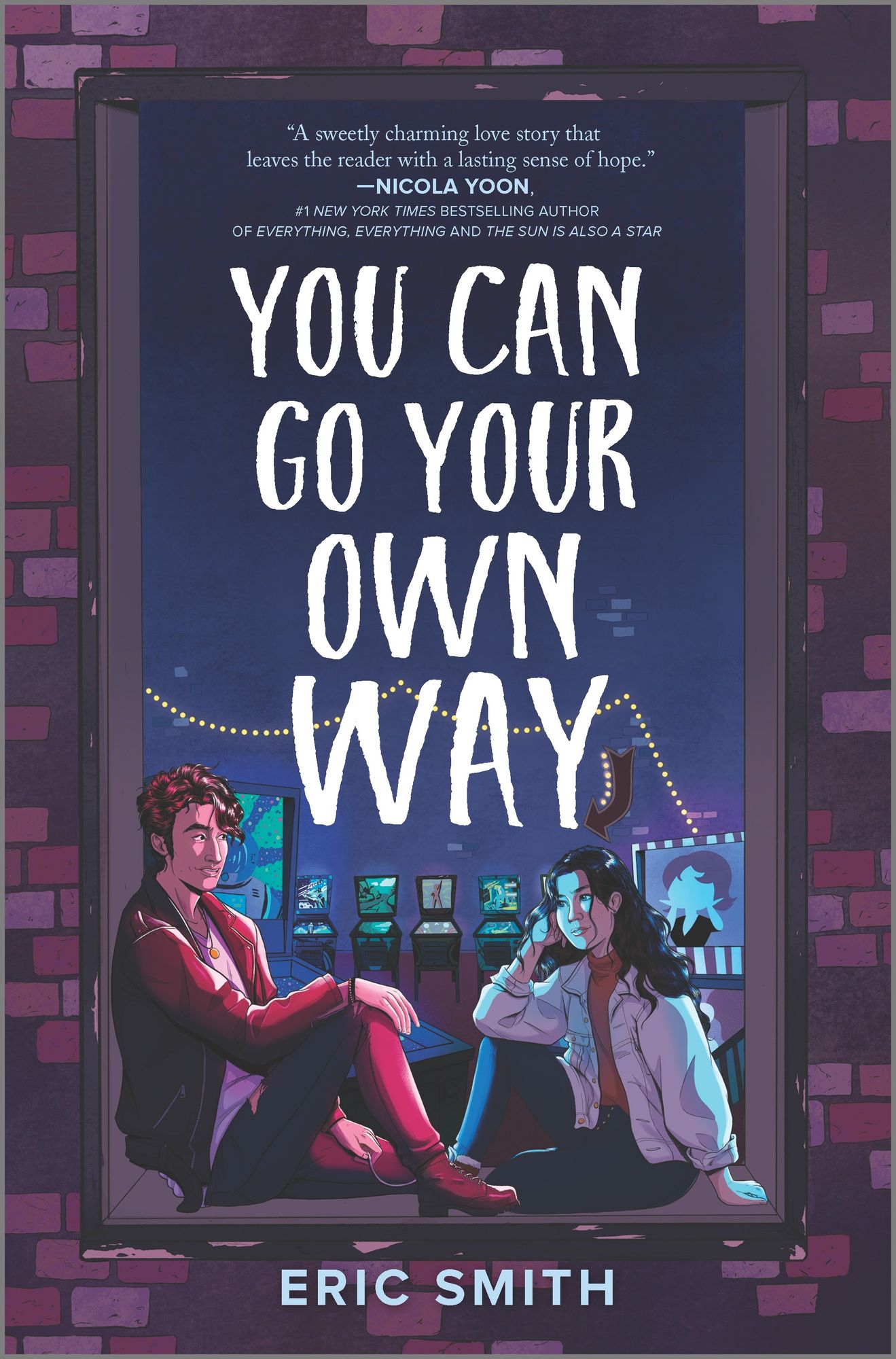 "A sweetly charming love story that leaves the reader with a lasting sense of hope." —Nicola Yoon, #1 New York Times bestselling author of Everything, Everything and The Sun Is Also a Star

"The perfect novel to snuggle up with." —Emily Henry, New York Times bestselling author of Beach Read

No one ever said love would be easy…but did they mention it would be freezing?
Adam Stillwater is in over his head. At least, that's what his best friend would say. And his mom. And the guy who runs the hardware store down the street. But this pinball arcade is the only piece of his dad that Adam has left, and he's determined to protect it from Philadelphia's newest tech mogul, who wants to turn it into another one of his cold, lifeless gaming cafés.
Whitney Mitchell doesn't know how she got here. Her parents split up. Her boyfriend dumped her. Her friends seem to have changed overnight. And now she's spending her senior year running social media for her dad's chain of super successful gaming cafés—which mostly consists of trading insults with that decrepit old pinball arcade across town.
But when a huge snowstorm hits, Adam and Whitney suddenly find themselves trapped inside the arcade. Cut off from their families, their worlds, and their responsibilities, the tension between them seems to melt away, leaving something else in its place. But what happens when the storm stops?
Available on November 2, 2021:
Amazon | Barnes & Noble | Google Play | Kobo | Apple Books | Indiebound | Indigo | Audible | Goodreads
Wildcat by John Boessenecker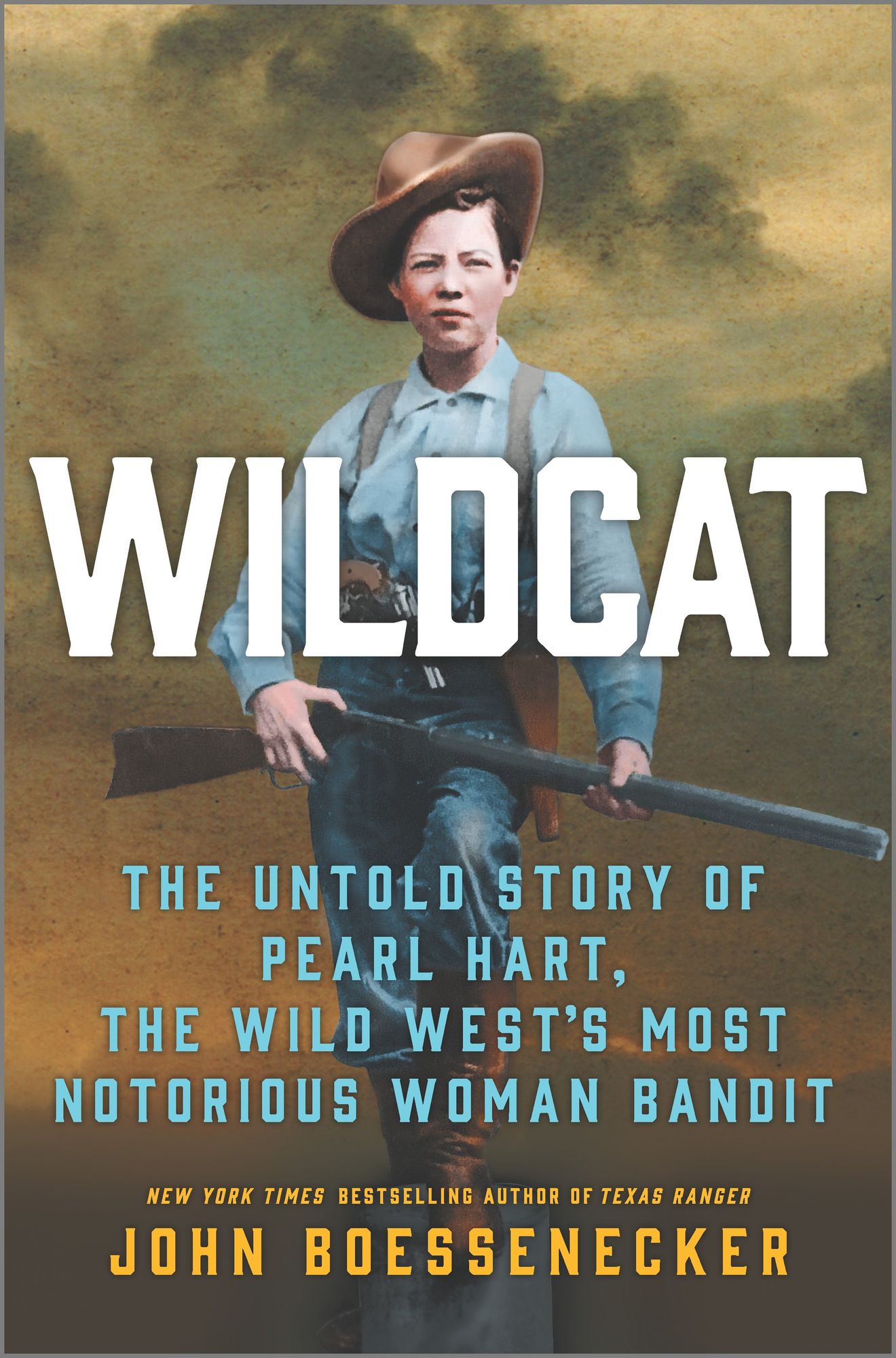 The little-known story of Pearl Hart, the most famous female bandit in the American West.
On May 30, 1899, history was made when Pearl Hart, disguised as a man, held up a stagecoach in Arizona and robbed the passengers at gunpoint. A manhunt ensued as word of her heist spread, and Pearl Hart went on to become a media sensation and the most notorious female outlaw on the Western frontier. Her early life, family and fate after her later release from prison have long remained a mystery to scholars and historians—until now.
Drawing on groundbreaking research into territorial records and genealogical data, 's is the first book to uncover the enigma of Pearl Hart. Hailed by many as "The Bandit Queen," her epic life of crime and legacy as a female trailblazer provide a crucial lens into the lives of the rare women who made their mark in the American West.
Available on November 2, 2021:
Amazon | Barnes & Noble | Google Play | Kobo | Apple Books | Indiebound | Indigo | Audible | Goodreads
The Stranger in the Lifeboat by Mitch Albom
Albom has written of heaven in the celebrated number one bestsellers The Five People You Meet in Heaven and The First Phone Call from Heaven. Now, for the first time in his fiction, he ponders what we would do if, after crying out for divine help, God actually appeared before us? What might the Lord look, sound and act like?
In The Stranger in the Lifeboat, Albom keeps us guessing until the end: Is this strange and quiet man really who he claims to be? What actually happened to cause the explosion? Are the survivors already in heaven, or are they in hell?
The story is narrated by Benji, one of the passengers, who recounts the events in a notebook that is later discovered—a year later—when the empty life raft washes up on the island of Montserrat.
It falls to the island's chief inspector, Jarty LeFleur, a man battling his own demons, to solve the mystery of what really happened.
A fast-paced, compelling novel that makes you ponder your deepest beliefs, The Stranger in the Lifeboat suggests that answers to our prayers may be found where we least expect them.
Available on November 2, 2021:
Amazon | Barnes & Noble | Google Play | Kobo | Apple Books | Indiebound | Indigo | Audible | Goodreads
All Her Little Secrets by Wanda M. Morris
Everyone has something to hide…
Ellice Littlejohn seemingly has it all: an Ivy League law degree, a well-paying job as a corporate attorney in midtown Atlanta, great friends, and a "for fun" relationship with a rich, charming executive, who just happens to be her white boss. But everything changes one cold January morning when Ellice arrives in the executive suite and finds him dead with a gunshot to his head.
And then she walks away like nothing has happened. Why? Ellice has been keeping a cache of dark secrets, including a small-town past and a kid brother who's spent time on the other side of the law. She can't be thrust into the spotlight—again.
But instead of grieving this tragedy, people are gossiping, the police are getting suspicious, and Ellice, the company's lone black attorney, is promoted to replace her boss. While the opportunity is a dream-come-true, Ellice just can't shake the feeling that something is off.
When she uncovers shady dealings inside the company, Ellice is trapped in an impossible ethical and moral dilemma. Suddenly, Ellice's past and present lives collide as she launches into a pulse-pounding race to protect the brother she tried to save years ago and stop a conspiracy far more sinister than she could have ever imagined…
Available on November 2, 2021:
Amazon | Barnes & Noble | Google Play | Kobo | Apple Books | Indiebound | Indigo | Goodreads
Our Country Friends by Gary Shteyngart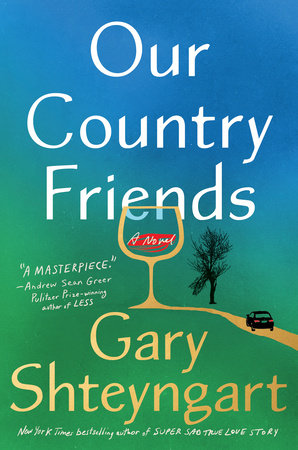 Eight friends, one country house, four romances, and six months in isolation—a novel about love, friendship, family, and betrayal, a book that reads like a great Russian novel, or Chekhov on the Hudson, by a novelist The New York Times calls "one of his generation's most original writers."

It's March 2020 and a calamity is unfolding. A group of friends and friends-of-friends gathers in a country house to wait out the pandemic. Over the next six months, new friendships and romances will take hold, while old betrayals will emerge, forcing each character to reevaluate whom they love and what matters most. The unlikely cast of characters includes a Russian-born novelist; his Russian-born psychiatrist wife; their precocious child obsessed with K-pop; a struggling Indian American writer; a wildly successful Korean American app developer; a global dandy with three passports; a Southern flamethrower of an essayist; and a movie star, the Actor, whose arrival upsets the equilibrium of this chosen family. Both elegiac and very, very funny, Our Country Friends is the most ambitious book yet by the author of the beloved bestseller Super Sad True Love Story.
Available on November 2, 2021:
Amazon | Barnes & Noble | Google Play | Kobo | Apple Books | Indiebound | Indigo | Audible | Goodreads
Blue-Skinned Gods by S.J. Sindu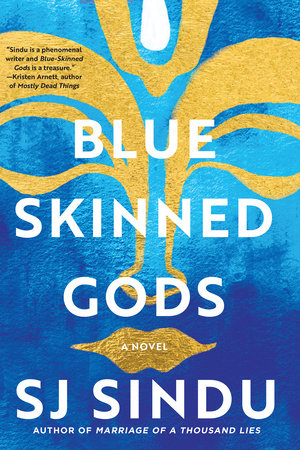 From the award-winning author of Marriage of a Thousand Lies comes a brilliantly written, globe-spanning novel about identity, faith, family, and sexuality.

In Tamil Nadu, India, a boy is born with blue skin. His father sets up an ashram, and the family makes a living off of the pilgrims who seek the child's blessings and miracles, believing young Kalki to be the tenth human incarnation of the Hindu god Vishnu. In Kalki's tenth year, he is confronted with three trials that will test his power and prove his divine status and, his father tells him, spread his fame worldwide. While he seems to pass them, Kalki begins to question his divinity.

Over the next decade, his family unravels, and every relationship he relied on—father, mother, aunt, uncle, cousin—starts falling apart. Traveling from India to the underground rock scene of New York City, Blue-Skinned Gods explores ethnic, gender, and sexual identities, and spans continents and faiths, in an expansive and heartfelt look at the need for belief in our globally interconnected world.
Available on November 2, 2021:
Amazon | Barnes & Noble | Google Play | Kobo | Apple Books | Indiebound | Indigo | Goodreads
Powder Days by Heather Hansman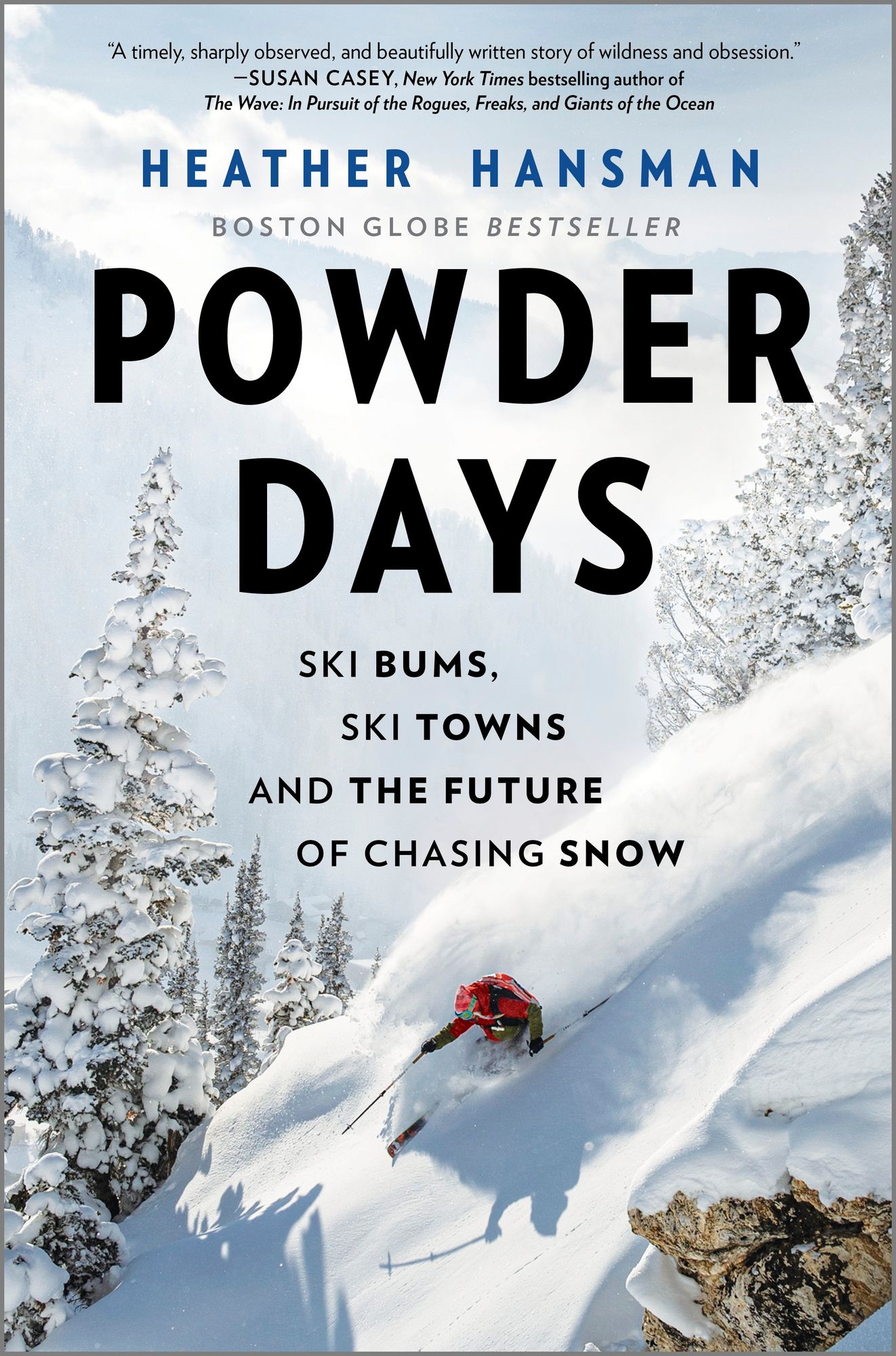 An electrifying adventure into the rich history of skiing and the modern heart of ski-bum culture, from one of America's most preeminent ski journalists
The story of skiing is, in many ways, the story of America itself. Blossoming from the Tenth Mountain Division in World War II, the sport took hold across the country, driven by adventurers seeking the rush of freedom that only cold mountain air could provide. As skiing gained in popularity, mom-and-pop backcountry hills gave way to groomed trails and eventually the megaresorts of today. Along the way, the pioneers and diehards—the ski bums—remained the beating heart of the scene.
Veteran ski journalist and former ski bum Heather Hansman takes readers on an exhilarating journey into the hidden history of American skiing, offering a glimpse into an underexplored subculture from the perspective of a true insider. Hopping from Vermont to Colorado, Montana to West Virginia, Hansman profiles the people who have built their lives around a cold-weather obsession. Along the way she reckons with skiing's problematic elements and investigates how the sport is evolving in the face of the existential threat of climate change.
Riveting, action-packed and beautifully written, Powder Days is a love letter to a high-stakes sport and the definitive tome for ski lovers everywhere.
Available on November 9, 2021:
Amazon | Barnes & Noble | Google Play | Kobo | Apple Books | Indiebound | Indigo | Audible | Goodreads
The Sentence by Louise Erdrich
In this stunning and timely novel, Pulitzer Prize and National Book Award–winning author Louise Erdrich creates a wickedly funny ghost story, a tale of passion, of a complex marriage, and of a woman's relentless errors.
Louise Erdrich's latest novel, The Sentence, asks what we owe to the living, the dead, to the reader and to the book. A small independent bookstore in Minneapolis is haunted from November 2019 to November 2020 by the store's most annoying customer. Flora dies on All Souls' Day, but she simply won't leave the store. Tookie, who has landed a job selling books after years of incarceration that she survived by reading "with murderous attention," must solve the mystery of this haunting while at the same time trying to understand all that occurs in Minneapolis during a year of grief, astonishment, isolation, and furious reckoning.
The Sentence begins on All Souls' Day 2019 and ends on All Souls' Day 2020. Its mystery and proliferating ghost stories during this one year propel a narrative as rich, emotional, and profound as anything Louise Erdrich has written.
Available on November 9, 2021:
Amazon | Barnes & Noble | Google Play | Kobo | Apple Books | Indiebound | Indigo | Audible | Goodreads
The Wit and Wisdom of Bridgerton by Julia Quinn
From the #1 New York Times bestselling author Julia Quinn comes a highly designed, colorful collection of quotes, wit, and wisdom from Lady Whistledown and the most memorable characters of the much-loved Bridgerton books, now a series created by Shondaland for Netflix.

A collection of the most dramatic, romantic, and memorable quotes from the charming characters of the Bridgerton world, The Wit and Wisdom of Bridgerton is the perfect gift for fans of the Bridgerton series and the groundbreaking Shondaland/Netflix adaptation. With her signature wink and nod, Lady Whistledown herself will act as readers' familiar and trusted guide, introducing each character's most memorable quotes.
Each chapter in the book will highlight a different character from the Bridgerton series and include a new introduction from Lady Whistledown, quotes from the character, and things other characters have said about them over the course of the entire series. Fans will get a 360-degree view of each of their favorite personalities, with new commentary and takeaways from Lady Whistledown.
From Daphne, to Simon, to Penelope, to Colin, fans will enter the Bridgerton world in a completely new way with a fresh and intimate perspective of each character. Readers will relive the twists and turns of the books, taking (or not taking) the advice on love, family, etiquette, and fashion from the most beloved and unforgettable voices from Bridgerton. With an introduction from the creator of the Bridgerton world and #1 NYT Bestselling author Julia Quinn, The Wit and Wisdom of Bridgerton is a highly designed keepsake and unique addition to the Regency-set series.
Available on November 9, 2021:
Amazon | Barnes & Noble | Google Play | Kobo | Apple Books | Indiebound | Indigo | Goodreads
Never by Ken Follett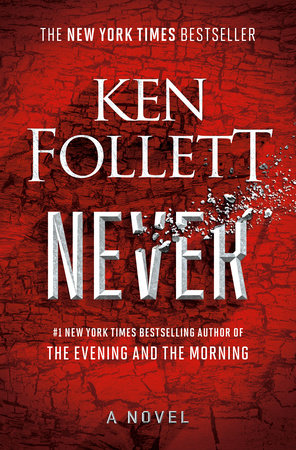 The new must-read epic from master storyteller Ken Follett: more than a thriller, it's an action-packed, globe-spanning drama set in the present day.

"Every catastrophe begins with a little problem that doesn't get fixed." So says Pauline Green, president of the United States, in Follett's nerve-racking drama of international tension.

A shrinking oasis in the Sahara Desert; a stolen US Army drone; an uninhabited Japanese island; and one country's secret stash of deadly chemical poisons: all these play roles in a relentlessly escalating crisis.

Struggling to prevent the outbreak of world war are a young woman intelligence officer; a spy working undercover with jihadists; a brilliant Chinese spymaster; and Pauline herself, beleaguered by a populist rival for the next president election.

Never is an extraordinary novel, full of heroines and villains, false prophets and elite warriors, jaded politicians and opportunistic revolutionaries. It brims with cautionary wisdom for our times, and a delivers a visceral, heart-pounding read that transports readers to the brink of the unimaginable.
Available on November 9, 2021:
Amazon | Barnes & Noble | Google Play | Kobo | Apple Books | Indiebound | Indigo | Audible | Goodreads
The Last Daughter of York by Nicola Cornick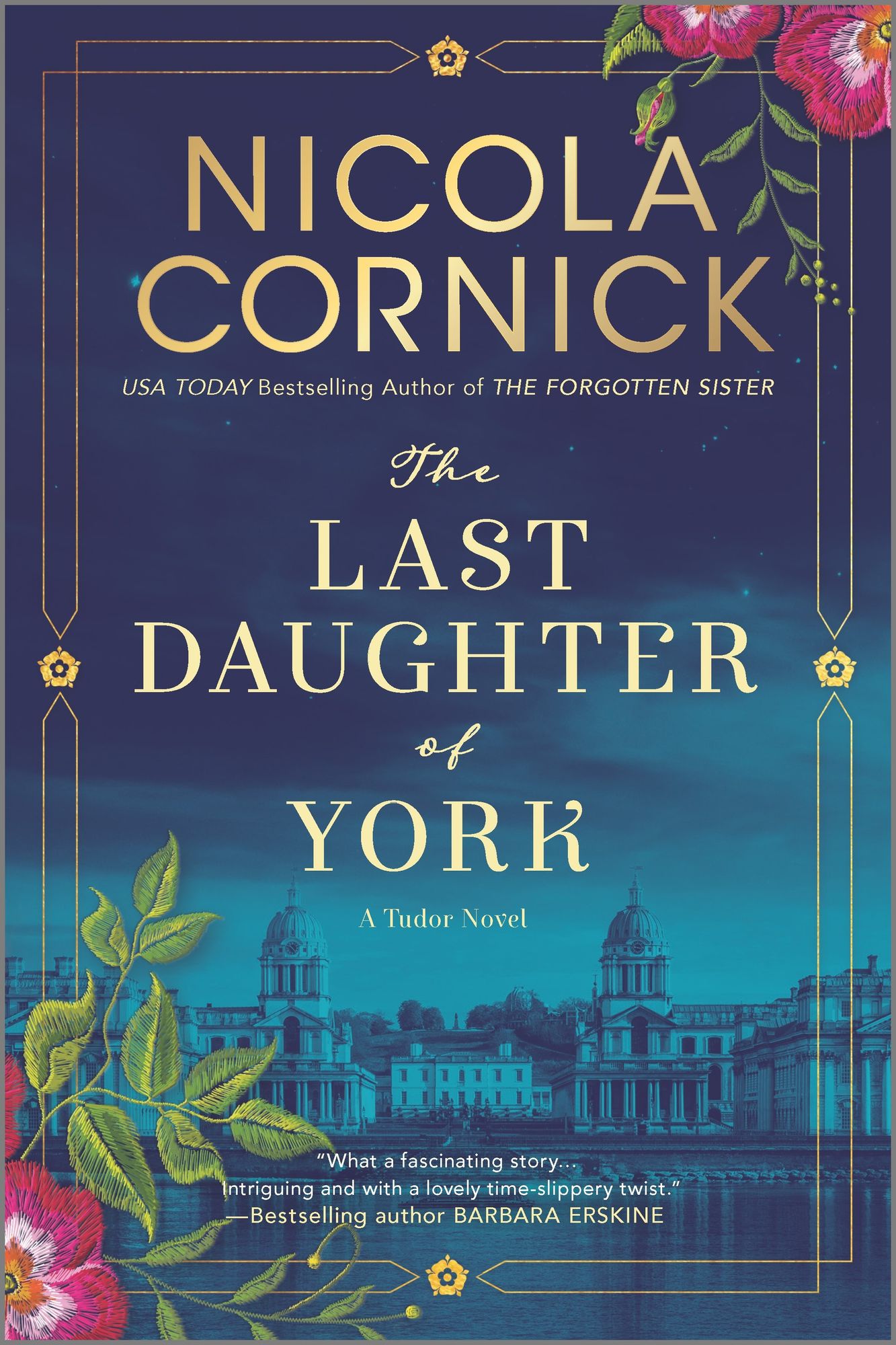 A treasure trove of historical insight, casting a new light on a compelling mystery that binds the present to the past. —Bestselling author Fiona Valpy
In the winter of 1483, Francis Lovell is Richard III's Lord Chamberlain and confidant, but the threat of Henry Tudor's rebels has the king entrusting to Francis and his wife, Anne, his most crucial mission: protecting the young Richard of York, his brother's surviving son and a threat to Henry's claims to the throne.
Two years later, Richard III is dead, and Anne hides the young prince of York while Francis is hunted by agents of the new king, Henry VII. Running out of options to keep her husband and the boy safe, Anne uses the power of an ancient family relic to send them away, knowing that in doing so she will never see Francis again.
In the present day, Serena Warren has been haunted by her past ever since her twin sister, Caitlin, disappeared. But when Caitlin's bones are discovered interred in a church vault that hasn't been opened since the eighteenth century, the police are baffled. Piecing together local folklore that speaks of a magical relic with her own hazy memories of the day Caitlin vanished, Serena begins to uncover an impossible secret that her grandfather has kept hidden, one that connects her to Anne, Francis and the young Duke of York.
Inspired by the enduring mystery of the Princes in the Tower, Nicola Cornick cleverly interprets the events into a dazzling novel set between a present-day mystery and a country on the brink of Tudor rule.
Available on November 16, 2021:
Amazon | Barnes & Noble | Google Play | Kobo | Apple Books | Indiebound | Indigo | Audible | Goodreads
Termination Shock by Neal Stephenson
Neal Stephenson's sweeping, prescient new novel transports readers to a near-future world in which the greenhouse effect has inexorably resulted in a whirling-dervish troposphere of superstorms, rising sea levels, global flooding, merciless heat waves, and virulent, deadly pandemics.
One man – visionary billionaire restaurant chain magnate T. R. Schmidt, Ph.D. – has a Big Idea for reversing global warming, a master plan perhaps best described as "elemental." But will it work? And just as important, what are the consequences for the planet and all of humanity should it be applied?
Ranging from the Texas heartland to the Dutch royal palace in the Hague, from the snow-capped peaks of the Himalayas to the sunbaked Chihuahuan Desert, Termination Shock brings together a disparate group of characters from different cultures and continents who grapple with the real-life repercussions of global warming. Ultimately, it asks the question: Might the cure be worse than the disease?
Epic in scope while heartbreakingly human in perspective, Termination Shock sounds a clarion alarm, ponders potential solutions and dire risks, and wraps it all together in an exhilarating, witty, mind-expanding speculative adventure.
Available on November 16, 2021:
Amazon | Barnes & Noble | Google Play | Kobo | Apple Books | Indiebound | Indigo | Audible | Goodreads
Final Spin by Jocko Willink
#1 New York Times bestselling author Jocko Willink's fast-paced thriller Final Spin: A story of love, brotherhood, suffering, happiness, and sacrifice. A story about life.

Johnny…
Shouldn't be in a dead-end job.
Shouldn't be in a dead-end bar.
Shouldn't be in a dead-end life.
But he is.
It's a hamster wheel existence. Stocking warehouse store shelves by day, drinking too much whiskey and beer by night. In between, Johnny lives in his childhood home, making sure his alcoholic mother hasn't drunk herself to death, and looking after his idiosyncratic older brother Arty, whose world revolves around his laundromat job.
Rinse and repeat.
Then Johnny's monotonous life takes a tumble. The laundromat where Arty works, and the one thing that gives him happiness, is about to be sold. Johnny doesn't want that to happen, so he takes measures into his own hands. Johnny, along with his friend, Goat, come up with a plan to get the money to buy the laundromat.
But things don't always go as planned…
Available on November 16, 2021:
Amazon | Barnes & Noble | Google Play | Kobo | Apple Books | Indiebound | Indigo | Audible | Goodreads
Go Tell the Bees That I Am Gone by Diana Gabaldon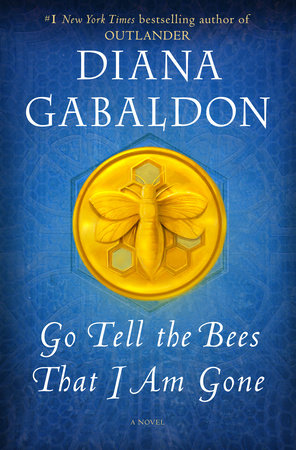 #1 New York Times bestselling author Diana Gabaldon returns with the newest novel in the epic Outlander series.

The past may seem the safest place to be . . . but it is the most dangerous time to be alive. . . .

Jamie Fraser and Claire Randall were torn apart by the Jacobite Rising in 1746, and it took them twenty years to find each other again. Now the American Revolution threatens to do the same.

It is 1779 and Claire and Jamie are at last reunited with their daughter, Brianna, her husband, Roger, and their children on Fraser's Ridge. Having the family together is a dream the Frasers had thought impossible.

Yet even in the North Carolina backcountry, the effects of war are being felt. Tensions in the Colonies are great and local feelings run hot enough to boil Hell's teakettle. Jamie knows loyalties among his tenants are split and it won't be long until the war is on his doorstep.

Brianna and Roger have their own worry: that the dangers that provoked their escape from the twentieth century might catch up to them. Sometimes they question whether risking the perils of the 1700s—among them disease, starvation, and an impending war—was indeed the safer choice for their family.

Not so far away, young William Ransom is still coming to terms with the discovery of his true father's identity—and thus his own—and Lord John Grey has reconciliations to make, and dangers to meet . . . on his son's behalf, and his own.

Meanwhile, the Revolutionary War creeps ever closer to Fraser's Ridge. And with the family finally together, Jamie and Claire have more at stake than ever before.
Available on November 23, 2021:
Amazon | Barnes & Noble | Google Play | Kobo | Apple Books | Indiebound | Indigo | Audible | Goodreads
Flying Angels by Danielle Steel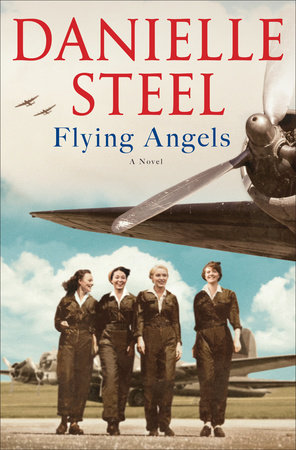 World War II brings together six remarkable young flight nurses, who face the challenges of war and its many heartbreaks and victories as unsung heroes, in this inspiring novel from #1 New York Times bestselling author Danielle Steel.

Audrey Parker's life changes forever when Pearl Harbor is attacked on December 7, 1941. Her brother, a talented young Navy pilot, had been stationed there, poised to fulfill their late father's distinguished legacy. Fresh out of nursing school with a passion and a born gift for helping others, both Audrey and her friend Lizzie suddenly find their nation on the brink of war. Driven to do whatever they can to serve, they enlist in the Army and embark on a new adventure as flight nurses.

Risking their lives on perilous missions, they join the elite Medical Air Evacuation Transport Squadron and fly into enemy territory almost daily to rescue wounded soldiers from the battlefield. Audrey and Lizzie make enormous sacrifices to save lives alongside an extraordinary group of nurses: Alex, who longs to make a difference in the world; Louise, a bright mind who faced racial prejudice growing up in the South; Pru, a selfless leader with a heart of gold; and Emma, whose confidence and grit push her to put everything on the line for her patients.

Even knowing they will not achieve any rank and will receive little pay for their efforts, the "Flying Angels" will give their all in the fight for freedom. They serve as bravely and tirelessly as the men they rescue on the front lines, in daring airlifts, and are eternally bound by their loyalty to one another. Danielle Steel presents a sweeping, stunning tribute to these incredibly courageous women, inspiring symbols of bravery and valor.
Available on November 23, 2021:
Amazon | Barnes & Noble | Google Play | Kobo | Apple Books | Indiebound | Indigo | Audible | Goodreads
Net Force: Threat Point by Jerome Preisler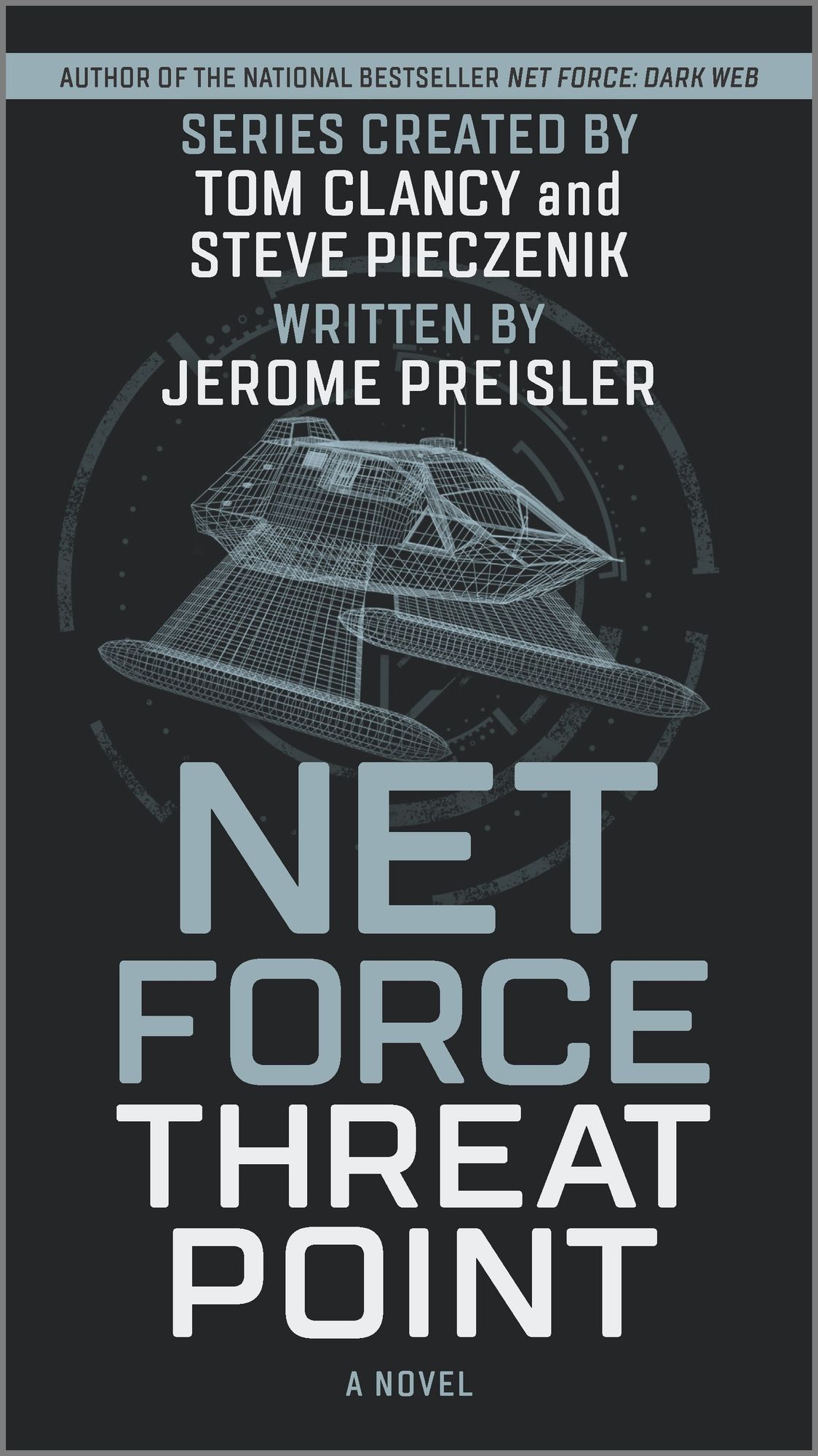 THE UNITED STATES MAY SEEM SAFE FROM WITHIN
BUT BEYOND ITS BORDERS, A NEW ENEMY RISES
An American ship has vanished. The president has tasked the new cyber-intelligence agency, Net Force, with finding out what happened to the vessel. But their investigation reveals a plan that could trigger a world war. Their only option is to strike first.
Through the streets of New York, a secret city in Crimea and the depths of the South China Sea, Net Force must race to discover who is behind the attack…before it's too late.
"Jerome Preisler takes us deep into the dark side of the web." —Jim DeFelice on Net Force: Attack Protocol
"A tightly woven, expertly crafted story with a finger on the pulse of the overwhelmingly clear and present danger of cyberterrorism." —Marc Cameron on Net Force: Dark Web
Available on November 30, 2021:
Amazon | Barnes & Noble | Google Play | Kobo | Apple Books | Indiebound | Indigo | Audible | Goodreads
At the Crossroads by B.J. Daniels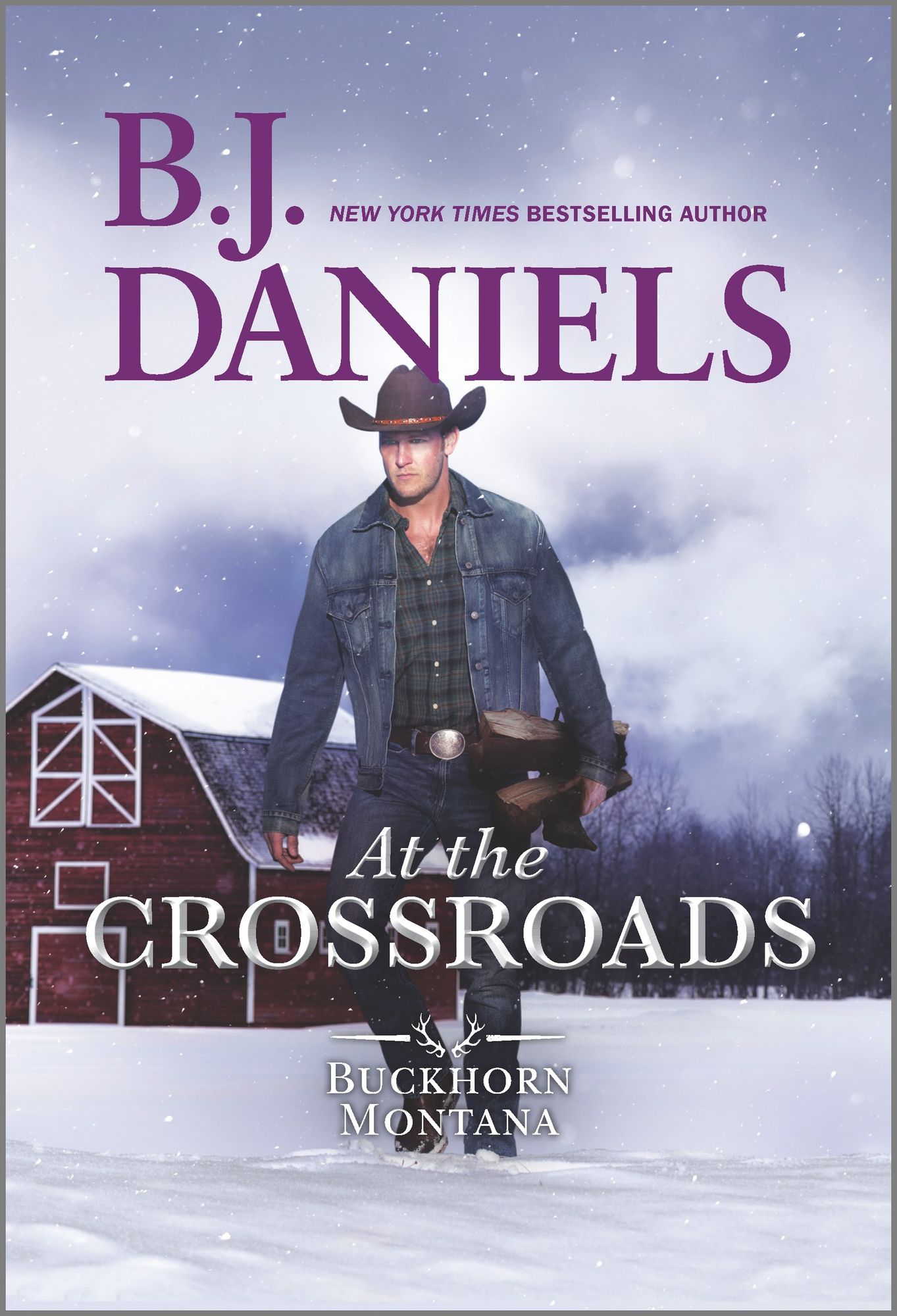 "Daniels is a perennial favorite on the romantic suspense front, and I might go as far as to label her the cowboy whisperer."—BookPage
They're running for their lives, desperate for a second chance…
Once, Alexis Brand and Culhane Travis were partners, both on and off the job. Now the former deputy turned bounty hunter is on her former lover's trail after he's charged with killing the ex-wife Alexis didn't know he had. Burying the feelings that still tie her to him, Alexis tracks down Culhane easily enough. But deadly trouble has followed him to this small Montana town, forcing them to flee from the law together and Alexis to guard secrets she hoped she'd never have to reveal.
Culhane's desperate attempt to find out who's framing him is the reason he's returned to Buckhorn, Montana. Instead, he's unwittingly dragged the woman he loves into danger. Alexis offers Culhane forty-eight hours to clear his name before turning him in—plenty of time to realize he never wants to be without her again. But will it be long enough to get the answers they need…before their enemies close in?
A Buckhorn, Montana Novel
Book 1: Out of the Storm
Book 2: From the Shadows
Book 3: At the Crossroads
Available on November 30, 2021:
Amazon | Barnes & Noble | Google Play | Kobo | Apple Books | Indiebound | Indigo | Audible | Goodreads
Forever Home by Elysia Whisler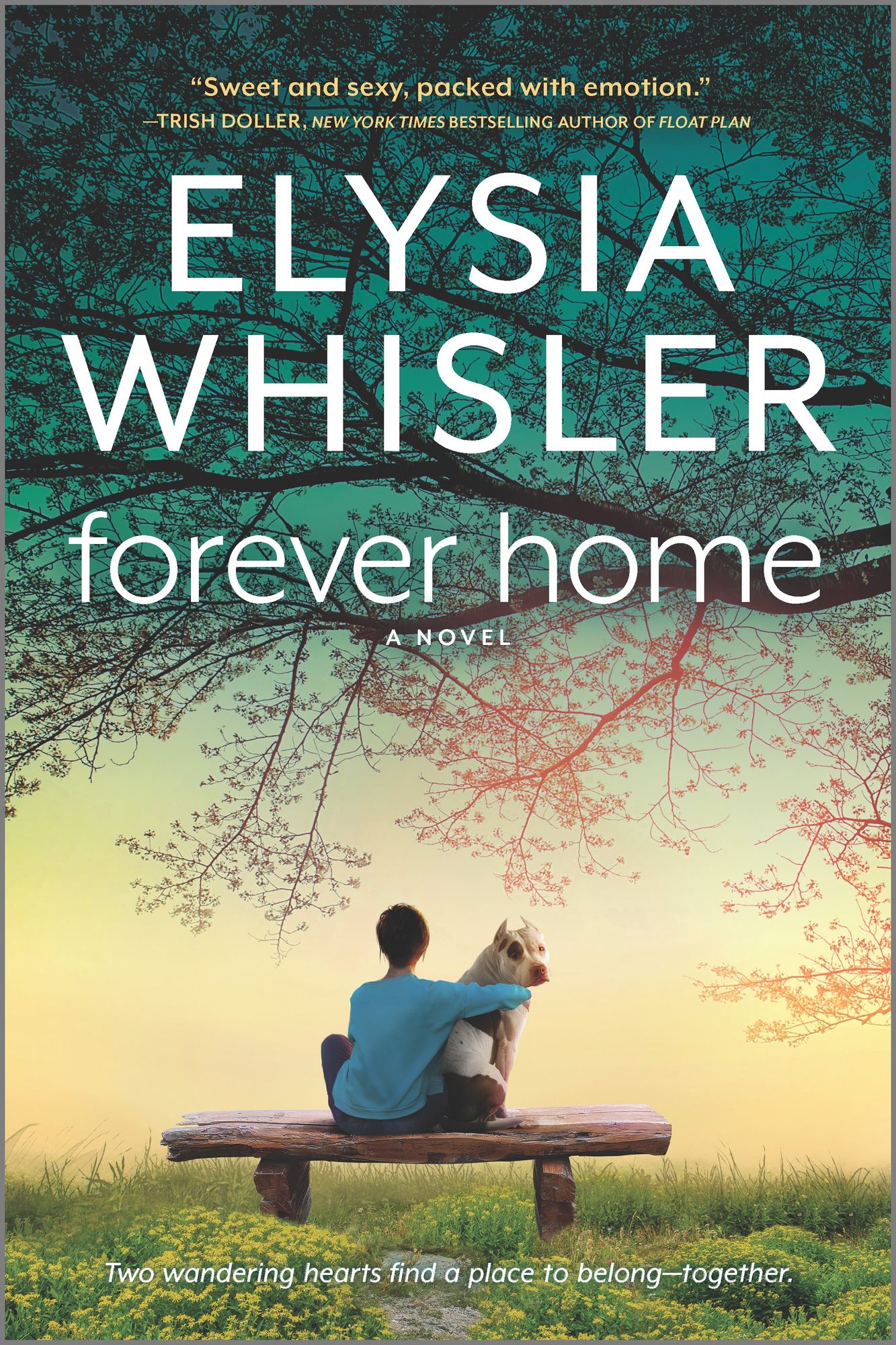 If home is where the heart is, Dogwood County may have just what Delaney Monroe needs
Newly retired from the Marine Corps, Delaney is looking for somewhere to start over. It's not going to be easy, but when she finds the perfect place to open her dream motorcycle shop, she goes for it. What she doesn't expect is an abandoned pit bull to come with the building. The shy pup is slow to trust, but Delaney is determined to win it over.
Detective Sean Callahan is smitten from the moment he sees Delaney, but her cool demeanor throws him off his game. When her late father's vintage motorcycle is stolen from Delaney's shop, Sean gets to turn up in his element: chasing the bad guy and showing his best self to a woman who's gotten under his skin in a bad way.
Delaney isn't used to lasting relationships, but letting love in—both human and canine—helps her see that she may have found a place she belongs, forever.
"Complex, quietly compelling characters… A poignant reminder that 'home' is often more than a place." —Maggie Wells, author of Love Game
Dogwood County
Book 1: Rescue You
Book 2: Forever Home
Available on November 30, 2021:
Amazon | Barnes & Noble | Google Play | Kobo | Apple Books | Indiebound | Indigo | Audible | Goodreads
Nanny Dearest by Flora Collins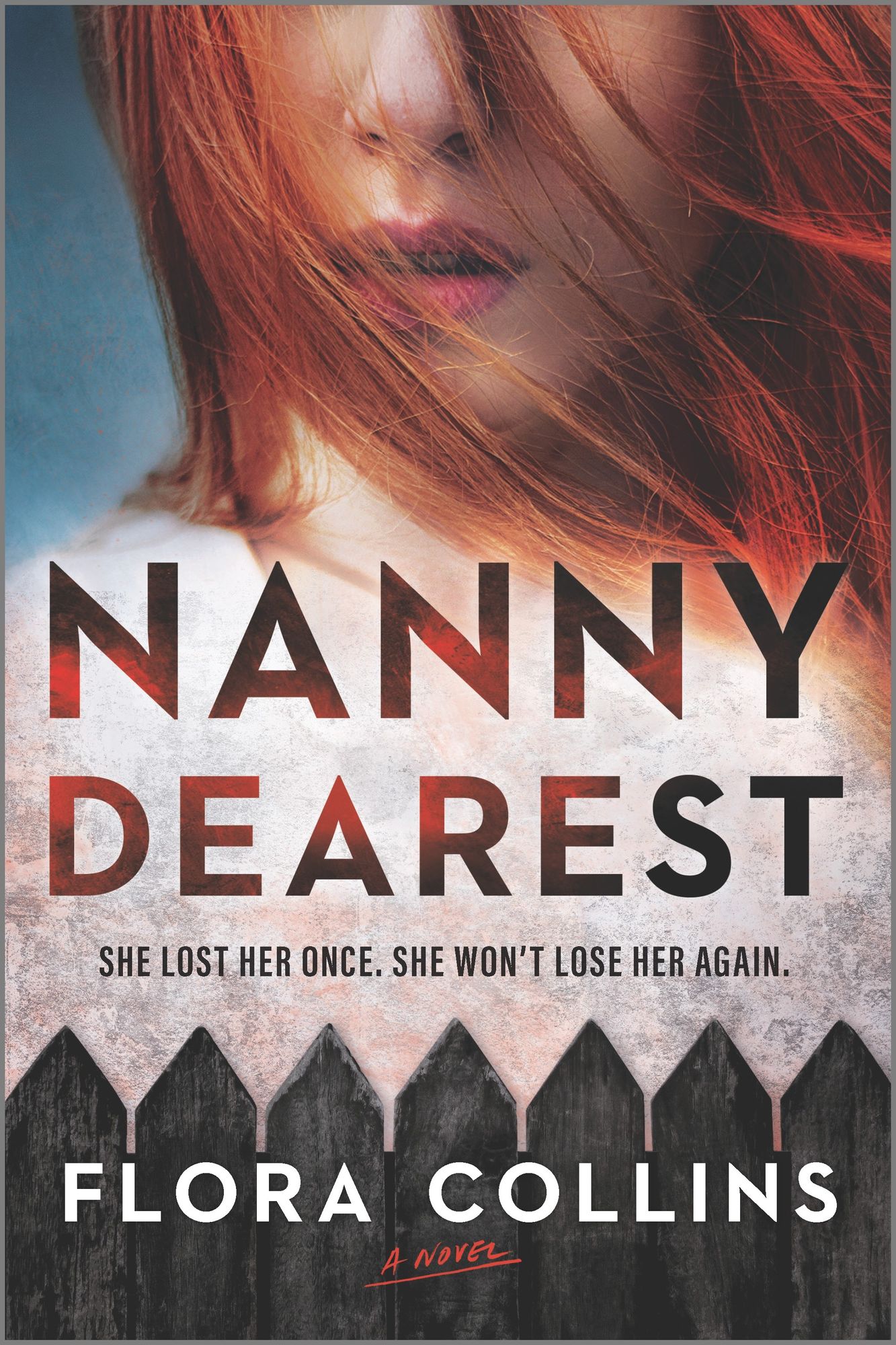 "A well-crafted debut . . . horrifying . . . Psychological thrillers fans won't be disappointed." —Publishers Weekly

"Unsettling, compelling, elegantly paced . . . A slick, contemporary novel that explores the wispy, nagging memories of childhood." —Julia Heaberlin, bestselling author of We Are All the Same in the Dark

In this compulsively readable novel of domestic suspense, a young woman takes comfort in reconnecting with her childhood nanny, until she starts to uncover secrets the nanny has been holding for twenty years.
Sue Keller is lost. When her father dies suddenly, she's orphaned in her mid-twenties, her mother already long gone. Then Sue meets Annie. It's been twenty years, but Annie could never forget that face. She was Sue's live-in nanny at their big house upstate, and she loved Sue like she was her own.
Craving connection and mothering, Sue is only too eager to welcome Annie back into her life; but as they become inseparable once again, Sue starts to uncover the truth about Annie's unsettling time in the Keller house all those years ago, particularly the manner of her departure—or dismissal. At the same time, she begins to grow increasingly alarmed for the safety of the two new charges currently in Annie's care.
Told in alternating points of views—Annie in the mid-'90s and Sue in the present day—this taut novel of suspense will keep readers turning the pages right up to the shocking end.
Available on November 30, 2021:
Amazon | Barnes & Noble | Google Play | Kobo | Apple Books | Indiebound | Indigo | Audible | Goodreads
Wish You Were Here by Jodi Picoult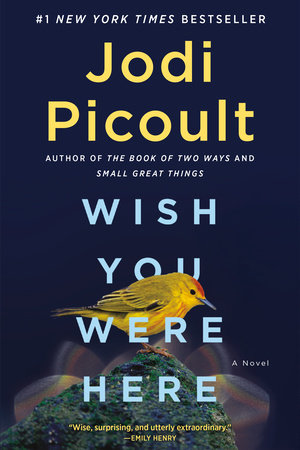 From the #1 New York Times bestselling author of Small Great Things and The Book of Two Ways comes "a powerfully evocative story of resilience and the triumph of the human spirit" (Taylor Jenkins Reid, author of Malibu Rising)

Diana O'Toole is perfectly on track. She will be married by thirty, done having kids by thirty-five, and move out to the New York City suburbs, all while climbing the professional ladder in the cutthroat art auction world. She's an associate specialist at Sotheby's now, but her boss has hinted at a promotion if she can close a deal with a high-profile client. She's not engaged just yet, but she knows her boyfriend, Finn, a surgical resident, is about to propose on their romantic getaway to the Galápagos—days before her thirtieth birthday. Right on time.

But then a virus that felt worlds away has appeared in the city, and on the eve of their departure, Finn breaks the news: It's all hands on deck at the hospital. He has to stay behind. You should still go, he assures her, since it would be a shame for all of their nonrefundable trip to go to waste. And so, reluctantly, she goes.

Almost immediately, Diana's dream vacation goes awry. Her luggage is lost, the Wi-Fi is nearly nonexistent, and the hotel they'd booked is shut down due to the pandemic. In fact, the whole island is now under quarantine, and she is stranded until the borders reopen. Completely isolated, she must venture beyond her comfort zone. Slowly, she carves out a connection with a local family when a teenager with a secret opens up to Diana, despite her father's suspicion of outsiders.

In the Galápagos Islands, where Darwin's theory of evolution by natural selection was formed, Diana finds herself examining her relationships, her choices, and herself—and wondering if when she goes home, she too will have evolved into someone completely different.
Available on November 30, 2021:
Amazon | Barnes & Noble | Google Play | Kobo | Apple Books | Indiebound | Indigo | Audible | Goodreads
Which books are you most looking forward to reading? Let me know in the comments!