Ah…going back to school. New books, new teachers, new friends and new experiences were always on the horizon in September. Are you feeling nostalgic for those simpler days? Us too! That's why we've rounded up some of our favorite YA books that remind us of all the trials and tribulations that come with being in school.
These Vengeful Hearts by Katherine Laurin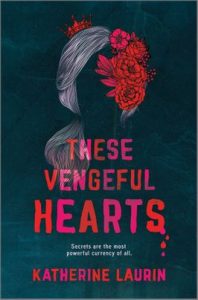 A thrilling novel about a secret society and the dangers that lie in wait for anyone brave enough to join—perfect for fans of Karen M. McManus, Kara Thomas, and Maureen Johnson.
Whenever something scandalous happens at Heller High, the Red Court is the name on everyone's lips. Its members deal out social ruin and favors in equal measure, their true identities known only by their leader: the Queen of Hearts.
Ember Williams has seen firsthand the damage the Red Court can do. Now, she's determined to hold the organization accountable by taking it down from the inside. But will the cost of revenge be more than she's willing to sacrifice?
Available at:
Amazon | Barnes & Noble | Google Play | Kobo | Apple Books | Indiebound | Goodreads
We Didn't Ask for This by Adi Alsaid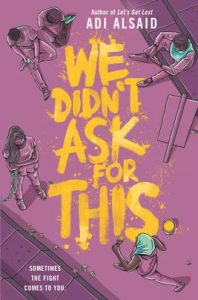 From Adi Alsaid, the acclaimed author of Let's Get Lost, Never Sometimes Always, and North of Happy
Every year, lock-in night changes lives. This year, it might just change the world.
Central International School's annual lock-in is legendary — and for six students, this year's lock-in is the answer to their dreams. The chance to finally win the contest. Kiss the guy. Make a friend. Become the star of a story that will be passed down from student to student for years to come.
But then a group of students, led by Marisa Cuevas, stage an eco-protest and chain themselves to the doors, vowing to keep everyone trapped inside until their list of demands is met. While some students rally to the cause, others are devastated as they watch their plans fall apart. And Marisa, once so certain of her goals, must now decide just how far she'll go to attain them.
"Engrossing."—Kirkus Reviews, starred review
Available at:
Amazon | Barnes & Noble | Google Play | Kobo | Apple Books | Indiebound | Goodreads
Smash It! by Francina Simone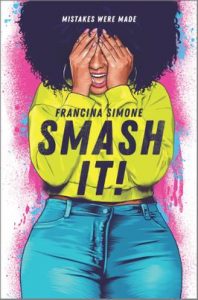 Refreshingly authentic and bold… Don't miss this smashing #ownvoices novel from Francina Simone, filled with heart, humor and a heroine to root for!
Olivia "Liv" James is done with letting her insecurities get the best of her. So she does what any self-respecting hot mess of a girl who wants to SMASH junior year does…
After Liv shows up to a Halloween party in khaki shorts—why, God, why?—she decides to set aside her wack AF ways. She makes a list—a F*ck-It list.
1. Be bold—do the thing that scares me.
2. Learn to take a compliment.
3. Stand out instead of back.
She kicks it off by trying out for the school musical, saying yes to a date and making new friends. Life is great when you stop punking yourself! However, with change comes a lot of missteps, and being bold means following her heart. So what happens when Liv's heart is interested in three different guys—and two of them are her best friends? What is she supposed to do when she gets dumped by a guy she's not even dating? How does one Smash It! after the humiliation of being friend-zoned?
In Liv's own words, "F*ck it. What's the worst that can happen?"
A lot, apparently.
#SMASHIT
Available at:
Amazon | Barnes & Noble | Google Play | Kobo | Apple Books | Indiebound | Audible | Goodreads
Dear Haiti, Love Alaine by Maika Moulite and Maritza Moulite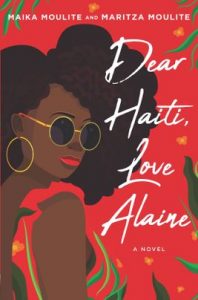 Alaine Beauparlant has heard about Haiti all her life…
But the stories were always passed down from her dad—and her mom, when she wasn't too busy with her high-profile newscaster gig. But when Alaine's life goes a bit sideways, it's time to finally visit Haiti herself.
What she learns about Haiti's proud history as the world's first black republic (with its even prouder people) is one thing, but what she learns about her own family is another. Suddenly, the secrets Alaine's mom has been keeping, including a family curse that has spanned generations, can no longer be avoided.
It's a lot to handle, without even mentioning that Alaine is also working for her aunt's nonprofit, which sends underprivileged kids to school and boasts one annoyingly charming intern.
But if anyone can do it all…it's Alaine.
Available at:
Amazon | Barnes & Noble | Google Play | Kobo | Apple Books | Indiebound | Audible | Goodreads
The Library of Lost Things by Laura Taylor Namey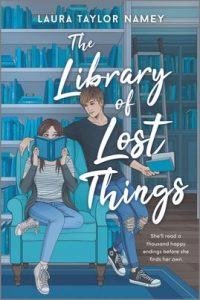 Fangirl meets Jane Austen in this deeply heartfelt love story about hiding the worst parts of ourselves, and the people who love us anyway.
"How could I open that door and let him see the messiest part of me?"
From the moment she first learned to read, literary genius Darcy Wells has spent most of her time living in the worlds of her books. There, she can avoid the crushing reality of her mother's hoarding and pretend her life is simply ordinary.
But then Asher Fleet, a former teen pilot with an unexpectedly shattered future, walks into the bookstore where she works…and straight into her heart. For the first time in her life, Darcy can't seem to find the right words. Fairy tales are one thing, but real love makes her want to hide behind her carefully constructed ink-and-paper wall.
Still, after spending her whole life keeping people out, something about Asher makes Darcy want to open up. But securing her own happily-ever-after will mean she'll need to stop hiding and start living her own truth—even if it's messy.
Available at:
Amazon | Barnes & Noble | Google Play | Kobo | Apple Books | Indiebound | Audible | Goodreads
The Black Witch by Laurie Forest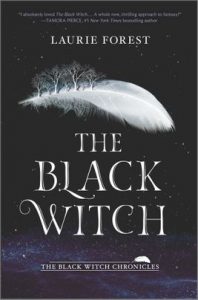 "Maximum suspense, unusual magic—a whole new, thrilling approach to fantasy!"—Tamora Pierce, #1 New York Times bestselling author
Powerful magic. A deadly legacy. A world at the edge of war. Prepare to be spellbound by The Black Witch.
Elloren Gardner is the spitting image of her grandmother, who drove back the enemy forces in the last Realm War. But while her perople believe she will follow in her grandmother's footsteps and become the next Black Witch of prophecy, Elloren is devoid of power in a society that prizes magical ability above all else.
When she is granted the opportunity to pursue her dream of becoming an apothecary, Elloren joins her brothers at Verpax University. But she soon realizes that the university may be the most treacherous place of all for the granddaughter of the Black Witch.
As evil looms and the pressure to live up to her heritage builds, Elloren's best hope of survival may be among a secret band of rebels…if only she can find the courage to trust those she's been taught to fear.
Available at:
Amazon | Barnes & Noble | Google Play | Kobo | Apple Books | Indiebound | Audible | Goodreads
What's your favorite back to school read? Share it with us in the comments!