I'm often asked how I find the ideas for my books. The short answer is: I go looking for them. Although my love for stories set around the Second World War stems from the years I spent living in Poland among Holocaust survivors and working on issues related to the war, the actual inspiration for each book is something that I am driven to find. The real question is, how do I know when I have found the right idea? It comes down to something I call "The Gasp." If I find a bit of history that is so untold and original that it causes me to gasp after a quarter century of working with the war, I'm hopeful that readers will feel the same way.
In the case of Code Name Sapphire, The Gasp was learning the true story of the mission to liberate prisoners from a train headed for Auschwitz; I was stunned. And I had so many questions! On one hand, I wondered: How could people be so brave as to undertake such an unthinkable and dangerous attempt? At the same time, I wanted to know why more people had not tried to do the same thing to some of the countless trains that carried victims across Europe to the concentration camps. I decided that I wanted to write a fictitious story about both the saboteurs and the people they sought to rescue.
I began by researching the actual train that was liberated. One of the best resources was a book called The Twentieth Train: The True Story of the Ambush of the Death Train to Auschwitz by Marion Schreiber. Reading this, I learned about the actual rescuers, three men (a Jewish doctor and his two non-Jewish friends) from the Jewish Defense Committee, who undertook the rescue largely on their own. (Resistance support for the mission had always been thin, as some resistance leaders worried that the rescue would deter from their principal mission of fighting the Germans. Their support further waned when the Germans switched from third-class rail cars to cattle cars, which the resistance feared would make the already treacherous liberation impossible.) I discovered how the rescuers worked with prisoners inside the camp to provide them with tools to aid in the escape and money for after they were freed.
In researching, I found out that tragically the liberation was of mixed success: some of the people on the train were freed, but others were recaptured or died trying to escape. The three rescuers were arrested and imprisoned; one
was executed. Nevertheless, the mission was symbolically important and undoubtedly gave countless others the hope and inspiration to escape or simply survive.
In writing Code Name Sapphire, I created a fictitious family who were imprisoned on the train, Lily and Nik and their son, Georgi. But I wanted to embody in them the spirit of the real prisoners, parents and children, medical professionals and intellectuals. And although in real life, the three principal rescuers were men, I decided in my story to make one of them, Hannah, a Jewish woman, working in collaboration with other arms of the Belgian resistance. So many stories of women have been lost to a history that ignored them. Who is to say what women did behind the scenes without receiving credit? I also sought to recognize in Sofia the plight of the Roma community
during the Holocaust, which has so often gone unnoticed.
I chose, also, to interweave the story of the train rescue with another remarkable aspect of the war: the escape lines throughout Belgium, Holland and France, and the heroes and heroines who bravely spirited downed Allied airmen safely out of Europe. My fictitious tale of The Sapphire Line was principally inspired by The Comet Line, a Belgian network which utilized the assistance of approximately 3,000 civilians to help approximately 775 Allied airmen escape Occupied Europe. Some estimate that as much as 70 percent of those working with The Comet Line were women. Many of these brave people sacrificed their lives in the service of the escape lines. The Comet Line's first leader, Andrée de Jongh ("Dédée"), was the inspiration for Micheline in my book. Excellent accounts of these real-life escape routes and the heroes and heroines who ran them can be found in The Freedom Line: The Brave Men and Women Who Rescued Allied Airmen from the Nazis During World War II by Peter Eisner and Little Cyclone by Airey Neave.
In writing this book, I also learned much about the Jews of Belgium, both those who had citizenship and those who had come there from other countries. I am grateful to have witnessed through my research their unfathomable journey from the earliest days of occupation through their internment and brutal treatment in camps such as Breendonk and Mechelen to, in many cases, deportation. If you would like to learn more about this history, I recommend The Prisoners of Breendonk: Personal Histories from a World War II Concentration Camp by James M. Deem.
Code Name Sapphire is my twelfth book and in writing it my commitment to illuminating important pieces of history through storytelling is stronger than ever. I consider my books to be, first and foremost, love songs to the people who lived in those most extraordinary times. I hope that readers will be educated and moved as I have been, and that they will remember both the characters who live in my story, as well as the real people and events who inspired them, long after they finish the last page.
Sincerely,
Pam Jenoff
Code Name Sapphire by Pam Jenoff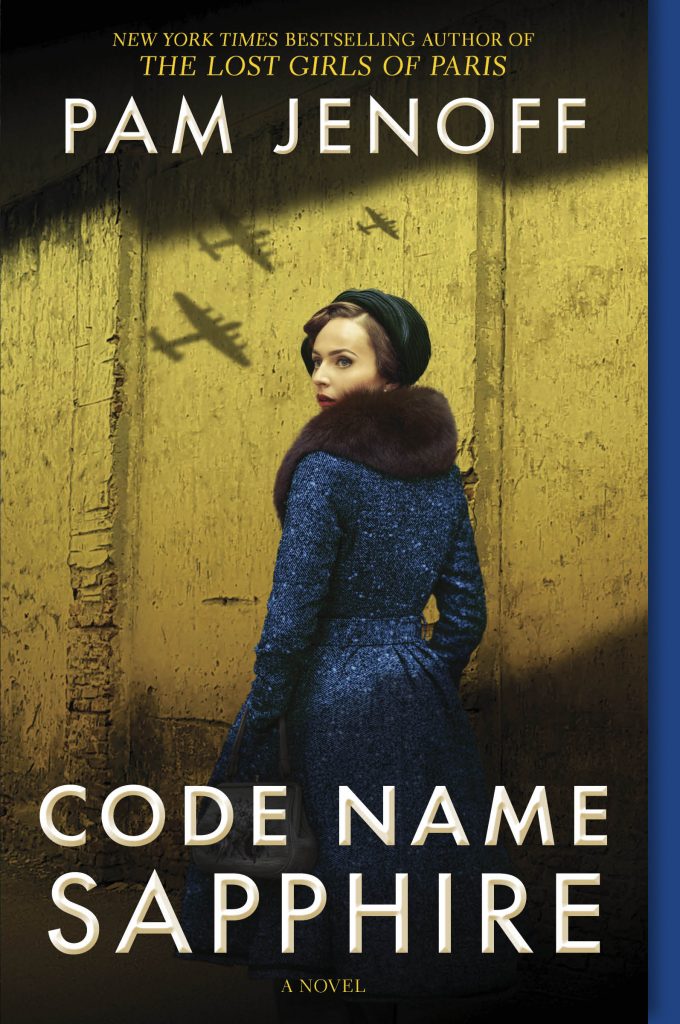 A woman must rescue her cousin's family from a train bound for Auschwitz in this riveting tale of bravery and resistance during World War II
1942. Hannah Martel has narrowly escaped Nazi Germany after her fiancé was killed in a pogrom. When her ship bound for America is turned away at port, she has nowhere to go but to her cousin Lily, who lives with her family in Brussels. Fearful for her life, Hannah is desperate to get out of occupied Europe. But with no safe way to leave, she must return to the dangerous underground work she thought she had left behind.
Seeking help, Hannah joins the Sapphire Line, a secret resistance network led by a mysterious woman named Micheline and her enigmatic brother Mateo. But when a grave mistake causes Lily's family to be arrested and slated for deportation to Auschwitz, Hannah finds herself torn between her loyalties. How much is Hannah willing to sacrifice to save the people she loves? Inspired by incredible true stories of courage and sacrifice, Code Name Sapphire is a powerful novel about love, family and the unshakable resilience of women in even the hardest of times.
Available February 7, 2023:
Amazon | Barnes & Noble | Google Play | Kobo | Apple Books | Indiebound | Indigo | Audible | Goodreads