Dora
Popular culture of TV, film and crime novels would have us believe the role of a sex worker is largely to be a nameless body in the background: perhaps semi-clad on someone's lap, perhaps grinding against a pole, sooner rather than later most probably found dead in a back alley. Their deaths might precipitate action, a Detective has a case to solve. If the sex worker's character is fleshed-out at all, it's when the detective discovers that they were uneducated, unstable addicts without aspiration, dreams or desires. We appear comfortable forcing sex workers into uncomplicated, two-dimensional stereotypes. I started to question the accepted portrayal of sex workers in crime novels.
For centuries, female sex workers in novels have been depicted as passive victims. Things happen to them, and rarely anything good. The abuse they suffer isn't a facile troupe, it's a fact. Violence against sex workers is a horrific reality. That disturbed me because allowing sex workers in fiction to remain silent props up the worst part of our society. The powerless and vulnerable remain so if they are voiceless. I would like to be instrumental in changing the laws that leave sex workers vulnerable, but that's unlikely as I'm not a politician, so I did the best I could. In ONE LAST SECRET I wrote a nuanced, complicated, compelling heroine who is a sex worker. And I allowed her to roar.
To ensure I accurately portrayed the day-to-day life of a sex worker I needed to do some research. I google searched 'escorts near me' and found it easy to reach out to women in this profession. I explained who I was and that I was writing a book and invited three different sex workers to meet with me for a coffee so we could chat. I wanted to know how they keep themselves sane and safe, what the processes are that ensure transactions are honoured, where the deed is most likely to happen, what are the laws around the industry? I found the women easy to talk to, forthright and practical. They had a sense of humour and notable self-awareness.
Awful things happen to Dora in my chilling psychological thriller, as they do to sex-workers in many crime books, as they do in life, but she comes out fighting. She is witty, cool, vengeful, flawed, exposed and fabulous, as any woman regardless of their sexual proclivities. Dora has agency, motivation and ambitions that are realised. She may not get everything right (who does?). She is often confused, sometimes outwitted and tricked but no matter what, she absolutely refuses to be a plot device.
Some find it incomprehensible that anyone who exchanges sexual acts for money has a right to be respected in our 'moral' society. We are conditioned to believe that sex workers have nothing to give other than their bodies. I don't accept that. Dora offers one voice to those working in the sex industry and is a small step towards correcting a miscarriage of literary justice.
Sincerely,
Adele
One Last Secret by Adele Parks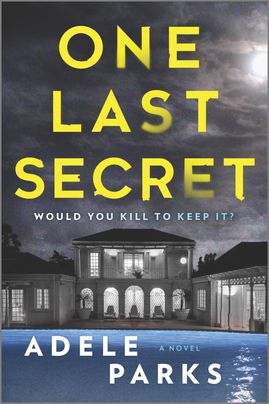 "I'll drop anything for a new Adele Parks: she nails it ever time"—Lucy Foley

Everyone has secrets, don't they?
One last client
A week at a beautiful chateau in the south of France—it should be a straightforward final job for Dora. She's a smart, stunning and discreet escort, and Daniel has paid for her services before. This time, all she has to do is to convince the assembled guests that she is his girlfriend. Dora is used to playing roles and being whatever men want her to be. It's all about putting on a front.
One last chance
It will be a last, luxurious look at how the other half lives before Dora turns her back on the escort world and all its dangers. She has found someone she loves and trusts. With him, she can escape the life she's trapped in. But when Dora arrives at the chateau, it quickly becomes obvious that nothing is what it seems…
One last secret
Dora finds herself face-to-face with a man she has never forgotten, the one man who really knows her. And as old secrets surface, it becomes terrifyingly apparent that one last secret could cost Dora her life…
From the Sunday Times number one bestseller Adele Parks comes a blisteringly provocative novel about power, sex, money and revenge.
"Absolutely gripping, this is revenge lit at its best"—Lisa Jewell
Available December 27, 2022:
Amazon | Barnes & Noble | Google Play | Kobo | Apple Books | Indiebound | Indigo | Audible | Goodreads