I've written and published five other books, but I never imagined my debut novel would be historical fiction. I was so inspired learning about the Six Triple Eight, officially known as the 6888th Central Postal Battalion, that I couldn't help but send a character who showed up in my imagination about 12 years ago, to join the unit.
For years, I could not figure out what Judith Anne Washington wanted with me. As a result, the novel sat, untouched, for a few years. But in 2017, when I read the obituary for Alyce Dixon, who had recently died at age 108, I found Judy's destination. Ms. Dixon was one of the oldest female veterans in America and one of a few surviving members of the Six Triple Eight. Her obituary said that at 16 she changed the spelling of her name to Alyce after going to a picture show featuring Alyce Mills – "She lived life on her own terms from that day forward."
I love women who defy societal expectations, who decide that this finite life we're gifted with can feel more infinite if we devote ourselves to the pursuit of inner freedom. I knew I had to learn more about the WACs. I started by reading everything I could: The Library of Congress' Veterans History Project transcripts, The New York Public Library and the Schomburg's digital archives, Darlene Clark Hine's indispensable encyclopedia volumes, Black Women in America, and finally watched a screening of "The Six Triple Eight" documentary hosted by the Foundation for Women Warriors during the summer of 2020.
While Charity Adams, Abigail Campbell and Mary Alyce Dixon are based on real people, I fictionalized the main protagonist, Judy Washington, along with her husband, Herbert and her mother, Margaret. The members of the battalion, including Bernadette and Stacy, are completely made-up composites; though sadly three women enlisted did actually die in a car accident while the women were stationed in Rouen.
The theme of opportunity, or lack thereof, frames Judy's aspirations to do more than what society expects of her as part of a longer arc of the history of Black people in America. As a result, it was important for me to locate her parents in history, and to note that they followed the trajectory of some six million Black people who were a part of The Great Migration from the fraught, racist and dangerous post-Reconstruction South to Northern, Midwestern and Western cities. They came seeking increased opportunities in the 1920s, but when the Depression hit, they found themselves in a new place with fewer options. As rough as the Great Depression was for everyone, like all hardships, it was doubly hard for Black workers because racism intensifies all the other barriers that come to bear on our lives. That context is important because Margaret, understandably, does not believe that the world will be more forgiving for her or her daughter in the North. Her life has shown her too much to believe in Judy's optimism.
Hope is really all that is driving Judy and one thing I really admire about her is that she's stubborn enough to hold on to it. We see her strong grasp of hope as she waits for word from her husband and when she tries to believe in the best about the women she works for on the Bronx Slave Market, another aspect of history that has gotten very little attention. On street corners in the Bronx near major thoroughfares starting in the 1930s, "slave marts" popped up where white housewives could find cheap domestic labor. Famed activist and SNCC mentor Ella Baker teamed up with journalist Marvel Cooke to write a two-part expose about the markets; they went undercover to write about what they called the Paper Bag Brigade – women who waited patiently on benches and crates with bags holding their cleaning gloves and clothes so that they could be exploited by housewives who, because of federal legislation barring immigrants from European countries who would have been their preferred live-in help, needed Black women to clean their houses to keep up middle-class appearances.
Judy's early experiences on the Bronx Slave Market led her to embrace applying for the Women's Army Corps. Ultimately her pursuit of freedom and autonomy is a symbol of the same sovereignty that has been elusive for us for too long. I don't want to give any spoilers here, but I wanted her, and as many of the women in the book as possible, to have everything they ever wanted. All that they worked for and dreamed of. I know it's not exactly how things worked out, but my legacy as a writer, I hope, will be connected to reimagining our histories and our futures as Black women as they are and have been: rooted in love, sisterhood and purpose.
The ultimate point of Women of the Post is to emphasize the ongoing, relentless fight it takes for each of us to dream our American Dreams, to try to live out the promise of freedom that has come to be a part of what it means to be American. Patriotism, pride in country, resilient service: These are not reserved by Americans of any one race, ethnicity or gender. The fight and heart it takes to have these values reflected in one's life when the person sharing them with the world is Black and identifies as a woman is magnified. My deep love and respect for how the Six Triple Eight accepted that challenge and surpassed expectations for overcoming it is endless; I hope yours will be, too.
Women of the Post by Joshunda Sanders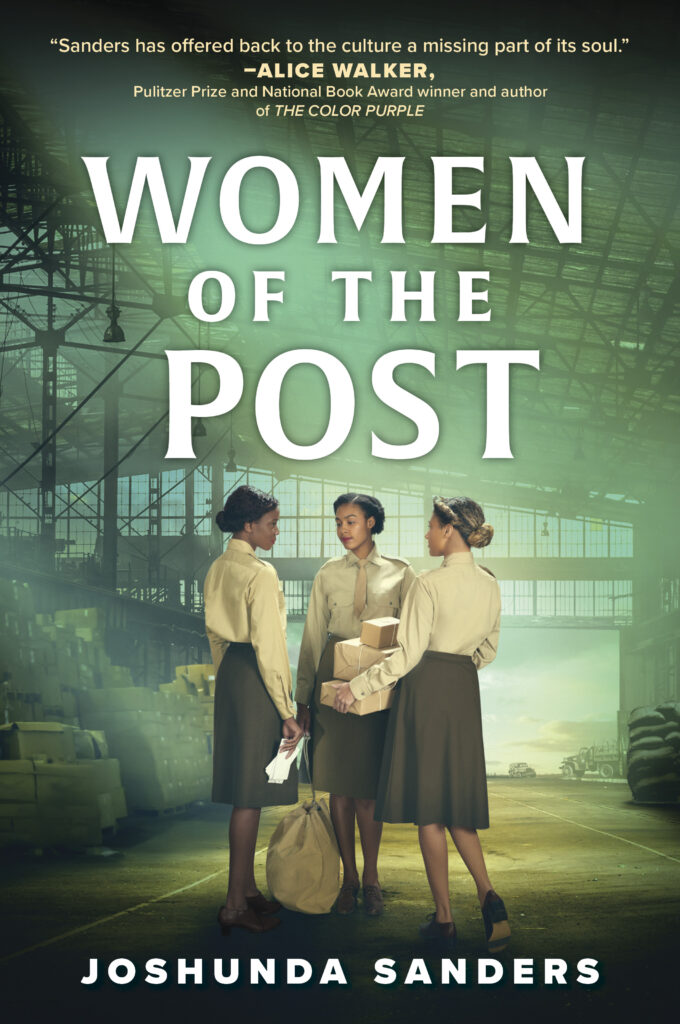 1944,New York City. Judy Washington is tired of having to work at the Bronx Slave Market, cleaning white women's houses for next to nothing. She dreams of a bigger life, but with her husband fighting overseas, it's up to her and her mother to earn enough for food and rent. When she's recruited to join the Women's Army Corps—offering a steady paycheck and the chance to see the world—Judy jumps at the opportunity.
During training, Judy becomes fast friends with the other women in her unit—Stacy, Bernadette and Mary Alyce—who all come from different cities and circumstances. Under Second Officer Charity Adams's leadership, they receive orders to sort over one million pieces of mail in England, becoming the only unit of Black women to serve overseas during WWII.
The women work diligently, knowing that they're reuniting soldiers with their loved ones through their letters. However, their work becomes personal when Mary Alyce discovers a backlogged letter addressed to Judy. Told through the alternating perspectives of Judy, Charity and Mary Alyce, Women of the Post is an unforgettable story of perseverance, female friendship and self-discovery.
Available at:
Amazon | Barnes & Noble | Google Play | Apple Books | Indiebound | Indigo | Audible |Goodreads | Kobo