Audiobooks are one of our favorite way to read. They're ultra-portable, allow you to multitask (say goodbye to dreading boring chores), and can be super engaging! And if you haven't been convinced to join #TeamAudiobook yet, try speeding up the narrator — increasing the speed can do wonders for your ears! Want a few recommendations? We've been listening to (and loving!) these 10 audiobooks recently.
Sunrise on Half Moon Bay by Robyn Carr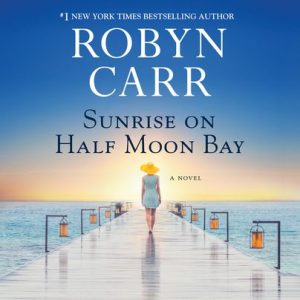 Sometimes the happiness we're looking for has been there all along…
Adele and Justine have never been close. Born twenty years apart, Justine was already an adult when Addie was born. The sisters love each other, but they don't really know each other.
When Addie dropped out of university to care for their ailing parents, Justine, a successful lawyer, covered the expenses. It was the best arrangement at the time, but now that their parents are gone, the future has changed dramatically for both women.
Addie had great plans for her life but has been worn down by the pressures of being a caregiver and doesn't know how to live for herself. And Justine's success has come at a price. Her marriage is falling apart despite her best efforts.
Neither woman knows how to start life over, but both realize they can and must support each other the way only sisters can. Together they find the strength to accept their failures and overcome their challenges. Happiness is within reach, if only they have the courage to fight for it.
Set in the stunning coastal town of Half Moon Bay, California, Robyn Carr's new novel examines the joys of sisterhood and the importance of embracing change.
Available at:
Audible | Google Play | Kobo | Apple Books | LibroFM | Chirp | Goodreads
Call Your Daughter Home by Deb Spera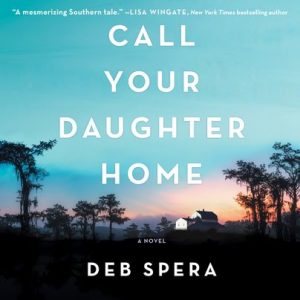 A stunning tour de force following three fierce, unforgettable Southern women in the years leading up to the Great Depression
It's 1924 South Carolina and the region is still recovering from the infamous boll weevil infestation that devastated the land and the economy. Gertrude, a mother of four, must make an unconscionable decision to save her daughters from starvation or die at the hands of an abusive husband. Retta is navigating a harsh world as a first-generation freed slave, still employed by the Coles, influential plantation proprietors who once owned her family. Annie is the matriarch of the Coles family and must come to terms with the terrible truth that has ripped her family apart.
These three women seemingly have nothing in common, yet as they unite to stand up to the terrible injustices that have long plagued the small town, they find strength in the bond that ties women together. Told in the pitch-perfect voices of Gertrude, Retta and Annie, Call Your Daughter Home is an audacious, timeless story about the power of family, deep-buried secrets and the ferocity of motherhood.
Available at:
Audible | Google Play | Kobo | Apple Books | LibroFM | Chirp | Goodreads
The Other Mrs. by Mary Kubica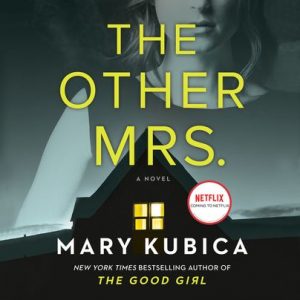 NEW YORK TIMES BESTSELLER
Coming to Netflix!
"Altogether unpredictable." —Karin Slaughter, New York Times bestselling author
Propulsive and addictive, and perfect for fans of "You," The Other Mrs.is the twisty new psychological thriller from Mary Kubica, the New York Times bestselling author of The Good Girl
Sadie and Will Foust have only just moved their family from bustling Chicago to small-town Maine when their neighbor Morgan Baines is found dead in her home. The murder rocks their tiny coastal island, but no one is more shaken than Sadie.
But it's not just Morgan's death that has Sadie on edge. And as the eyes of suspicion turn toward the new family in town, Sadie is drawn deeper into the mystery of what really happened that dark and deadly night. But Sadie must be careful, for the more she discovers about Mrs. Baines, the more she begins to realize just how much she has to lose if the truth ever comes to light.
Available at:
Audible | Google Play | Kobo | Apple Books | LibroFM | Chirp | Goodreads
Truths I Never Told You by Kelly Rimmer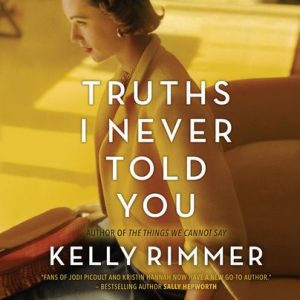 From the bestselling author of The Things We Cannot Say comes a poignant post-WWII novel that explores the expectations society places on women set within an engrossing family mystery that may unravel everything once believed to be true.
With her father recently moved to a care facility, Beth Walsh volunteers to clear out the family home and is surprised to discover the door to her childhood playroom padlocked. She's even more shocked at what's behind it—a hoarder's mess of her father's paintings, mounds of discarded papers and miscellaneous junk in the otherwise fastidiously tidy house.
As she picks through the clutter, she finds a loose journal entry in what appears to be her late mother's handwriting. Beth and her siblings grew up believing their mother died in a car accident when they were little more than toddlers, but this note suggests something much darker.
Beth soon pieces together a disturbing portrait of a woman suffering from postpartum depression and a husband who bears little resemblance to the loving father Beth and her siblings know. With a newborn of her own and struggling with motherhood, Beth finds there may be more tying her and her mother together than she ever suspected.
Available at:
Audible | Google Play | Kobo | Apple Books | LibroFM | Chirp | Goodreads
The Lost Orphan by Stacey Halls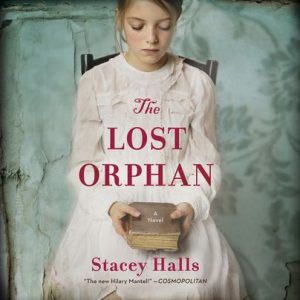 A Sunday Times bestseller!
Two women, bound by a child, and a secret that will change everything. . .
London, 1754. Six years after leaving her illegitimate newborn at the Foundling Hospital, Bess Bright returns to reclaim the daughter she has never known. Dreading the worst, that she has died in care, she is astonished to discover someone pretending to be Bess has already claimed her. Her life is turned upside down as she tries to find out who has taken her little girl—and why.
Less than a mile from Bess's poor lodgings, in a quiet Georgian townhouse, lives Alexandra, a reclusive young widow. When her close friend—an ambitious doctor at the orphanage—persuades her to hire a nursemaid to help care for her daughter, she is hesitant to welcome someone new into her home. But her past is threatening to catch up with her and tear her carefully constructed world apart.
From the Sunday Times bestselling author of The Familiars comes this captivating story of mothers and daughters, class and power, and love against the greatest of odds.
Available at:
Audible | Google Play | Kobo | Apple Books | LibroFM | Chirp | Goodreads
Daisy Cooper's Rules for Living by Tasnim Keily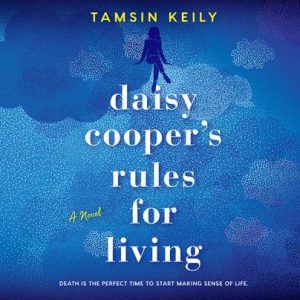 "Fun, fresh—a brilliant love story with a twist." —Jenny Colgan, author of The Bookshop on the Corner
Bridget Jones meets "The Good Place" in this witty and poignant novel about a woman whose untimely death sparks the journey of a lifetime
Rule one: anything can happen
Daisy Cooper's life is just getting started, when suddenly it ends. Surprised to find herself in an Afterlife processing center, she is even more stunned to learn that she wasn't meant to die for another fifty years. One terrible, embarrassing clerical error is behind it—and an administrator named Death is to blame.
But death, as they say, is final, and Daisy must now navigate this impossible new world. With the help of an unlikely ally, Daisy begins to realize that letting go isn't just a challenge faced by those left behind. And as she learns how to survive this strange reality, friendship, hope and love begin to come alive in the most unexpected ways.
Available at:
Audible | Google Play | Kobo | Apple Books | LibroFM | Chirp | Goodreads
Broken Faith by Mitch Weiss and Holbrook Mohr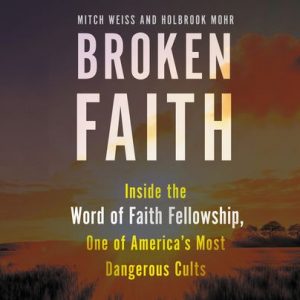 "I can't imagine a more important book."—Jeff Guinn, New York Times bestselling author
An explosive investigation into Word of Faith Fellowship, a secretive evangelical cult whose charismatic female leader is a master of manipulation
In 1979, a fiery preacher named Jane Whaley attracted a small group of followers with a promise that she could turn their lives around.
In the years since, Whaley's following has expanded to include thousands of congregants across three continents. In their eyes she's a prophet. And to disobey her means eternal damnation.
The control Whaley exerts is absolute: she decides what her followers study, where they work, whom they can marry—even when they can have sex.
Based on hundreds of interviews, secretly recorded conversations, and thousands of pages of documents, Pulitzer Prize winner Mitch Weiss and Holbrook Mohr's Broken Faith is a terrifying portrait life inside the Word of Faith Fellowship, and the harrowing account of one family who escaped after two decades.
Available at:
Audible | Google Play | Kobo | Apple Books | LibroFM | Chirp | Goodreads
Before She Was Found by Heather Gudenkauf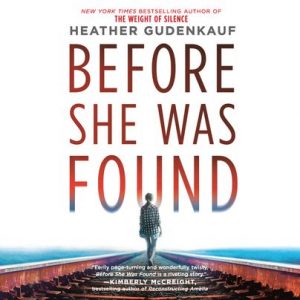 A gripping thriller about three young girlfriends, a dark obsession and a chilling crime that shakes up a quiet Iowa town, from the New York Times bestselling author of The Weight of Silence.
For twelve-year-old Cora Landry and her friends Violet and Jordyn, it was supposed to be an ordinary sleepover—movies and Ouija and talking about boys. But when they decide to sneak out to go to the abandoned rail yard on the outskirts of town, little do they know that their innocent games will have dangerous consequences.
Later that night, Cora Landry is discovered on the tracks, bloody and clinging to life, her friends nowhere to be found. Soon their small rural town is thrust into a maelstrom. Who would want to hurt a young girl like Cora—and why? In an investigation that leaves no stone unturned, everyone is a suspect and no one can be trusted—not even those closest to Cora.
Before She Was Found is a timely and gripping thriller about friendship and betrayal, about the power of social pressure and the price of needing to fit in. It is about the great lengths a parent will go to protect their child and keep them safe—even if that means burying the truth, no matter the cost.
Available at:
Audible | Google Play | Kobo | Apple Books | LibroFM | Chirp | Goodreads
The Library of Lost and Found by Phaedra Patrick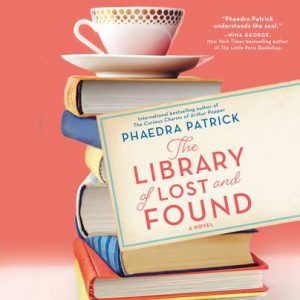 A librarian's discovery of a mysterious book sparks the journey of a lifetime in the delightful new novel from the international bestselling author of The Curious Charms of Arthur Pepper
Librarian Martha Storm has always found it easier to connect with books than people—though not for lack of trying. She keeps careful lists of how to help others in her superhero-themed notebook. And yet, sometimes it feels like she's invisible.
All of that changes when a book of fairy tales arrives on her doorstep. Inside, Martha finds a dedication written to her by her best friend—her grandmother Zelda—who died under mysterious circumstances years earlier. When Martha discovers a clue within the book that her grandmother may still be alive, she becomes determined to discover the truth. As she delves deeper into Zelda's past, she unwittingly reveals a family secret that will change her life forever.
Filled with Phaedra Patrick's signature charm and vivid characters, The Library of Lost and Found is a heartwarming and poignant tale of how one woman must take control of her destiny to write her own happy ending.
Available at:
Audible | Google Play | Kobo | Apple Books | LibroFM | Chirp | Goodreads
The Bookshop of Yesterdays by Amy Meyerson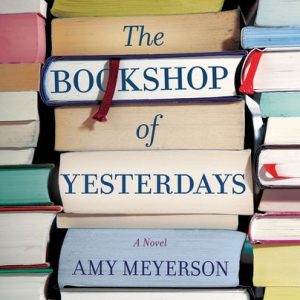 A woman inherits a beloved bookstore and sets forth on a journey of self-discovery in this poignant debut about family, forgiveness and a love of reading.
Miranda Brooks grew up in the stacks of her eccentric Uncle Billy's bookstore, solving the inventive scavenger hunts he created just for her. But on Miranda's twelfth birthday, Billy has a mysterious falling-out with her mother and suddenly disappears from Miranda's life. She doesn't hear from him again until sixteen years later when she receives unexpected news: Billy has died and left her Prospero Books, which is teetering on bankruptcy—and one final scavenger hunt.
When Miranda returns home to Los Angeles and to Prospero Books—now as its owner—she finds clues that Billy has hidden for her inside novels on the store's shelves, in locked drawers of his apartment upstairs, in the name of the store itself. Miranda becomes determined to save Prospero Books and to solve Billy's last scavenger hunt. She soon finds herself drawn into a journey where she meets people from Billy's past, people whose stories reveal a history that Miranda's mother has kept hidden—and the terrible secret that tore her family apart.
Bighearted and trenchantly observant, The Bookshop of Yesterdays is a lyrical story of family, love and the healing power of community. It's a love letter to reading and bookstores, and a testament to how our histories shape who we become.
Available at:
Audible | Google Play | Kobo | Apple Books | LibroFM | Chirp | Goodreads
What's the last audiobook you listened to? Let us know in the comments below!