Choosing a book for your next book club meeting can be tricky. We know how it is. Finding something that everyone will be interested in reading and discussing is no simple task. We've tried to make it a bit easier, though, by picking ten books we can't stop talking about! From a playful twist on science fiction to chilling suspense and even a book about our favorite 90's TV show Friends, we're sure at least one of these books will be winning your next group vote.
Followers by Megan Angelo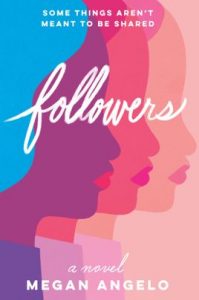 FOUR STARRED REVIEWS!
"If anyone is going to explore a future version of our high-tech, internet-obsessed culture, please let it be Megan Angelo. Followers is pure gold." —Abbi Jacobson, bestselling author and cocreator of Broad City
An electrifying story of two ambitious friends, the dark choices they make and the stunning moment that changes the world as we know it forever
Orla Cadden is a budding novelist stuck in a dead-end job, writing clickbait about movie-star hookups and influencer yoga moves. Then Orla meets Floss—a striving, wannabe A-lister—who comes up with a plan for launching them both into the high-profile lives they dream about. So what if Orla and Floss's methods are a little shady—and sometimes people get hurt? Their legions of followers can't be wrong.
Thirty-five years later, in a closed California village where government-appointed celebrities live every moment of the day on camera, a woman named Marlow discovers a shattering secret about her past. Despite her massive popularity—twelve million loyal followers—Marlow dreams of fleeing the corporate sponsors who would do anything to keep her on-screen. When she learns that her whole family history is based on a lie, Marlow finally summons the courage to run in search of the truth, no matter the risks.
Followers traces the paths of Orla, Floss and Marlow as they wind through time toward each other, and toward a cataclysmic event that sends America into lasting upheaval. At turns wry and tender, bleak and hopeful, this darkly funny story reminds us that even if we obsess over famous people we'll never meet, what we really crave is genuine human connection.
Available at:
Amazon | Barnes & Noble | Google Play | Kobo | Apple Books | Indiebound | Goodreads
The Girls with No Names by Serena Burdick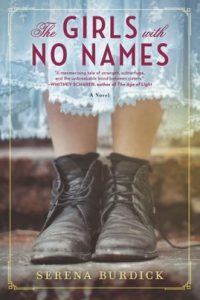 The Girls with No Names pulls readers into the gilded age of New York City in the 1910s, when suffragettes marched in the street, unions fought for better work conditions—and girls were confined to the House of Mercy for daring to break the rules.
Not far from Luella and Effie Tildon's large family mansion in Inwood looms the House of Mercy, a work house for wayward girls. The sisters grow up under its shadow with the understanding that even as wealthy young women, their freedoms come with limits. But when the sisters accidentally discover a shocking secret about their father, Luella, the brazen older sister, becomes emboldened to do as she pleases.
But her rebellion comes with consequences, and one morning Luella is mysteriously gone. Effie suspects her father has made good on his threat to send Luella to the House of Mercy and hatches a plan to get herself committed to save her sister. But she made a miscalculation, and with no one to believe her story, Effie's escape from the House of Mercy seems impossible—unless she can trust an enigmatic girl named Mable. As their fates entwine, Mable and Effie must rely on each other and their tenuous friendship to survive.
Home for Unwanted Girls meets The Dollhouse in this atmospheric, heartwarming story that explores not only the historical House of Mercy, but the lives—and secrets—of the girls who stayed there.
Available at:
Amazon | Barnes & Noble | Google Play | Kobo | Apple Books | Indiebound | Goodreads
One Night Gone by Tara Laskowski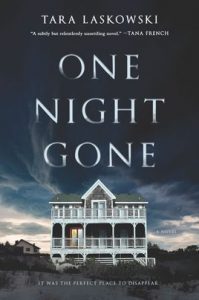 "A subtly but relentlessly unsettling novel." —Tana French, author of The Witch Elm
It was the perfect place to disappear…
One sultry summer, Maureen Haddaway arrives in the wealthy town of Opal Beach to start her life anew—to achieve her destiny. There, she finds herself lured by the promise of friendship, love, starry skies, and wild parties. But Maureen's new life just might be too good to be true, and before the summer is up, she vanishes.
Decades later, when Allison Simpson is offered the opportunity to house-sit in Opal Beach during the off-season, it seems like the perfect chance to begin fresh after a messy divorce. But when she becomes drawn into the mysterious disappearance of a girl thirty years before, Allison realizes the gorgeous homes of Opal Beach hide dark secrets. And the truth of that long-ago summer is not even the most shocking part of all…
"A heart-wrenching and suspenseful novel of betrayal and revenge. Stunning!"—Carol Goodman, award-winning author of The Night Visitors
"Featuring a brilliantly executed dual timeline with two unforgettable narrators, One Night Gone is a timely and timeless mystery that will keep you obsessively reading well past your bedtime."—Paul Tremblay, author of The Cabin at the End of the World
Available at:
Amazon | Barnes & Noble | Google Play | Kobo | Apple Books | Indiebound | Goodreads
Beautiful Bad by Annie Ward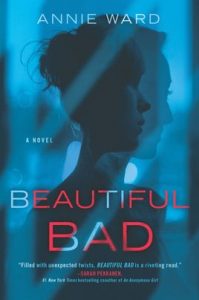 "Filled with unexpected twists, Beautiful Bad is a riveting read." —Sarah Pekkanen, #1 New York Times bestselling author of An Anonymous Girl
It seemed like such a beautiful marriage…
Maddie and Ian's love story began at a party overseas, while she was visiting her best friend, Jo. Now, almost two decades later, they are married with a beautiful son and living the perfect American life. But when a camping accident leaves Maddie badly scarred, she begins attending writing therapy, where she gradually reveals her fears about Ian, her concerns for her safety, and the couple's tangled and tumultuous past with Jo.
From the electric streets of the Balkans to a quiet suburb in Kansas, sixteen years of love and fear, adventure and suspicion, culminate in the Day of the Killing, when a frantic 911 call summons the police to the scene of a shocking crime. Twisty and utterly original, Beautiful Bad shows that appearances are deceptive and even the most seemingly perfect couples have something to hide.
Available at:
Amazon | Barnes & Noble | Google Play | Kobo | Apple Books | Indiebound | Goodreads
The Things We Cannot Say by Kelly Rimmer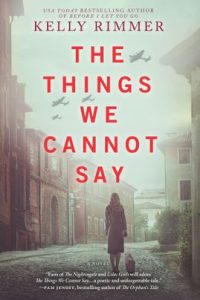 "Fans of The Nightingale and Lilac Girls will adore The Things We Cannot Say." —Pam Jenoff, New York Times bestselling author
In 1942, Europe remains in the relentless grip of war. Just beyond the tents of the Russian refugee camp she calls home, a young woman speaks her wedding vows. It's a decision that will alter her destiny…and it's a lie that will remain buried until the next century.
Since she was nine years old, Alina Dziak knew she would marry her best friend, Tomasz. Now fifteen and engaged, Alina is unconcerned by reports of Nazi soldiers at the Polish border, believing her neighbors that they pose no real threat, and dreams instead of the day Tomasz returns from college in Warsaw so they can be married. But little by little, injustice by brutal injustice, the Nazi occupation takes hold, and Alina's tiny rural village, its families, are divided by fear and hate.
Then, as the fabric of their lives is slowly picked apart, Tomasz disappears. Where Alina used to measure time between visits from her beloved, now she measures the spaces between hope and despair, waiting for word from Tomasz and avoiding the attentions of the soldiers who patrol her parents' farm. But for now, even deafening silence is preferable to grief.
Slipping between Nazi-occupied Poland and the frenetic pace of modern life, Kelly Rimmer creates an emotional and finely wrought narrative. The Things We Cannot Say is an unshakable reminder of the devastation when truth is silenced…and how it can take a lifetime to find our voice before we learn to trust it.
Available at:
Amazon | Barnes & Noble | Google Play | Kobo | Apple Books | Indiebound | Goodreads
I'll Be There For You by Kelsey Miller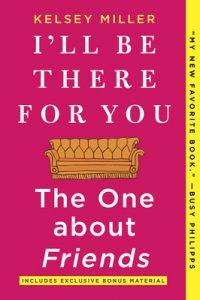 The definitive Friends history."—Entertainment Weekly
SIX FRIENDS THAT BECAME A FAMILY.
A TELEVISION SHOW THAT BECAME A PHENOMENON.
Today, Friends is remembered as an icon of '90s comedy and the Must See TV years. But when the series debuted in 1994, no one anticipated the sensation it would become. From the first wave of Friends mania to the backlash and renaissance that followed, the show maintained an uncanny connection to its audience, who saw it both as a reflection of their own lives and an aspirational escape from reality. In the years since, Friends has evolved from prime-time megahit to nostalgic novelty, and finally, to certified classic. Ross, Rachel, Monica, Chandler, Joey and Phoebe have entered the pantheon of great television characters, and yet their stories remain relevant still.
I'll Be There for You is a deep dive into Friends history and lore, exploring all aspects of the show, from its unlikely origins to the societal conditions that amplified its success. Journalist and pop culture expert Kelsey Miller relives the show's most powerful moments, sheds light on its sometimes dated and problematic elements, and examines the worldwide trends that Friends catalyzed, from contemporary coffee culture to the wildly popular '90s haircut The Rachel. Taking readers behind the scenes, Miller traces the cast's rise to fame and untangles the complex relationship between the actors and their characters. Weaving in revelatory interviews and personal stories, she investigates the role of celebrity media, world-changing events and the dawning of the digital age—all of which influenced both the series and its viewers.
I'll Be There for You is the definitive retrospective of Friends, not only for fans of the series, but for anyone who's ever wondered what it is about this show—and television comedy—that resonates so powerfully.
Available at:
Amazon | Barnes & Noble | Google Play | Kobo | Apple Books | Indiebound | Goodreads
Husband Material by Emily Belden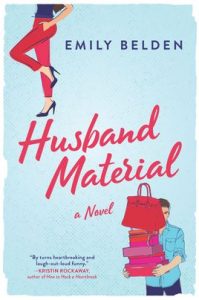 "By turns heartbreaking and laugh-out-loud funny."—Kristin Rockaway, author of How To Hack a Heartbreak
"Sensitive, thoughtful, and touching." —Library Journal
A young widow must face the grief she's always set aside when an unexpected delivery throws her life into disarray
Twenty-nine-year-old Charlotte Rosen has a secret: she's a widow. Ever since the fateful day that leveled her world, Charlotte has worked hard to move forward. Great job at a hot social media analytics company? Check. Roommate with no knowledge of her past? Check. Adorable dog? Check. All the while, she's faithfully data-crunched her way through life, calculating the probability of risk—so she can avoid it.
Yet Charlotte's algorithms could never have predicted that her late husband's ashes would land squarely on her doorstep five years later. Stunned but determined, Charlotte sets out to find meaning in this sudden twist of fate, even if that includes facing her perfectly coiffed, and perfectly difficult, ex-mother-in-law—and her husband's best friend, who seems to become a fixture at her side whether she likes it or not.
But when her quest reveals a shocking secret, Charlotte is forced to answer questions she never knew to ask and to consider the possibility of forgiveness. And when a chance at a new life arises, she'll have to decide once and for all whether to follow the numbers or trust her heart.
Available at:
Amazon | Barnes & Noble | Google Play | Kobo | Apple Books | Indiebound | Goodreads
Home Front Girls by Suzanne Hayes and Loretta Nyhan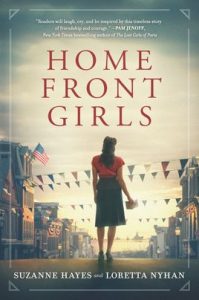 Dear Glory,
Loneliness is built into the fabric of this war, isn't it? I say a little prayer before I stick my hand in the mailbox. The "Rockport, Massachusetts" stamp on the front of an envelope means the clouds will part, revealing a brilliant sun….
It's January 1943 when Rita Vincenzo receives her first letter from Glory Whitehall. Glory is an effervescent young mother from New England, impulsive and free as a bird. Rita is a Midwestern professor's wife with a love of gardening and a generous, old soul. These two women have nothing in common except one powerful bond: the men they love are fighting in a war a world away from home.
Brought together by an unlikely twist of fate, Glory and Rita begin a remarkable correspondence. The friendship forged by their letters allows them to survive the loneliness and uncertainty of waiting on the home front, and gives them the courage to face the battles raging in their very own backyards. Connected across the country by the lifeline of the written word, each woman finds her life profoundly altered by the other's unwavering support.
Filled with unforgettable characters and unbridled charm, Home Front Girls is a timeless celebration of the strength and solidarity of women. It is a luminous reminder that even in the darkest of times, true friendship will carry us through.
Previously published as I'll Be Seeing You.
Available at:
Amazon | Barnes & Noble | Google Play | Kobo | Apple Books | Indiebound | Goodreads
The Ambassador's Daughter by Pam Jenoff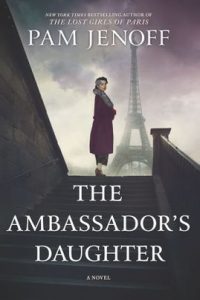 From the New York Times bestselling author of The Lost Girls of Paris.
For one woman in the aftermath of World War I, the City of Light harbors dark secrets and dangerous liaisons.
Paris, 1919. Margot Rosenthal has arrived in France with her father, a German diplomat. She initially resents being trapped in the congested capital, where she is still considered the enemy. But as she contemplates returning to Berlin and a life she hardly knows anymore, she decides that being in Paris is not so bad after all.
Bored and torn between duty and the desire to be free, Margot strikes up unlikely alliances: with Krysia, an accomplished musician with radical acquaintances and a secret to protect; and with Georg, a naval officer who gives Margot a job—and a reason to question everything she thought she knew about where her true loyalties should lie.
Against the backdrop of one of the most significant events of the century, a delicate web of lies obscures the line between the casualties of war and of the heart, making trust a luxury that no one can afford.
Available at:
Amazon | Barnes & Noble | Google Play | Kobo | Apple Books | Indiebound | Goodreads
Virgin River by Robyn Carr
A Netflix Original Series!
Welcome back to Virgin River with the book that started it all…
Wanted: Midwife/nurse practitioner in Virgin River, population six hundred. Make a difference against a backdrop of towering California redwoods and crystal clear rivers. Rent-free cabin included.
When the recently widowed Melinda Monroe sees this ad, she quickly decides that the remote mountain town of Virgin River might be the perfect place to escape her heartache, and to reenergize the nursing career she loves. But her high hopes are dashed within an hour of arriving—the cabin is a dump, the roads are treacherous and the local doctor wants nothing to do with her. Realizing she's made a huge mistake, Mel decides to leave town the following morning.
But a tiny baby abandoned on a front porch changes her plans…and former marine Jack Sheridan cements them into place.
Available at:
Amazon | Barnes & Noble | Google Play | Kobo | Apple Books | Indiebound | Goodreads
Have you read any of these books? Let us know what one you loved or think you'll love below!