As a reader, there's nothing quite like immersing yourself in history from the comfort of your own home. From espionage, to heroism, to heart wrenching stories, these historical books have it all. Whether it's historical fiction, or non-fiction that reads like fiction, these ten books will have you at the edge of your seat!
Code Name Sapphire by Pam Jenoff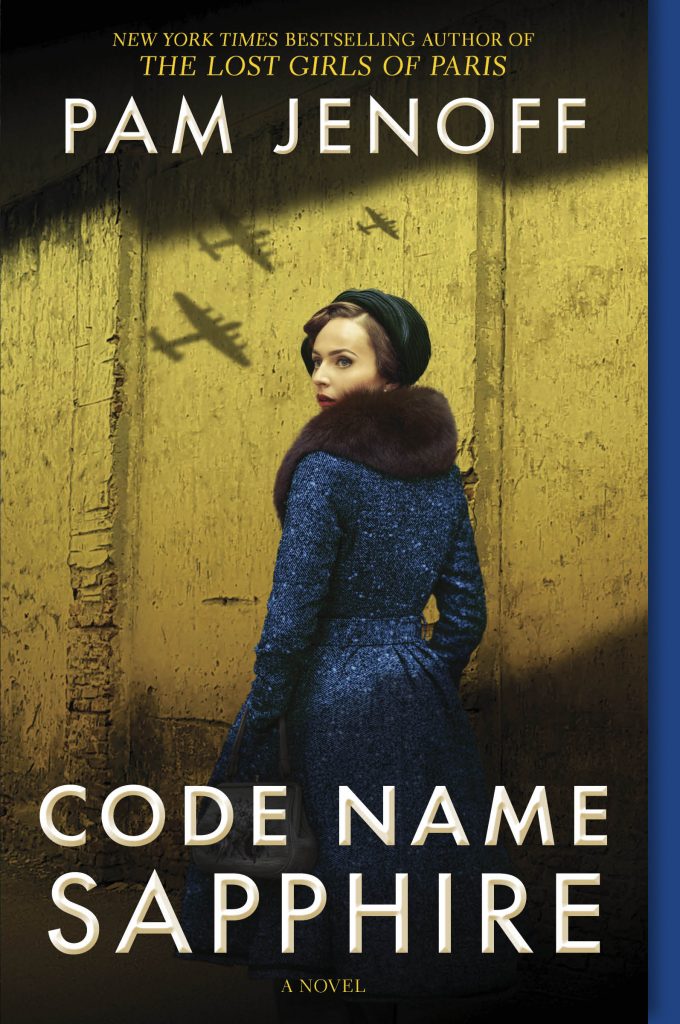 A woman must rescue her cousin's family from a train bound for Auschwitz in this riveting tale of bravery and resistance during World War II
1942. Hannah Martel has narrowly escaped Nazi Germany after her fiancé was killed in a pogrom. When her ship bound for America is turned away at port, she has nowhere to go but to her cousin Lily, who lives with her family in Brussels. Fearful for her life, Hannah is desperate to get out of occupied Europe. But with no safe way to leave, she must return to the dangerous underground work she thought she had left behind.
Seeking help, Hannah joins the Sapphire Line, a secret resistance network led by a mysterious woman named Micheline and her enigmatic brother Mateo. But when a grave mistake causes Lily's family to be arrested and slated for deportation to Auschwitz, Hannah finds herself torn between her loyalties. How much is Hannah willing to sacrifice to save the people she loves? Inspired by incredible true stories of courage and sacrifice, Code Name Sapphire is a powerful novel about love, family and the unshakable resilience of women in even the hardest of times.
Available February 7, 2023:
Amazon | Barnes & Noble | Google Play | Kobo | Apple Books | Indiebound | Indigo | Audible | Goodreads
The Color Storm by Damian Dibben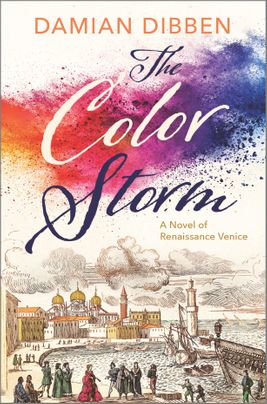 Enter the world of Renaissance Venice, where the competition for fame and fortune can mean life or death…
Artists flock here, not just for wealth and fame, but for revolutionary color. Yet artist Giorgione "Zorzo" Barbarelli's career hangs in the balance. Competition is fierce, and his debts are piling up. When Zorzo hears a rumor of a mysterious new pigment, brought to Venice by the richest man in Europe, he sets out to acquire the color and secure his name in history.
Winning a commission to paint a portrait of the man's wife, Sybille, Zorzo thinks he has found a way into the merchant's favor. Instead he finds himself caught up in a conspiracy that stretches across Europe and a marriage coming apart inside one of the floating city's most illustrious palazzi.
As the water levels rise and the plague creeps ever closer, an increasingly desperate Zorzo isn't sure whom he can trust. Will Sybille prove to be the key to Zorzo's success or the reason for his downfall?
Atmospheric and suspenseful and filled with the famous artists of the era, The Color Storm is an intoxicating story of art and ambition, love and obsession.
Available at:
Amazon | Barnes & Noble | Google Play | Kobo | Apple Books | Indiebound | Indigo | Audible | Goodreads
The Codebreaker's Secret by Sara Ackerman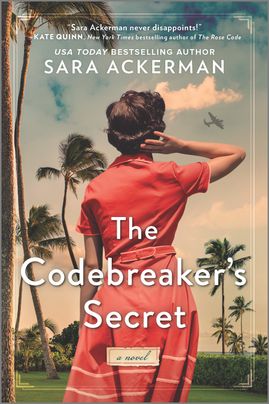 A brilliant female codebreaker. An "unbreakable" Japanese naval code. A pilot on a top-secret mission that could change the course of WWII. The Codebreaker's Secret is a dazzling story of love and intrigue set during America's darkest hour.
1943. As war in the Pacific rages on, Isabel Cooper and her codebreaker colleagues huddle in "the dungeon" at Station HYPO in Pearl Harbor, deciphering secrets plucked from the airwaves in a race to bring down the enemy. Isabel has only one wish: to avenge her brother's death. But she soon finds life has other plans when she meets his best friend, a hotshot pilot with secrets of his own.
1965. Fledgling journalist Lu Freitas comes home to Hawai'i to cover the grand opening of the glamorous Mauna Kea Beach Hotel, Rockefeller's newest and grandest project. When a high-profile guest goes missing, Lu forms an unlikely alliance with an intimidating veteran photographer to unravel the mystery. The two make a shocking discovery that stirs up memories and uncovers an explosive secret from the war days. A secret that only a codebreaker can crack.
Available at:
Amazon | Barnes & Noble | Google Play | Kobo | Apple Books | Indiebound | Indigo | Audible | Goodreads
Angels of the Resistance by Noelle Salazar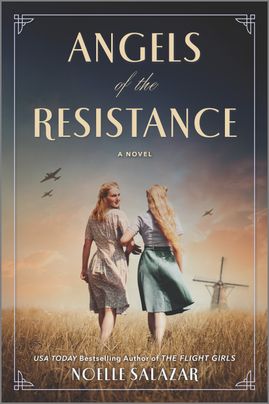 From the bestselling author of The Flight Girls comes another World War II story inspired by true events, about courageous women who risked everything for country, for family, and for each other.
Netherlands, 1940
As bombs fall across Europe, fourteen-year-old Lien Vinke fears that the reality of war is inescapable. Though she lives a quiet life with her mother and older sister, Elif, in their small town of Haarlem, they are no strangers to heartache, having recently suffered an immeasurable loss. And when the Nazis invade the Netherlands, joining the Dutch resistance with Elif offers just the atonement Lien craves.
Trained to shoot by their late father, the sisters are deadly wolves in sheep's clothing. They soon find themselves entrenched in the underground movement, forging friendships with the other young recruits, and Lien even discovers a kindred spirit in a boy named Charlie. But in wartime, emotional attachments are a liability she can't afford, especially when a deeply personal mission jeopardizes everything she holds dear—her friendships, her family, and her one shot at redemption.
Available November 29, 2022:
Amazon | Barnes & Noble | Google Play | Kobo | Apple Books | Indiebound | Indigo | Audible | Goodreads
The German Wife by Kelly Rimmer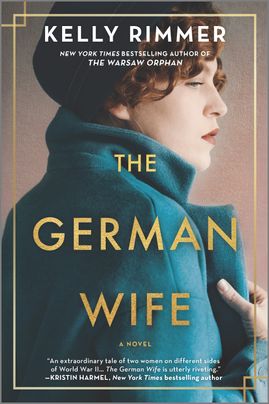 "Skillfully researched and powerfully written, The German Wife will capture you from the first page." —Madeline Martin, New York Times bestselling author of The Last Bookshop in London
The New York Times bestselling author of The Warsaw Orphan returns with a gripping novel inspired by the true story of Operation Paperclip: a controversial secret US intelligence program that employed former Nazis after WWII.
Berlin, 1930—When a wave of change sweeps a radical political party to power, Sofie von Meyer Rhodes's academic husband benefits from the ambitions of its newly elected chancellor. Although Sofie and Jürgen do not share the social views growing popular in Hitler's Germany, Jürgen's position with its burgeoning rocket program changes their diminishing fortunes for the better. But as Sofie watches helplessly, her beloved Berlin begins to transform, forcing her to consider what they must sacrifice morally for their young family's security, and what the price for their neutrality will be.
Twenty years later, Jürgen is one of the many German scientists offered pardons for their part in the war, and taken to America to work for its fledgling space program. For Sofie, this is the chance to exorcise the ghosts that have followed her across the ocean, and make a fresh start in her adopted country. But her neighbors aren't as welcoming or as understanding as she had hoped. When scandalous rumors about the Rhodes family's affiliation with Hitler's regime spreads, idle gossip turns to bitter rage, and the act of violence that results will tear apart Sofie's community and her family before the truth is finally revealed.
"An unforgettable novel that explores important questions highly relevant to the world today." —Christine Wells, author of Sisters of the Resistance
Available at:
Amazon | Barnes & Noble | Google Play | Kobo | Apple Books | Indiebound | Indigo | Audible | Goodreads
The Thread Collectors by Shaunna J. Edwards, Alyson Richman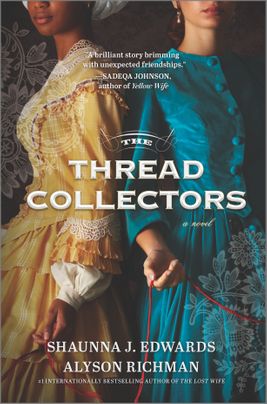 1863: In a small Creole cottage in New Orleans, an ingenious young Black woman named Stella embroiders intricate maps on repurposed cloth to help enslaved men flee and join the Union Army. Bound to a man who would kill her if he knew of her clandestine activities, Stella has to hide not only her efforts but her love for William, a Black soldier and a brilliant musician.
Meanwhile, in New York City, a Jewish woman stitches a quilt for her husband, who is stationed in Louisiana with the Union Army. Between abolitionist meetings, Lily rolls bandages and crafts quilts with her sewing circle for other soldiers, too, hoping for their safe return home. But when months go by without word from her husband, Lily resolves to make the perilous journey South to search for him.
As these two women risk everything for love and freedom during the brutal Civil War, their paths converge in New Orleans, where an unexpected encounter leads them to discover that even the most delicate threads have the capacity to save us. Loosely inspired by the authors' family histories, this stunning novel will stay with readers for a long time.
Available at:
Amazon | Barnes & Noble | Google Play | Kobo | Apple Books | Indiebound | Indigo | Audible | Goodreads
The Librarian Spy by Madeline Martin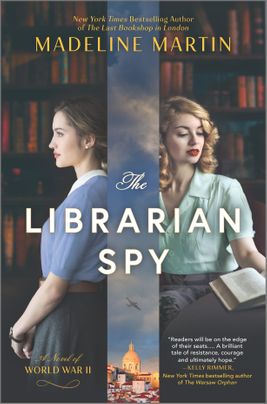 From the New York Times bestselling author of The Last Bookshop in London comes a moving new novel inspired by the true history of America's library spies of World War II.
Ava thought her job as a librarian at the Library of Congress would mean a quiet, routine existence. But an unexpected offer from the US military has brought her to Lisbon with a new mission: posing as a librarian while working undercover as a spy gathering intelligence.
Meanwhile, in occupied France, Elaine has begun an apprenticeship at a printing press run by members of the Resistance. It's a job usually reserved for men, but in the war, those rules have been forgotten. Yet she knows that the Nazis are searching for the press and its printer in order to silence them.
As the battle in Europe rages, Ava and Elaine find themselves connecting through coded messages and discovering hope in the face of war.
Available at:
Amazon | Barnes & Noble | Google Play | Kobo | Apple Books | Indiebound | Indigo | Audible | Goodreads
The Daughter of Auschwitz by Tova Friedman, Malcolm Brabant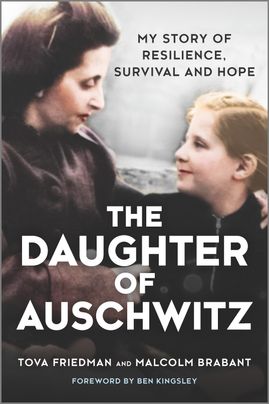 WITH A FOREWORD BY SIR BEN KINGSLEY
A powerful memoir by one of the youngest survivors of Auschwitz, Tova Friedman, following her childhood growing up during the Holocaust and surviving a string of near-death experiences in a Jewish ghetto, a Nazi labor camp, and Auschwitz.
"I am a survivor. That comes with a survivor's obligation to represent one and a half million Jewish children murdered by the Nazis. They cannot speak. So I must speak on their behalf."
Tova Friedman was one of the youngest people to emerge from Auschwitz. After surviving the liquidation of the Jewish ghetto in Central Poland where she lived as a toddler, Tova was four when she and her parents were sent to a Nazi labour camp, and almost six when she and her mother were forced into a packed cattle truck and sent to Auschwitz II, also known as the Birkenau extermination camp, while her father was transported to Dachau.
During six months of incarceration in Birkenau, Tova witnessed atrocities that she could never forget, and experienced numerous escapes from death. She is one of a handful of Jews to have entered a gas chamber and lived to tell the tale.
As Nazi killing squads roamed Birkenau before abandoning the camp in January 1945, Tova and her mother hid among corpses. After being liberated by the Russians they made their way back to their hometown in Poland. Eventually Tova's father tracked them down and the family was reunited.
In The Daughter of Auschwitz, Tova immortalizes what she saw, to keep the story of the Holocaust alive, at a time when it's in danger of fading from memory. She has used those memories that have shaped her life to honour the victims. Written with award-winning former war reporter Malcolm Brabant, this is an extremely important book. Brabant's meticulous research has helped Tova recall her experiences in searing detail. Together they have painstakingly recreated Tova's extraordinary story about the world's worst ever crime.
Available at:
Amazon | Barnes & Noble | Google Play | Kobo | Apple Books | Indiebound | Indigo | Audible | Goodreads
The Lipstick Bureau by Michelle Gable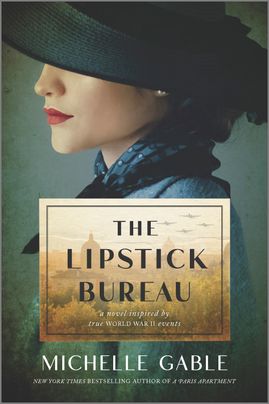 Inspired by a real-life female spy, a WWII-set novel about a woman challenging convention and boundaries to help win a war, no matter the cost.
"A gripping, fascinating read." —Kelly Rimmer, New York Times bestselling author of The Warsaw Orphan
1944, Rome. Newlywed Niki Novotná is recruited by a new American spy agency to establish a secret branch in Italy's capital. One of the OSS's few female operatives abroad and multilingual, she's tasked with crafting fake stories and distributing propaganda to lower the morale of enemy soldiers.
Despite limited resources, Niki and a scrappy team of artists, forgers and others—now nicknamed The Lipstick Bureau—find success, forming a bond amid the cobblestoned streets and storied villas of the newly liberated city. But her work is also a way to escape devastating truths about the family she left behind in Czechoslovakia and a future with her controlling American husband.
As the war drags on and the pressure intensifies, Niki begins to question the rules she's been instructed to follow, and a colleague unexpectedly captures her heart. But one step out of line, one mistake, could mean life or death…
Available December 27, 2022:
Amazon | Barnes & Noble | Google Play | Kobo | Apple Books | Indiebound | Indigo | Audible | Goodreads
Code Name Blue Wren by Jim Popkin
The incredible true story of Ana Montes, the most damaging female spy in US history, drawing upon never-before-seen material and to be published upon her release from prison, for readers of Agent Sonya and A Woman of No Importance.
Just days after the 9-11 attacks, a senior Pentagon analyst eased her red Toyota Echo into traffic and headed to work. She never saw the undercover cars tracking her every turn. As she settled into her cubicle on the 6th floor of the Defense Intelligence Agency in Washington, FBI Agents and twitchy DIA officers were hiding in nearby offices. For this was the day that Ana Montes–the US Intelligence Community superstar who had just won a prestigious fellowship at the CIA–was to be arrested and publicly exposed as a secret agent for Cuba.
Like spies Aldrich Ames and Robert Hanssen before her, Ana Montes blindsided her colleagues with brazen acts of treason. For nearly 17 years, Montes succeeded in two high-stress jobs. By day, she was one of the government's top Cuba experts, a buttoned-down GS-14 with shockingly easy access to classified documents. By night, she was on the clock for Fidel Castro, listening to coded messages over shortwave radio, passing US secrets to handlers in local restaurants, and slipping into Havana wearing a wig.
Montes didn't just deceive her country. Her betrayal was intensely personal. Her mercurial father was a former US Army Colonel. Her brother and sister-in-law were FBI Special Agents. And her only sister, Lucy, also worked her entire career for the Bureau. The highlight of her distinguished 31 years as a Miami-based language specialist: Helping the FBI flush Cuban spies out of the United States. Little did Lucy or her family know that the greatest Cuban spy of all was sitting right next to them at Thanksgivings, baptisms, and weddings.
In Code Name Blue Wren, investigative journalist Jim Popkin weaves the tale of two sisters who chose two very different paths, plus the unsung heroes who had to fight to bring Ana to justice. With exclusive access to a "Secret" CIA behavioral profile of Ana, family memoirs, and Ana's incriminating letters from prison, Popkin reveals the making of a traitor—a woman labelled "one of the most damaging spies in U.S. history" by America's top counter-intelligence official.
After more than two decades in federal prison, Montes will be freed in January 2023. Code Name Blue Wren is a thrilling detective tale, an insider's look at the clandestine world of espionage, and an intimate exploration of the dark side of betrayal.
Available January 3, 2023:
Amazon | Barnes & Noble | Google Play | Kobo | Apple Books | Indiebound | Indigo | Audible | Goodreads
The Last of the Seven by Steven Hartov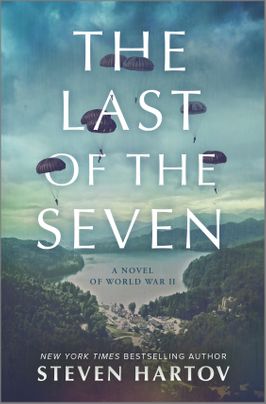 A spellbinding novel of World War II based on the little-known history of the X Troop—a team of European Jews who escaped the Continent only to join the British Army and return home to exact their revenge on Hitler's military.
A lone soldier wearing a German uniform stumbles into a British military camp in the North African desert with an incredible story to tell. He is the only survivor of an undercover operation meant to infiltrate a Nazi base, trading on the soldiers' perfect fluency in German. However, this man is not British-born but instead a German Jew seeking revenge for the deaths of his family back home in Berlin.
As the Allies advance into Europe, the young lieutenant is brought to recover in Sicily. There he is recruited by a British major to join the newly formed X Troop, a commando unit composed of German and Austrian Jews training for a top secret mission at a nearby camp in the Sicilian hills. They are all "lost boys," driven not by patriotism but by vengeance.
Drawing on meticulous research into this unique group of soldiers, The Last of the Seven is a lyrical, propulsive historical novel perfect for readers of Mark Sullivan, Robert Harris and Alan Furst.
Available at:
Amazon | Barnes & Noble | Google Play | Kobo | Apple Books | Indiebound | Indigo | Audible | Goodreads