Are we the only ones feeling a little stressy lately? If so, follow our lead and lose yourself in these swoony, steamy, and so dreamy romance and rom-com reads! I know we are loving all the hype these reads are getting and we completely know why! We've binged all of these and have added all of them to our TBR to be read again and again and again 😍.
The Love Scribe by Amy Meyerson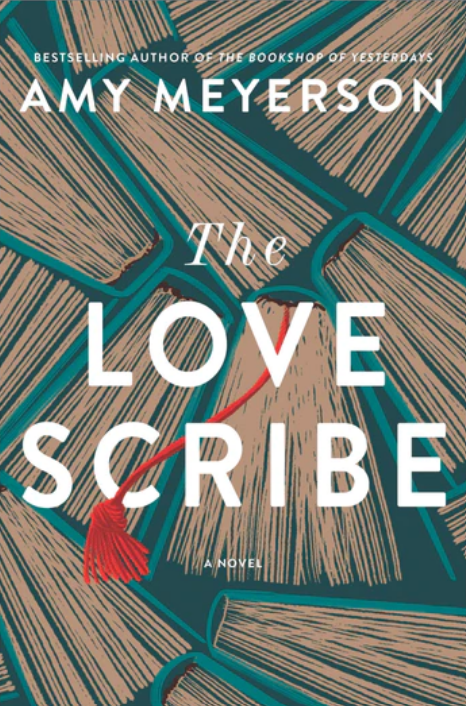 When Alice's best friend, Gabby, is reeling from a breakup, Alice writes her a heartfelt story to cheer her up. While reading it in a café, Gabby, as if by magic, meets the man of her dreams. Thinking the story might have some special power to it, Gabby shares it with her sister and other friends, who all find instant love. Word of mouth spreads, and Alice stumbles upon a new calling—to be a love scribe.
But not all the love stories she writes unfold as expected. And while Alice tries to harness her extraordinary gift, she is summoned to a mansion in the woods where she encounters the reclusive Madeline Alger and her mysterious library. As Alice struggles to write a story for Madeline, her most challenging assignment yet, she's forced to confront her own guarded heart. Because maybe—just maybe—there's a love story waiting to be written for her, too.
Emotional, deeply imaginative and brimming with valuable life lessons, The Love Scribe explores love, fate and the power of stories when we choose to believe in them.
Available at:
Amazon | Barnes & Noble | Google Play | Kobo | Apple Books | Indiebound | Indigo | Audible |Goodreads
The Boyfriend Candidate by Ashley Winstead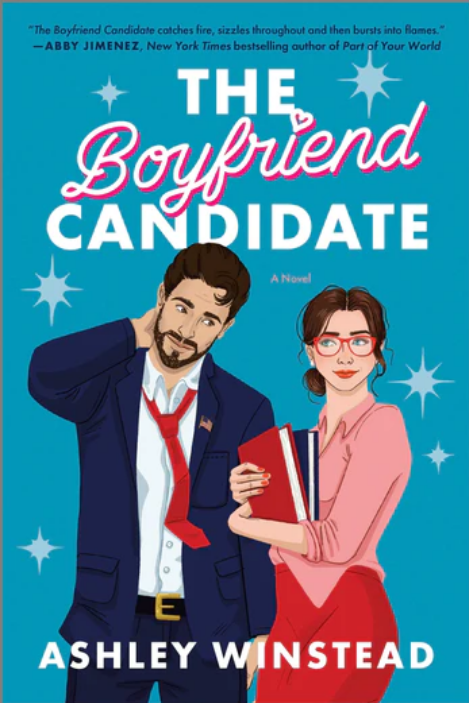 A laugh-out-loud rom-com about learning to embrace living outside your comfort zone.
As a shy school librarian, Alexis Stone is comfortable keeping out of the spotlight. But when she's dumped for being too meek—in bed!—she decides she needs to change. And what better way to kick-start her new more adventurous life than with her first one-night stand?
Enter Logan, the gorgeous, foul-mouthed stranger she meets at a hotel bar. Audacious and filterless, Logan is Alexis's opposite—and boy, do opposites attract! Just as she's about to fulfill her hookup wish, the hotel catches fire in a freak lightning storm. In their rush to escape, Logan is discovered carrying her into the street, where people are waiting with cameras. Cameras Logan promptly—and shockingly—flees.
Alexis is bewildered until suddenly pictures of her and Logan escaping the fire are all over the internet. Turns out Logan is none other than Logan Arthur, the hotshot candidate challenging the Texas governor's seat. The salacious scandal is poised to sink his career—and jeopardize Alexis's job—until a solution is proposed: he and Alexis could pretend to be in a relationship until election day…in two months. What could possibly go wrong?
Available May 9, 2023:
Amazon | Barnes & Noble | Google Play | Kobo | Apple Books | Indiebound | Indigo | Audible | Goodreads
Ciao For Now by Kate Bromley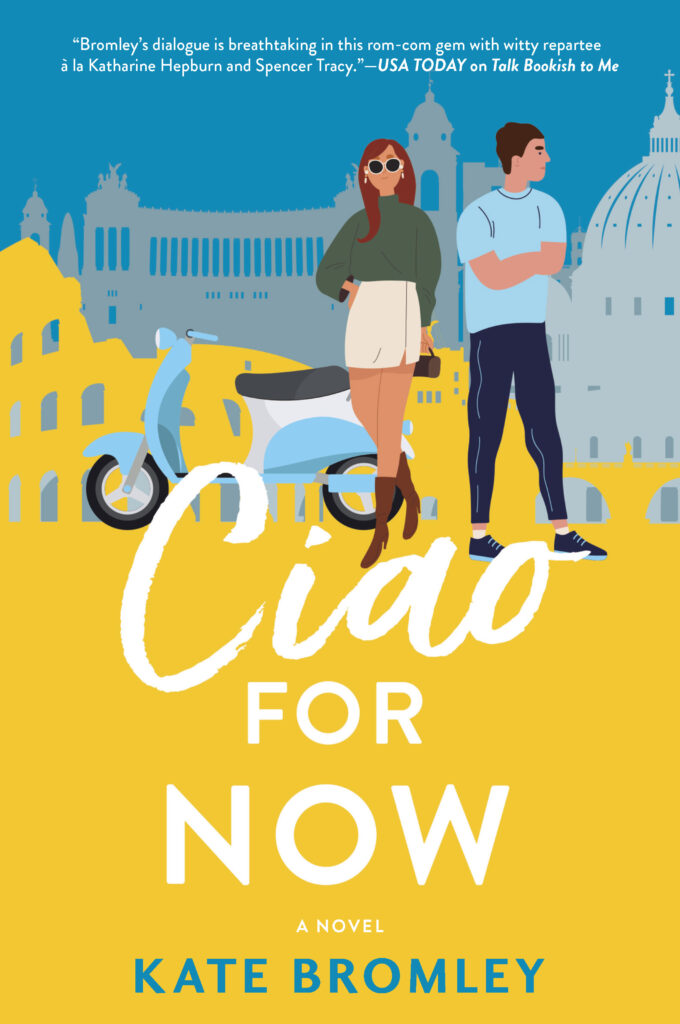 When an American interning at a fashion house in Rome butts heads with her professor's surly son, sparks fly!
With her thirties rapidly approaching and a mountain of student debt looming over her, Violet Luciano's dream of finishing design school and working in fashion has cost her everything. So when she lands an internship at an up-and-coming fashion brand in Rome, she brings her A game to Italy. With nothing left to lose, Violet plans to win the competition among the interns for the ultimate prize—a job at a New York label.
But when a coffee run goes wrong and Violet accidentally destroys a stranger's laptop, all of the apology Americanos in the world won't help her. Because it turns out that the man from the café is Matteo, her professor's eternally grumpy son, who thinks she's a clumsy American…and maybe a stalker. Their animosity (and undeniable chemistry) grows as together they're forced to face a summer of chic parties, adventures through Rome and sharing a home…with the person they can't stand the most.
The more time she spends with him, the more distracted she finds herself. With her chance to win the competition slipping out of her grasp, Violet has to decide whether to say ciao to Matteo—or ciao to her dreams.
Available June 6, 2023:
Amazon | Barnes & Noble | Google Play | Kobo | Apple Books | Indiebound | Indigo | Audible | Goodreads
The Roommate Pact by Allison Ashley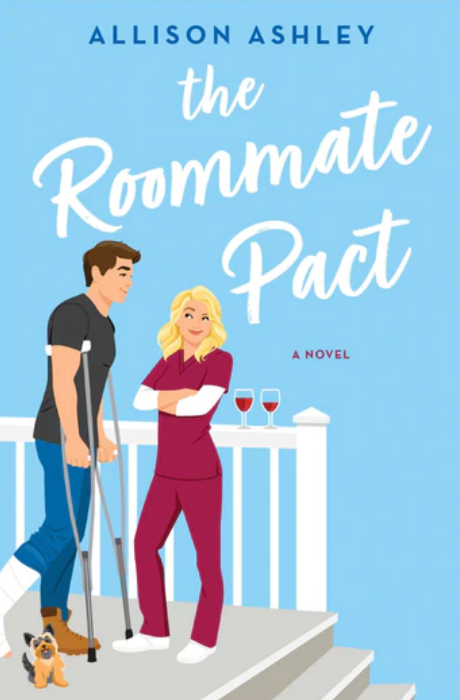 All of the fun, none of the heartache…as long as they stick to the agreement.
The proposition is simple: if ER nurse Claire Harper and her roommate, firefighter Graham Scott, are still single by the time they're forty, they'll take the proverbial plunge together…as friends with benefits. Maybe it's the wine, but in the moment, Claire figures the pact is a safe-enough deal, considering she hasn't had much luck in love and he's in no rush to settle down. Like, at all. Besides, there's no way she could ever really fall for Graham and his thrill-seeking ways. Not after what happened to her father…
Just as things begin to heat up way before the proposed deadline, Graham's injured in a serious rock climbing accident—and he needs Claire's help to heal. She'll do whatever it takes to nurse him back to health…even if it means moving in to Graham's bed and putting up with his little dog, who hates her. But with this no-strings arrangement taking a complicated turn, keeping "for now" from turning into "forever" isn't as easy as they'd planned.
Available August 1, 2023:
Amazon | Barnes & Noble | Google Play | Kobo | Apple Books | Indiebound | Indigo | Audible | Goodreads
Kissing Kosher by Jean Meltzer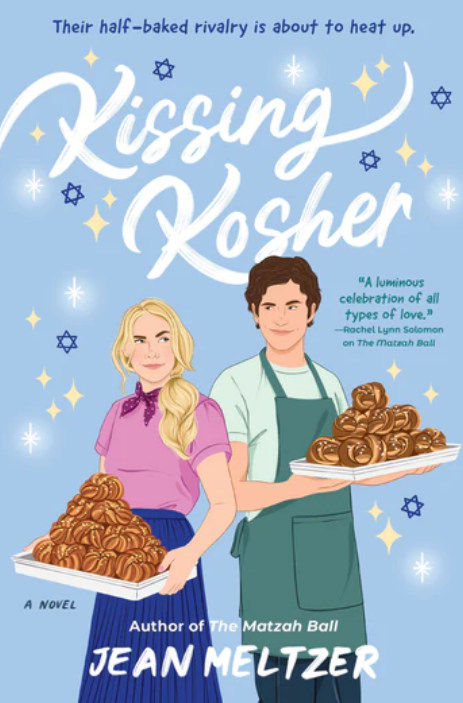 Step 1: Get the secret recipe. Step 2: Don't fall in love…
Avital Cohen isn't wearing underpants—woefully, for unsexy reasons. Chronic pelvic pain has forced her to sideline her photography dreams and her love life. It's all she can do to manage her family's kosher bakery, Best Babka in Brooklyn, without collapsing.
She needs hired help.
And distractingly handsome Ethan Lippmann seems the perfect fit.
Except Ethan isn't there to work—he's undercover, at the behest of his ironfisted grandfather. Though Lippmann's is a household name when it comes to mass-produced kosher baked goods, they don't have the charm of Avital's bakery. Or her grandfather's world-famous pumpkin spice babka recipe.
As they bake side by side, Ethan soon finds himself more interested in Avital than in stealing family secrets, especially as he helps her find the chronic pain relief—and pleasure—she's been missing.
But perfecting the recipe for romance calls for leaving out the lies…even if coming clean means risking everything.
Available August 29, 2023:
Amazon | Barnes & Noble | Google Play | Kobo | Apple Books | Indiebound | Indigo | Audible | Goodreads
End of Story by Kylie Scott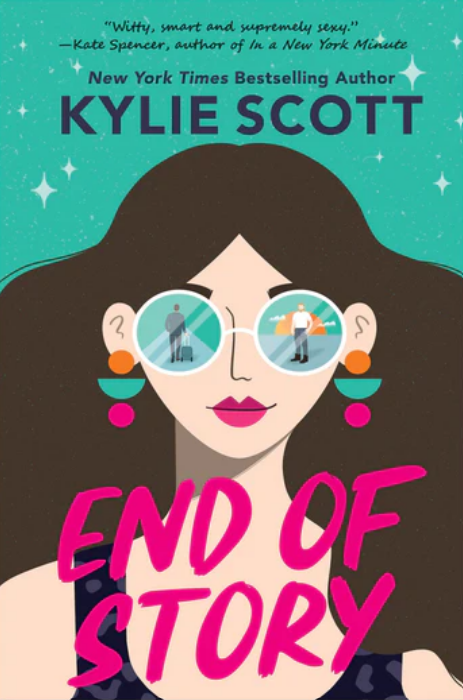 New York Times bestselling sensation Kylie Scott's sexy, smart and unconventional opposites-attract love story looks at what happens when fate refuses to give up on what's meant to be…
When Susie Bowen inherits a charming fixer-upper from her aunt, she's excited to start living her best HGTV life. But when she opens the door to find that her contractor is none other than her ex's best friend, Lars—the same man who witnessed their humiliating public breakup six months ago—she isn't exactly eager to have anyone around whose alliance is with the enemy. But beggars can't be choosers, and the sooner the repairs are done, the sooner she can get back to embracing singledom.
Things go from awkward to unbelievable when Lars discovers a divorce certificate hidden in a wall and dated ten years in the future—with both their names on it. It couldn't possibly be real…could it? As Susie and Lars work to unravel the document's origins, the impossibility of a spark between them suddenly doesn't seem so far-fetched. But would a relationship between them be doomed before it's even begun?
Available at:
Amazon | Barnes & Noble | Google Play | Kobo | Apple Books | Indiebound | Indigo | Audible | Goodreads
Zora Books Her Happy Ever After by Taj McCoy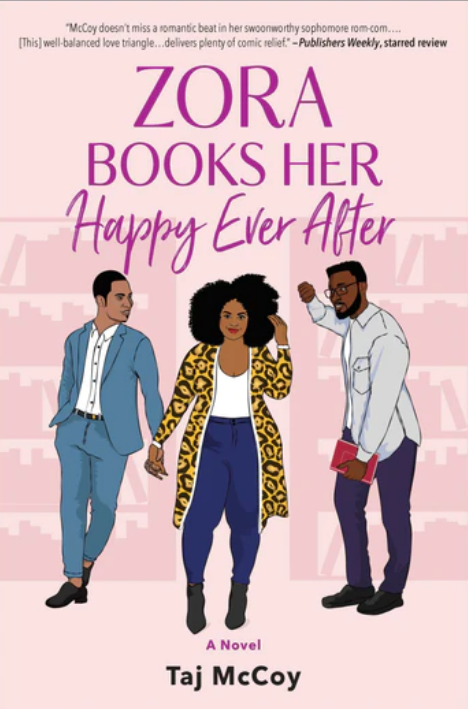 A heart-pounding, curvy romance about an indie bookstore owner who finds herself in a love triangle when she meets the author she's had a crush on for years…and his best friend.
Zora has committed every inch of her life to establishing her thriving DC bookstore, making it into a pillar of the community, and she just hasn't had time for romance. But when a mystery author she's been crushing on for years agrees to have an event at her store, she starts to rethink her priorities. Lawrence is every bit as charming as she imagined, even if his understanding of his own books seems just a bit shallow. When he asks her out after his reading, she's almost elated enough to forget about the grumpy guy who sat next to her making snide comments all evening. Apparently the grouch is Lawrence's best friend, Reid, but she can't imagine what kind of friendship that must be. They couldn't be more different.
But as she starts seeing Lawrence, and spending more and more time with Reid, Zora finds first impressions can be deceiving. Reid is smart and thoughtful—he's also interested. After years of avoiding dating, she suddenly has two handsome men competing for her affection. But even as she struggles to choose between them, she can't shake the feeling that they're both hiding something—a mystery she's determined to solve before she can find her HEA.
Available at:
Amazon | Barnes & Noble | Google Play | Kobo | Apple Books | Indiebound | Indigo | Audible | Goodreads
Would You Rather by Allison Ashley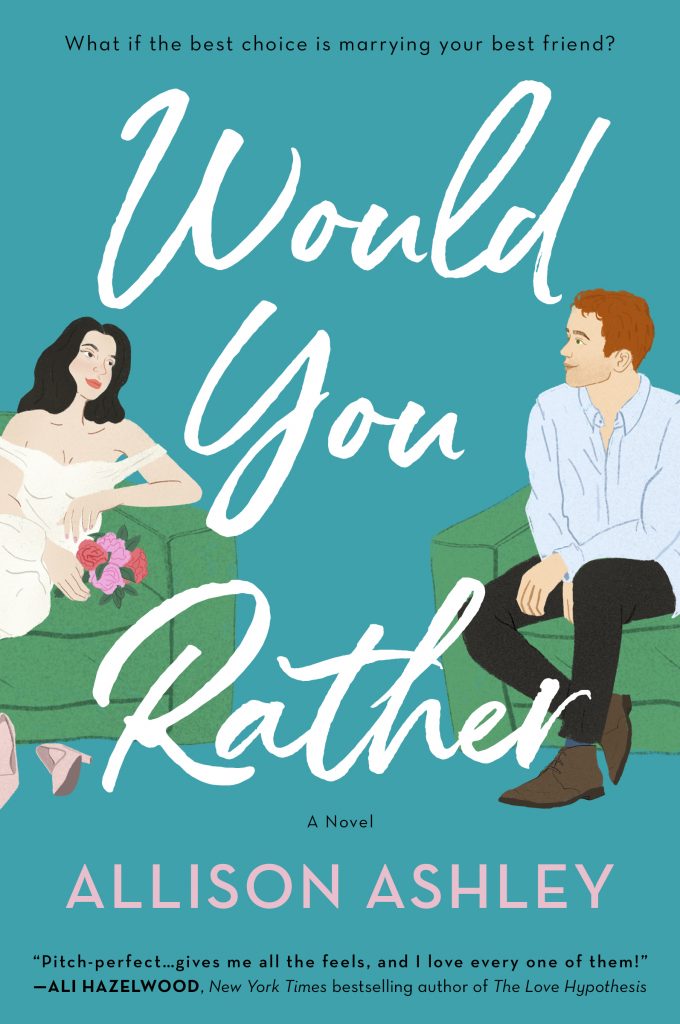 Would you rather play it safe in the friend zone, or risk it all with a modern marriage of convenience?
Noah and Mia have always been best friends, and their friendship is the most important thing to them. Life is going great for Noah and he's up for a promotion in a job he loves. ButMia's life is on hold as she awaits a kidney transplant. She's stuck in a dead-end job and, never wanting to be a burden, has sworn off all romance. So when the chance of a lifetime comes to go back to school and pursue her dream, it's especially painful to pass up. She can't quit her job or she'll lose the medical insurance she so desperately needs.
To support her, Noah suggests they get married—in name only—so she can study full-time and still keep the insurance. It's a risk to both of them, with jobs, health and hearts on the line, and they'll need to convince suspicious coworkers and nosy roommates that they're the real deal. But if they can let go of all the baggage holding them back, they might realize that they would rather be together forever.
Available at:
Amazon | Barnes & Noble | Google Play | Kobo | Apple Books | Indiebound | Indigo | Audible | Goodreads
Savvy Sheldon Feels Good As Hell by Taj McCoy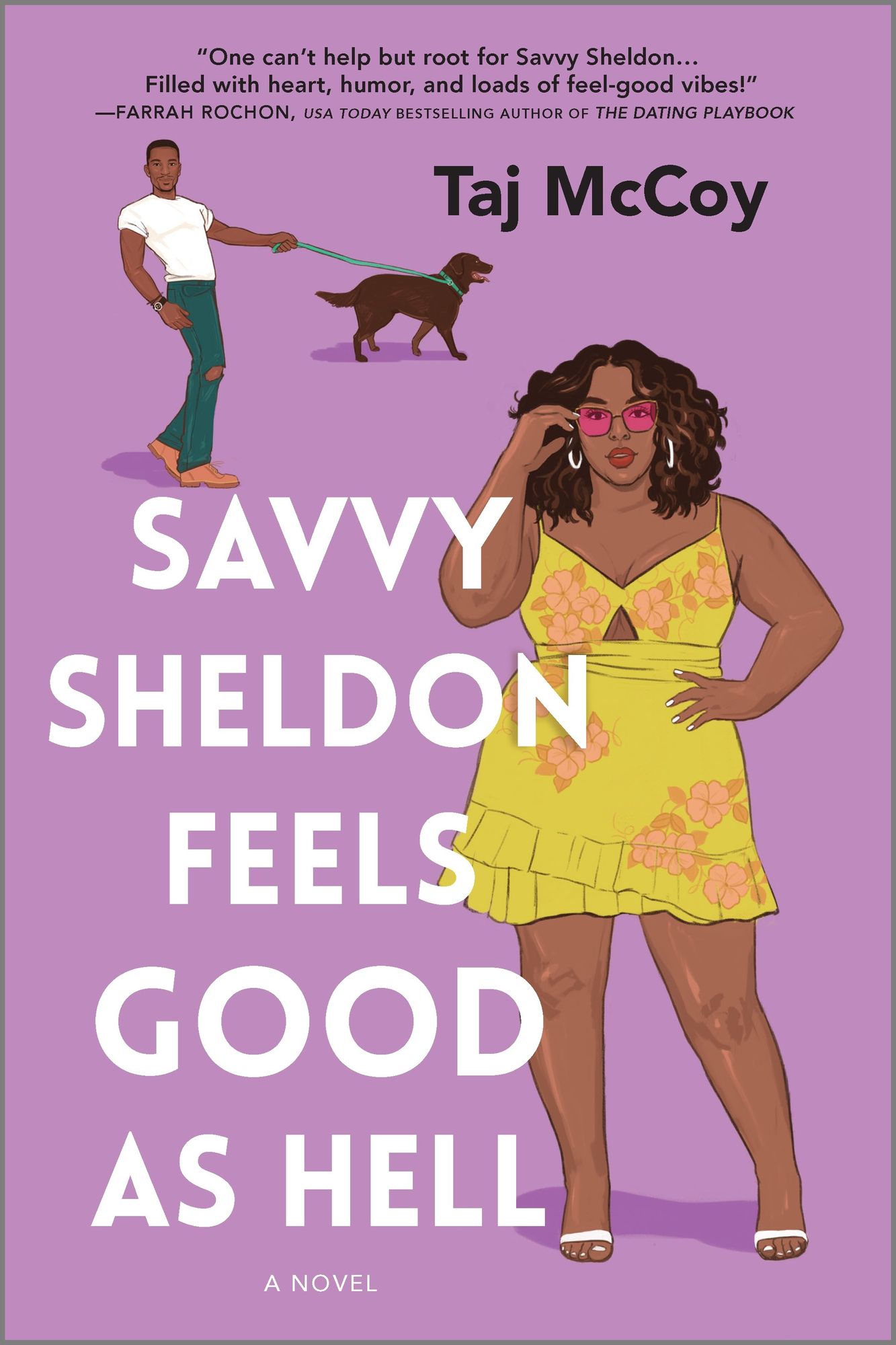 "This feel-good, empowering rom-com will blow you away, guaranteed." —Sarah Smith, author of Simmer Down
A delicious debut rom-com about a plus-size sweetheart who gets a full-life makeover after a brutal breakup.
Savvy Sheldon spends a lot of time tiptoeing around the cracks in her life: her high-stress and low-thanks job, her clueless boyfriend and the falling-apart kitchen she inherited from her beloved grandma—who taught her how to cook and how to love people by feeding them. But when Savvy's world starts to crash down around her, she knows it's time for some renovations.
Starting from the outside in, Savvy tackles her crumbling kitchen, her relationship with her body, her work–life balance (or lack thereof) and, last but not least, her love life. The only thing that doesn't seem to require effort is her ride-or-die squad of friends. But as any home-reno-show junkie can tell you, something always falls apart during renovations. First, Savvy passes out during hot yoga. Then it turns out that the contractor she hires is the same sexy stranger she unintentionally offended by judging based on appearances. Worst of all, Savvy can't seem to go anywhere without tripping over her ex and his latest "upgrade." Savvy begins to realize that maybe she should've started her renovations the other way around: beginning with how she sees herself before building a love that lasts.
Available at:
Amazon | Barnes & Noble | Google Play | Kobo | Apple Books | Indiebound | Indigo | Audible | Goodreads
Mr. Perfect on Paper by Jean Meltzer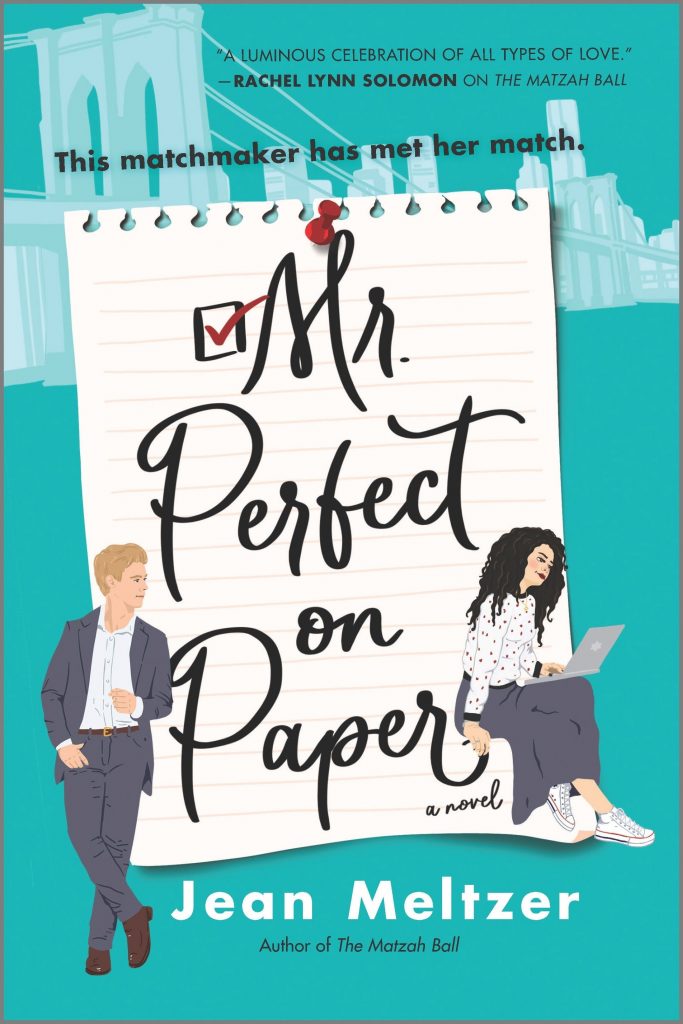 From the author of The Matzah Ball comes a pitch-perfect romcom following a third-generation Jewish matchmaker who unwittingly finds her own search for love thrust into the spotlight…

The perfect Jewish husband should be:
A doctor or lawyer (preferably a doctor)
Baggage-free (no previous marriages, no children)
And of course—he must be Jewish
As the creator and CEO of the popular Jewish dating app J-Mate, matchmaker Dara Rabinowitz knows the formula for lasting love—at least, for everyone else. When it comes to her own love life, she's been idling indefinitely. Until her beloved bubbe shares Dara's checklist for "The Perfect Jewish Husband" on national television and charming news anchor Chris Steadfast proposes they turn Dara's search into must-see TV.
As a non-Jewish single dad, Chris doesn't check any of Dara's boxes. But her hunt for Mr. Perfect is the ratings boost his show desperately needs. If only Chris could ignore his own pesky attraction to Dara—a task much easier said than done when Dara starts questioning if "perfect on paper" can compete with how hard she's falling for Chris…
Available at:
Amazon | Barnes & Noble | Google Play | Kobo | Apple Books | Indiebound | Indigo | Audible | Goodreads