When I was growing up, my best friend came from a big, raucous family. I loved going to her house because there was always something going on, always playmates on hand. (Not to mention, her mom had a vast collection of romances and let me borrow as many as I wanted!)
By comparison, my own house echoed with silence. I'm an only child who grew up with a fascination for the sibling relationship, which is why I've written so many sister books.
Over the years, I've been struck by how sisters can experience the exact same event but see it differently. When Mom offers to chaperone the high school dance, one sees her as helpful, the other sees her as overbearing and intrusive.
In The Sister Effect, I wanted to explore this phenomenon. I wanted to look at how one moment—one formative experience—can send sisters' lives in wildly different directions simply because of the perspective they had of that moment at the time. Perception is reality, because how we perceive something influences how we react, and each reaction builds on the one before, and the decisions we make determine, well, everything. Our lives. Each choice has a ripple effect through a lifetime. (Hence, the book's title.)
When Finley and Sloane were young, they were as close as two sisters can be. . . until their beloved grandpa turned his back on them and walked away, and the pain sent them spinning in different directions. Finley reacted by trying to do everything "right." Sloane was the bad girl, the one who flouted society's rules and lived life at full volume. Finley worked her tail off to build a good life for herself, and then Sloane breezed in and blew it up in spectacular fashion.
As the story starts, Finley has been raising Sloane's daughter for a few years. Now Sloane wants to be Aubrey's mommy again, and Finley is afraid—so afraid—that her sister will break the little girl's heart, the way their grandpa broke them years ago. The Sister Effect is the story of two sisters finding their way back into one another's hearts. It's an uplifting story of family and forgiveness and empathy, and I hope you'll love the emotional journey. There's no love like a sister's love.
I invited some of my favorite author friends—Robyn Carr, Lori Foster, Brenda Novak, and more—to share their true stories of sisterhood. You can read them all at https://sistereffect.susanmallery.com. And hey, while you're there, buy the book!
Sincerely,
Susan Mallery
The Sister Effect by Susan Mallery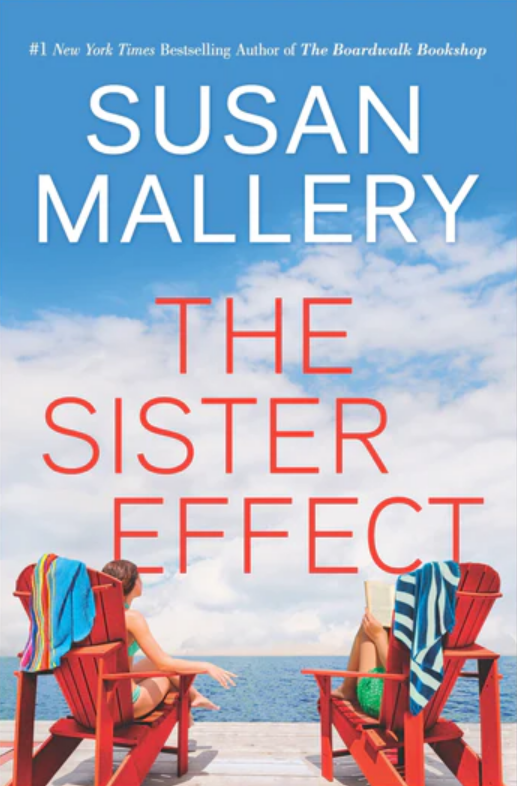 Beloved bestselling author Susan Mallery brings readers an emotional, witty, and heartfelt story that explores the nuances of a broken family's complex emotions as they strive to become whole in this uplifting story of human frailty and resilience.
Finley McGowan is determined that the niece she's raising will always feel loved and wanted. Unlike how she felt after her mom left to pursue a dream of stardom, and when the grandfather who was left to raise them abandoned her and her sister, Sloane, when they needed him most. Finley reacted to her chaotic childhood by walking the straight and narrow—nose down, work hard, follow the rules.
Sloane went the other way.
Now Sloane is back, as beautiful and as damaged as ever…and she wants a relationship with her daughter. She says she's changed, but Finley's heart has been burned once too often for her to trust easily. But is her reluctance to forgive really about Sloane or worry over losing what she loves the most? With the help of a man who knows all too well how messy families can be, Finley will learn there's joy in surrendering and peace in letting go.
Available at:
Amazon | Barnes & Noble | Google Play | Kobo | Apple Books | Indiebound | Indigo | Audible | Goodreads