Almost a decade ago, I had an idea for a story where a teenage girl wakes up in class with no memory of how she got there. I told my best friend Tarryn Fisher all about the girl who forgot, and she told me I needed to write it because she wanted to know what happened next. She would message me every few months and ask, "Have you started the book yet? Did the girl forget yet?"
I always had some excuse and kept putting off writing the book. Finally, Tarryn got annoyed that I wouldn't write the damn book, so she wrote the first chapter for me and said, "Here! I wrote the first chapter, now FINISH THE BOOK!"
So, I wrote the next chapter from a different character's perspective and sent it back to her and said, "YOU finish it!"
Then she wrote the third chapter and sent it back to me, and we continued to each write a chapter until we had unintentionally written 1/3rd of the story and decided we wanted to keep doing it. She'd end her chapter in a way that made me angry, for example, she'd make one of the characters drink Diet Coke instead of Diet Pepsi. So, I'd write the next chapter and end it with her character in a predicament that she'd have to get them out of. It was one of the most entertaining writing experiences I've ever had. It was fun not knowing what she would write next, or where the story would go.
That experience eventually became the Never Never series, which released in a three-novella format several years ago.
We're excited to share that it is now packaged beautifully as one novel and February 28th was the re-release day for the full novel, Never Never, about Charlie, the girl who forgot, and Silas, the boy who wanted to help her remember.
I think people expected a more sinister book with a morbid ending from the two of our minds, but instead, we wrote a mildly creepy love story about the power of soul mates that can be read by most ages. 😍☠️
We're both saps at heart, so if you haven't read Never Never yet, you can grab it now at a retailer near you!
Colleen Hoover
Source: Colleen Hoover (@colleenhoover)
Never Never by Colleen Hoover and Tarryn Fisher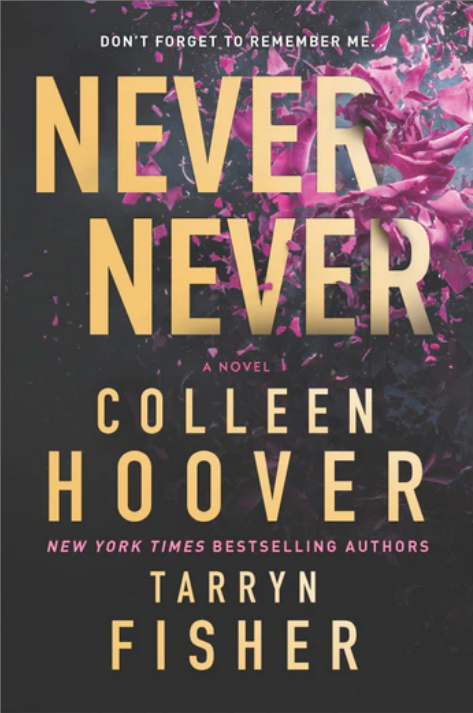 Charlie Wynwood and Silas Nash have been best friends since they could walk. They've been in love since the age of fourteen. But as of this morning…they are complete strangers. Their first kiss, their first fight, the moment they fell in love…every memory has vanished. Now Charlie and Silas must work together to uncover the truth about what happened to them and why.
But the more they learn about the couple they used to be…the more they question why they were ever together to begin with. Forgetting is terrifying, but remembering may be worse.
Heart-stopping and utterly captivating, the complete Never Never series, now available in one volume, will leave readers breathless and believing in the power of love.
Available at:
Amazon | Barnes & Noble | Google Play | Kobo | Apple Books | Indiebound | Indigo | Goodreads
More From Tarryn Fisher