It may be the end of winter, but these spine-chilling reads will transport you to places you'll be glad you can escape from! From remote farms in the middle of a catastrophic snowstorm to a college campus with a psychopath, prepare to have your hair stand on end and having to triple checking every lock*.
*we are not responsible for any sleepless nights.
If these 17 are not enough, here are many more to choose from… if you dare!
Such A Good Wife by Seraphina Nova Glass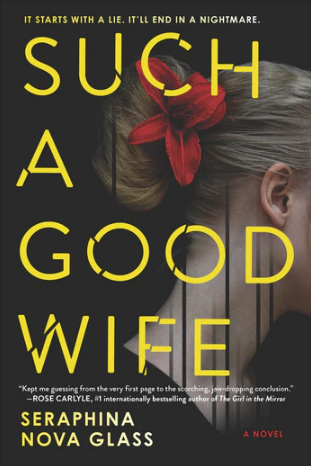 Betrayal was just the beginning…
Melanie Hale is a devoted mother to her two children, a diligent caregiver to her ailing mother-in-law and a trusted neighbor in their wealthy Louisiana community. Above all, she's a loving partner to her wonderful husband, Collin.
Then there are the parts of herself that Mel keeps hidden. She's exhausted, worried and unfulfilled. So much so that one night, after a writers' group meeting, Mel begins an affair with a successful local author named Luke. Suddenly she's transformed into a role she doesn't recognize—a woman who deceives with unseemly ease. A woman who might be capable of just about anything.
When Mel finds Luke's dead body in his lavish rented house, she realizes just how high the stakes have become. Not only does she have to keep her affair a secret in order to preserve her marriage, but she desperately needs to avoid being implicated in Luke's death. But who would want to kill him? Who else in her life is keeping secrets? And most terrifying of all, how far will they—and she—go to keep those secrets hidden?
Available at:
Amazon | Barnes & Noble | Google Play | Kobo | Apple Books | Indiebound | Indigo | Audible | Goodreads
Someone's Listening by Seraphina Nova Glass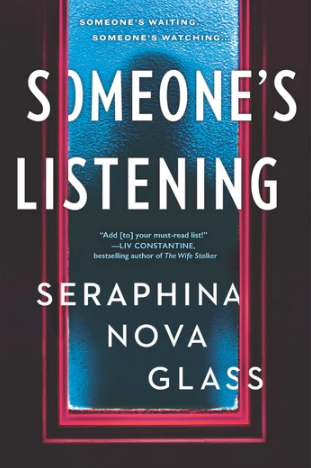 She wrote the book on escaping a predator… Now one is coming for her.
Faith Finley has it all: she's a talented psychologist with a flourishing career, a bestselling author and the host of a popular local radio program, Someone's Listening, with Dr. Faith Finley. She's married to the perfect man, Liam Finley, a respected food critic.
Until the night everything goes horribly wrong, and Faith's life is shattered forever.
Liam is missing—gone without a trace—and the police are suspicious of everything Faith says. They either think she has something to hide, or that she's lost her mind.
And then the notes begin to arrive. Notes that are ripped from Faith's own book, the one that helps victims leave their abusers. Notes like "Lock your windows. Consider investing in a steel door."
As the threats escalate, the mystery behind Liam's disappearance intensifies. And Faith's very life will depend on finding answers
Available at:
Amazon | Barnes & Noble | Google Play | Kobo | Apple Books | Indiebound | Indigo | Audible | Goodreads
Good Husbands by Cate Ray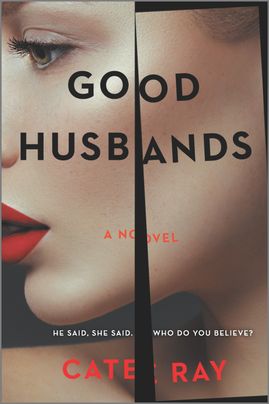 Three wives, one letter, and an explosive secret that will change everything.
He said, she said. Who do you believe?
Jessica, Stephanie and Priyanka are complete strangers, but they have one thing in common: they've each received a letter accusing their husbands of committing a sexual assault more than two decades prior. Is the accusation true or is there more to the story? It was a secret that remained buried for years.
With their worlds suddenly turned upside down, they don't know who to trust—a complete stranger or the men they love and built their lives with. The three women come together to embark on a hunt for the truth, but they are hardly prepared for what they will discover. Who is the victim, and will justice ultimately be served?
Available at:
Amazon | Barnes & Noble | Google Play | Kobo | Apple Books | Indiebound | Indigo| Audible | Goodreads
Lies, Lies, Lies by Adele Parks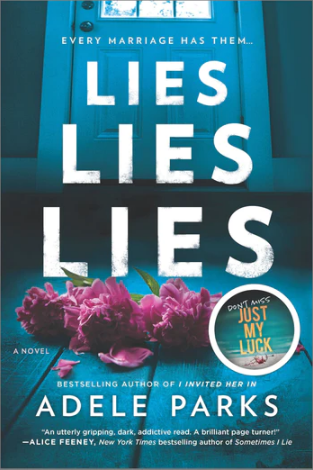 Daisy and Simon's marriage isn't what it seems…
After years together, the arrival of longed-for daughter Millie sealed everything in place. They're a happy little family of three.
So what if Simon drinks a bit too much sometimes—Daisy's used to it. She knows he's just letting off steam. Until one night at a party things spiral horribly out of control. And their happy little family of three will never be the same again.
In Lies, Lies, Lies, #1 Sunday Times bestselling author Adele Parks explores the darkest corners of a relationship in free fall in a mesmerizing tale of marriage and secrets.
Available at:
Amazon | Barnes & Noble | Google Play | Kobo | Apple Books | Indiebound | Indigo | Audible | Goodreads
The Perfect Girlfriend by Karen Hamilton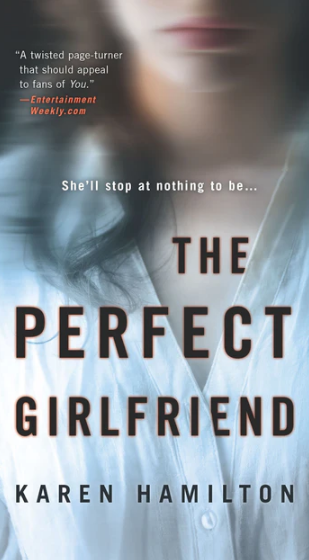 AN INTERNATIONAL BESTSELLER
NAMED A TOP 10 DEBUT AUTHOR TO WATCH BY POPSUGAR A PARADE.COM DEBUT NOVEL EVERYONE WILL BE READING
His first mistake? Thinking she'd let him go.
Juliette finally has it all. Great friends. An exciting new job that sends her to exotic locations all over the world. Best of all, she has a good, decent man who loves her, who wants to spend the rest of his life with her…
He just won't admit it.
But Juliette's not worried. After all, fate brought them together in the first place. If she and Nate are meant to be, they can weather any storm—even this break-up they're going through now. Nate thought things had been moving too fast, getting too intense. All he needed was some space, though. Now that six months have passed since that awful night, it's time for Juliette to put her plan into action.
It takes some convincing: cleaning his apartment while he's out, leaving behind his favorite foods…little things to make him realize how badly he misses her. Once he sees Juliette has this perfect new life—and broken free from her dark past—he won't ignore her anymore. Especially now that she's working for his airline.
She's not going to let him go so easily. Because their love is like a dream that never dies.
Even when it turns out to be a nightmare.
Available at:
Amazon | Barnes & Noble | Google Play | Kobo | Apple Books | Indiebound | Indigo | Audible | Goodreads
Just My Luck by Adele Parks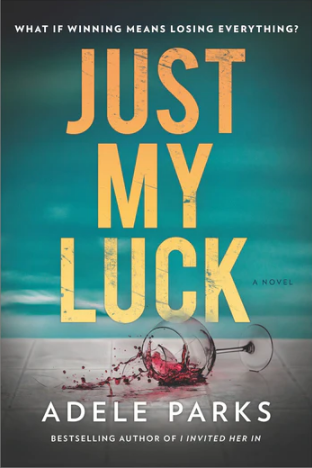 It was supposed to be the lottery win they'd always dreamed of…
For fifteen years, Lexi and Jake have played the same six numbers with their friends. Over drinks, dinner parties and summer barbecues, the three couples have discussed the important stuff—kids, marriages, careers—and they've laughed off their disappointment when they failed to win anything.
But then the unthinkable happens. There's a rift in the group. Someone is caught in a lie. And soon after, six numbers come up that change everything forever.
Lexi and Jake have a ticket worth millions. And their friends are determined to claim a share.
#1 Sunday Times bestselling author Adele Parks returns with a riveting look at the dark side of wealth in this gripping tale of friendship, money, betrayal and good luck gone bad…
Available at:
Amazon | Barnes & Noble | Google Play | Kobo | Apple Books | Indiebound | Indigo | Audible | Goodreads
Hangman by Jack Heath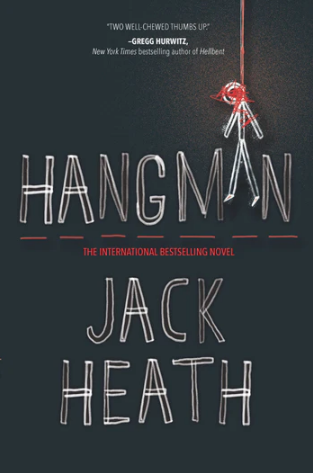 AN INTERNATIONAL BESTSELLER
An addictive debut thriller starring an FBI consultant with a peculiar taste for crime and punishment…
A teenage boy vanishes on his way home. His frantic mother receives a ransom call: pay or else. The police have no leads. Enter Timothy Blake, an FBI consultant with a knack for solving impossible cases. But this time Blake may have met his match. The kidnapper is more cunning and ruthless than any he's faced before. And he's been assigned a new partner within the Bureau: a woman linked to the past he's so desperate to forget. Because he has a secret, one so dark he will do anything to keep it hidden
For fans of Dexter and Hannibal, Hangman introduces an unforgettable new antihero.
Available at:
Amazon | Barnes & Noble | Google Play | Kobo | Apple Books | Indiebound | Indigo | Audible | Goodreads
Just One Bite by Jack Heath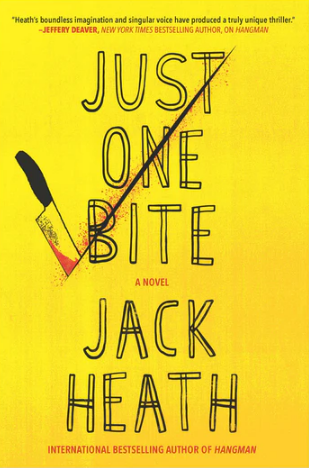 Timothy Blake, ex-consultant for the FBI, now works in body disposal for a local crime lord. One night he stumbles across a body he wasn't supposed to find and is forced to hide it. When the FBI calls Blake in to investigate a missing university professor, Blake recognizes him as the dead man in his freezer.
Then another man goes missing. And another.
There's a serial killer in Houston, Texas, and Blake is running out of time to solve the case. His investigation takes him to a sex doll factory, a sprawling landfill in Louisiana and a secret cabin in the woods.
As they hunt the killer together, FBI agent Reese Thistle starts to warm to Blake—but she also gets closer and closer to discovering his terrible secret.
Can Blake uncover the killer without being exposed himself?
Available at:
Amazon | Barnes & Noble | Google Play | Kobo | Apple Books | Indiebound | Indigo | Audible | Goodreads
Never Saw Me Coming by Vera Kurian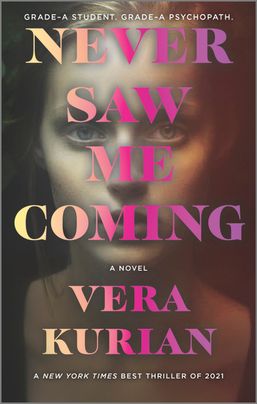 "Fresh, fast-paced and fiendishly clever! If you love watching true crime and wonder about the psychopaths among us, this is the book for you!" — Lisa Gardner, #1 New York Times bestselling author

Never Saw Me Coming is a compulsive, voice-driven thriller by an exciting new talent in fiction that will keep you pinned to the page and rooting for a would-be killer.

You should never trust a psychopath. But what if you had no choice?
It would be easy to underestimate Chloe Sevre… She's a freshman honor student, a legging-wearing hot girl next door, who also happens to be a psychopath. She spends her time on yogalates, frat parties and plotting to kill Will Bachman, a childhood friend who grievously wronged her.
Chloe is one of seven students at her DC-based college who are part of an unusual clinical study of psychopaths—students like herself who lack empathy and can't comprehend emotions like fear or guilt. The study, led by a renowned psychologist, requires them to wear smart watches that track their moods and movements.
When one of the students in the study is found murdered in the psychology building, a dangerous game of cat and mouse begins, and Chloe goes from hunter to prey. As she races to identify the killer and put her own plan for revenge into action, she'll be forced to decide if she can trust any of her fellow psychopaths—and everybody knows you should never trust a psychopath.
Available now:
Amazon | Barnes & Noble | Google Play | Kobo | Apple Books | Indiebound | Indigo | Audible | Goodreads
Voice of Fear by Heather Graham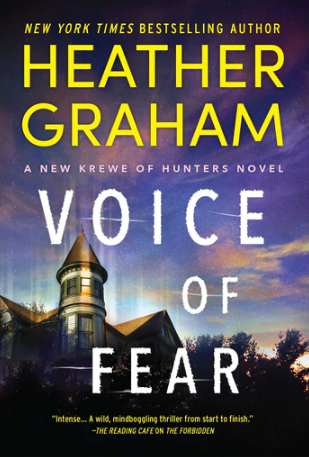 A killer is looking to silence them, once and for all.
FBI agent Jordan Wallace is close to cracking the human trafficking case she's been working, when she does the one thing she should never do: let her guard down. The botched undercover mission is semisalvaged by the last-minute appearance of criminal psychologist Patrick Law, but Jordan can't imagine making a worse first impression. Especially when she's partnered with Patrick moving forward.
Patrick's innate ability to get inside a criminal's head is an asset for the Krewe of Hunters. But Jordan wishes she could protect her own thoughts from her new partner. Patrick assures her that both she and her thoughts are safe with him, but Jordan's less sure about her heart. Letting someone have her back has never been her strong suit, but with a dangerous killer still at large, trusting in Patrick might be the only thing keeping them alive.
Available at:
Amazon | Barnes & Noble | Google Play | Kobo | Apple Books | Indiebound | Indigo | Audible | Goodreads
The Mother Next Door by Tara Laskowski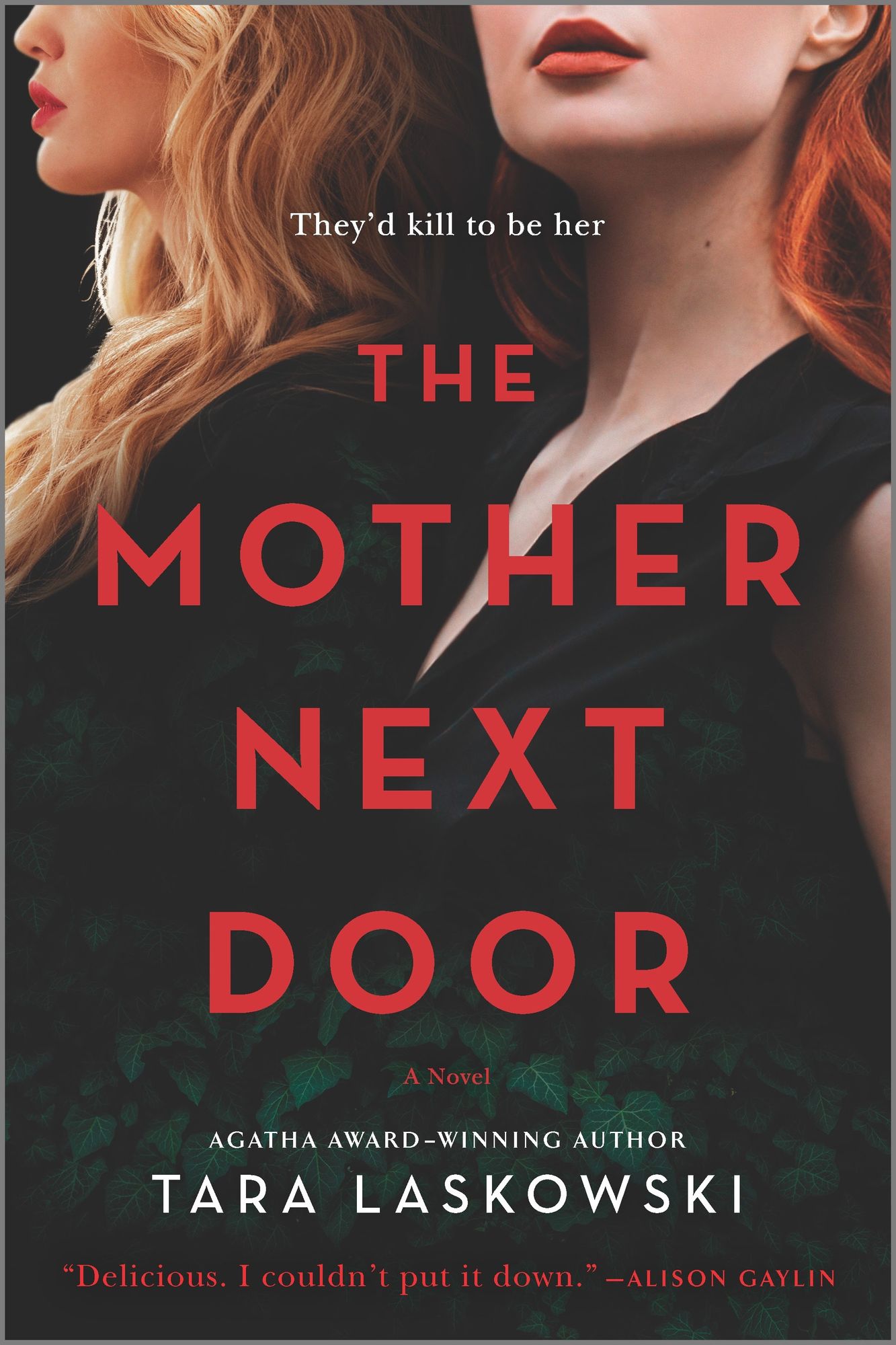 GOOD MOTHERS…
Never show their feelings.
Never spill their secrets.
Never admit to murder.
The annual Halloween block party is the pinnacle of the year on idyllic suburban cul-de-sac Ivy Woods Drive. An influential group of neighborhood moms—known as the Ivy Five—plans the event for months.
Except the Ivy Five has been four for a long time.
When a new mother moves to town, eager to fit in, the moms see it as an opportunity to make the group whole again. This year's block party should be the best yet… until the women start receiving anonymous messages threatening to expose the quiet neighborhood's dark past—and the lengths they've gone to hide it.
As secrets seep out and the threats intensify, the Ivy Five must sort the loyal from the disloyal, the good from the bad. They'll do anything to protect their families. But when a twisted plot is revealed, with dangerous consequences, their steady foundation begins to crumble, leaving only one certainty: after this year's block party, Ivy Woods Drive will never be the same.
From award-winning author Tara Laskowski, The Mother Next Door is an atmospheric novel of domestic suspense in which the strive for perfection ends in murder…
Available at:
Amazon | Barnes & Noble | Google Play | Kobo | Apple Books | Indiebound | Indigo | Audible | Goodreads
The Fifth Doctrine by Karen Robards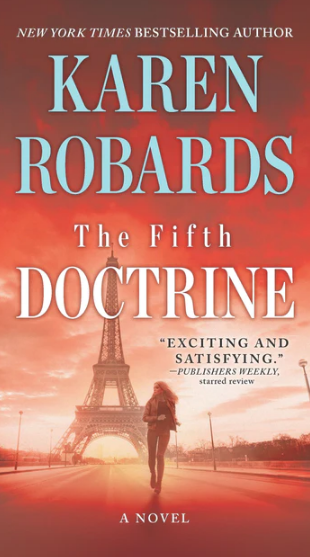 Everything's on the line for Bianca St. Ives. She's either going to save the world—or die trying.
It took one hell of an effort for the authorities to finally get the jump on master manipulator Bianca St. Ives. But now that they have, they're not taking her in. Instead, they offer a one-shot deal that would allow Bianca to walk away scot-free. And all she has to do is run one last mission—the kind she might never return from. But if Bianca wants her normal life back, it's not like she has a choice.
An intelligence operation is already underway in North Korea, one that's poised to end the threat the rogue regime poses for good. But first, the US needs one of their own to go undercover as the female hacker who recently stole top secret intel from NORAD. Enter Bianca. She knows feeding fake information directly into the belly of the beast is about as dangerous as it gets. It could mean torture or endless imprisonment—assuming she survives. But it might also change the world. Besides, if Bianca has to go down, she's gonna go down swinging…
Available now:
Amazon | Barnes & Noble | Google Play | Kobo | Apple Books | Indiebound | Indigo | Audible | Goodreads
Strangers She Knows by Christina Dodd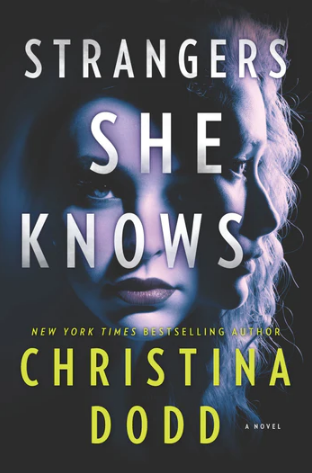 I have three deadly problems:

1. I've seriously offended a maniacal killer.

2. I just had a bullet removed from my brain.

3. My new daughter is growing up too fast–and she's in the line of fire.
Living on an obscure, technology-free island off California means safety from the murderer who hunts Kellen Adams and her new family…. Or does it? Family time becomes terror-time, and at last, alone, Kellen faces a killer playing a cruel game. Only one can survive, and Kellen knows who must win…and who must die.
Don't miss POINT LAST SEEN, an all-new thriller by New York Times bestselling author Christina Dodd featuring a strong female protagonist, a chilling villain, and twisty secrets that will keep you turning the pages. Perfect for fans of Lisa Jewell, Jayne Ann Krentz and Sandra Brown.
Available at:
Amazon | Barnes & Noble | Google Play | Kobo | Apple Books | Indiebound | Indigo | Audible | Goodreads
Their Last Secret by Rick Mofina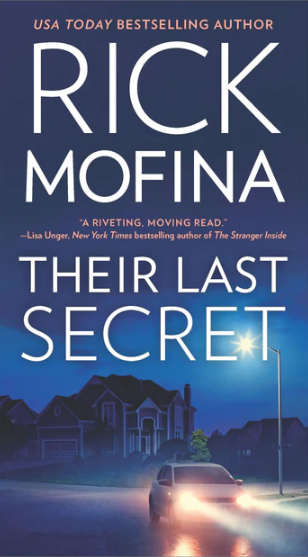 Some mistakes can never be forgotten—or forgiven.
Janie Klassyn was only fourteen years old when she made the blood pact with her friends. She could never imagine she was setting in motion the horrifying crime that would tear her peaceful prairie town apart.
Twenty years later in California, school counselor Emma Grant struggles to keep her past buried. But when she finds a note on her car threatening to reveal her secret, it becomes harder to keep up the deception. Even her teenage stepdaughter suspects that Emma is hiding something. Now, with her celebrated true-crime author husband digging into a decades-old murder case for his next book, and a suspicious accident involving someone who's been following her, the perfect life Emma's built is crumbling, forcing her to take desperate steps to save it…
Available at:
Amazon | Barnes & Noble | Google Play | Kobo | Apple Books | Indiebound | Indigo | Audible | Goodreads
Nanny Dearest by Flora Collins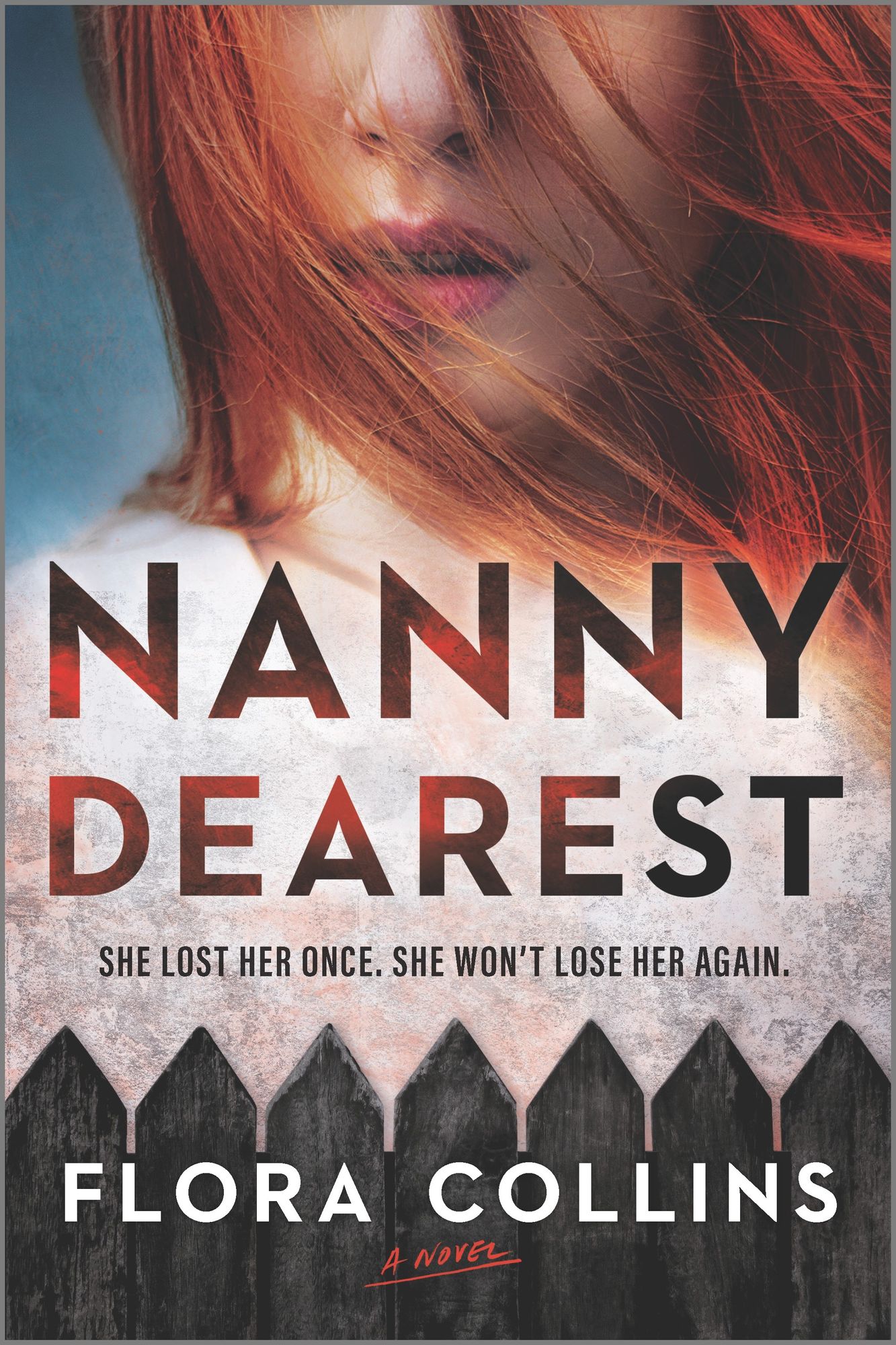 "A well-crafted debut . . . horrifying . . . Psychological thrillers fans won't be disappointed." —Publishers Weekly

"Unsettling, compelling, elegantly paced . . . A slick, contemporary novel that explores the wispy, nagging memories of childhood." —Julia Heaberlin, bestselling author of We Are All the Same in the Dark

In this compulsively readable novel of domestic suspense, a young woman takes comfort in reconnecting with her childhood nanny, until she starts to uncover secrets the nanny has been holding for twenty years.
Sue Keller is lost. When her father dies suddenly, she's orphaned in her mid-twenties, her mother already long gone. Then Sue meets Annie. It's been twenty years, but Annie could never forget that face. She was Sue's live-in nanny at their big house upstate, and she loved Sue like she was her own.
Craving connection and mothering, Sue is only too eager to welcome Annie back into her life; but as they become inseparable once again, Sue starts to uncover the truth about Annie's unsettling time in the Keller house all those years ago, particularly the manner of her departure—or dismissal. At the same time, she begins to grow increasingly alarmed for the safety of the two new charges currently in Annie's care.
Told in alternating points of views—Annie in the mid-'90s and Sue in the present day—this taut novel of suspense will keep readers turning the pages right up to the shocking end.
Available at:
Amazon | Barnes & Noble | Google Play | Kobo | Apple Books | Indiebound | Indigo | Audible | Goodreads
Guess Who by Chris McGeorge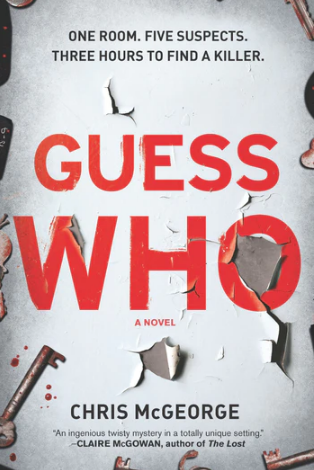 The rules are simple.

But the game is not.
At eleven years old, Morgan Sheppard solved the murder of a teacher at his school. The publicity surrounding the case launched him to fame as a modern-day Sherlock Holmes.
Until, that is, Sheppard wakes up handcuffed to a bed in an unfamiliar hotel room. Around him, five strangers are slowly waking up, as well. Soon they discover a corpse in the bathtub. But which one of them is the murderer? Now Sheppard must put his deductive skills to the test—or face certain death.
Available at:
Amazon | Barnes & Noble | Google Play | Kobo | Apple Books | Indiebound | Indigo | Audible | Goodreads
You Will Remember Me by Hannah Mary McKinnon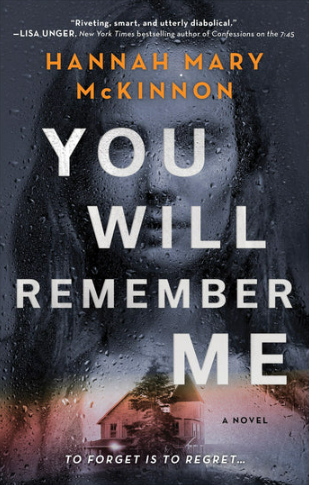 An unputdownable amnesia thriller that begs the question: how can you trust anyone when you can't even trust yourself?

Forget the truth.
Remember the lies.
He wakes up on a deserted beach in Maryland with a gash on his head and wearing only swim trunks. He can't remember who he is. Everything—his identity, his life, his loved ones—has been replaced by a dizzying fog of uncertainty. But returning to his Maine hometown in search of the truth uncovers more questions than answers.
Lily Reid thinks she knows her boyfriend, Jack. Until he goes missing one night, and her frantic search reveals that he's been lying to her since they met, desperate to escape a dark past he'd purposely left behind.
Maya Scott has been trying to find her estranged stepbrother, Asher, since he disappeared without a trace. Having him back, missing memory and all, feels like a miracle. But with a mutual history full of devastating secrets, how far will Maya go to ensure she alone takes them to the grave?
Shared fates intertwine in a twisty, explosive novel of suspense, where unearthing the past might just mean being buried beneath it.
Available at:
Amazon | Barnes & Noble | Google Play | Kobo | Apple Books | Indiebound | Indigo | Audible | Goodreads