2020 is coming to a close and you only have two more months to finish those reading goals! Fortunately, that's two months worth of new books that are sure to help you fill up your list. The English translation of Before the Coffee Gets Cold, a Japanese novel by Toshikazu Kawaguchi gives you the chance to time travel, but before the coffee gets cold. If historical fiction is more your thing, Pam Jenoff's The Diplomat's Wife is now available in paperback! Whether you like time-travel, thrillers or even poetry, November will have something for you!
The Forgotten Sister by Nicole Cornick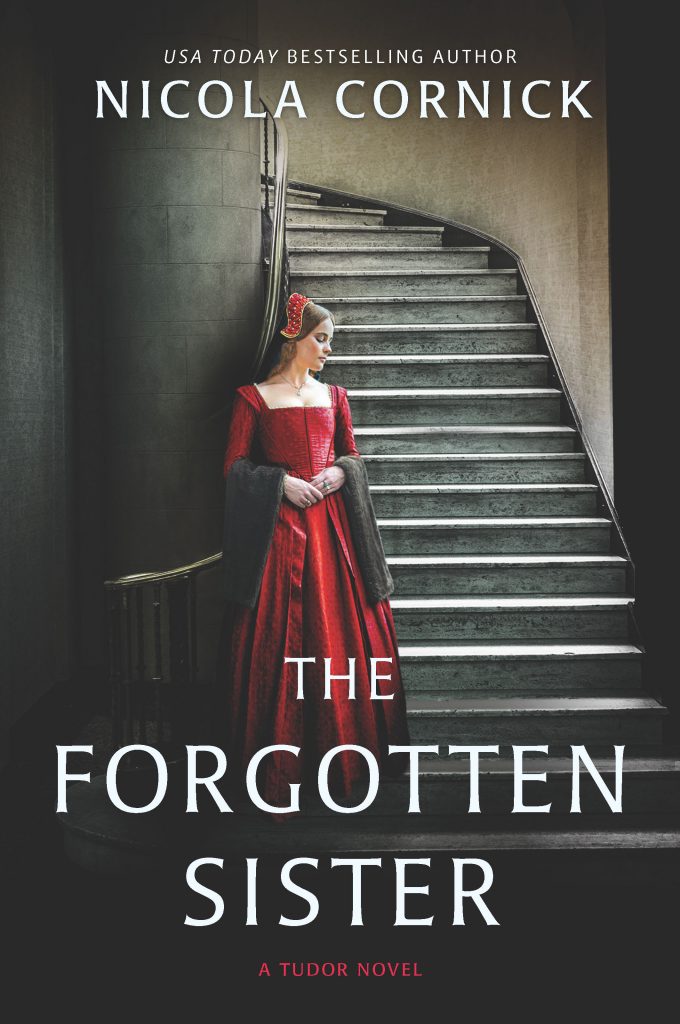 In the tradition of the spellbinding historical novels of Philippa Gregory and Kate Morton comes a stunning story based on a real-life Tudor mystery, of a curse that echoes through the centuries and shapes two women's destinies…
1560: Amy Robsart is trapped in a loveless marriage to Robert Dudley, a member of the court of Queen Elizabeth I. Surrounded by enemies and with nowhere left to turn, Amy hatches a desperate scheme to escape—one with devastating consequences that will echo through the centuries…
Present Day: When Lizzie Kingdom is forced to withdraw from the public eye in a blaze of scandal, it seems her life is over. But she's about to encounter a young man, Johnny Robsart, whose fate will interlace with hers in the most unexpected of ways. For Johnny is certain that Lizzie is linked to a terrible secret dating back to Tudor times. If Lizzie is brave enough to go in search of the truth, then what she discovers will change the course of their lives forever.
Available November 10:
Amazon | Barnes & Noble | Google Play | Kobo | Apple Books | Indiebound | Indigo | Audible | Goodreads
Cobble Hill by Cecily von Ziegesar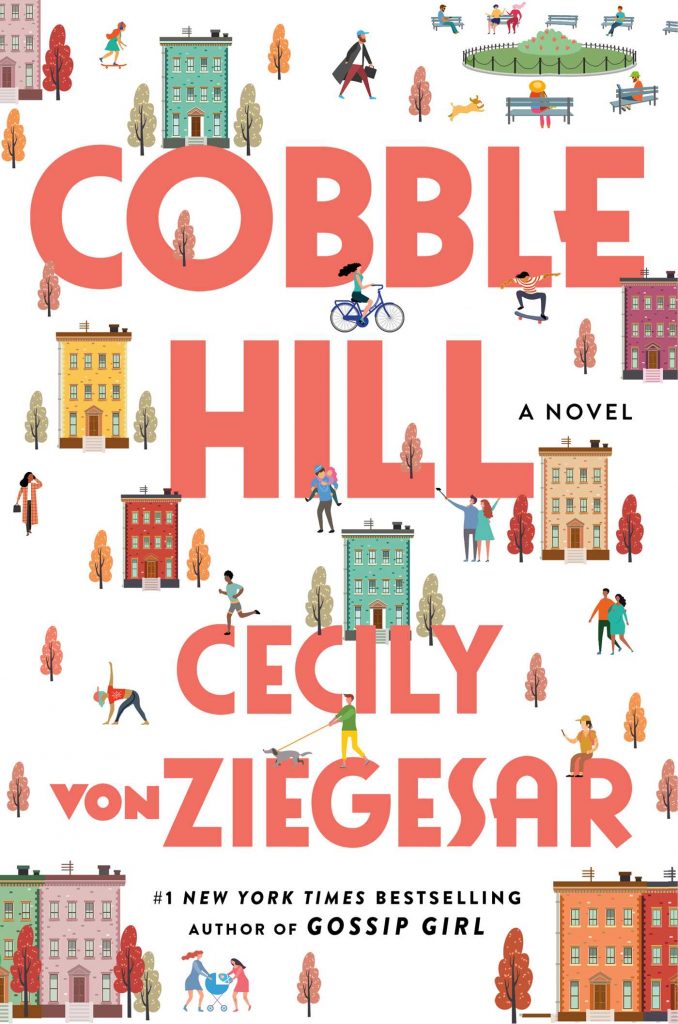 Welcome to Cobble Hill.
In this eclectic Brooklyn neighborhood, private storms brew amongst four married couples and their children. There's ex-groupie Mandy, so underwhelmed by motherhood and her current physical state that she fakes a debilitating disease to get the attention of her skateboarding, ex-boyband member husband Stuart. There's the unconventional new school nurse, Peaches, on whom Stuart has an unrequited crush, and her disappointing husband Greg, who wears noise-cancelling headphones—everywhere.
A few blocks away, Roy, a well-known, newly transplanted British novelist, has lost the thread of his next novel and his marriage to capable, indefatigable Wendy. Around the corner, Tupper, the nervous, introverted industrial designer with a warehose full of prosthetic limbs struggles to pin down his elusive artist wife Elizabeth. She remains…elusive. Throw in two hormonal teenagers, a ten-year-old pyromaniac, a drug dealer pretending to be a doctor, and a lot of hidden cameras, and you've got a combustible mix of egos, desires, and secrets bubbling in brownstone Brooklyn.
Smart, sophisticated, yet surprisingly tender, Cobble Hill is highly entertaining portrait of contemporary family life and the colorful characters who call Brooklyn home.
Available November 10:
Amazon | Barnes & Noble | Google Play | Kobo | Apple Books | Indiebound | Indigo | Audible | Goodreads
Dearly by Margaret Atwood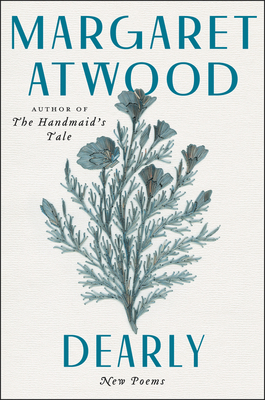 A new book of poetry from internationally acclaimed, award-winning and bestselling author Margaret Atwood
In Dearly, Margaret Atwood's first collection of poetry in over a decade, Atwood addresses themes such as love, loss, the passage of time, the nature of nature and – zombies. Her new poetry is introspective and personal in tone, but wide-ranging in topic. In poem after poem, she casts her unique imagination and unyielding, observant eye over the landscape of a life carefully and intuitively lived.
While many are familiar with Margaret Atwood's fiction—including her groundbreaking and bestselling novels The Handmaid's Tale, The Testaments, Oryx and Crake, among others—she has, from the beginning of her career, been one of our most significant contemporary poets. And she is one of the very few writers equally accomplished in fiction and poetry. This collection is a stunning achievement that will be appreciated by fans of her novels and poetry readers alike.
Available November 10:
Amazon | Barnes & Noble | Google Play | Kobo | Apple Books | Indiebound | Indigo | Audible | Goodreads
Moonflower Murders by Anthony Horowitz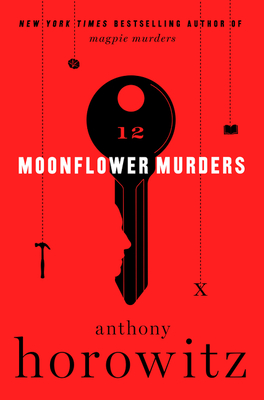 Retired publisher Susan Ryeland is living the good life. She is running a small hotel on a Greek island with her long-term boyfriend Andreas. It should be everything she's always wanted. But is it? She's exhausted with the responsibilities of making everything work on an island where nothing ever does, and truth be told she's beginning to miss London.
And then the Trehearnes come to stay. The strange and mysterious story they tell, about an unfortunate murder that took place on the same day and in the same hotel in which their daughter was married—a picturesque inn on the Suffolk coast named Farlingaye Hall—fascinates Susan and piques her editor's instincts.
One of her former writers, the late Alan Conway, author of the fictional Magpie Murders, knew the murder victim—an advertising executive named Frank Parris—and once visited Farlingaye Hall. Conway based the third book in his detective series, Atticus Pund Takes the Cake, on that very crime.
The Trehearne's, daughter, Cecily, read Conway's mystery and believed the book proves that the man convicted of Parris's murder—a Romanian immigrant who was the hotel's handyman—is innocent. When the Trehearnes reveal that Cecily is now missing, Susan knows that she must return to England and find out what really happened.
Brilliantly clever, relentlessly suspenseful, full of twists that will keep readers guessing with each revelation and clue, Moonflower Murders is a deviously dark take on vintage English crime fiction from one of its greatest masterminds, Anthony Horowitz.
Available November 10:
Amazon | Barnes & Noble | Google Play | Kobo | Apple Books | Indiebound | Indigo | Audible | Goodreads
Before the Coffee Gets Cold by Toshikazu Kawaguchi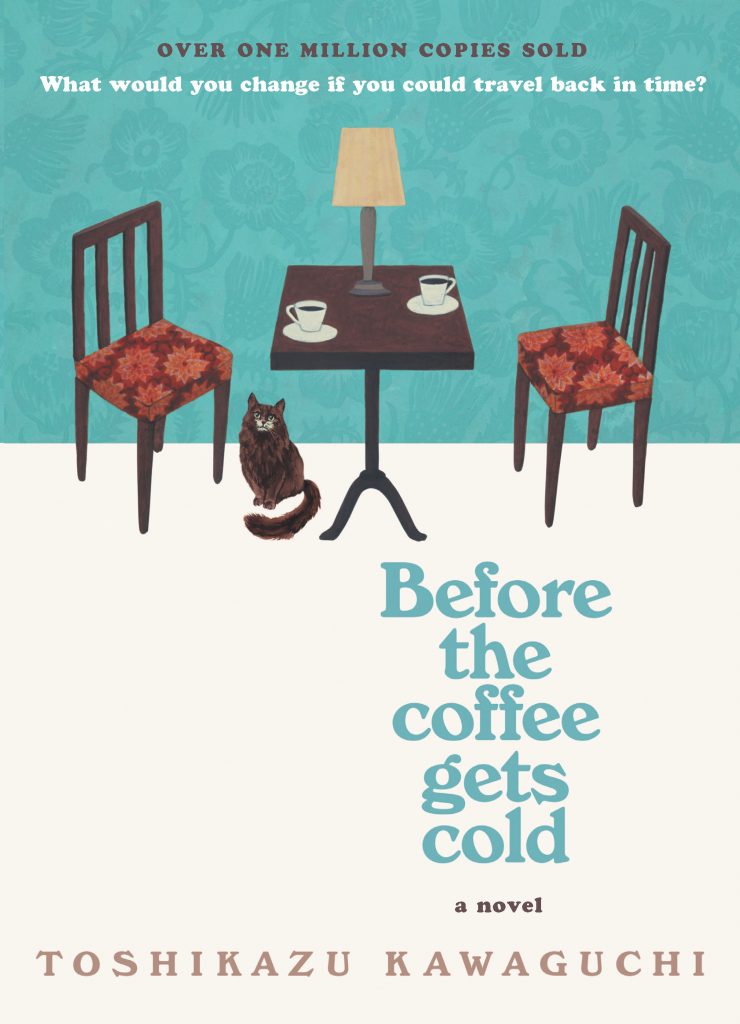 What would you change if you could travel back in time?

Down a small alleyway in the heart of Tokyo, there's an underground café that's been serving carefully brewed coffee for over a hundred years. Local legend says that this shop offers its customers something else besides coffee—the chance to travel back in time.
The rules, however, are far from simple: you must sit in one particular seat, and you can't venture outside the café, nor can you change the present. And, most important, you only have the time it takes to drink a hot cup of coffee—or risk getting stuck forever.
Over the course of one summer, four customers visit the café in the hopes of traveling to another time: a heartbroken lover looking for closure, a nurse with a mysterious letter from her husband, a waitress hoping to say one last goodbye and a mother whose child she may never get the chance to know.
Heartwarming, wistful and delightfully quirky, Before the Coffee Gets Cold explores the intersecting lives of four women who come together in one extraordinary café, where the service may not be quick, but the opportunities are endless.
Available November 17:
Amazon | Barnes & Noble | Google Play | Kobo | Apple Books | Indiebound | Indigo | Audible | Goodreads
Pretending by Holly Bourne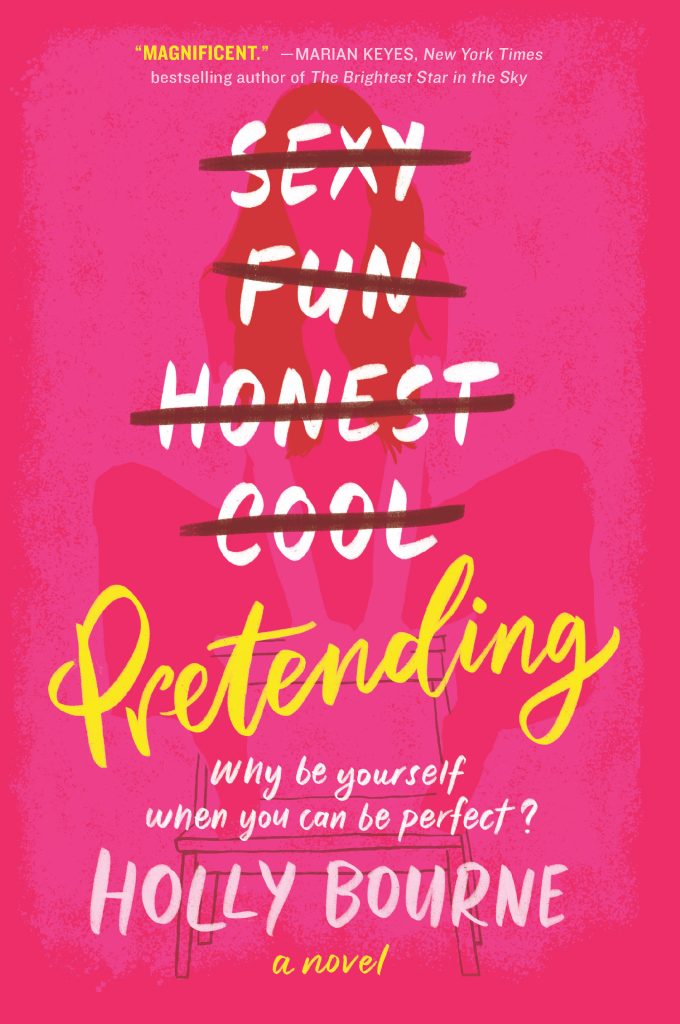 He said he was looking for a "partner in crime," which everyone knows is shorthand for "a woman who isn't real."

April is kind, pretty and relatively normal—yet she can't seem to get past date five. Every time she thinks she's found someone to trust, they reveal themselves to be awful, leaving her heartbroken. And angry. Until she realizes that men aren't looking for real women—they're looking for Gretel.
Gretel is perfect—beautiful but low-maintenance, sweet but never clingy, sexy but not too easy. She's your regular, everyday Manic-Pixie-Dream-Girl-Next-Door with no problems.
When April starts pretending to be Gretel, dating becomes much more fun—especially once she reels in the unsuspecting Joshua. Finally, April is the one in control. It's refreshing. Exhilarating, even. But as she and Joshua grow closer, and the pressure of keeping her painful past a secret begins to build, how long will she be able to keep on pretending?
Available November 17:
Amazon | Barnes & Noble | Kobo | Apple Books | Indiebound | Indigo | Audible | Goodreads
Home Body by Rupi Kaur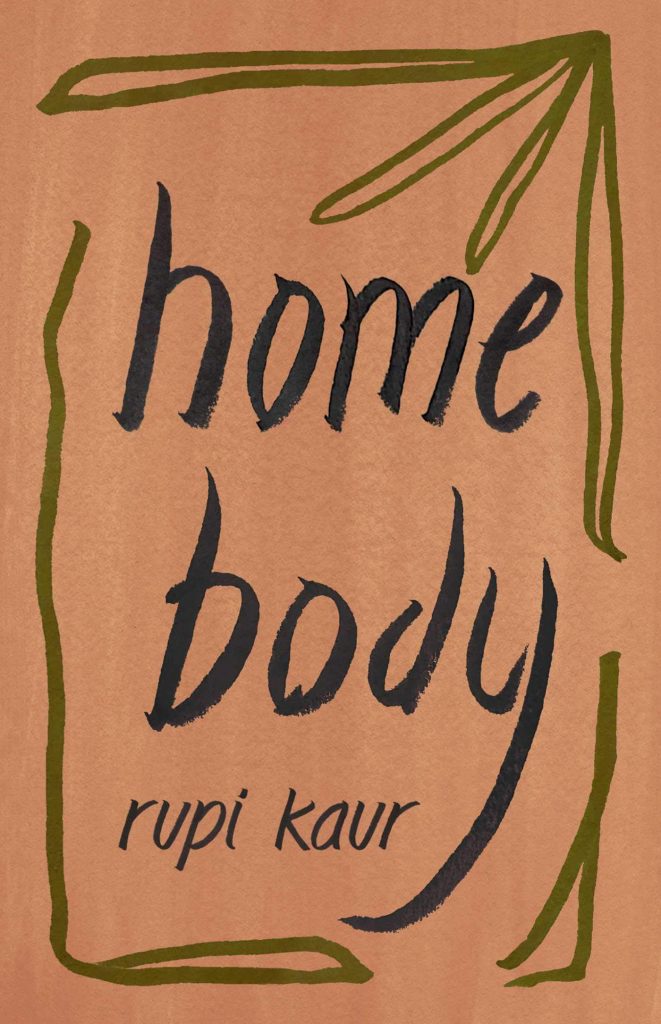 From the #1 New York Times bestselling author of milk and honey and the sun and her flowers comes her greatly anticipated third collection of poetry.
rupi kaur constantly embraces growth, and in home body, she walks readers through a reflective and intimate journey visiting the past, the present, and the potential of the self. home body is a collection of raw, honest conversations with oneself – reminding readers to fill up on love, acceptance, community, family, and embrace change. illustrated by the author, themes of nature and nurture, light and dark, rest here.
i dive into the well of my body
and end up in another world
everything i need
already exists in me
there's no need
to look anywhere else
– home
Available November 17:
Amazon | Barnes & Noble | Google Play | Apple Books | Indiebound | Indigo |Goodreads
Piece of My Heart by Mary Higgins Clark & Alafair Burke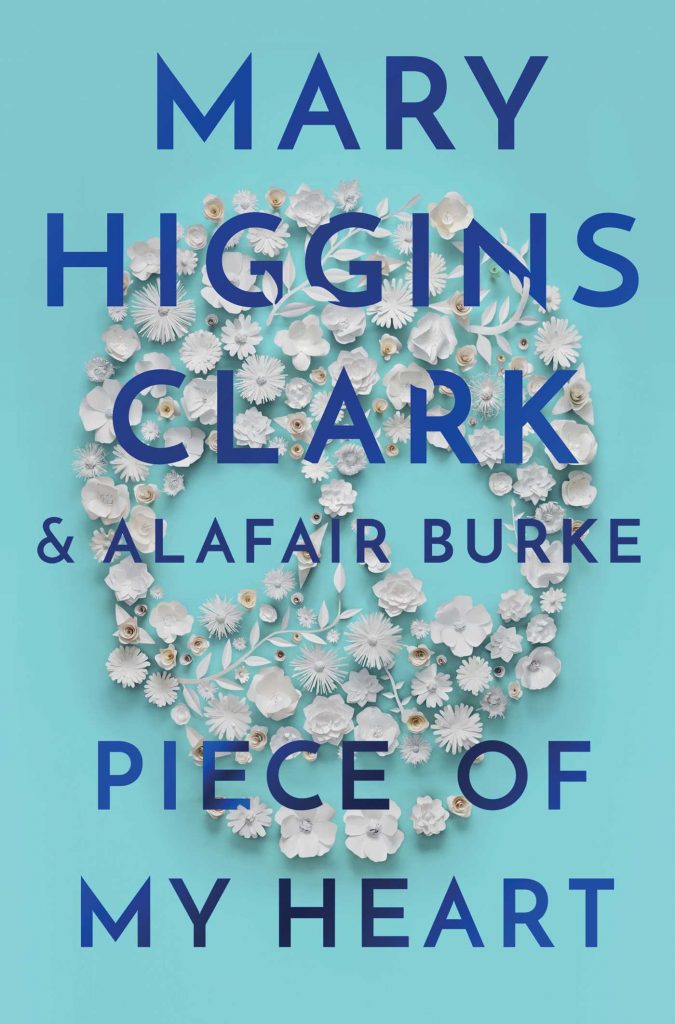 In the latest thrilling collaboration from #1 New York Times bestselling author and "Queen of Suspense" Mary Higgins Clark and Alafair Burke, television producer Laurie Moran must solve the kidnapping of her fiancée's nephew—just days before her wedding.
Television producer Laurie Moran and her fiancée, Alex Buckley, the former host of her investigative television show, are just days away from their mid-summer wedding, when things take a dark turn. Alex's seven-year-old nephew, Johnny, vanishes from the beach. A search party begins and witnesses recall Johnny playing in the water and collecting shells behind the beach shack, but no one remembers seeing him after the morning. As the sun sets, Johnny's skim board washes up to shore, and everyone realizes that he could be anywhere, even under water.
A ticking clock, a sinister stalker, and fresh romance combine in this exhilarating follow up to the bestselling You Don't Own Me—another riveting page-turner from the "Queen of Suspense" Mary Higgins Clark and her dazzling partner-in-crime Alafair Burke.
Available November 17:
Amazon | Barnes & Noble | Google Play | Kobo | Apple Books | Indiebound | Indigo | Audible | Goodreads
A Promised Land by Barack Obama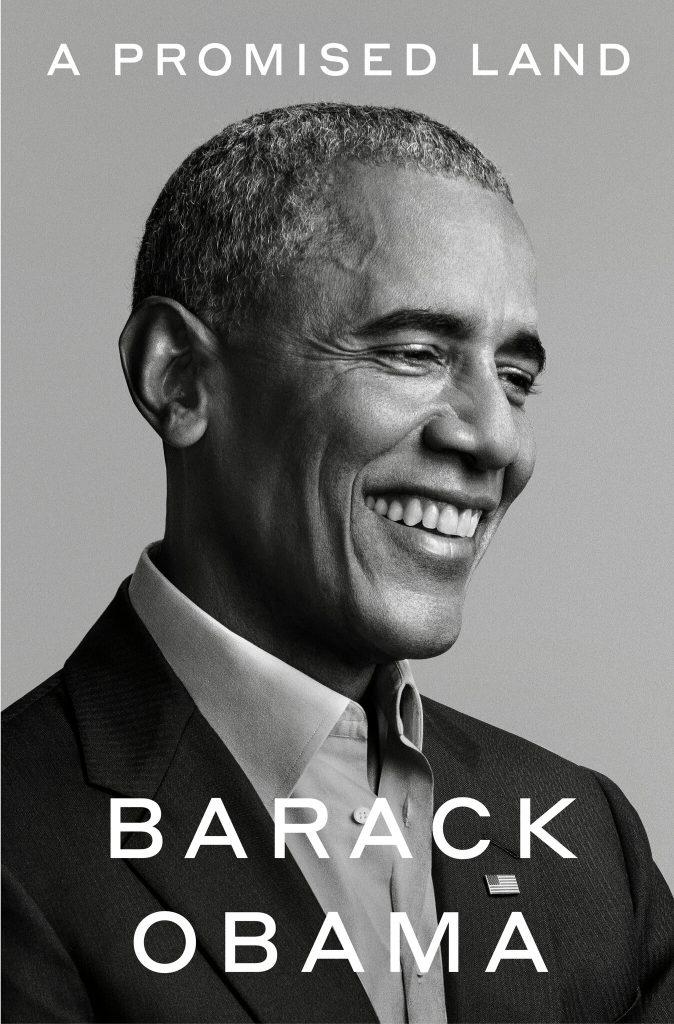 A riveting, deeply personal account of history in the making—from the president who inspired us to believe in the power of democracy

In the stirring, highly anticipated first volume of his presidential memoirs, Barack Obama tells the story of his improbable odyssey from young man searching for his identity to leader of the free world, describing in strikingly personal detail both his political education and the landmark moments of the first term of his historic presidency—a time of dramatic transformation and turmoil.

Obama takes readers on a compelling journey from his earliest political aspirations to the pivotal Iowa caucus victory that demonstrated the power of grassroots activism to the watershed night of November 4, 2008, when he was elected 44th president of the United States, becoming the first African American to hold the nation's highest office.

Reflecting on the presidency, he offers a unique and thoughtful exploration of both the awesome reach and the limits of presidential power, as well as singular insights into the dynamics of U.S. partisan politics and international diplomacy. Obama brings readers inside the Oval Office and the White House Situation Room, and to Moscow, Cairo, Beijing, and points beyond. We are privy to his thoughts as he assembles his cabinet, wrestles with a global financial crisis, takes the measure of Vladimir Putin, overcomes seemingly insurmountable odds to secure passage of the Affordable Care Act, clashes with generals about U.S. strategy in Afghanistan, tackles Wall Street reform, responds to the devastating Deepwater Horizon blowout, and authorizes Operation Neptune's Spear, which leads to the death of Osama bin Laden.

A Promised Land is extraordinarily intimate and introspective—the story of one man's bet with history, the faith of a community organizer tested on the world stage. Obama is candid about the balancing act of running for office as a Black American, bearing the expectations of a generation buoyed by messages of "hope and change," and meeting the moral challenges of high-stakes decision-making. He is frank about the forces that opposed him at home and abroad, open about how living in the White House affected his wife and daughters, and unafraid to reveal self-doubt and disappointment. Yet he never wavers from his belief that inside the great, ongoing American experiment, progress is always possible.

This beautifully written and powerful book captures Barack Obama's conviction that democracy is not a gift from on high but something founded on empathy and common understanding and built together, day by day.
Available November 17:
Amazon | Barnes & Noble | Google Play | Kobo | Apple Books | Indiebound | Indigo | Audible | Goodreads
The Diplomat's Wife by Pam Jenoff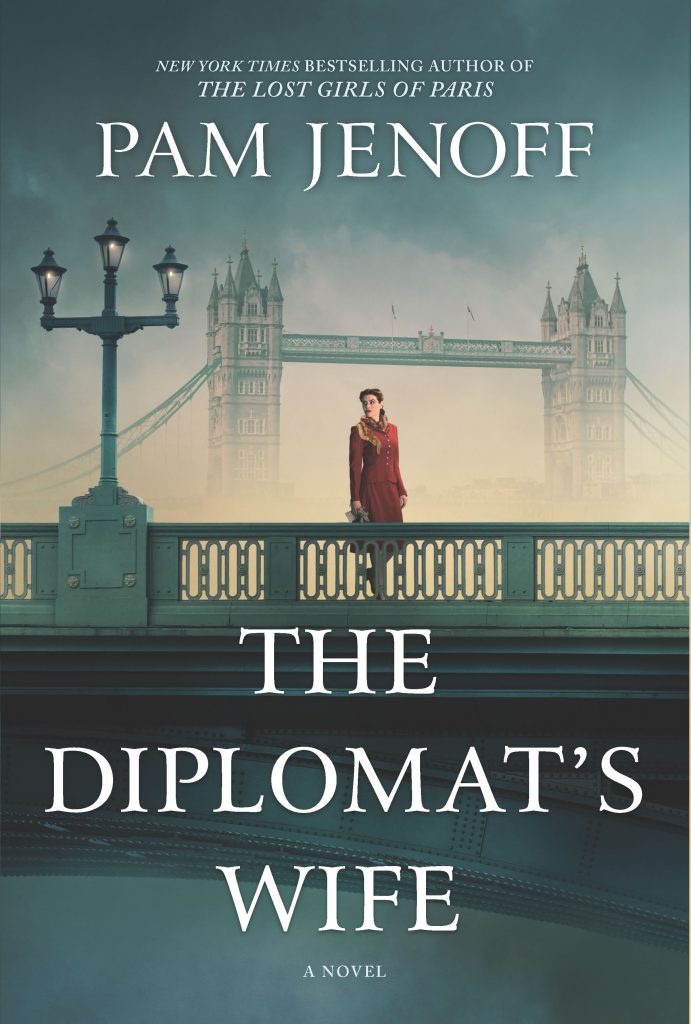 NOW IN PAPERBACK
One woman faces danger, intrigue, and love in the aftermath of World War II in this unforgettable novel from the New York Times bestselling author of The Lost Girls of Paris.
1945. Marta Nederman has barely survived the brutality of a Nazi concentration camp, where she was imprisoned for her work with the Polish resistance. Lucky to have escaped with her life, she meets Paul, an American soldier, who gives her hope of a happier future. The two make a promise to meet in London, but Paul is in a deadly plane crash and never arrives.
Finding herself pregnant and alone in a strange city, Marta finds comfort with a kind British diplomat, and the two soon marry. But Marta's happiness is threatened when the British government seeks her help to find a Communist spy—an undercover mission that resurrects the past with far-reaching consequences.
Set during a time of great upheaval and change, The Diplomat's Wife, a gripping early work from Pam Jenoff, is a story of survival, love and heroism, and a great testament to the strength of women.
Available November 24:
Amazon | Barnes & Noble | Google Play | Kobo | Apple Books | Indiebound | Indigo | Audible | Goodreads
Ready Player Two by Ernest Cline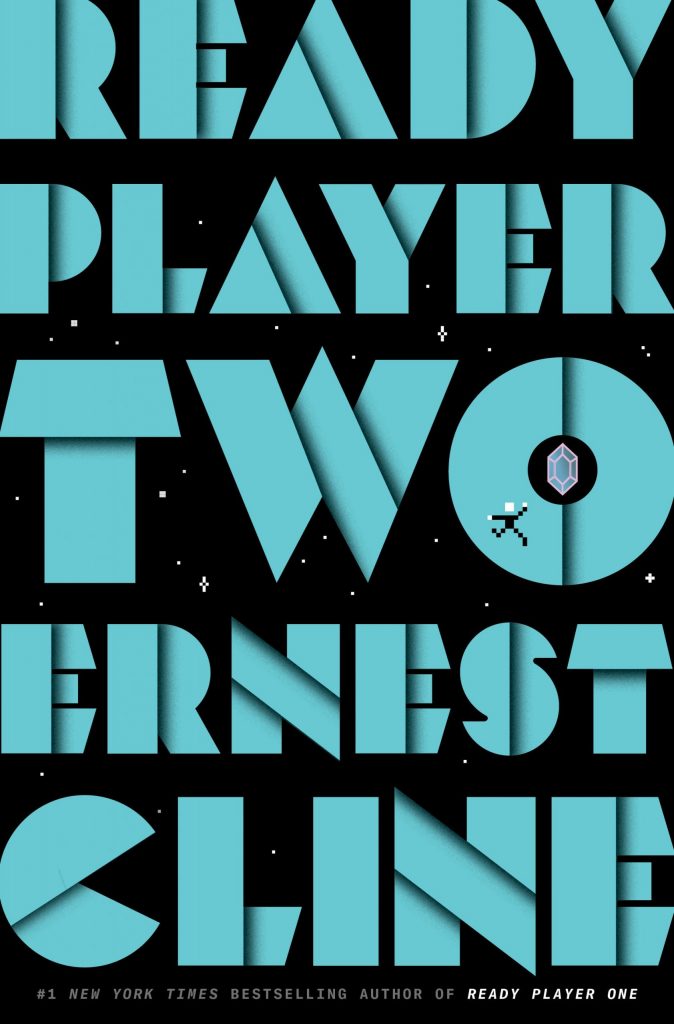 The highly anticipated sequel to the beloved worldwide bestseller Ready Player One, the near-future adventure that inspired the blockbuster Steven Spielberg film.

AN UNEXPECTED QUEST. TWO WORLDS AT STAKE. ARE YOU READY?

Days after winning OASIS founder James Halliday's contest, Wade Watts makes a discovery that changes everything.

Hidden within Halliday's vaults, waiting for his heir to find, lies a technological advancement that will once again change the world and make the OASIS a thousand times more wondrous—and addictive—than even Wade dreamed possible.

With it comes a new riddle, and a new quest—a last Easter egg from Halliday, hinting at a mysterious prize.

And an unexpected, impossibly powerful, and dangerous new rival awaits, one who'll kill millions to get what he wants.

Wade's life and the future of the OASIS are again at stake, but this time the fate of humanity also hangs in the balance.

Lovingly nostalgic and wildly original as only Ernest Cline could conceive it, Ready Player Two takes us on another imaginative, fun, action-packed adventure through his beloved virtual universe, and jolts us thrillingly into the future once again.
Available November 24:
Amazon | Barnes & Noble | Google Play | Kobo | Apple Books | Indiebound | Indigo | Audible | Goodreads
What are you looking forward to this month?