We're celebrating LGBTQIAP+ stories and voices all year long! Join Noni Blake and Grace Porter on their journeys of self discovery in It's Been a Pleasure, Noni Blake by Claire Christian and Honey Girl by Morgan Rogers. Or choose to dive into Michael Koresky's heartwarming memoir, Films of Endearment.
From historical fiction to romance, here's a list of pride reads to add to your list this year.
LADY SUNSHINE BY AMY MASON DOAN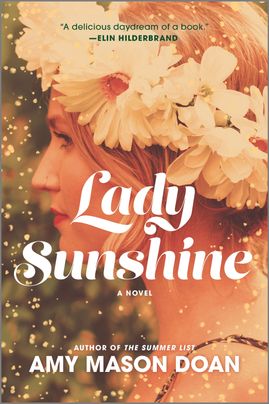 "An engrossing tale of secrets, memory, music, and the people and places you can never outrun. A fantastic summer read."
—Laura Dave, New York Times bestselling author of The Last Thing He Told Me

"With lyrical writing and a page-turning plot, this sun-dappled book has it all: heart, smarts, and an irresistible musical beat. A tone-perfect evocation of the free-spirited late 1970s and a riveting coming-of-age story." —Karen Dukess, author of The Last Book Party
ONE ICONIC FAMILY. ONE SUMMER OF SECRETS. THE DAZZLING SPIRIT OF 1970S CALIFORNIA.
For Jackie Pierce, everything changed the summer of 1979, when she spent three months of infinite freedom at her bohemian uncle's sprawling estate on the California coast. As musicians, artists, and free spirits gathered at The Sandcastle for the season in pursuit of inspiration and communal living, Jackie and her cousin Willa fell into a fast friendship, testing their limits along the rocky beach and in the wild woods… until the summer abruptly ended in tragedy, and Willa silently slipped away into the night.
Twenty years later, Jackie unexpectedly inherits The Sandcastle and returns to the iconic estate for a short visit to ready it for sale. But she reluctantly extends her stay when she learns that, before her death, her estranged aunt had promised an up-and-coming producer he could record a tribute album to her late uncle at the property's studio. As her musical guests bring the place to life again with their sun-drenched beach days and late-night bonfires, Jackie begins to notice startling parallels to that summer long ago. And when a piece of the past resurfaces and sparks new questions about Willa's disappearance, Jackie must discover if the dark secret she's kept ever since is even the truth at all.
Available at:
Amazon | Barnes & Noble | Google Play | Kobo | Apple Books | Indiebound | Indigo | Audible | Goodreads  
BROKEN PEOPLE BY SAM LANSKY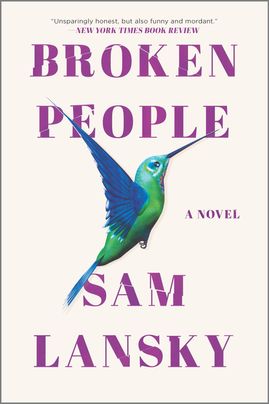 "He fixes everything that's wrong with you in three days."

This is the alluring promise that first hooks Sam when he overhears it at a party in the Hollywood Hills: the story of a globe-trotting master healer who claims to perform "open-soul surgery" on the emotionally damaged. And the shaman seems convincing—enough for neurotic, depressed Sam to sign up for a weekend under his care. But as Sam begins his slippery descent into the seductive world of modern mysticism, he'll be forced to reckon with his troubled past, his self-delusions and the very nature of what it means to be well.
At turns tender and acid, bracing and wise, Broken People is a dazzling modern parable about hope, faith and the stories we tell ourselves about who we are.
Available at:
Amazon | Barnes & Noble | Google Play | Kobo | Apple Books | Indiebound | Indigo | Audible | Goodreads
FILMS OF ENDEARMENT BY MICHAEL KORESKY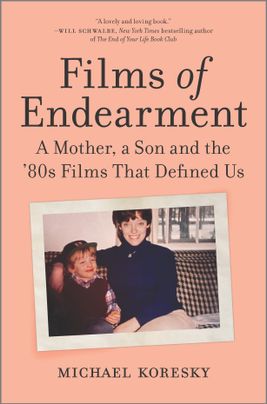 "A lovely and loving book."—Will Schwalbe, New York Times bestselling author of The End of Your Life Book Club
"I'm not sure I have ever read a book about movies that is as tender and open-hearted as Films of Endearment."—Mark Harris, New York Times bestselling author of Mike Nichols: A Life

A poignant memoir of family, grief and resilience about a young man, his dynamic mother and the '80s movies they shared together

Michael Koresky's most formative memories were simple ones. A movie rental. A mug of tea. And a few shared hours with his mother. Years later and now a successful film critic, Koresky set out on a journey with his mother to discover more about their shared cinematic past. They rewatched ten films that she first introduced to him as a child, one from every year of the '80s, each featuring women leads.
Together, films as divergent as 9 to 5, Terms of Endearment, The Color Purple and Aliens form the story of an era that Koresky argues should rightly be called "The Decade of the Actress."
Films of Endearment is a reappraisal of the most important and popular female-driven films of that time, a profound meditation on loss and resilience, and a celebration of the special bond between mothers and their sons.
Available at:
Amazon | Barnes & Noble | Google Play | Kobo | Apple Books | Indiebound | Indigo | Audible | Goodreads
ROAD OUT OF WINTER BY ALISON STINE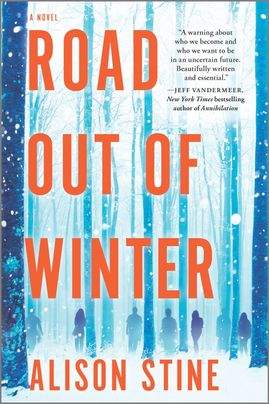 2021 winner of the Philip K. Dick Award
A 2020 The Rumpus Book Club Selection

"Blends a rural thriller and speculative realism into what could be called dystopian noir…. Profoundly moving."—Library Journal, starred review
In an endless winter, she carries seeds of hope.
Wylodine comes from a world of paranoia and poverty—her family grows marijuana illegally, and life has always been a battle. Now she's been left behind to tend the crop alone. Then spring doesn't return for the second year in a row, bringing unprecedented, extreme winter.
With grow lights stashed in her truck and a pouch of precious seeds, she begins a journey, determined to start over away from Appalachian Ohio. But the icy roads and strangers hidden in the hills are treacherous. After a harrowing encounter with a violent cult, Wil and her small group of exiles become a target for the cult's volatile leader. Because she has the most valuable skill in the climate chaos: she can make things grow.
Urgent and poignant, Road Out of Winter is a glimpse of an all-too-possible near future, with a chosen family forged in the face of dystopian collapse. With the gripping suspense of The Road and the lyricism of Station Eleven, Stine's vision is of a changing world where an unexpected hero searches for where hope might take root.
Available at:
Amazon | Barnes & Noble | Google Play | Kobo | Apple Books | Indiebound | Indigo | Audible | Goodreads
HONEY GIRL BY MORGAN ROGERS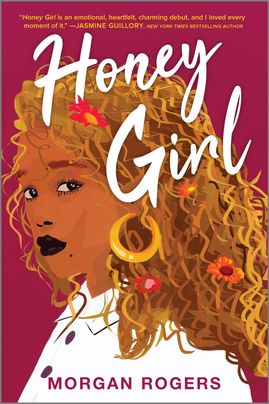 Named Most Anticipated of 2021 by Oprah Magazine * Marie Claire * Ms. Magazine * E! * Parade Magazine * Buzzfeed * Cosmo * The Rumpus * GoodReads * Autostraddle * Brit & Co * Refinery29 * Betches * BookRiot and others!

A LibraryReads Pick

"HONEY GIRL is an emotional, heartfelt, charming debut, and I loved every moment of it."
— Jasmine Guillory, New York Times bestselling author of The Proposal
When becoming an adult means learning to love yourself first.
With her newly completed PhD in astronomy in hand, twenty-eight-year-old Grace Porter goes on a girls' trip to Vegas to celebrate. She's a straight A, work-through-the-summer certified high achiever. She is not the kind of person who goes to Vegas and gets drunkenly married to a woman whose name she doesn't know…until she does exactly that.
This one moment of departure from her stern ex-military father's plans for her life has Grace wondering why she doesn't feel more fulfilled from completing her degree. Staggering under the weight of her parent's expectations, a struggling job market and feelings of burnout, Grace flees her home in Portland for a summer in New York with the wife she barely knows.
In New York, she's able to ignore all the constant questions about her future plans and falls hard for her creative and beautiful wife, Yuki Yamamoto. But when reality comes crashing in, Grace must face what she's been running from all along—the fears that make us human, the family scars that need to heal and the longing for connection, especially when navigating the messiness of adulthood.
Available at:
Amazon | Barnes & Noble | Google Play | Kobo | Apple Books | Indiebound | Indigo | Audible | Goodreads
THE BRIGHT LANDS BY JOHN FRAM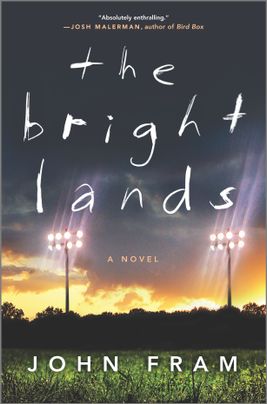 A Best Book of 2020 from Library Journal, CrimeReads, and BookPage

"Marks the debut of an already accomplished novelist." —John Banville
The town of Bentley holds two things dear: its football, and its secrets. But when star quarterback Dylan Whitley goes missing, an unremitting fear grips this remote corner of Texas.
Joel Whitley was shamed out of conservative Bentley ten years ago, and while he's finally made a life for himself as a gay man in New York, his younger brother's disappearance soon brings him back to a place he thought he'd escaped for good. Meanwhile, Sheriff's Deputy Starsha Clark stayed in Bentley; Joel's return brings back painful memories—not to mention questions—about her own missing brother. And in the high school hallways, Dylan's friends begin to suspect that their classmates know far more than they're telling the police. Together, these unlikely allies will stir up secrets their town has long tried to ignore, drawing the attention of dangerous men who will stop at nothing to see that their crimes stay buried.
But no one is quite prepared to face the darkness that's begun to haunt their nightmares, whispering about a place long thought to be nothing but an urban legend: an empty night, a flicker of light on the horizon—The Bright Lands.
Available at:
Amazon | Barnes & Noble | Google Play | Kobo | Apple Books | Indiebound | Indigo | Audible | Goodreads
MOVING FORWARD BY KARINE JEAN PIERRE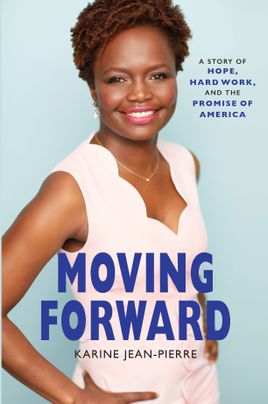 "Moving Forward arrives at a moment when inspiration, insight, and optimism are in short supply. Karine Jean-Pierre delivers all three in abundance." —Stacey Abrams, author of Lead from the Outside

"Karine Jean-Pierre illuminates her path to insider status so others can follow in her footsteps."—Essence
"Jean-Pierre inspires us to get involved in politics—every single one of us, no matter where we are from or who we are."—The Atlantic
Everyone's path into politics is different. In Moving Forward, Karine Jean-Pierre tells her own story, looking back on her life as a first-generation Haitian American. And she shares what she's learned about politics, offering a handbook for anyone who wants to take part, no matter how or where they grew up or how young or old they might be.
Those who care for America are filled with a historic sense of urgency. Together we can create positive change, and, in this book, Karine Jean-Pierre shows us how.
Available at:
Amazon | Barnes & Noble | Google Play | Kobo | Apple Books | Indiebound | Indigo | Audible | Goodreads
THE ONE BY JOHN MARRS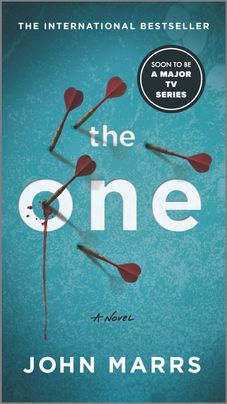 A Wall Street Journal Best Science Fiction Book of 2018

"Just try to put this gripping thriller down once you pick it up." —AARP
"A shock on every other page." —Wall Street Journal
How far would you go to find The One?
A simple DNA test is all it takes. Just a quick mouth swab and soon you'll be matched with your perfect partner—the one you're genetically made for.
That's the promise made by Match Your DNA. A decade ago, the company announced that they had found the gene that pairs each of us with our soul mate. Since then, millions of people around the world have been matched. But the discovery has its downsides: test results have led to the breakup of countless relationships and upended the traditional ideas of dating, romance and love.
Now five very different people have received the notification that they've been "Matched." They're each about to meet their one true love. But "happily ever after" isn't guaranteed for everyone. Because even soul mates have secrets. And some are more shocking than others…
A word-of-mouth hit in the United Kingdom, The One is a fascinating novel that shows how even the simplest discoveries can have complicated consequences.
Available at:
Amazon | Barnes & Noble | Google Play | Kobo | Apple Books | Indiebound | Indigo | Audible | Goodreads
IT'S BEEN A PLEASURE, NONI BLAKE BY CLAIRE CHRISTIAN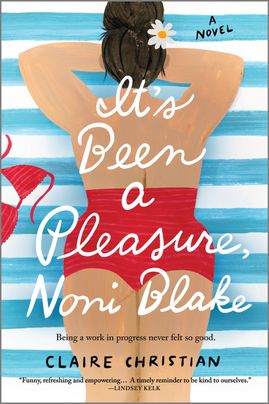 "A vibrant story of self-discovery…sure to capture readers' hearts."—Publishers Weekly, starred review

A sparkling, feel-good tale about starting over, for anyone who's spent too much of their own life making other people happy.

What if you made yourself your number one priority?
Of all the women and men Noni Blake has pleased in her life, there's one she's often overlooked—herself. After the end of a decade-long relationship, Noni decides it's time for that to change. She's finally going to prioritize her wants and desires and only do things (and people) that feel good in the moment.
As she embarks on a pleasure-seeking quest that takes her halfway around the world, she discovers that maybe she can have everything, and everyone, she's ever wanted.
Effortlessly hilarious and relatable, Claire Christian spins a fresh, uplifting story about starting over as a thirtysomething woman who's been living life for everyone else. A story of self-discovery for the ages, Noni's journey serves as a reminder that life is what we make of it—so why not enjoy it?
Available at:
Amazon | Barnes & Noble | Google Play | Kobo | Apple Books | Indiebound | Indigo | Audible | Goodreads
THE WITCH KING BY H.E. EDGMON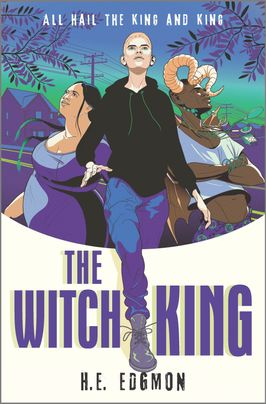 Wyatt would give anything to forget where he came from—but a kingdom demands its king.
In Asalin, fae rule and witches like Wyatt Croft…don't. Wyatt's betrothal to his best friend, fae prince Emyr North, was supposed to change that. But when Wyatt lost control of his magic one devastating night, he fled to the human world.
Now a coldly distant Emyr has hunted him down. Despite transgender Wyatt's newfound identity and troubling past, Emyr has no intention of dissolving their engagement. In fact, he claims they must marry now or risk losing the throne. Jaded, Wyatt strikes a deal with the enemy, hoping to escape Asalin forever. But as he gets to know Emyr, Wyatt realizes the boy he once loved may still exist. And as the witches face worsening conditions, he must decide once and for all what's more important—his people or his freedom.
Available at:
Amazon | Barnes & Noble | Google Play | Kobo | Apple Books | Indiebound | Indigo | Audible | Goodreads
THE CITY BEAUTIFUL BY ADEN POLYDOROUS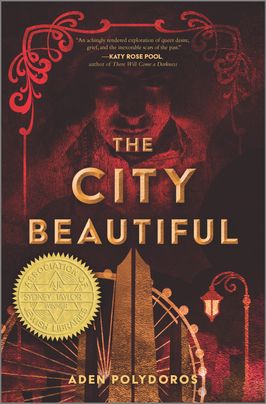 "The City Beautiful is the haunting, queer Jewish historical thriller of my darkest dreams." —Dahlia Adler, creator of LGBTQ Reads and editor of That Way Madness Lies
Death lurks around every corner in this unforgettable Jewish historical fantasy about a city, a boy, and the shadows of the past that bind them both together.

Chicago, 1893. For Alter Rosen, this is the land of opportunity, and he dreams of the day he'll have enough money to bring his mother and sisters to America, freeing them from the oppression they face in his native Romania.

But when Alter's best friend, Yakov, becomes the latest victim in a long line of murdered Jewish boys, his dream begins to slip away. While the rest of the city is busy celebrating the World's Fair, Alter is now living a nightmare: possessed by Yakov's dybbuk, he is plunged into a world of corruption and deceit, and thrown back into the arms of a dangerous boy from his past. A boy who means more to Alter than anyone knows.

Now, with only days to spare until the dybbuk takes over Alter's body completely, the two boys must race to track down the killer—before the killer claims them next.
Available at:
Amazon | Barnes & Noble | Google Play | Kobo | Apple Books | Indiebound | Indigo | Goodreads
THE SOUND OF STARS BY ALECHIA DOW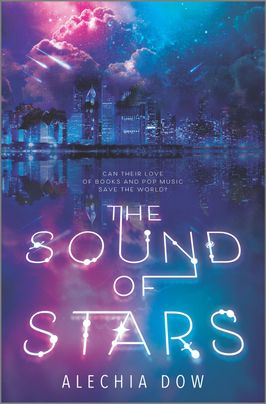 Can a girl who risks her life for books and an alien who loves pop music work together to save humanity? A beautiful and thrilling debut novel for fans of Marie Lu and Veronica Roth.
Two years ago, a misunderstanding between the leaders of Earth and the invading Ilori resulted in the deaths of one-third of the world's population.
Today, seventeen-year-old Ellie Baker survives in an Ilori-controlled center in New York City. With humans deemed dangerously volatile because of their initial reaction to the invasion, emotional expression can be grounds for execution. Music, art and books are illegal, but Ellie still keeps a secret library.
When young Ilori commander M0Rr1S finds Ellie's library, he's duty-bound to deliver her for execution. The trouble is, he finds himself drawn to human music and in desperate need of more.
Humanity's fate rests in the hands of an alien Ellie should fear, but M0Rr1S has a potential solution—thousands of miles away. The two embark on a wild and dangerous journey with a bag of books and their favorite albums, all the while creating a story and a song of their own that just might save them both.
Available at:
Amazon | Barnes & Noble | Google Play | Kobo | Apple Books | Indiebound | Indigo | Audible | Goodreads
THESE FEATHERED FLAMES BY ALEXANDRA OVERY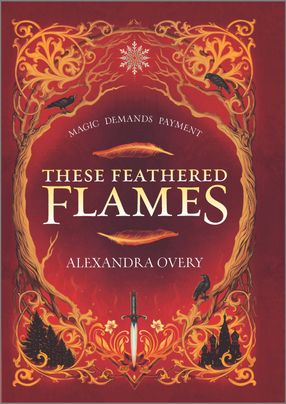 "These Feathered Flames is a stunning debut as dark, lush, and captivating as the best fairy tales."—Nina Varela, author of the Crier's War duology
When twin heirs are born in Tourin, their fates are decided at a young age. While Izaveta remained at court to learn the skills she'd need as the future queen, Asya was taken away to train with her aunt, the mysterious Firebird, who ensured magic remained balanced in the realm.
But before Asya's training is completed, the ancient power blooms inside her, which can mean only one thing: the queen is dead, and a new ruler must be crowned.
As the princesses come to understand everything their roles entail, they'll discover who they can trust, who they can love—and who killed their mother.
Available at:
Amazon | Barnes & Noble | Google Play | Kobo | Apple Books | Indiebound | Indigo |Audible | Goodreads
Did something catch your eye? Check out our complete list of Pride reads here.