Sun's out, books out! Summer is finally here and we have a list is full of all the season's anticipated reads, from Kelly Rimmer's new release The Warsaw Orphan, to Alka Joshi's The Secret of Jaipur, the sequel to Reese's Book Club Pick, The Henna Artist. Whether you are a historical fiction fan or love a little bit of suspense, we have just the book for you to add to your list.
THE WARSAW ORPHAN BY KELLY RIMMER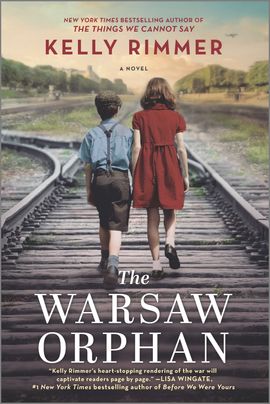 Inspired by the real-life heroine who saved thousands of Jewish children during WWII, The Warsaw Orphan is Kelly Rimmer's most anticipated novel since her bestselling sensation, The Things We Cannot Say.
In the spring of 1942, young Elzbieta Rabinek is aware of the swiftly growing discord just beyond the courtyard of her comfortable Warsaw home. She has no fondness for the Germans who patrol her streets and impose their curfews, but has never given much thought to what goes on behind the walls that contain her Jewish neighbors. She knows all too well about German brutality–and that it's the reason she must conceal her true identity. But in befriending Sara, a nurse who shares her apartment floor, Elzbieta makes a discovery that propels her into a dangerous world of deception and heroism.
Using Sara's credentials to smuggle children out of the ghetto brings Elzbieta face-to-face with the reality of the war behind its walls, and to the plight of the Gorka family, who must make the impossible decision to give up their newborn daughter or watch her starve. For Roman Gorka, this final injustice stirs him to rebellion with a zeal not even his newfound love for Elzbieta can suppress. But his recklessness brings unwanted attention to Sara's cause, unwittingly putting Elzbieta and her family in harm's way until one violent act threatens to destroy their chance at freedom forever.
From Nazi occupation to the threat of a communist regime, The Warsaw Orphan is the unforgettable story of Elzbieta and Roman's perilous attempt to reclaim the love and life they once knew.
Available June 1:
Amazon | Barnes & Noble | Google Play | Kobo | Apple Books | Indiebound | Indigo | Audible |Goodreads
KENNEDY'S AVENGER BY DAN ABRAMS AND DAVID FISHER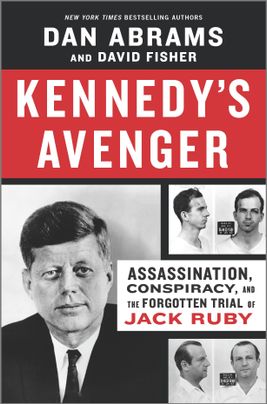 New York Times bestselling authors Dan Abrams and David Fisher bring to life the incredible story of one of America's most publicized—and most surprising—criminal trials in history.
No crime in history had more eyewitnesses. On November 24, 1963, two days after the killing of President Kennedy, a troubled nightclub owner named Jack Ruby quietly slipped into the Dallas police station and assassinated the assassin, Lee Harvey Oswald. Millions of Americans witnessed the killing on live television, and yet the event would lead to questions for years to come.
It also would help to spark the conspiracy theories that have continued to resonate today.
Under the long shadow cast by the assassination of America's beloved president, few would remember the bizarre trial that followed three months later in Dallas, Texas. How exactly does one defend a man who was seen pulling the trigger in front of millions? And, more important, how did Jack Ruby, who fired point-blank into Oswald live on television, die an innocent man?
Featuring a colorful cast of characters, including the nation's most flamboyant lawyer pitted against a tough-as-Texas prosecutor, award-winning authors Dan Abrams and David Fisher unveil the astonishing details behind the first major trial of the television century. While it was Jack Ruby who appeared before the jury, it was also the city of Dallas and the American legal system being judged by the world.
Available June 1:
Amazon | Barnes & Noble | Google Play | Kobo | Apple Books | Indiebound | Indigo | Audible | Goodreads
AN EMOTION OF GREAT DELIGHT BY TAHEREH MAFI
From bestselling and National Book Award–nominated author Tahereh Mafi comes a stunning novel about love and loneliness, navigating the hyphen of dual identity, and reclaiming your right to joy—even when you're trapped in the amber of sorrow.
It's 2003, several months since the US officially declared war on Iraq, and the American political world has evolved. Tensions are high, hate crimes are on the rise, FBI agents are infiltrating local mosques, and the Muslim community is harassed and targeted more than ever. Shadi, who wears hijab, keeps her head down.
She's too busy drowning in her own troubles to find the time to deal with bigots.
Shadi is named for joy, but she's haunted by sorrow. Her brother is dead, her father is dying, her mother is falling apart, and her best friend has mysteriously dropped out of her life. And then, of course, there's the small matter of her heart—
It's broken.
Shadi tries to navigate her crumbling world by soldiering through, saying nothing. She devours her own pain, each day retreating farther and farther inside herself until finally, one day, everything changes.
She explodes.
An Emotion of Great Delight is a searing look into the world of a single Muslim family in the wake of 9/11. It's about a child of immigrants forging a blurry identity, falling in love, and finding hope—in the midst of a modern war.
Available June 1:
Amazon | Barnes & Noble | Google Play | Kobo | Apple Books | Indiebound |Audible | Goodreads
OUR WOMAN IN MOSCOW BY BEATRIZ WILLIAMS
MOST ANTICIPATED NOVEL OF SUMMER 2021 ACCORDING TO BUSTLE, BUZZFEED, AND SHEREADS!
The New York Times bestselling author of Her Last Flight returns with a gripping and profoundly human story of Cold War espionage and family devotion.
In the autumn of 1948, Iris Digby vanishes from her London home with her American diplomat husband and their two children. The world is shocked by the family's sensational disappearance. Were they eliminated by the Soviet intelligence service? Or have the Digbys defected to Moscow with a trove of the West's most vital secrets?
Four years later, Ruth Macallister receives a postcard from the twin sister she hasn't seen since their catastrophic parting in Rome in the summer of 1940, as war engulfed the continent and Iris fell desperately in love with an enigmatic United States Embassy official named Sasha Digby. Within days, Ruth is on her way to Moscow, posing as the wife of counterintelligence agent Sumner Fox in a precarious plot to extract the Digbys from behind the Iron Curtain.
But the complex truth behind Iris's marriage defies Ruth's understanding, and as the sisters race toward safety, a dogged Soviet KGB officer forces them to make a heartbreaking choice between two irreconcilable loyalties.
Available June 1:
Amazon | Barnes & Noble | Google Play | Kobo | Apple Books | Indiebound |Audible | Goodreads
THE CHOSEN AND THE BEAUTIFUL BY NGHI VO
An Indie Next Pick!

A Most Anticipated in 2021 Pick for Oprah Magazine | USA Today | Buzzfeed | Greatist | BookPage | PopSugar | Bustle | The Nerd Daily | Goodreads | Literary Hub | Ms. Magazine | Library Journal

"Gatsby the way it should have been written—dark, dazzling, fantastical." —R. F. Kuang

Immigrant. Socialite. Magician.

Jordan Baker grows up in the most rarefied circles of 1920s American society—she has money, education, a killer golf handicap, and invitations to some of the most exclusive parties of the Jazz Age. She's also queer and Asian, a Vietnamese adoptee treated as an exotic attraction by her peers, while the most important doors remain closed to her.
But the world is full of wonders: infernal pacts and dazzling illusions, lost ghosts and elemental mysteries. In all paper is fire, and Jordan can burn the cut paper heart out of a man. She just has to learn how.
Nghi Vo's debut novel The Chosen and the Beautiful reinvents this classic of the American canon as a coming-of-age story full of magic, mystery, and glittering excess, and introduces a major new literary voice.
Available June 1:
Amazon | Barnes & Noble | Google Play | Kobo | Apple Books | Indiebound |Audible | Goodreads
THE OTHER BLACK GIRL BY ZAKIYA DALILA HARRIS
Get Out meets The Devil Wears Prada in this electric debut about the tension that unfurls when two young Black women meet against the starkly white backdrop of New York City book publishing.
Twenty-six-year-old editorial assistant Nella Rogers is tired of being the only Black employee at Wagner Books. Fed up with the isolation and microaggressions, she's thrilled when Harlem-born and bred Hazel starts working in the cubicle beside hers. They've only just started comparing natural hair care regimens, though, when a string of uncomfortable events elevates Hazel to Office Darling, and Nella is left in the dust.
Then the notes begin to appear on Nella's desk: LEAVE WAGNER. NOW.
It's hard to believe Hazel is behind these hostile messages. But as Nella starts to spiral and obsess over the sinister forces at play, she soon realizes that there's a lot more at stake than just her career.
A whip-smart and dynamic thriller and sly social commentary that is perfect for anyone who has ever felt manipulated, threatened, or overlooked in the workplace, The Other Black Girl will keep you on the edge of your seat until the very last twist.
Available June 1:
Amazon | Barnes & Noble | Google Play | Kobo | Apple Books | Indiebound |Audible | Goodreads
ONE LAST STOP BY CASEY MCQUISTON
From the New York Times bestselling author of Red, White & Royal Blue comes a new romantic comedy that will stop readers in their tracks…

"Dreamy, other worldly, smart, swoony, thoughtful, hilarious – all in all, exactly what you'd expect from Casey McQuiston!" – Jasmine Guillory, New York Times bestselling author of The Proposal and Party for Two

For cynical twenty-three-year-old August, moving to New York City is supposed to prove her right: that things like magic and cinematic love stories don't exist, and the only smart way to go through life is alone. She can't imagine how waiting tables at a 24-hour pancake diner and moving in with too many weird roommates could possibly change that. And there's certainly no chance of her subway commute being anything more than a daily trudge through boredom and electrical failures.
But then, there's this gorgeous girl on the train.
Jane. Dazzling, charming, mysterious, impossible Jane. Jane with her rough edges and swoopy hair and soft smile, showing up in a leather jacket to save August's day when she needed it most. August's subway crush becomes the best part of her day, but pretty soon, she discovers there's one big problem: Jane doesn't just look like an old school punk rocker. She's literally displaced in time from the 1970s, and August is going to have to use everything she tried to leave in her own past to help her. Maybe it's time to start believing in some things, after all.
Casey McQuiston's One Last Stop is a magical, sexy, big-hearted romance where the impossible becomes possible as August does everything in her power to save the girl lost in time.
"A dazzling romance, filled with plenty of humor and heart." – Time Magazine, "The 21 Most Anticipated Books of 2021"
Available June 1:
Amazon | Barnes & Noble | Google Play | Kobo | Apple Books | Indiebound | Audible | Goodreads
SISTERS OF THE RESISTANCE BY CHRISTINE WELLS
Two sisters join the Paris Resistance in this page-turning new novel inspired by the real-life bravery of Catherine Dior, sister of the fashion designer and a heroine of World War II France—perfect for fans of Kate Quinn and Jennifer Chiaverini.
"As dazzling as a Dior gown! With a gorgeous blend of fashion, heartbreak, heroism, and love this book will transport you to France…" —Natasha Lester, New York Times bestselling author of The Paris Secret
Paris, 1944: The war is nearly over, but for members of the Resistance in occupied France, it is more dangerous than ever before. Twenty-five-year-old Gabby Foucher loathes the Nazis, though as the concierge of 10 rue Royale, she does her best to avoid conflict—unlike her bolder sister Yvette, who finds trouble at every turn.
Then they are both recruited into the Resistance by Catherine Dior and swept into a treacherous world of spies, fugitives, and intrigue. While Gabby risks everything for the man she is hiding from the Nazis, Yvette must decide whether to trust an enigmatic diplomat who seems to have guessed her secret. As the threat of betrayal draws ever-closer, one slip could mean the deaths of many, and both sisters must make choices they might regret.
Paris, 1947: Yvette returns from New York to reunite with Gabby and begin life anew as a mannequin for Dior, who is revolutionizing fashion with the New Look. But first she must discover the truth behind Catherine's terrible fate, while Gabby finds that there are many kinds of courage, and that love is always worth fighting for.
Available June 8:
Amazon | Barnes & Noble | Google Play | Kobo | Apple Books | Indiebound | Indigo |Audible | Goodreads
ONE TWO THREE BY LAURIE FRANKEL
From Laurie Frankel, the New York Times bestselling author of This Is How It Always Is, a Reese's Book Club x Hello Sunshine Book Pick, comes One Two Three, a timely, topical novel about love and family that will make you laugh and cry…and laugh again.

In a town where nothing ever changes, suddenly everything does…
Everyone knows everyone in the tiny town of Bourne, but the Mitchell triplets are especially beloved. Mirabel is the smartest person anyone knows, and no one doubts it just because she can't speak. Monday is the town's purveyor of books now that the library's closed―tell her the book you think you want, and she'll pull the one you actually do from the microwave or her sock drawer. Mab's job is hardest of all: get good grades, get into college, get out of Bourne.
For a few weeks seventeen years ago, Bourne was national news when its water turned green. The girls have come of age watching their mother's endless fight for justice. But just when it seems life might go on the same forever, the first moving truck anyone's seen in years pulls up and unloads new residents and old secrets. Soon, the Mitchell sisters are taking on a system stacked against them and uncovering mysteries buried longer than they've been alive. Because it's hard to let go of the past when the past won't let go of you.
Three unforgettable narrators join together here to tell a spellbinding story with wit, wonder, and deep affection. As she did in This Is How It Always Is, Laurie Frankel has written a laugh-out-loud-on-one-page-grab-a-tissue-the-next novel, as only she can, about how expanding our notions of normal makes the world a better place for everyone and how when days are darkest, it's our daughters who will save us all.
Available June 8:
Amazon | Barnes & Noble | Google Play | Kobo | Apple Books | Indiebound | Indigo |Audible | Goodreads
NOTORIOUS BY DIANA PALMER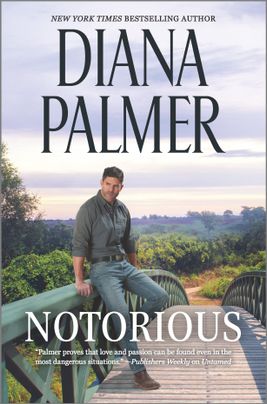 Trusting him is dangerous.
But resisting him is almost impossible.
New York Times bestselling author Diana Palmer's Long, Tall Texans series returns with secrets…and dangerous seduction.

Gaby Dupont knows some men shouldn't be trusted. Ever. Especially not high-profile lawyer Nicholas Chandler. How can she trust the man who might be helping her greedy relatives steal her family fortune? To get the inside scoop on Nicholas's dealings—and protect herself and her beloved grandmère—Gaby must take a job with the devil himself. Of course, she can't tell him who she really is…
Nicholas Chandler knows there's more to Gaby Dupont than delicate beauty. She's sweet and clever—but just too young and secretive. Yet even as they clash, Gaby gets under his skin as no other woman ever has. When Gaby comes under fire, Nicholas risks his career and reputation to keep her safe. But can he protect Gaby without losing his heart?
Available June 15:
Amazon | Barnes & Noble | Google Play | Kobo | Apple Books | Indiebound | Indigo |Audible | Goodreads
THE SECRET KEEPER OF JAIPUR BY ALKA JOSHI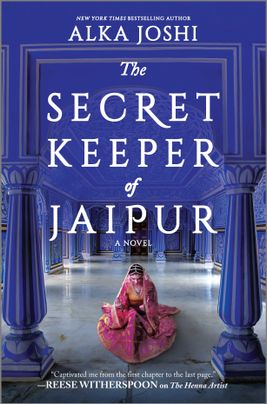 A NEW NOVEL BY THE AUTHOR OF THE HENNA ARTIST, A REESE'S BOOK CLUB PICK
"Captivated me from the first chapter to the last page." —Reese Witherspoon on The Henna Artist
In New York Times bestselling author Alka Joshi's intriguing new novel, henna artist Lakshmi arranges for her protégé, Malik, to intern at the Jaipur Palace in this tale rich in character, atmosphere, and lavish storytelling.
It's the spring of 1969, and Lakshmi, now married to Dr. Jay Kumar, directs the Healing Garden in Shimla. Malik has finished his private school education. At twenty, he has just met a young woman named Nimmi when he leaves to apprentice at the Facilities Office of the Jaipur Royal Palace. Their latest project: a state-of-the-art cinema.
Malik soon finds that not much has changed as he navigates the Pink City of his childhood. Power and money still move seamlessly among the wealthy class, and favors flow from Jaipur's Royal Palace, but only if certain secrets remain buried. When the cinema's balcony tragically collapses on opening night, blame is placed where it is convenient. But Malik suspects something far darker and sets out to uncover the truth. As a former street child, he always knew to keep his own counsel; it's a lesson that will serve him as he untangles a web of lies.
Available June 22:
Amazon | Barnes & Noble | Google Play | Kobo | Apple Books | Indiebound | Indigo |Audible | Goodreads
THE PERFECT MURDER BY KAT MARTIN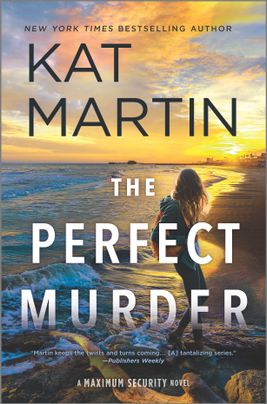 "Kat Martin is a fast gun when it comes to storytelling, and I love her books." —Linda Lael Miller, #1 New York Times bestselling author
New York Times bestselling author Kat Martin is back with her most thrilling novel yet in the Maximum Security series—The Perfect Murder. Fans of Sandra Brown, Linda Howard and Julie Garwood will fall in love with The Max.
The eldest of the three wealthy Garrett brothers, Reese Garrett is in the middle of a major purchase for his multimillion-dollar oil and gas company, Garrett Resources. The Poseidon offshore drilling platform venture will greatly enhance the company's value.
But when Reese is on a trip out to see the rig, his helicopter crashes, leaving him hospitalized and two men dead. It's discovered the chopper was sabotaged, and Reese is determined to find out who's behind the crash—and whether he was the intended target. Then, when his lover, Kenzie, is accused of her ex-husband's murder—a man with a vested interest in the Poseidon deal—clues start pointing to a connection that puts Reese, Kenzie and her young son in the sights of a killer.
From the Texas heat to the Louisiana bayous, Reese and his brothers must track down the truth before the body count gets any higher.
Watch for The Perfect Murder, the latest in the bestselling Maximum Security series, coming soon!
Available June 22:
Amazon | Barnes & Noble | Google Play | Kobo | Apple Books | Indiebound | Indigo |Audible | Goodreads
THE SUMMER OF NO ATTACHMENTS BY LORI FOSTER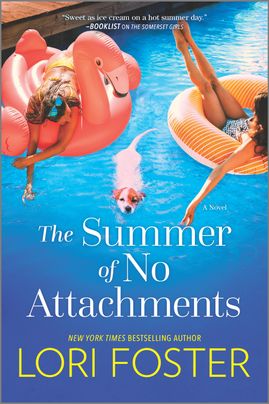 Summer flings with no strings mean nobody gets hurt.
At least, that was the plan…
"Brimming with heart, heat and humor."
—Jill Shalvis, New York Times bestselling author, on Worth the Wait
After putting the brakes on her dead-end relationship, local veterinarian Ivey Anders is ready to soak up this summer on her own terms. The way she sees it, no dating means no disappointment. Why complicate life with anything long-term? But when she meets Corbin Meyer—and his troubled young son, Justin—Ivey's no-strings strategy threatens to unravel before she can put it into practice.
Trust doesn't come easy for Ivey's best friend, Hope Mage, a veterinary-clinic assistant who's affected by an incident that's colored every relationship she's had. Though Hope's happy for Ivey, she can't quite open her own heart to the possibility of love. Not just yet… Maybe not ever. Soon, however, she's faced with a dilemma—Corbin's older brother, Lang. He's charming, he's kind…and he may just be the reason Hope needs to finally tear down her walls.
And as the sweet summer months unspool, the two friends discover love won't give up on them so easily.
Available June 22:
Amazon | Barnes & Noble | Google Play | Kobo | Apple Books | Indiebound | Indigo |Audible | Goodreads
WHEN I FOUND YOU BY BRENDA NOVAK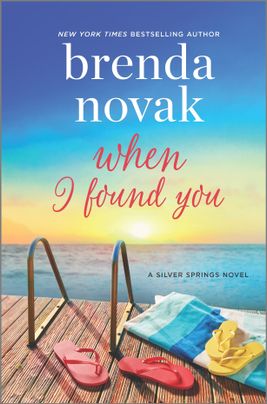 Sometimes the biggest emotional risk can reap the best romantic reward…
After everything she worked for is destroyed, pediatrician Natasha Gray is determined to build a new life. Divorced, bankrupt and suddenly a single mom, she's ready to start over in Silver Springs—on her own. She certainly doesn't need help from Mack Amos, the man who's already broken her heart twice.
Although Mack has had feelings for Tash since they first met, too many things have stood in the way. He's always given her the support she needs, though, and he'll do the same now. Even if the desire he wrestles with threatens to undermine his intentions…
But her heart is not the only reason Natasha wants to keep Mack at bay. More time in her life means getting closer to her son, which could lead to a revelation neither of them is ready to face.
Available June 29:
Amazon | Barnes & Noble | Google Play | Kobo | Apple Books | Indiebound | Indigo |Audible | Goodreads
THE HOUSE GUESTS BY EMILIE RICHARDS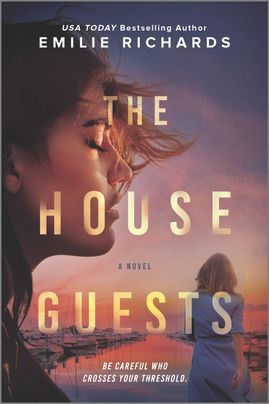 "A compelling page-turner one won't want to put down."—New York Journal of Books
Two women. Two families. Two lifetimes' worth of secrets.
In the wake of her husband's sudden death, Cassie Costas finds her relationship with her teenage stepdaughter unraveling. After their move to historic Tarpon Springs, Florida, Savannah hates her new town, her school and most of all her stepmom, whom she blames for her father's death. Cassie has enough to contend with as she searches for answers about the man she shared a life with, including why all their savings have disappeared.
When Savannah's rebellion culminates in an act that leaves single mother Amber Blair and her sixteen-year-old son homeless, Cassie empathizes with the woman's predicament and invites the strangers to move in. As their lives intertwine, Cassie realizes that Amber is hiding something. She's evasive about her past, but the fear in her eyes tells a darker story. Cassie wonders what the woman living under her roof is running from…and what will happen if it finally catches up to her.
Available June 29:
Amazon | Barnes & Noble | Google Play | Kobo | Apple Books | Indiebound | Indigo |Audible | Goodreads
LADY SUNSHINE BY AMY MASON DOAN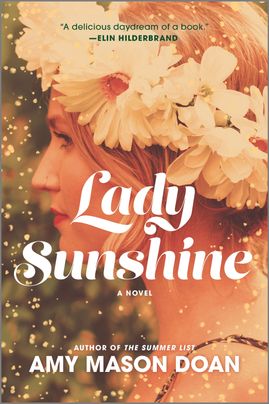 "A delicious daydream of a book." —Elin Hilderbrand, New York Times bestselling author of 28 Summers
"An engrossing tale of secrets, memory, music, and the people and places you can never outrun. A fantastic summer read."
—Laura Dave, New York Times bestselling author of The Last Thing He Told Me
ONE ICONIC FAMILY. ONE SUMMER OF SECRETS. THE DAZZLING SPIRIT OF 1970S CALIFORNIA.
For Jackie Pierce, everything changed the summer of 1979, when she spent three months of infinite freedom at her bohemian uncle's sprawling estate on the California coast. As musicians, artists, and free spirits gathered at The Sandcastle for the season in pursuit of inspiration and communal living, Jackie and her cousin Willa fell into a fast friendship, testing their limits along the rocky beach and in the wild woods… until the summer abruptly ended in tragedy, and Willa silently slipped away into the night.
Twenty years later, Jackie unexpectedly inherits The Sandcastle and returns to the iconic estate for a short visit to ready it for sale. But she reluctantly extends her stay when she learns that, before her death, her estranged aunt had promised an up-and-coming producer he could record a tribute album to her late uncle at the property's studio. As her musical guests bring the place to life again with their sun-drenched beach days and late-night bonfires, Jackie begins to notice startling parallels to that summer long ago. And when a piece of the past resurfaces and sparks new questions about Willa's disappearance, Jackie must discover if the dark secret she's kept ever since is even the truth at all.
"This book is gorgeous. A gold-drenched, nostalgic dream with a fierce female friendship at its heart."
—Marisa de los Santos, New York Times bestselling author of I'll Be Your Blue Sky
Available June 29:
Amazon | Barnes & Noble | Google Play | Kobo | Apple Books | Indiebound | Indigo |Audible | Goodreads
PUG ACTUALLY BY MATT DUN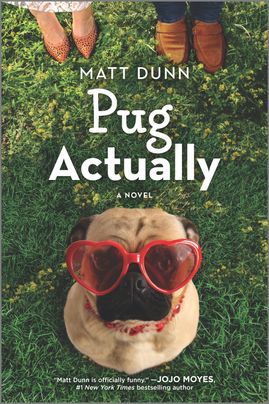 Not all heroes wear capes. Some of them wear collars.
A Dog's Purpose meets The Happy Ever After Playlist in this charming, pitch-perfect take on relationships as seen through the eyes of a wise pug named Doug, who is determined to play cupid to fix his owner's love life with his own four paws.
Doug wants his rescuer, Julie, to be happy. He is loyal and loves her unconditionally—two things that can't be said about Julie's married boss and lover, Luke. Yet Julie is reluctant to break up, afraid to end up like her eccentric cat-owning neighbor. It's a prospect that horrifies Doug, too.
Newly divorced Tom, on the other hand, is perfect for Julie. Everyone can see it—except for Julie and Tom. Doug is confident that with his help they will get over their initial animosity toward each other.
As Doug humorously navigates the quirks of human relationships, he knows he can't give up on Julie—after all, being a "rescue" works both ways.
Available June 29:
Amazon | Barnes & Noble | Google Play | Kobo | Apple Books | Indiebound | Indigo |Audible | Goodreads
CAST IN CONFLICT BY MICHELLE SAGARA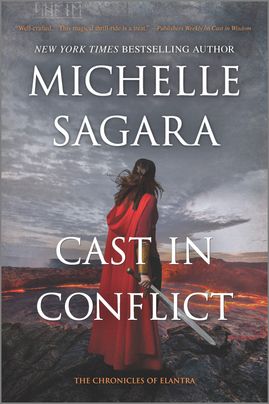 KEEP YOUR FRIENDS CLOSE, AND YOUR ENEMIES CLOSER
A Dragon and ten Barrani wouldn't be anyone's ideal roommates if a person wants peace and tranquility at home. The residue of three Draco-Barrani wars can make things pretty awkward—on a good day. Kaylin Neya has run out of good days.
In the upheaval surrounding the Academia, the Tower in the fief of Candallar is now without its lord. The Towers were created to protect Elantra against Shadow. Dragon Bellusdeo wants to captain the Tower and continue a war she'll never be able to abandon. But Sedarias, leader of the Barrani cohort, wants the Tower for the cohort. And Barrani and Dragons don't negotiate, even when they're living under the same roof.
If there were ever a time for Shadow to strike, it's now, when alliances are fractured and the Tower is vulnerable for the first time in centuries. More than ever, Kaylin needs her friends to work together if they're going to be able to stop the threat to Elantra.
Available June 29:
Amazon | Barnes & Noble | Google Play | Kobo | Apple Books | Indiebound |Audible | Goodreads
HIS IMPROPER LADY BY CANDACE CAMP
Some family secrets were never meant to be disturbed.
It's been a year since Tom Quick became a partner in the detective agency, Moreland & Quick, that he operates with his lifelong friend Constantine Moreland. When he catches an intruder breaking into the agency, obviously looking for something, it's clear that a new case is afoot. But this intruder wears an alluring scent, moves like a trained acrobat…and is clearly an attractive woman.
After a hardscrabble childhood, Desiree Malone grew up to be a talented performer, and now, she wants to find her real father. All she knows is that he's an aristocrat, and he abandoned her and her brothers when they were small. When she finds something at Moreland & Quick that gives her a lead, she can't help but follow it.
Tom wants to help Desiree, but he's still a little suspicious of her, even though he can't help but be drawn to her. But as Desiree and Tom dig deeper into Desiree's roots, they stumble on a mystery larger than either of them imagined—a mystery that threatens both their lives.
Available June 29:
Amazon | Barnes & Noble | Google Play | Kobo | Apple Books | Indiebound | Indigo | Goodreads
THE PERSONAL LIBRARIAN BY MARIE BENEDICT AND VICTORIA CHRISTOPHER MURRAY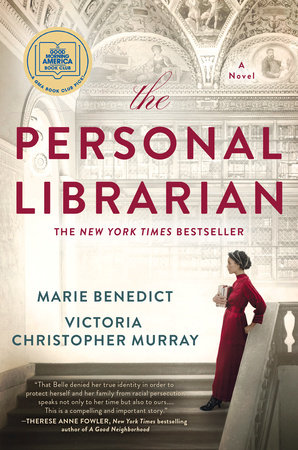 "An extraordinary tale that is both brilliant historical fiction and an important and timely commentary on racism. By holding up an unflinching mirror and illuminating this little-known chapter in American history, these two gifted authors have penned a work that is a must-read."
—Pam Jenoff, New York Times bestselling author of The Woman with the Blue Star
The remarkable story of J. P. Morgan's personal librarian, Belle da Costa Greene, the Black American woman who was forced to hide her true identity and pass as white to leave a lasting legacy that enriched our nation, from New York Times author Marie Benedict, and acclaimed author Victoria Christopher Murray.

In her twenties, Belle da Costa Greene is hired by J. P. Morgan to curate a collection of rare manuscripts, books, and artwork for his newly built Pierpont Morgan Library. Belle becomes a fixture in New York City society and one of the most powerful people in the art and book world, known for her impeccable taste and shrewd negotiating for critical works as she helps create a world-class collection.

But Belle has a secret, one she must protect at all costs. She was born not Belle da Costa Greene but Belle Marion Greener. She is the daughter of Richard Greener, the first Black graduate of Harvard and a well-known advocate for equality. Belle's complexion isn't dark because of her alleged Portuguese heritage that lets her pass as white—her complexion is dark because she is African American.

The Personal Librarian tells the story of an extraordinary woman, famous for her intellect, style, and wit, and shares the lengths she must go to—for the protection of her family and her legacy—to preserve her carefully crafted white identity in the racist world in which she lives.
Available June 29:
Amazon | Barnes & Noble | Google Play | Kobo | Apple Books | Indiebound | Indigo |Audible | Goodreads
Something catch your eye? Tell us what you're reading this month!